Tips and Trends
|
January 13, 2023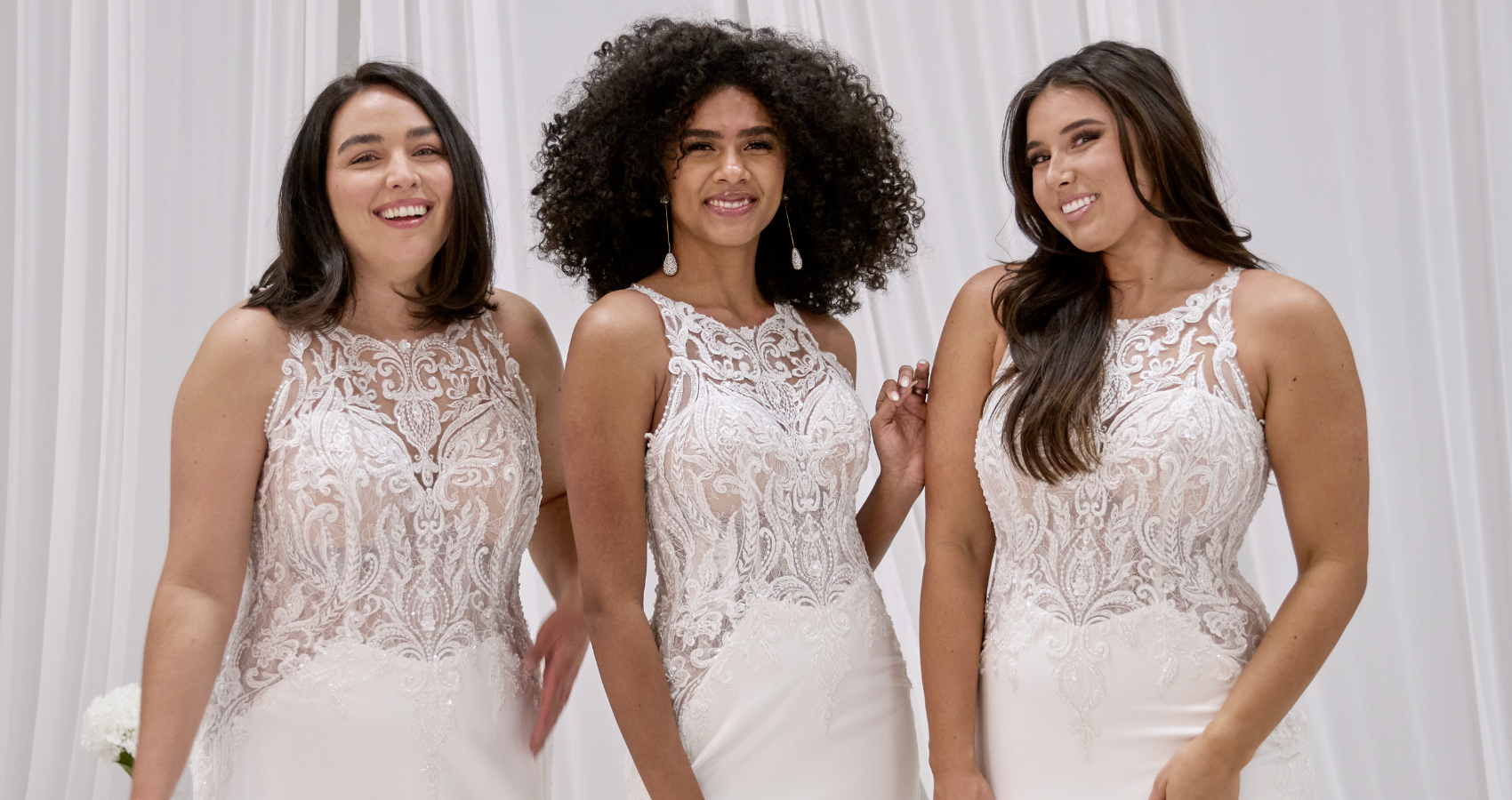 Your dream wedding is all about, well, the wedding, but it's also all about all the buzz and preparation leading up to it! And though wedding planning can be stressful, wedding dress shopping really doesn't have to be. Make your dress appointment a celebration unto itself with these 10 wedding dress shopping tips for finding your perfect gown. Keep scrolling!
Psst… looking for specific gowns and updates in your area? Be sure to sign up for our Maggie text messages below to get in the know!
Do Wedding Dress Shopping Research
At the end of the day, the most important part of finding your dream dress is choosing a gown that feels the most like you and makes you feel best. However, it doesn't hurt to do some extra research to prepare yourself for a long day! Learning more about wedding dresses will never be a waste of time before heading to your bridal shop.
If your head is going in circles looking at wedding gowns, take a breath. One of our many wedding dress shopping tips to consider is learning more about the different parts of a gown and wedding dress sizing.
While there are various fits out there, the most popularly seen silhouettes in wedding dress shops are:
A-line
Ballgown
Fit and flare
Mermaid
Sheath
All these gowns will fit and complement the bride's figure differently. If you want to learn more about wedding dresses for your body type, enjoy our gallery of silhouettes for different body types.
You can also take our Style Quiz to learn what kind of dress fits your overall vision, personality, venue, and season. Don't worry too much though – bridal shops and experts are there for you to make sure you look beautiful and feel confident!
Determine Your Wedding Dress Style
Picking your wedding dress style is one of the most important wedding dress shopping tips to think about! While fabric, fit, size, and cost might be the details on the top of your mind, choosing a gown that fits your style and personality is the one that we care about the most. Here are a few tips to get started:
Book Your Bridal Appointment
Once you've done some research and looked at different wedding gowns, it's time to book your appointment! Maggie Sotter Designs has hundreds of Authorized Retailers in the United States alone — so there are many opportunities to make an appointment to find your dream wedding dress!
Booking an appointment will prevent the following mishaps:
Missing out on designs you have your heart set on
Not having enough time to order your dress
Being turned away for a walk-in appointment
Not having enough time to invite your posse
Who To Bring With You To Wedding Dress Shopping
PC: More Beatty Photography
Trying on your wedding dress can be both exciting and stressful! That's why you should only share this special experience with the most supportive and loving people in your life. Having a lot of voices in the appointment can make the experience overwhelming and can quickly break the experience. A good rule of thumb for most appointments is to 3-4 of the following:
Your Maid of Honor
A member of the bridal party
Your mother and/or father figure
A special in-law to-be
A sibling
What To Bring When to Your Bridal Gown Appointment
There are a few things to bring when shopping for your wedding dress:
Bridal undergarments
Appropriate heels
Hair ties and clips
Water
A healthy snack
Champagne (if allowed)
Feminine products, just in case
Undergarment-wise, the style of dresses that you like will ultimately determine the type of undergarments you should wear for the big day. Generally, the rule is to wear undergarments that match your skin tone, however, features like a plunging V-neckline or illusion lace back may require certain types of undergarments. Most bridal shops have an in-house selection of shapewear and undergarments to complement your gown and ensure a dreamy and ultra-flattering fit!
Have a Solid Budget in Mind
One of the most important prep tips for wedding dress shopping is to pre-determine your budget. From designating a price range to factoring in the cost of delivery, alterations, undergarments, and accessories, it's essential to paint a clear picture of what works for your celebration.
How much should you spend on a wedding dress, anyway? We've compiled a few pointers to make the most with your plan. You can also learn more about personalizations in our rundown of how to customize your wedding gown.
Have your eye on accessories? These are a few we love:
Questions to Ask While Wedding Dress Shopping
Plenty of questions will run through your mind during your bridal appointment, but these are a few key ones to focus on:
What is your size range? (Psst… Maggie Sottero carries most of our gowns in sizes 0-28! Keep in mind that wedding dress sizes are a little different than street sizes; your bridal stylist can help you understand.)
What is your payment plan?
Does your boutique offer alterations, or do I need to go elsewhere?
Will you store my wedding dress for me?
When should I make my final decision?
What is the construction of my wedding dress like? (Maggie Sottero silhouettes are impeccable because of their inner corseting to offer support and fabulous shapes!)
Anticipating Delivery Times
We know what question has been keeping you up at night: Can this gown be delivered in time for my wedding? If you've made the right appointment and prepped for what you need, it absolutely can! Especially if you consider the following…
Start shopping 9-12 months before your wedding. Most brides shop for gowns about 6-9 months before their wear dates, but we recommend starting about a year ahead to accommodate delivery and alterations.
Whatever your timeline, ask about specific styles with quicker or longer delivery windows to narrow your options.
For brides with a quick engagement, you're in luck. Many of our Maggie Sottero gowns are "Quick Ship" wedding gowns. Our Quick Ship wedding gowns arrive faster than our normal delivery window, so you can breathe easy and focus on your best day ever. To find a Quick Ship gown, make sure to schedule an appointment with one of our bridal shops.
Everything to Know About Bridal Gown Alterations
Now that you've found your dream dress, it's time to focus on alterations, fees, and personalizations. Here are a few questions to ask your stylist:
Do they offer in-house alterations or recommend a professional seamstress?
How many fitting sessions will be required? (Plan on an average of two fitting sessions, but anticipate changes based on your body type, dress style, and customization requests.)
When and how can you personalize the gown?
When should you schedule your final fitting? (We recommend you schedule your last fitting 1-2 weeks before your wedding since your body won't change much in that time.)
How will the stylist plan to adjust the hem and add a bustle?
What are the costs for alterations and other fees? (These additional costs can be anything from customizations, rush charges, or storage fees, so be sure to put a little bit of extra money aside for the post-purchase.)
Additionally, sometimes styles go off the market without warning, so many wedding dress shops offer an incentive to purchase a gown on your first visit. Make sure "the one" doesn't slip away!
Wedding Dress Shopping for Comfort Versus Fit
Whether you are the bride who plans on hiking to their ceremony, or the one who is more focused on showing off those sexy curves, there is a wedding dress out there for you. When picturing yourself on your big day, consider what your ideal comfort and fit might be.
Wedding dresses are made with expensive and delicate materials, which can limit your range of motion. A few questions to consider while shopping:
Can you raise your arms in a dress?
Does the skirt feel heavy?
Will the fabric breathe well for your season and venue?
These factors help you lock down beauty AND function for your big day.
Thinking about the silhouette when asking yourself these questions is also important. For example:
Some gowns will be more curve-enhancing, but will most likely inhibit your ability to drop it low on the big day. Styles with flowing skirts and soft lace, on the other hand, will allow a lot more freedom in movement on the dance floor.
Fabric is also one of the important wedding dress shopping tips to think about. Dresses with stretch are a popular choice for brides who are looking for a comfortable gown to wear for hours at a time. These luxurious styles will also keep you cool and unhindered all evening long.
What Size Should You Order?
If there's one wedding dress shopping tip we want you to know, it's this: Wedding dress sizes are different than street sizes. Your stylist will most likely be your best resource for deciding what size to order when shopping!
To find your best wedding dress size, visit one of our Authorized Retailers to be measured.
How To Know That You've Found Your Dress
PC: Alexis Christine Photography
Silhouette, cost, fabric, and nagging family members aside, overall, the biggest wedding dress shopping tip we can give you is this: Pick a gown that makes your feel most like YOU, because that's what your fiancé fell in love with. Gorgeous!
Ready to start shopping for your dream wedding dress? Find wedding dress shops in your area to book an appointment and get started. In the meantime, you can also find more wedding dress styles and accessories in our latest inspo below!
More Blogs Like This:
Quick delivery wedding dresses
Affordable wedding gowns by Rebecca Ingram
Gorgeous wedding dresses for plus-size brides
Happy shopping and best wishes!