Tips and Trends
|
January 18, 2023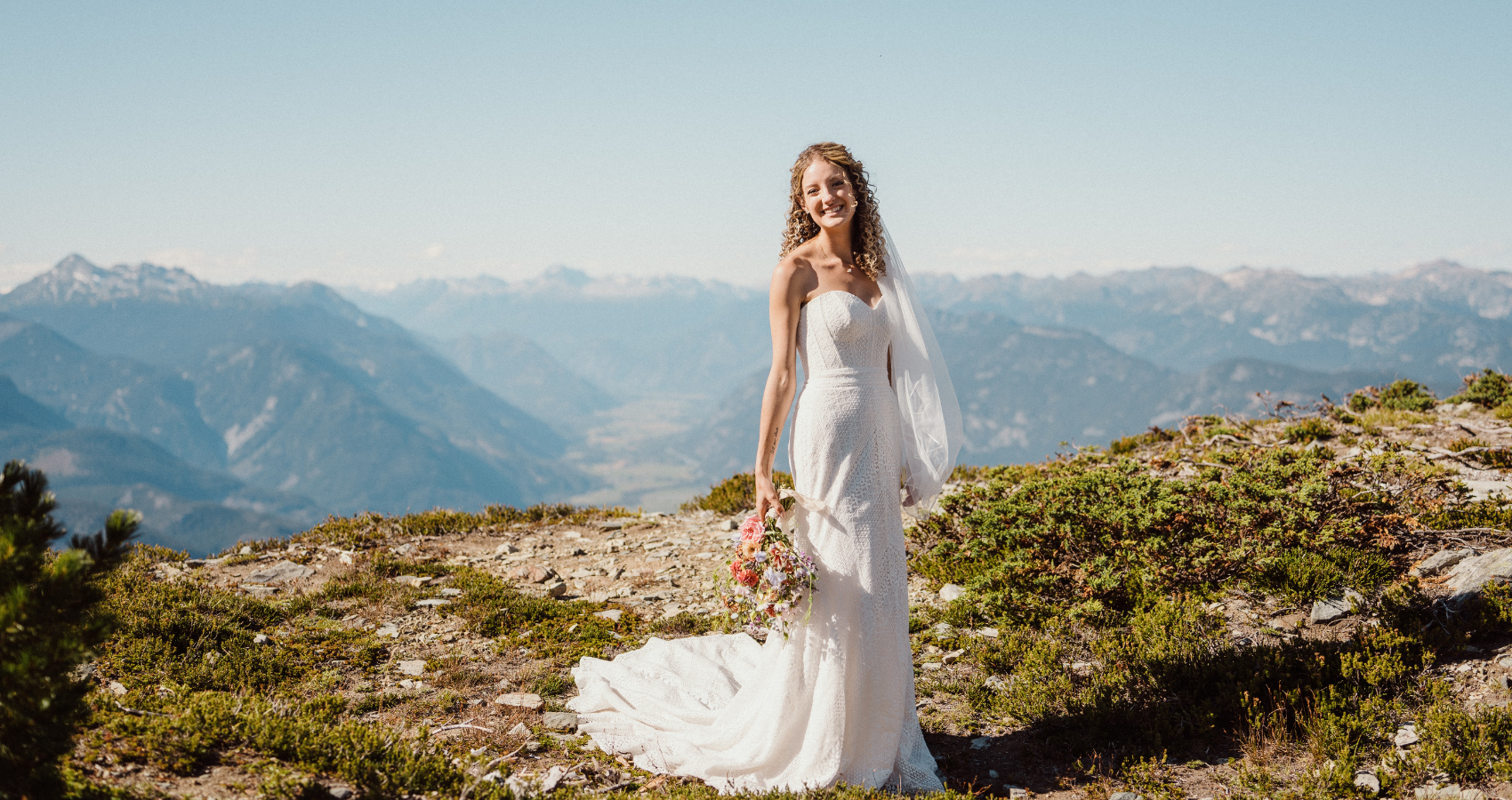 Diamonds might be a girl's best friend, but lace is a bride's! At Maggie, we believe there's are types of lace for every bride. Some brides like their lace chic and comfortable—others prefer it striking and sophisticated!
Whatever your mood for this ultra-romantic fabrication, here are seven types of lace wedding dresses to know while shopping for your dream wedding dress. From the fit and flexibility of knit lace to the whimsical romance of embroidered lace, our lace wedding dresses have something for every bride! To become a Maggie Insider and expert on all things bridal, make sure to sign up below!
What are the different types of lace?
If you're a lace kind of bride, luckily for you, there are seven different types of lace in a variety of different styles! Lace wedding dresses can come in boho, gothic, classic, romantic, or unique styles and in every type of silhouette. Many lace wedding dresses also feature different style details like beading, 3D elements, or are mixed in with other chic fabrics like crepe and satin.
Keep reading to learn about the seven different types of laces and how we styled them in our designs!
Classic Alencon Lace
Classic, traditional, and timeless, Alencon lace is a perfect choice for our conventional brides. Originating from Alençon, France, this needlepoint lace looks best with a floral design on a sheer or net background. Additionally, this type of lace, although delicate, can withstand beading and heavy threading (the more the merrier!).
For wedding dresses that perfectly capture this style of lace with its scalloped edging, and light and flowy designs take a look at these gowns:
Romantic Eyelet Lace
When you think of romantic aesthetics and bohemian touches, eyelet lace should be what comes to mind! Romantic eyelet lace features small holes, circles, or geometric patterns that channel a vintage feel that's cool and unexpectedly modern, unlike other types of lace.
To rock this vintage meets boho type of lace, find these boho gowns below at an Authorized Retailer near you, and read our blog about some of our favorite boho wedding dresses!
Psst… If you love these gowns, take a look at their accessories as well!
Defining Chantilly Lace
If you love depth and romance in a wedding gown, look no further than Chantilly lace. Made from braided and twisted lengths of thread, chantilly lace originated in Chantilly, France. This type of lace remains popular today for its fine ground, outline pattern, and abundant detail.
Chantilly lace is used in many of our gowns as a layer beneath under details to create an effortless and glamorous look with all the dreamy details. This is the perfect type of lace for brides who want a classic yet striking look! Our gowns below are just a few of many wedding gowns that feature this fabric:
Unique Embroidered Lace
Are you a bride who craves texture and a one-of-a-kind look for your wedding day? Then take it from us: Go with embroidered lace. To create this unique lace, delicate patterns are tightly stitched onto an illusion base. This forms the appearance of an applique. Unlike other types of lace, beading or sequin lace pieces are embroidered on a separate tulle layer. This creates depth and dimension (wow, right?!).
This kind of lace is found in many different types of gowns from sexy mermaids with embroidered lace over sparkly tulle, or glamorous bohemian lace over a chic sheath for a modern royalty bridal look like the bridal gowns below:
 Romantic Guipure/Venice Lace
Also called Venetian lace, Guipure lace appeared in Italy at the end of the 16th century. It has stayed popular amongst brides for a reason! This type of lace features the finest silk threads and is a firm, stiff lace. The lace motif patterns are usually connected by bars or plaits rather than net or mesh. The best part of this type of lace? It's featured in a variety of different wedding dress styles like seen in Roxanne by Sottero and Midgley and Blaire by Sottero and Midgley.
Soft Knit Lace
Soft and dreamy as can be, we absolutely love a floral knit lace in a wedding gown. Unlike other types of lace, knit lace is much softer and more flexible because it lacks a tulle backing. Whichever gown you choose with this type of lace will contour to your body with much more ease!
With boho and vintage looks being all the rage right now, soft knit lace is perfect for our lowkey brides looking to have small and intimate weddings with all the DIY and thrifted details! Find some inspiration below with these wedding dresses:
Chic Point D'Esprit Lace
Last, but certainly not least, is the Point D'Esprit lace. This chic lace is marked by its lightweight fabric with small oval dots scattered over an illusion of tulle or net fabric. Additionally, this type of lace adds volume and a flirty aesthetic to whichever wedding gown speaks to you. Love this look? Explore Meryl Lynette by Maggie Sottero and Carson by Sottero and Midgley! Two gorgeous wedding dresses with chic lace and feminine lines.
Accessories with Lace
Love lace but want to highlight your gown rather than be the main event? Consider adding a lace accessory to your wedding dress! For a chic but modern look, consider the Lois gloves. Craving a more ethereal look with a gorgeous mock neck? The Dionne by Rebecca Ingram jacket is the ideal choice (we also love the gown that goes with it). Lastly, if you want a unique but striking veil, add the Brooklyn by Sottero and Midgley veil to your wedding wardrobe!
Just like snowflakes, every type of lace is unique and individual! From traditional Alencon to boho Guipure, you can find any type of lace your heart desires at one of our many Authorized Retailers below! Good luck shopping brides!
More Blogs Like This:
Anatomy of a Wedding Dress: Understanding the Parts of a Wedding Dress
How Much Do Maggie Sottero Wedding Dresses Cost?
Wedding Dress Size Chart: How To Measure For Your Wedding Dress