Dresses
Tips and Trends
Wedding Inspo
|
January 18, 2022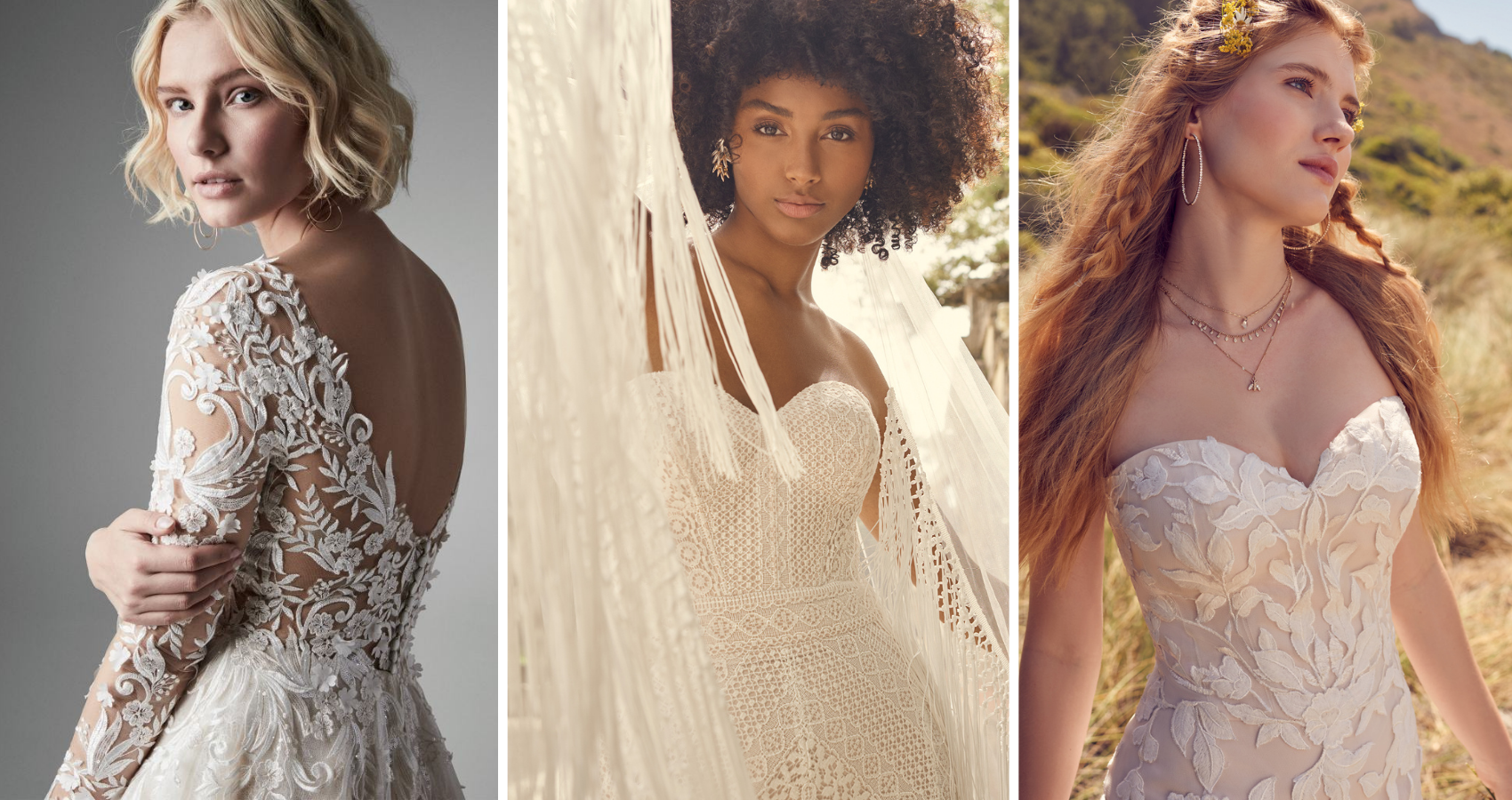 We believe there's a type of lace for every bride. Some brides like their lace chic and comfortable—others prefer it striking and sophisticated. And if you don't know off the top of your head, take our Style Quiz to get a better idea!
Whatever your mood for this ultra-romantic fabrication, here are seven types of lace wedding dresses to know while shopping for your dream wedding dress. From the fit and flexibility of knit lace to the whimsical romance of embroidered lace, our lace wedding dresses have something for every bride!
Types of Lace: Classic Alencon Lace
Classic, traditional, and timeless, Alencon lace is a perfect choice for our conventional brides. Originating from Alençon, France, this needlepoint lace looks best with a floral design on a sheer or net background. Additionally, this type of lace, although delicate, can withstand beading and heavy threading (the more the merrier!).
Keating by Rebecca Ingram perfectly captures the essence of Alencon lace. With a scalloped edging, light and flowy skirt, and sleek fitted bodice, this is a stunning choice for brides looking for a traditional gown in the modern age!
Romantic Eyelet Lace
When you think of romantic aesthetics and bohemian touches, eyelet lace should be what comes to mind! Romantic eyelet lace features small holes, circles, or geometric patterns that channel a vintage feel that's cool and unexpectedly modern unlike other types of lace.
Dover by Maggie Sottero encapsulates all of that and more! With its intricate, geometric patterns, this is the gown for vintage brides looking to make a statement. You're also able to customize this gown for your love story by adding detachable fringe armbands, extending the train, or pairing a V-neck chiffon jacket (don't worry, you can personalize many of our dresses, not just this one!).
Types of Lace: Defining Chantilly Lace
If you love depth and romance in a wedding gown, look no further than Chantilly lace. Made from braided and twisted lengths of thread, chantilly lace originated in Chantilly, France. This type of lace remains popular today for its fine ground, outline pattern, and abundant detail.
While many of our gowns feature Chantilly lace, we have a particular fondness for it in our gown, Tuscany Royale by Maggie Sottero. This romantic sheath gown creates an effortless AND glamorous look with its Renaissance-inspired lace motifs over Chantilly lace and illusion-plunging sweetheart neckline.
Our other Chantilly lace gowns, Zander by Sottero and Midgley and Esther by Maggie Sottero (to name just a few!), have a similarly laid-back, sexy feel. With open backs, dramatic trains, and dreamy texture, you'll be jumping to say yes to either of these gowns!
Unique Embroidered Lace
Are you a bride who craves texture and a one-of-a-kind look for your wedding day? Then take it from us: Go with embroidered lace. To create this unique lace, delicate patterns are tightly stitched onto an illusion base. This forms the appearance of an applique. Unlike other types of lace, beading or sequin lace pieces are embroidered on a separate tulle layer. This creates depth and dimension (wow, right?!).
This kind of lace is found in many different types of gowns. From A-lines to mermaids, this lace is rocked on many different silhouettes. We particularly love this lace on Hattie by Rebecca Ingram. This strapless mermaid boasts a gorgeous embroidered lace on top of sparkly tulle with a plunging neckline (romantic AND sexy).
Tuscany by Maggie Sottero is also a great example of unique embroidered lace! Not only is this gown bohemian (thanks, embroidered lace) and glamorous (thanks to its plunging neckline) but it's also totally classic with its mermaid silhouette! Last but not least, Johanna by Maggie Sottero shows how embroidered lace can shine on an A-line gown. This wedding gown is inspired by modern royalty and shows how embroidered lace can be beaded or soft for the wedding gown of your dreams!
Bohemian Guipure Lace
Also called Venetian lace, Guipure lace appeared in Italy at the end of the 16th century. It has stayed popular amongst brides for a reason! This type of lace features the finest silk threads and is a firm, stiff lace. The lace motif patterns are usually connected by bars or plaits rather than net or mesh and look AMAZING on Finley by Sottero and Midgley and Roxanne by Sottero and Midgley!
If you're looking for a uniquely individual gown that you could wear to a ball at Versailles, or a cocktail party in 1960s London, then Finley by Maggie Sottero is the one for you. With its detachable bishop sleeves, illusion V-back, and swirly Guipure lace it makes the perfect statement for your wedding day.
Although Roxanne by Sottero and Midgley may use Guipure lace as well, the vibes are completely different in this gown! Unlike Finley, this bohemian, lacy gown has sequins delicately sewn in along with a deep V-neckline and flowy A-line skirt.
Types of Lace: Soft Knit Lace
Soft and dreamy as can be, we absolutely love a floral knit lace in a wedding gown. Unlike other types of lace, knit lace is much softer and more flexible because it lacks a tulle backing. Whichever gown you choose with this type of lace will contour to your body with much more ease!
A great example of this is Drita by Maggie Sottero! With head-to-toe lace, you'll find more romantic details the longer you look at it. We are absolutely obsessed with Drita's scalloped lace edges and deep back. Fit for a fairy queen, this style is the perfect wedding dress for brides looking to be romantic and ethereal on their big day!
Types of Lace: Chic Point D'Esprit Lace
Last, but certainly not least, is the Point D'Esprit lace. This chic lace is marked by its lightweight fabric with small oval dots scattered over an illusion of tulle or net fabric. Additionally, this type of lace adds volume and a flirty aesthetic to whichever wedding gown speaks to you.
Meryl by Maggie Sottero expertly shows off these dainty dots by putting the "ooh la la" into a bohemian wedding gown. Additionally, this gown has layers of romance and chicness while also sporting beautiful illusion straps and a square back neckline.
Whereas Meryl is flirty and fun, Carson by Sottero and Midgley is unabashedly feminine, sensual, and whimsical. This A-line gown will send shivers down your spine with its Point D'Esprit lace, boned bodice, and detachable sleeves or off-the-shoulder straps to personalize your wedding dress to your love story!
Just like snowflakes, every type of lace is unique and individual! From traditional Alencon to boho Guipure, you can find any type of lace your heart desires at one of our many Authorized Retailers! Good luck shopping!
For more lace and wedding dress inspo, take a look at one of our trendy blogs!: