Dresses
Tips and Trends
|
November 20, 2020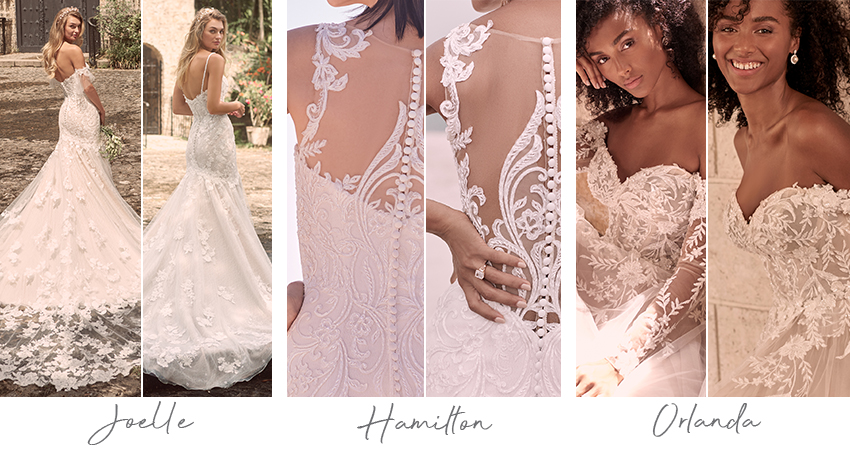 At Maggie Sottero, we design each wedding dress with you in mind—whatever your personal style, wedding vision, and budget! And now, with our new Personalize it! For Your Love Story program, you can personalize your perfect gown even more to reflect your unique love story! From sleeve variations to detachable trains to skirt layer changes, we now offer tons of wedding dress customizations across our Maggie Sottero and Sottero and Midgley lines to help you create your meant-to-be bridal look. (Trust us, you'll definitely want to bookmark this before your upcoming boutique appointment.) Keep scrolling to see the bridal customizations we offer!
Wedding Dress Sleeve Personalization
How to turn up your style game? Opt for detachable accessories and eye-catching wedding dress sleeve personalizations to create a look that is uniquely yours! Fiona by Maggie Sottero, a romantic fit-and-flare wedding gown, features casual spaghetti straps with the option of adding off-the-shoulder long sleeves. So chic!
Next, consider Reeve by Sottero and Midgley, which features detachable long sleeves that can be added for extra drama. We love a bold sleeve treatment in 3-D lace motifs and sheer illusion! Talk to your local boutique about options on how your gown's sleeves can be attached or sewn on for a more customizable look. And click here to see more bridal gowns with unique sleeve options!
Bridal Gowns with Detachable Extended Trains
Dramatic train lovers, rejoice. You have several options when personalizing trains. Maggie Sottero now offers several wedding dresses that feature detachable and extended trains, and even more with customizable options such as lace packages and veil-inspired accessories. (Think detachable capes, head pieces, and more!). Also, take a look at our Pinterest bridal veil gallery for more inspiration!
Ooh-la-la! You've found your perfect dress, now it's time to accessorize! Customize your wedding dress with one of our detachable trains, be it a vintage-inspired scallop train or a full-drama, walk-me-down-the-palace-steps cathedral train. We love the detachable floral lace train on Joelle by Maggie Sottero. And we totally adore the sparkly scalloped lace train on Tuscany Royale by Maggie Sottero!
Wedding Dress Customization: Skirt Layer Changes
Searching for a unique and girly-glam wedding dress customization? Change up the layers on your wedding dress! In our newest collections, most of our wedding dresses feature customizable skirt layer changes. For example, Orlanda by Maggie Sottero (pictured above) offers the option to change the top-most layer from plain tulle to sparkle tulle for extra bling!
For our princess brides, Parker by Sottero and Midgley is another gown that offers a layer swap—and with three options to choose from! Wear this fairytale-ready wedding dress with a plain tulle, textured tulle, or glitter tulle skirt. The choice is yours and totally depends on your preference!
Wedding Dress Customization with Lace Packages
Looking for even more wedding dress customization and personalization options? Talk with your local boutique about ordering lace motif and hem lace packages, a one-of-a-kind way to personalize and embellish your gown!
Lace motif packages can be used to add coverage or new details to necklines, backs, and accessories, while hem lace can be used to customize train length or add a matching embellishment to your veil or bouquet. Your seamstress can help you browse products and understand your options! Just be sure to give yourself plenty of time and allot a little extra wedding dress budget for any custom alterations!
Lined Bodice and Sheer Bodice Wedding Gowns
In the market for a fully-lined wedding gown? We've got you covered! Love a peekaboo vibe with illusion side panels? We've got you uncovered! Many of our gowns feature bodices depending on your preferred level of exposure.
These bodice options range from full lace lining to sexy nude and barely-there illusion. Keep it classic with a fully lined variation like Leticia Lynette by Maggie Sottero. Or, dare to bare with a sheer bodice wedding dress like Leticia. The choice is yours!
Wedding Dresses with Added Coverage in the Back and Neckline
Have you fallen in love with a wedding dress but want a bit more coverage and support for it to fit like magic? Get to know our sister styles! These bridal gowns include higher backs and necklines, additional boning, and additional bodice lining. Below are a couple of our favorites:
Sophisticated yet flirty crepe wedding dress Bracken by Sottero and Midgley features a beaded illusion lace bodice with flutter sleeves. Its sister style, Bracken Lynette, features the same elegant design but with a lined bodice and raised back. So chic!
Each bridal gown comes in sizes 0-28, while Bracken Lynette caters to curvier brides looking for additional coverage and support, as well as brides who simply want a more modest look!
Next on the list—Hamilton by Sottero and Midgley. This classically romantic lace fit-and-flare wedding dress features an illusion lace bodice and stunning illusion back.
Its sister style, Hamilton Lynette, flaunts the same gorgeous details but also features a lined bodice, raised back, and higher neckline. Both wedding gowns come in sizes 0-28, so it's up to you to decide how you want to customize your wedding dress!
Different Wedding Dress Lengths
One way to take some heavy lifting out of wedding dress alterations? Order based on different bridal gown lengths—such as longer for tall brides and shorter for petite brides. This customization helps you tailor to your figure, avoid major hemline alterations, and personalize your bridal gown to accommodate your preferred shoe height.
Any Maggie Sottero wedding dress can be ordered 3- or 5-inch shorter or longer from the standard length. Additionally, certain gowns' trains can vary in length. This is a great way to play up the drama with a longer train or scale back with a shorter, more manageable hem.
Wedding Dress Bra Cup Colors and Sizes
Your girls are fully invested in your next wedding dress customization: wedding dress bra cup colors and sizes! Illusion bodices are trending more than ever, and our different colored bra cups allow illusion lace to melt right into your skin. Gorgeous!
We offer bra cups in three colors: Ivory, Light Nude, and Dark Nude. We also feature multiple bra cup sizes, which are tailored according to gown size to offer additional support for brides who are a bit more blessed up top. Check with your local boutique to discuss color and sizing options!
Wedding Gowns with Detachable Overskirts
Let's talk two-in-one wedding day looks. Wanting a wedding dress you can change up between the ceremony and the reception? Opt for our bridal gowns that have detachable overskirts!
Simple yet sultry Carmen by Rebecca Ingram proves that minimalism is chic. This silky crepe wedding gown features a peek-a-boo lace bodice with a sheer, flowy detachable overskirt. It's the perfect addition to your elegant ceremony and cocktail party reception!
On the other hand, Bellamy by Sottero and Midgley delights us with a striking detachable train that you can wear at the ceremony and take off for a more laidback reception. And the best part? The bodice and skirt of this dress feature plain tulle or sequin lace motifs over sparkle tulle for extra bling!
All of these customizable options from our Personalize It! For Your Love Story program have us heart eyeing! Ready to customize your perfect wedding gown? Head to a boutique near you to get started!
Psst—most of our wedding dresses with personalized accessories, lace packages, and added coverage still arrive within 16-20 weeks. This is about two months faster than most custom wedding dress designers!
Lastly, check out these other ways to personalize your bridal look. Find the Best Undergarments for Your Wedding Dress. Or, peruse our All-in-One Guide to Wedding Dress Fabric. And after the happy day is over, be sure to submit a review with your wedding photos to our Real Brides page, so we can share your fabulously personalized style with our brides-to-be. Cheers!