Dresses
|
November 25, 2022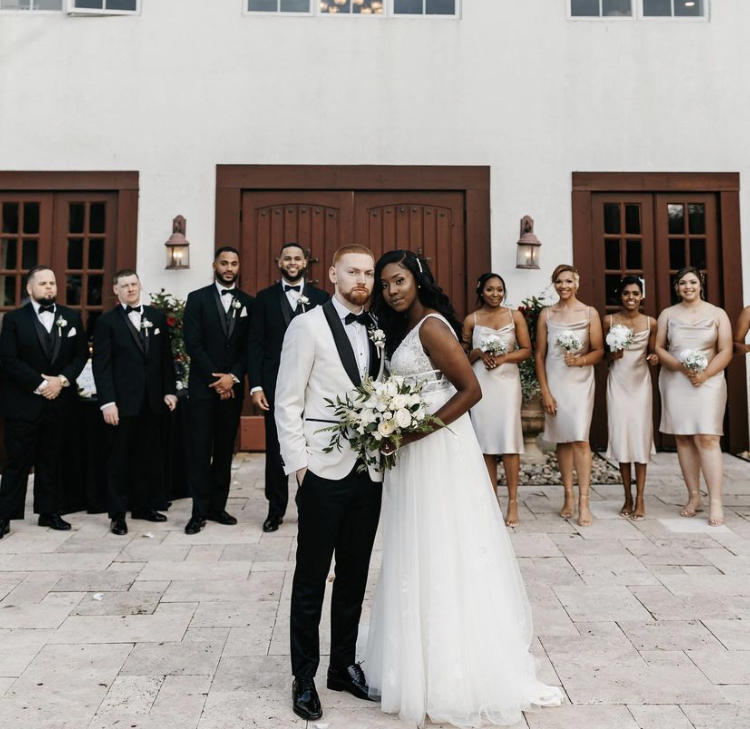 In the market for affordable wedding gowns? We're here with a friendly reminder that you do NOT have to sacrifice quality or style for a perfect, budget-friendly package! Take a look at 10 affordable wedding gowns from our Rebecca Ingram and Maggie Sottero collections. They have everything that stylish brides like yourself crave – gorgeous fabrics, tailored styles, and premium details that won't break the bank. Get started with your zero-compromise, dreams-DO-come-true styles by taking our Style Quiz below and browsing some of our beautiful, budget-friendly gowns!
How Much Are Affordable Wedding Gowns Typically?
Before you embark on your gown shopping journey, let's cover pricing. If you're looking at the "affordable wedding dress" category, plan to budget for styles in the $900 to $1500 range. This is our sweet spot: top quality gowns that don't annihilate your wedding budget, especially considering all the other ways wedding celebrations can get expensive!
While we have plenty of options in this price range, keep in mind that a price you see on a tag or online doesn't cover your full gown budget. Other items to consider for your budget include:
Personalizations like fabric changes, embellishments, and neckline variations
Accessories like bridal veils, overskirts, and trains
Undergarments like shapewear, special bras, and tights
Jewelry like necklaces, tiaras, and earrings
Shoes for your ceremony, reception, and the dance floor
Taxes and fees for any purchases
Delivery fees
Alterations
To cover your bases, try to budget 1.5x or 2x the original price tag, e.g. a $900 wedding gown may be one part of a $1350 to $1800 "total look" cost. Of course, don't forget to budget for your sweetheart's wedding ensemble!
For more gorgeous inspiration and shopping options, browse through our rundown of Affordable Wedding Dresses you can find at an Authorized Retailer near you. Our Rebecca Ingram and Maggie Sottero collections are what brides choose when they want high-quality, budget wedding dresses. Keep scrolling for our picks!
Rebecca Ingram Affordable Wedding Gowns
Our first choice for a romantic and classic wedding look is Alexandria by Rebecca Ingram. This lovely A-line is a little dramatic — think vintage ball gown wedding dress with Victorian flair, but with chic and lightweight details.
This gorgeous sleeved wedding gown offers a perfect balance of fit and form, with a curve-hugging bodice gliding effortlessly into a soft and swishy skirt. Whatever your natural shape and figure, you'll love the feel of this elegant and feminine style. For the nontraditional bride, try this look in a stunning black hue!
To personalize this look for your love story, look to the matching bridal veil, extended train, or loose lace motifs for special customizations with your bridal stylist! 
PC: Renee Contino Photography
How to find inexpensive wedding gowns that look like a million bucks, you ask? Opt for a striking yet simple fabrication in a time-tested silhouette. An Old Hollywood-inspired style like Josie by Rebecca Ingram proves that a red-carpet vibe doesn't have to come with a red-carpet price tag.
Inspired by silver screen sirens like Rita Hayworth and Grace Kelly, this curve-hugging wedding gown is the perfect package for brides with a taste for vintage glamour.
Looking for unique motifs? Love a flattering and ultra-girly A-line silhouette? Look no further than Tasha by Rebecca Ingram. This affordable wedding gown features chic lace, a subtle illusion to accentuate your décolletage and waistline, and flirty chiffon layers. 
We also love the thigh-high slit for flirty photo ops – perfect for the summer wedding season, outdoor venues, and a relaxed bridal vibe.
Have your eye on chiffon for inexpensive wedding gowns? This fabric looks super luxe and dreamy and comes at an equally dreamy price. Find special care tips and how to get wrinkles out of a chiffon wedding dress to prep for your big day by reading our blog.
PC: R Thomas Jackson Photography
Another beach-ready wedding dress with soft and romantic details, Hattie is one of our most popular affordable wedding gowns in recent seasons. Start with a swoon-worthy silhouette — a curve-hugging fit-and-flare. Then, add oversized lace motifs to bring out your gown's unique color contrast:
All Ivory (gown with Ivory Illusion)
Antique Ivory (gown with Natural Illusion)
Ivory over Blush (gown with Natural Illusion)
Ivory over Misty Mauve (gown with Natural Illusion) (pictured)
Ivory over Mocha (gown with Natural Illusion)
Hattie features several Sister Styles to fit your one-of-a-kind wedding vision. Talk to your Authorized Retailer about which gown variation fits your vision. Here are just a few:
For more beachy budget wedding dresses, get inspired with our sexy silhouettes, lightweight fabrics, soft shimmer, and windswept details. 
PC: Micaela Grace Photography
Raelynn by Rebecca Ingram is all about the boho lace. This gown is a romantic yet totally affordable wedding dress featuring chic floral and illusion motifs in an ultra-flattering silhouette.
This gorgeous, fairytale-inspired style offers a perfect balance of fit and form, with a flattering bodice gliding effortlessly into a chic and lightweight skirt. Whatever your natural shape and figure, you'll love the feel of this flirty and feminine style!
A little sweet and very chic, Cassidy by Rebecca Ingram is all about the lace, subtle drama, and soft illusion. We love this long graceful silhouette! It's a little A-line, a little ball gown, and a little dropped waist. We promise you'll love how you feel! 
Choose a unique color way to fit your vision: blush, mauve, or classic ivory. You can also personalize with a stunning bridal veil from our latest collections.
Maggie Sottero Affordable Wedding Gowns
Think about the bridal gown you pictured while dreaming of your special day. Was it shimmery, swishy, and a little bit regal? If so, Foster by Maggie Sottero just might be your meant-to-be!
Featuring soft ruching and a classically tailored silhouette, this affordable satin princess wedding dress is sure to complement your dreamy, formal, and luxurious bridal aesthetic.
Foster features two statement bridal accessories:
These glamorous embellishments can add sophisticated drama without breaking your gown budget. Dress this classic style up with glamorous hair, stunning makeup and glitzy jewelry, or keep it subtle with a relaxed up-do and delicate accessories. The fabric and silhouette are perfectly timeless either way!
Inspired by one of our most popular and inexpensive wedding gowns, Greenley Lane features the same romantic lace motif as Greenley by Maggie Sottero but with more fullness in the skirt.
To personalize, consider these additions:
Extend the train for added drama
Opt to shorten the train
Remove the train for a more casual look through Special Request
Choose the lined front sweetheart bodice option
Add the matching cathedral veil adorned with beaded lace motifs, sold separately
For major whimsical, enchanted forest, chic-and-soft fairytale vibes, consider Primrose by Maggie Sottero. This delightfully light and airy A-line features a long chiffon skirt, lace-trimmed train, and a gorgeous bodice treatment. 
This flattering and boho-inspired wedding gown comes with a few ways to personalize:
Additional lining in the sheer parts of the bodice
The unique flutter sleeves are detachable, a gorgeous way to change up your look from ceremony to reception.
Sister Style Primrose Leigh offers modest coverage with attached flutter sleeves, a raised neckline and back, and lined bodice.
Last, but certainly not least, Kyrie by Maggie Sottero is a classic strapless ball gown wedding dress with stunning personalizations. A few ways to make this gown completely yours:
Extend the train for added drama or remove the train for a more casual look through Special Request
Opt for the front skirt without pleats
Accessorize with the detachable satin neckline dress wrap
Add an illusion bodysuit for a unique sleeve treatment
Consider various sleeve accessories like cap sleeves, off-the-shoulder flutter sleeves, and beaded spaghetti straps
Love these latest styles? To find affordable wedding gowns like these, find an Authorized Retailer near you! Your bridal stylist is the perfect resource to discuss expert personalizations, accessories, delivery dates, and silhouettes for your budget. 
Love this gallery of affordable wedding gowns? Here are more blogs to inspire your shopping: 
Whatever your budget, you're sure to find the perfect design to fit your style and vision! We love to see all the ways our brides make their affordable wedding gowns completely their own — through personalization, accessories, and gorgeous styling. Happy shopping!