Tips and Trends
Wedding Inspo
|
January 30, 2020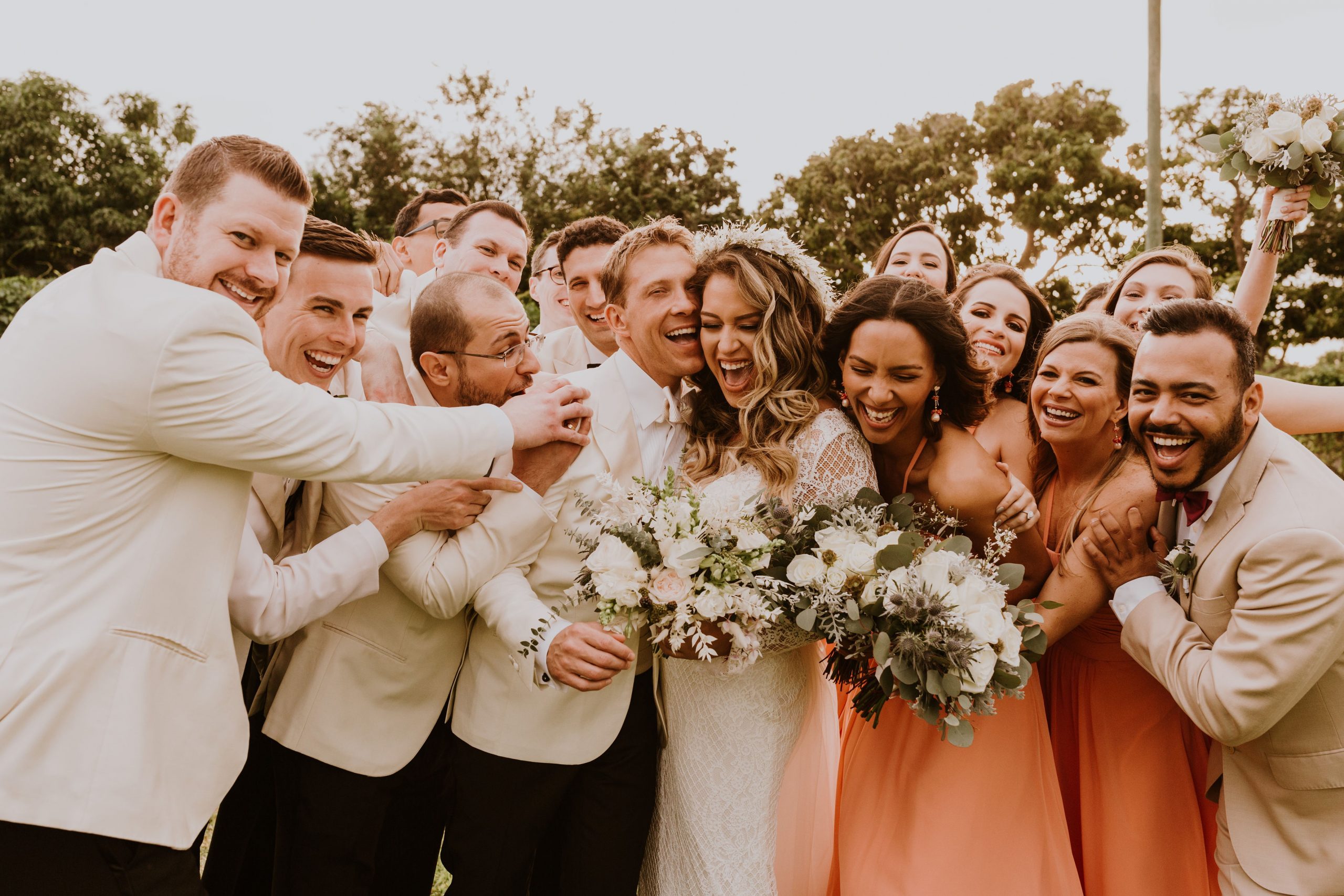 Dream Big and Save Big on Your Wedding: What to Consider When Building Your Wedding Budget
Deciding what your wedding budget is can be stressful at first, but don't worry, Maggie Sottero is here for you! Whether you're dreaming of a fancy ballroom soiree or a rustic garden setting, following these 5 tips for setting and sticking to your wedding budget will help you create a wedding budget that is perfect for you, without skimping on the fun stuff!
We know you'd rather skip this step and go straight to the fun stuff, but setting (and sticking to) your budget is arguably the most important part of planning a wedding. And whether you're working with $100 or $100,000, there are some general guidelines that can help you break down the wedding budget planning process— without breaking down. It's all about organization and communication—we'll take you through it. Saving Early Means Saving Big
1st Tip: Saving Early Means Saving Big
As soon as you're engaged, start putting aside as much of your income as you can for the wedding. Discuss with you fiancé how long you both want the engagement to last. The longer the engagement, the more time to save. And the sooner you start saving, the greater the payoff will be on your special day.
Ways to save: Limit your spending on small stuff (rent movies instead of going to the theater; switch from a twice-a-day latte run to once—or make your coffee at home; hit the trails for a run or bike ride instead of taking costly workout classes).
These changes will hardly affect your quality of life, but after a year, the extra cash will help cover some wedding essentials. Make the most of your money: Instead of stashing your money in a low-interest savings account, consider buying certificates of deposit (CDs) or opening a money market account. The interest rate can be double that of a savings account.
How much can you and your fiancé realistically—and comfortably— afford to spend given all the real-life expenses you have to cover? Aim to repurpose 20 percent of your monthly income and put it towards your wedding budget. Saving 20 percent of your monthly income is a good, albeit challenging, goal. Based on your monthly income, how much can you both reasonably save between now and the wedding?
At best practice, if budget is the name of the game, host a casual wedding shower at your favorite restaurant, or get friends and family to host brunch in lieu of a gift.
Maggie Sottero Designs' line of affordable wedding dresses, Rebecca Ingram, offers timeless and elegant gowns at incredible prices. Hope is romantic and vintage-inspired, with a price tag that doesn't break the bank. Another of our favorites, Olivia, features illusion and keyhole details accented in lace appliqués. A tight budget doesn't mean you have to compromise on style or quality!
Additionally, you can choose a customizable wedding gown instead of two looks. Our Maggie Sottero and Sottero and Midgley lines offer an array of separates and accessories for you to switch up your look between ceremony and reception. Detachable overskirts, lace-trimmed trains, and illusion lace jackets add volume, detail, and whimsy—the perfect way to feel like a movie star without paying for two gowns.
2nd Tip: Who's Paying for the Wedding?
Perhaps it's just you and your fiancé. Or, maybe your parents or other family members want to chip in. Discuss with your families about who will be paying for each aspect of the wedding. Whatever the case may be, finding out who's eager to contribute to your wedding is a good first step in calculating your overall wedding budget.
Yes, we realize that money conversations can be super awkward, but knowing who your contributors are is essential to figuring out your bottom line. Try to ascertain how much each party is willing to spend, or what particular aspect of the wedding they'd like to take care of. (For example, maybe Grandma has her heart set on buying you a wedding dress.) Or, ask each set of parents to contribute to a particular aspect of the wedding (such as the ceremony, honeymoon or catering).
So, how should you broach the subject? For many couples, talking to each family separately is the best way to have an open and productive discussion. Just be sure to approach these conversations in a respectful way, and be okay with hearing "Sorry, I'd love to help but I can't." If both sets of parents will commit to a specific dollar amount, add up all the contributions plus your savings to create your budget.
3rd Tip: Who's Going to the Wedding?
Now that you've got a ballpark budget, you'll want a ballpark guest count. It's important to estimate your guest count as the majority of the cost of a wedding is largely based on size. Many factors like your wedding dress and entertainment will have a fixed cost –but for core expenses like food and drinks: the higher the head count, the higher the price tag.
Looking at your wedding as a "per-person" expenditure will help put the costs into perspective. Your guest count will generate the number of items you'll need to pay for—including invitations, table and chair rentals, cake slices, and wedding favors.
Being strategic about who you invite is the best way to maximize your wedding budget from the very beginning. If you're feeling the pressure to invite everyone, including your third cousin twice removed, think about having a separate party or reception time designated later to celebrate with those not invited to the actual wedding.
4th Tip: Decide Which Wedding-Day Dreams are Worth Doing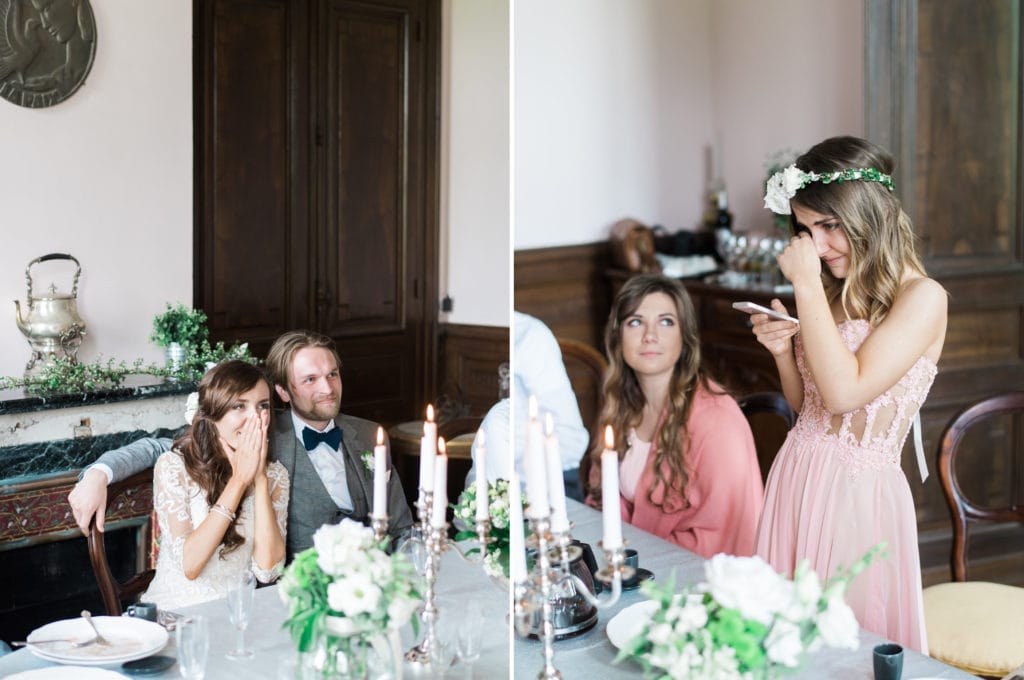 Ilona and David's Intimate French Elopement
What are your Non-Negotiables? You may have dreams of having both an open bar AND 5-course gourmet meal, but it may not be in the budget. You'll need to determine whether you place a higher priority on getting your guests drunk or dazed on fine dining. In any case, you'll each need to answer this question: What one wedding item is at the very top of your priority list?
Once you decide your top priorities, you can allocate a bigger percentage of your wedding budget to them—which will also determine how much you'll have left for the other wedding items that aren't as important as you may have initially felt. When it comes to financing a wedding, you should determine how much you need to spend on what you want. Depending on your personal preferences and budget needs, you'll want to decide which elements of your wedding to prioritize—basically, what to save on and what to splurge on. Then, set your expectations accordingly.
5th Tip: Communicate Often About Wedding Day Expectations
Just as in any relationship dynamic, communication is key. Expressing your likes, dislikes, and wedding budget expectations is all part of the vital wedding planning process. Remember, this is about your dream wedding day.
Maybe you've openly talked with your fiance about what your wedding budget looks like, but more likely than not, you both currently have slightly different views about how your special day will play out. It's important to avoid any miscommunications that could cause you to overbook or underbook certain services or necessities – costing you time, money, and certainly stress.
Furthermore, make sure you're communicating with vendors and contractors about whether they're on track to meet established timelines. Having to scramble to book a last minute baker for your wedding cake will cost you a fortune!
Better for your budget and your brains to check in from time to time to make sure that everything is still on track. Don't fall into the trap of micromanaging, however. You've got a lot on your plate and trying to balance it all at the same time will drive you, your fiance, and everyone else around you crazy.
Everything will work out much smoother if you and your fiance are on the same page financially. Plan on dividing and conquering wedding costs as well as the workload, and you'll be well on your way to a wedding that sticks within your budget. Remember, a successful wedding relies more on creativity and moxie than a roster of expensive customizations. Don't let your "red carpet" dreams sap the energy from your love story.
Feeling inspired? We've got plenty more to explore:
DIY Wedspo from our Real Brides