Tips and Trends
|
January 23, 2023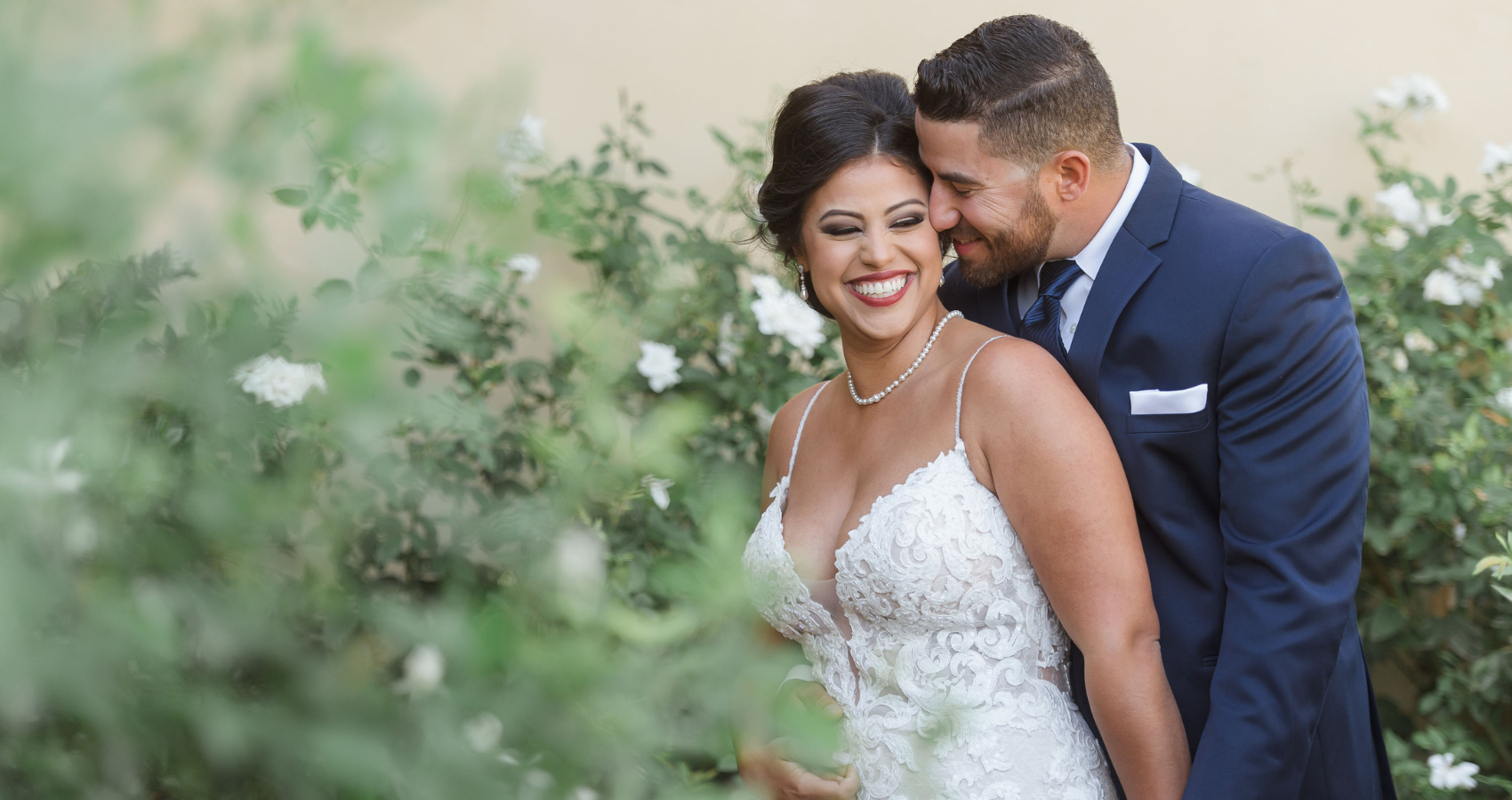 You're getting married — congratulations! What happens next? Your first instinct might be to type "how to plan a wedding" into Google to figure out your wedding budget, and then panic about how much it's going to cost. But planning your nuptials doesn't have to be emotionally and financially overwhelming. Some of the most charming weddings aren't planned with a ton of cash but make up for it with a ton of creativity.
You've dreamed about your perfect ceremony and reception. Now it's time to match dollars to your dream and start thinking about a wedding budget. After all, before you can move ahead with planning your dream wedding, you need to know what you can afford. Organization and planning are the keys to keeping everything on track as you start to make decisions about the food, the dress, and the venue while managing (and affording) your day-to-day life. Get started in planning your dream wedding by reading this blog, and signing up for our exclusive Maggie text messages to be in the know about all things bridal!
How to Determine Your Wedding Budget
PC: Kaitlyn Blake Photography
Your wedding budget will guide many of your wedding-related decisions, so your budget should be the first thing you tackle as you start planning. Before you scroll through wedding dresses on Pinterest, take the time to sit with your partner to discuss how you plan to pay for your big day. If you have family members who've agreed to contribute, chat with them about what they're comfortable spending. If you and your partner are footing the bill for the wedding, you'll need to take an honest look at your current financial situation and your savings and do some research on how it may cost you to say "I do."
Psst… Typically, the average cost for a 2023 wedding sits between $20,000-$40,000, and guest lists fall between 100-150. Keep these numbers in mind as you ask the questions below!
How much is your combined monthly income? How much are your current expenses? And how much can you save each month? These are important questions to discuss with your soon-to-be spouse to help determine what you can both comfortably contribute to your wedding budget. Money can be a notoriously touchy subject to tackle, so make sure you come to the table with a spirit of compromise and a spending range rather than a fixed wedding budget number.
After adding everything up and deciding how much money you want to put toward your wedding, you may want to add a bit more to the pool by contributing to a savings account throughout your engagement. Look at your current household budget, to figure out how much more the both of you can set aside for the wedding without shortchanging other financial goals like buying a home together or paying down student loan debt. Yes, your wedding is important, but it shouldn't cost either of you your financial goals. If you're looking for a simple way to boost your savings, consider cutting out unnecessary expenses like fancy coffees or takeout. You can allocate the extra cash toward your wedding budget during your engagement.
How Much You Will Spend & On What
PC: Blink and Company Photography
Once you and your partner settle on your wedding budget, it's time to figure out where you plan to spend that money. Take the time to hash out your wedding priorities. Jot down a list of every wedding component you can think of, including the venue, decor, photographers, dress, food, and DJ. From this list, decide on the top three things you think will have the most impact on your big day and your wedding guests.
Then create a budget breakdown that details where you'll allocate the money. According to The Knot, the average couple's wedding budget breakdown looks pretty much like this:
Venue – 30%
Catering – 23%
Band – 13%
Wedding rings – 7%
Photography – 7%
Alcohol – 7%
Flowers – 7%
Videography – 6%
Couple's attire – 6%
Wedding planner – 5%
Lighting and decor – 5%
DJ – 4%
Guest entertainment – 3%
Transportation – 3%
Stationery – 2%
Other – 5%
These categories are all about personal preferences and can be adjusted to suit yours. Based on your list of priorities, you might choose to spend more on the perfect dress and less on the venue or more on an open bar and less on a videographer. It's normal to want to focus on one component more than others — the breakdown will show you how it can still be financially feasible.
Bottom line: Devote the largest portion of your budget to the areas that are most important to you and be open to compromise on everything else. Be sure to also include a small fund for miscellaneous and unexpected costs. They will pop up, and it's better to be safe than sorry!
If you're worried about finding the perfect dress within your budget, don't worry though! At Maggie, we have a ton of affordable wedding dress options. Consider shopping the gowns below to find the dress of your dreams in the budget of your dreams:
Georgia by Rebecca Ingram: The mermaid wedding dress of your dreams with body-hugging tulle and sexy off-the-shoulder sleeves to boot!
Morgan by Maggie Sottero: Who said you can't be regal on a budget? With royal-inspired lace and an illusion bodice, you're sure to make a statement.
Claudette by Rebecca Ingram: Do you want to embrace shimmer on your wedding day? Consider this cottagecore wedding dress with floral lace and a lightweight skirt.
Jakayla by Rebecca Ingram: Satin, sophisticated, and sex, Jakayla is the perfect gown for brides who want to look simple but chic.
Foster by Maggie Sottero: Say "yes!" to this classic fit-and-flare dress with old-Hollywood vibes, a ruched bodice, and buttons down the back.
How to Save the Bank
Host an Intimate Celebration
PC: Kyla Jeanette Photography
The easiest way to reduce expenses is to limit your guest list. By keeping the guest list to just your families and closest friends, you can throw an intimate, cost-effective celebration. Consider limiting plus-ones as well. Trimming your guest list by just 20-30 people can save you thousands on food and drinks. Consider holding an intimate style wedding to make memories and save money! Read our blog on how to plan your dream micro-wedding celebration for some inspo.
Psst… This will also give you the opportunity to host your wedding celebration in one space which is a huge budget saver as well!
DIY
It's easy to endlessly scroll through Pinterest projects and DIY tutorials while you're wedding planning. And getting crafty will certainly save you some moolah, but it's important to know which projects are more of a hassle than they're worth. Decide how much time and energy you want to dedicate to going DIY. If you think it's worth it, watch your homemade touches whittle away at your wedding expenses!
Consider DIYing your centerpieces and other wedding decor with free or found objects like old books or wine bottles. Be careful not to fall into any craft store traps. You won't walk out of there with a full wallet – guaranteed. You might also choose to arrange your bouquets yourself or create personalized wedding party gifts.
Psst… For more DIY tips and tricks, read our blog!
Go Paperless
Speaking of DIY, wedding invites are easy to do on your own too! Design them yourself or tap the shoulder of a creative friend. You can print them at home or at a local print shop. And you'll save hundreds by not using professional print invitation sites.
If you're interested in going green (and saving some green), send e-vites. You can also create a wedding website to manage your guest list, track RSVPs, and list your registry and itinerary for the big day.
Take a look at some of these options:
Consider A Smaller Menu
Seated dinners tend to be the most expensive catering option. The meal often occupies one of the largest portions of your budget breakdown. There are a lot of options to avoid overspending on food! Look into alternatives like buffets, family-style stations, or serving more substantial hors d'oeuvres in place of a full meal.
If you choose a sit-down dinner, don't go all out on meat, chicken, fish, and vegetarian options. Limit the menu to one or two dishes instead. A chicken option and a pasta/salad should work to accommodate most diets.
Budget Certain Items
PC: Sarah Woods Photography
Thinking of creative options for budgeting will also help you spend money in the long run so you can spend more on your favorite things! Consider some of these options:
Buy local, in season flowers (and have your bridesmaids make the bouquets!).
Skip the wedding favors!
Thrift some of your must-have items like table centers, vases, napkin holders, chairs, etc.
Get a basic sheet cake for your guests and a small one for just you and your fiancé!
Consider getting married mid-week rather than a weekend.
Ditch the escort cards and allow guests to pick their seats
How to Track Your Spending
Now that you have a well-rounded idea of how much money you have, how much more you'd like to save, and where you'll allocate it, it's time to start spending! Planning a wedding is no easy task and ironing out every detail can feel like progress – but in slow motion. Preparing and organizing from the start is an accomplishment worth celebrating.
Keep track of your spending and review it as you go. This ensures that you stick to your wedding budget as you begin making decisions for the big day. You don't have to be super rigid about this. But it's a good practice to keep you from overspending. You might also consider establishing a separate, "wedding-only" savings account.
Keeping your wedding fund away from your regular spending money is a great way to stay on track. It also has the added benefit of protecting your daily accounts from any wedding splurges. Be aware, too, that some vendors require a deposit upfront, but don't bill until a later date. Be ready when the bill comes and make sure you have the funds to pay it.
You should regularly discuss your wedding budget and spending with your soon-to-be spouse. Open communication is the key to establishing financial trust early on and learning how to compromise if disagreements come up. Plus, your wedding day should be representative of your union. It's important all parties feel that they have a say if they want one.
Read more about how to grow with your partner (financially and not) in our blog!
Now, all that's left is to say "I do!" Use the above tips, practice patience with yourself as you plan, and enjoy the process. Here's to forever — without the wedding day debt!
To round out your wedding planning expertise, make sure to become a Maggie Insider by clicking the button below, and reading more blogs like this!
More Blogs Like This:
10 Affordable Wedding Gowns for Stylish Brides on a Budget
How Much Do Maggie Sottero Wedding Dresses Cost?