Dresses
Tips and Trends
|
February 23, 2020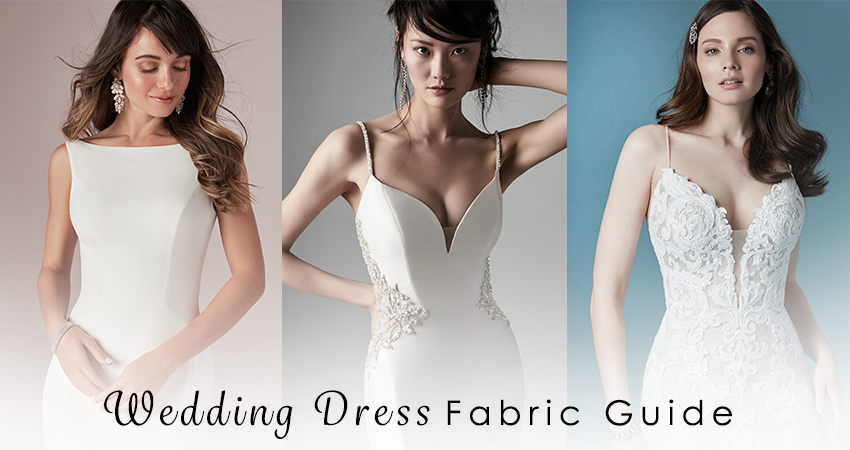 Shopping for a wedding dress is one of the most anticipated and exciting steps for a bride. However, with so many details to consider, this decision can feel intimidating. As one of the most important factors on a gown, wedding dress fabric may seem unfamiliar and overwhelming. But fret not! We've created an all-in-one wedding dress fabric guide with pictures AND videos to make your experience a little easier!
Go For an Elegant and Classic Choice with Satin
Satin is a go-to wedding dress fabric for wedding gown designers seeking to add structure and drama to their collection. To help brides look and feel their best, our design team utilizes the rich support of satin fabrics to provide dress structure in conjunction with our incomparable Maggie fit.
Satin's smooth fabric makes it the perfect choice for ruched and draped styles. Because of its heavy material, satin is also a great choice for low-temperature weddings. Choose a satin ball gown skirt with Mylene, a vintage look with Vogue Satin on Ettia, or duchess-inspired Carlo Satin with Brennon.
If You're a Modern Bride, Make Mikado Your Go-to
The gleaming and whimsical effect of Mikado provides lines that will lead eyes to all the right places. Josie by Rebecca Ingram features Huron Mikado, off-the-shoulder sleeves, and a vintage feel, while Juanita by Maggie Sottero keeps things interesting with lace motifs over Lyric Mikado and a unique sheer beaded lace back.
And don't forget Kimora by Sottero and Midgley. This Elodie Mikado ball gown is not to be underestimated, with a beaded lace bodice, scoop neckline, and fabulous hidden pockets. Needless to say this wedding dress fabric is the perfect solution for a bride dreaming of that incomparable Maggie fit.
Romantic and Vintage Brides Love Lace
The elaborately-patterned cotton lace is a fresh interpretation of classic lace fabrics. Our wedding dress fabric guide says to choose bold but classic with our Tuscany Lynette and Daphne gowns. Bold lace adds texture and depth to many wedding dress styles, but we especially love it on our Daphne gown because it's not overpowered by the gown's silhouette. Add a twist to your classic yet modern wedding style by incorporating bold lace.
Feeling daring? Choose black contrasting layers of tulle, Chantilly lace, and a sheer bodice accented in 3-D floral lace motifs with Zander by Sottero and Midgley. This black ball gown wedding dress also comes in ivory and champagne options, but if you're going for Victorian drama and unconventional gorgeousness, those wouldn't have quite the same impact, would they?
Try Tulle for Girly and Glamorous
This timeless wedding dress fabric can be layered or embellished for extra glam (yes we're talking about you, glitter tulle!). If you're looking for a gorgeous and exceptionally-sweet aesthetic, tulle creates volume without adding extra weight.
It is also a good option for petite brides because it can be easily haltered. Check out our Mallory Dawn and Raelynn gowns that both incorporate tulle in unique ways. And don't underestimate the power and beauty of an illusion halter neck over a diaphanous tulle skirt with our Tovah ball gown wedding dress.
To Keep that Formal Yet Lightweight Feel, Opt for Organza
Organza is a sheer and lightweight wedding dress fabric like chiffon. However, its crisp texture allows it to hold its shape. Paired with stunning silhouettes, organza creates a high-fashion look that our wedding dress fabric guide totally recommends.
Try our Veda and Amelie ball gowns around the month of February for an added amount of romance and glamour, or keep things flirty with our strapless organza mermaid wedding gown, Savannah.
Be Soft and Effortlessly Chic in a Chiffon Wedding Dress
The soft fabric of chiffon effortlessly flows in the wind, making it perfect for that summer garden wedding or better yet, beach wedding! If you want that "floaty" feel, this wedding dress fabric is totally for you because it is not only sheer but also light-weight. And for tips and tricks on how to get wrinkles out of a chiffon wedding dress, click here!
Our Deirdre gown keeps it boho while our Madilyn offers a little more chic elegance. And with the unique bow detail on the back of Gabriella, you'll be swimming in choices for your summer wedding!
If Timeless and Sleek is Your Cup of Tea, Chooose Crepe
Crepe is a type of silk that clings to the body, making it an excellent choice for brides who want to flaunt their assets! Brides who want an understated, minimalistic look should also consider crepe for their gown, since this wedding dress fabric looks crisp and sleek.
Go for simple with Alice, or add a little statement to your minimalism with bishop sleeves on Aberdeen. Or if you want your bridal portraits to stand out, try Aston, our unique crepe sheath wedding gown with crystal-embellished cuffs.
There you have it—our all-in-one wedding dress fabric guide! To explore more wedding dress fabrics and find your dream dress, use our Find Your Style page on our website. Happy wedding dress shopping!