Tips and Trends
|
September 30, 2022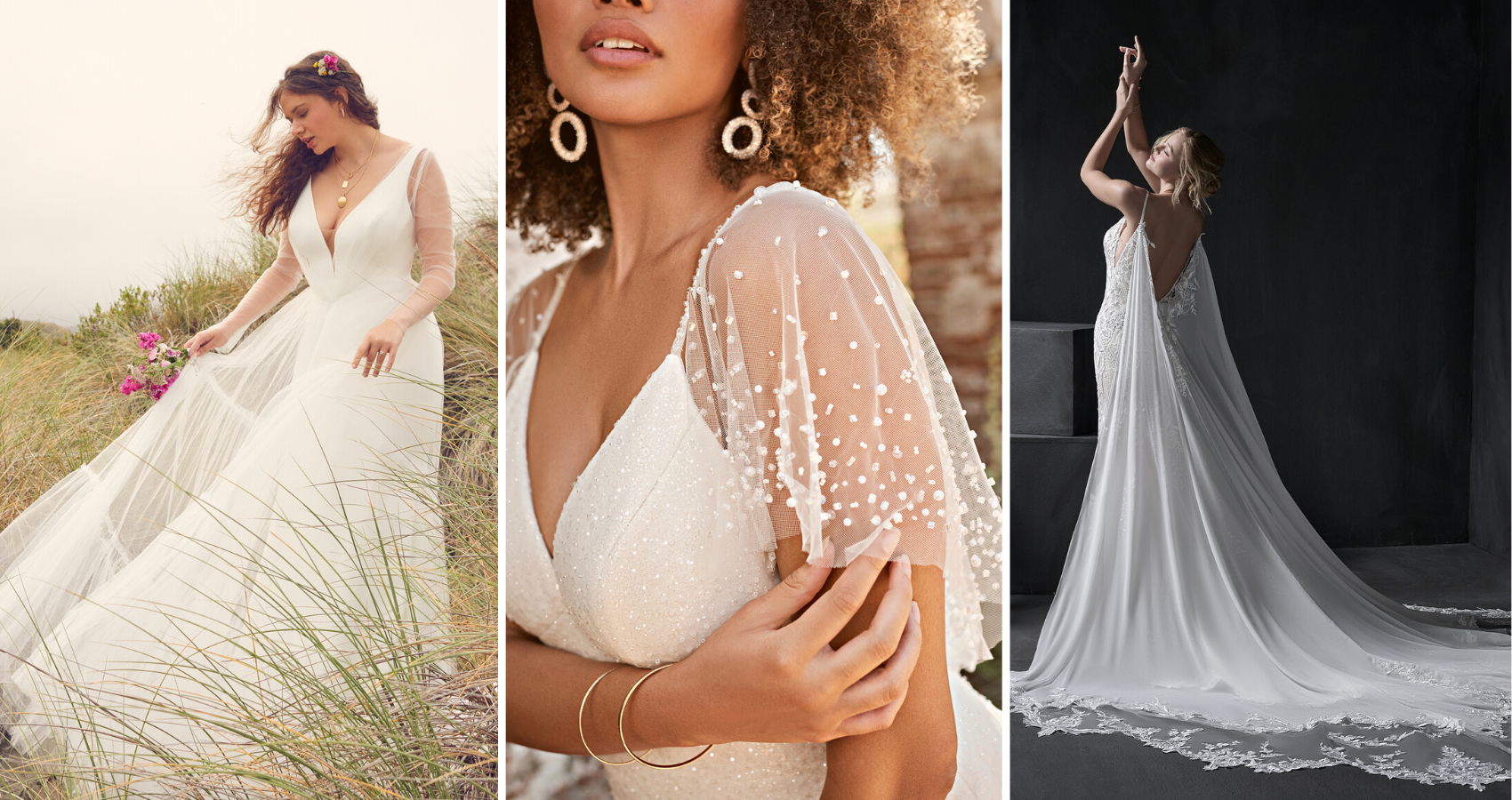 Are you a bride looking to add a little extra something to your bridal look? Are you a fan of fabulous accessories? Well, you're in luck! Keep reading for the ultimate guide to styling a bridal cape or bridal jacket for your wedding day look.
Before you start scrolling to see all our gorgeous styles, make sure to take our Style Quiz below to narrow down your wedding dress look based on price, body type, aesthetic, and must-have details!
Why You Should Add a Bridal Cape or Jacket to Your Wedding Day Look
Chic wedding capes and bridal jackets are all the rage right now – and we can see why! These unique accessories add an extra element to your wedding day look in more ways than one.
If you're a bride looking to have an ultra-unique bridal look, a wedding cape or bridal jacket will transform your gown into a whole other look. Speaking of which, adding one of these (or both!) to your ceremony look and then taking it off for the reception will give you an affordable second-look option for your reception.
Lastly, a bridal jacket is a perfect option for our modest brides who are hoping to cover up a little bit more and our winter wedding brides who are looking for a more weather-appropriate look. When you find your perfect dress, nothing should stop you from walking down the aisle in it, which is why we love our accessories here at Maggie!
Need some more inspo? Keep reading to find the bridal cape for you and watch our video below featuring our favorite wedding capes and jackets in action, including a sneak peek of some of our newest styles and accessories!
If your wedding day look is inspired by all things regal and princess-esque, our Carrington by Maggie Sottero wedding dress cape is the perfect accessory for you!
This gorgeous and unique floor-length bridal cape features soft and whimsical tulle, garden-inspired lace, and a drool-worthy scalloped lace hem. In other words, it's the perfect accessory for your royal entrance at the start of the aisle.
What do we love most about this romantic cape? How lovely it matches almost any wedding dress you could pick. We have some favorite gowns we think would be perfect to partner with this wedding cape. Montgomery by Sottero and Midgley, Alera by Sottero and Midgley, and Samantha by Maggie Sottero are our top picks to match with this dreamy cape. Not only will it add that perfect touch of whimsy to your overall look, but it will match impeccably.
Want to see more princess bridal looks? Read our blog on Disney princess-inspired wedding dresses.  
The Akari by Maggie Sottero bridal jacket is what dreams are made of! It's the perfect romantic and subtle touch to your wedding day look – particularly if you go with one of our simple wedding dresses like Sondra by Maggie Sottero, Paxton by Maggie Sottero, or Fernanda Lynette by Maggie Sottero.
With gauzy bishop sleeves with 3D floral motifs and a soft scoop neckline, this wedding jacket will only add to your wedding dress look rather than take away from it. We imagine this sophisticated jacket being the catalyst for an elegant wedding with white florals, pearl accents, and maybe a church venue.
Calling all our glam-loving brides! If you're a fan of pearls, crystals, and all things sparkly, we suggest donning our wedding dress cape, Sigourney by Maggie Sottero. This bridal cape adds the perfect touch of glimmer to your wedding day look and practically goes with anything!
With bohemian flutter sleeves, soft tulle, and finger-tip length hem, it's the ideal addition to your bridal look, whether you're wearing lace, sparkle, or crepe.
Our choices in wedding dresses to pair with this ethereal cape? Gina by Maggie Sottero, Boston by Sottero and Midgley, and Murphy by Rebecca Ingram. With Gina and Boston, you'll simply be adding to the glimmer. And with both gowns beaded spaghetti straps, this cape will seamlessly flow into the overall look.
With Murphy by Rebecca Ingram, this bridal cape will add a touch of drama to the simple sophistication of the sheath wedding dress.
Love the look for a glamorous wedding dress? Make sure to read our blog on celebrity-inspired wedding dresses for more bridal inspiration.
Is there anything better for a beach wedding than chiffon? We don't think so! That's why we think bridal cape Liam by Sottero and Midgley would be the perfect seaside accessory for our beach-loving brides.
This romantic cape features miles of soft chiffon to billow in the ocean breeze behind you as you walk down the aisle and dramatic details of floral lace to draw the eye. Our favorite part? The illusion scalloped lace hem. Who needs a train when you have a cape like Liam?
Naturally, we suggest pairing a beach wedding dress with a beach cap. Our picks? The wedding dress made to pair with the cape, Liam by Sottero and Midgley, Sadie by Rebecca Ingram, and Phaedra by Maggie Sottero. Though it's a separate accessory for a few of the dresses listed, it can match any gown you desire!
Love beach wedding dresses? Read our blog to fuel your beach wedding dress shopping day. 
For the Simple & Chic Brides: Lana by Rebecca Ingram Wedding Dress Jacket
Sometimes, the best statement to make with your accessories is a subtle one. Brides, meet wedding dress jacket Lana by Rebecca Ingram.
This detachable bridal jacket is head-to-toe feminine tulle with romantic long sleeves, a soft A-line silhouette, and a plunging V-neck and back.
We recommend pairing an equally soft and dreamy wedding dresses with this jacket to add an added touch of elegance to your wedding day look. Crepe wedding dress, Theodora by Rebecca Ingram is our first choice. With its deep V-neck and back, Lana will be a gorgeous jacket to put on top of your ceremony ad take off for the reception.
We also recommend Lily Lynette by Rebecca Ingram and Foster by Maggie Sottero for our second and third choices! Both simple wedding dresses have a touch of glamour in the bodice that Lana would parallel nicely for your wedding day.
Make sure to read our blog featuring a few of our gorgeous Real Brides wearing simple wedding dresses to learn more about how to style gowns like these!
For the Winter-Inspired Brides: Mesa by Maggie Sottero Wedding Cape
Winter is coming, so it's time to start shopping for those winter accessories! Bridal cape, Mesa by Maggie Sottero, is a perfect choice for brides looking to channel winter royalty on their wedding day!
This dramatic, crystal-encrusted bridal cape highlights your shoulders and provides all the romantic details you could dream of. During a winter wedding, your guests will think you've been dusted by snow as you walk down the aisle.
Kyrie by Maggie Sottero, Ripley by Sottero and Midgley, and Pippa by Rebecca Ingram are the ideal gowns to pair with this wedding dress cape. With artful details, sweetheart necklines, and striking silhouettes, Mesa was practically made for these wedding gowns!
For our vintage-loving brides, the Lupita by Sottero and Midgley bridal jacket is the ideal choice. This vintage-inspired jacket has couture organza, bishop sleeves, an oh-so-chic bow, and a mock neckline.
The best kind of wedding dresses to pair with this vintage wedding jacket is a vintage wedding dress! We think Lupita by Sottero and Midgley, Hattie Lane Lynette by Rebecca Ingram, and Ellington by Maggie Sottero would do nicely.
Bridal Capes & Jackets from Maggie's New Spring 2023 Collection
You didn't think we'd leave you without a sneak peek of some of our new Spring 2023 accessories, did you?
Say hello to Dionne by Rebecca Ingram, Juliette by Sottero and Midgley, and Clark by Sottero and Midgley! These wedding capes and jackets are just a few of the exclusive accessories that will be available for brides to view on October 4th.
If you're interested in seeing a few more of our Spring 2023 styles, make sure to read our blog to see all the up-and-coming trendy wedding dresses coming to Authorized Retailers near you soon!
By the way, who doesn't love a good giveaway? Make sure to follow our TikTok below so you can enter our 25 Days of Giveaways starting on October 4th for some exclusive bridal must-haves!
More Bridal Inspo Blogs to explore now:
How Much Do Maggie Sottero Wedding Dresses Cost?
Add Detachable Bridal Sleeves to Complete Your Bridal Look on Your Big Day
Customized Wedding Dresses & Personalizations With Maggie Sottero