Tips and Trends
|
August 24, 2022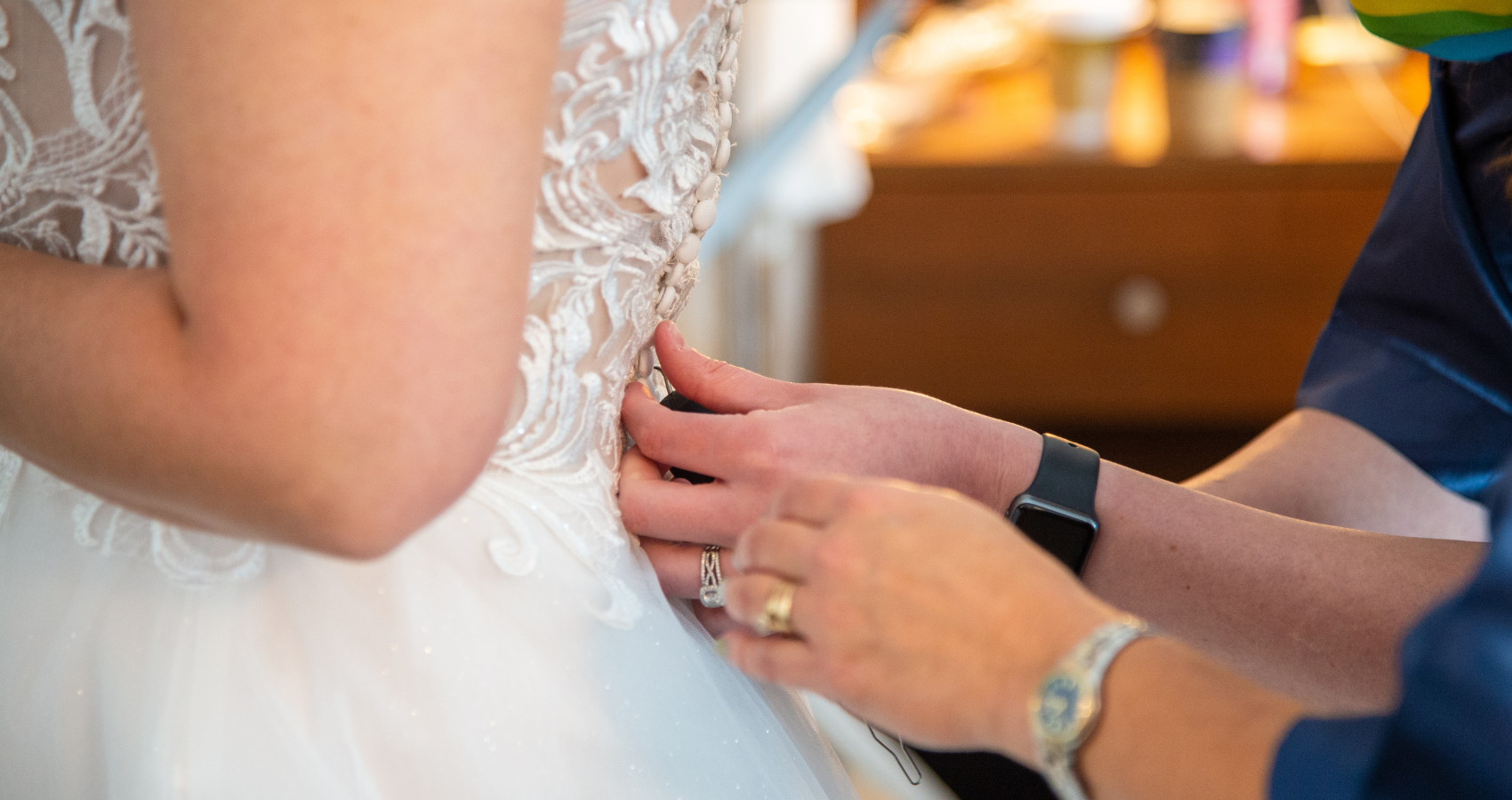 Hi Brides! Congratulations on your engagement! We hear you're looking for some insight into bridal sizing and our wedding dress size chart, so we're here to help! It's so great to know your wedding dress sizes before your bridal appointment, but keep in mind that sizes vary depending on a few factors, including the silhouette of your dress and which country you call home.
We know it's easy to get discouraged when it comes to clothing sizes, but wedding dress sizes do not follow the typical measurements of your everyday clothes, so don't be worried if your size is different than what you're used to! It's totally normal, and what matters most is that the dress fits—not the number. You're beautiful no matter your measurements, and your dress will be stunning on your special day!
Before we get started, if you want more tips and tricks, wedding education, and #MaggieInspiration for your big day, make sure to sign up for some exclusive text messages below!
How to Determine Your Wedding Dress Size
PC: Bridgett Reid Photography
First off, it's definitely not easy to take measurements on your own, so find a trusted friend of family member to help you! If you can, two friends are even better than one—one person can measure while the other records your bust, waist, hip, and length measurements!
Pro tip: For accuracy, you will want to follow these steps twice.
If you have a floor-length mirror, stand in front of it on a hard floor or low-pile carpet with your back to a mirror and look forward. Your measurement friend should drape the measuring tape across your back to ensure its level and proceed with taking your measurements. The tape should be held taut, but not tight. It's best to measure in your undergarments if you're comfortable but be sure to wear undergarments similar to what you'll be wearing on your special day!
Psst… For more info on what undergarments are best for your wedding dress, read our blog!
PC: The Red M Studio
Once your measurements have been recorded (twice!), compare them to the official Maggie Sottero Designs wedding dress size chart. If your measurements fall between sizes, it's always best to size up! Ballgowns may be an exception due to the room they often provide below the waist. If your hip measurement is the only measurement that matches the largest size and you're ordering a ballgown, you may choose to order the smaller size. However, remember that your stylist knows best when it comes to sizing, so be sure to trust their recommendation!
Wedding Dress Size Chart Tips
PC: Jessica Jones Photography
Bust
When measuring the bust, make sure the person measuring you holds the measuring tape straight around the fullest part of the bust without pulling the tape too tight.
Waist
To measure the waist, have your friend measure your "natural waist," or the smallest part of your torso. With this measurement, it's important to note your fit preference: do you prefer it tighter in the waist or a more relaxed fit?
Hips
Your hip measurement should be dictated by the widest area of the hip. The person measuring you should consider how your body shape will impact the fit points of your dress.
Body Length
To measure for body length, tilt your head towards your shoulder. The person measuring you should identify the point on your body where your neck and shoulder meet. AKA, the is the starting point. Instruct your measurement friend to place one end of the tape measure at this point and follow the tape measure down your body vertically, making it sure it is flush against your skin and down the fullest part of your bust. They should "walk" the tape measure down towards the ground, stopping just a couple of inches from the floor around your ankle bone—this is where you'll find the body length measurement! A great tip to remember when taking this measurement is to wear the shoes – or similar shoes—you'll be wearing on your wedding day. This way you can get the most accurate measurement for your body length!
For select styles, we offer various personalization options for brides who want longer (or shorter!) trains and other hem personalizations. To see what's available for your dress, work closely with your Stylist! They are able to help you discover your personalization options with you.
When in doubt, always refer to our wedding dress size chart and measuring chart guide below for tips on how to measure a wedding dress.
Last-Minute Tips for How to Measure a Wedding Dress
PC: Hayley Moore Photography
It's always important to consider how body size can fluctuate, especially in times of stress! As we mentioned earlier, what matters most is your comfort. Make sure to choose the size that fits your body best according to your measurements.
With all the uncertainty in the world right now, it's best to give at least nine months for your dress to come in once you've ordered. The last thing you want is stress related to the arrival of your dress.
Before you start searching for your perfect fit, think about what you're looking for. A boho ballgown? Sophisticated and elegant fit-and-flare? Soft and sweet A-line? No matter your style, it's great to have an idea of your vision for your wedding and dream dress. This will help you at your bridal appointment to narrow down to THE dress!
PC: Kelsey Christian Photography
If you find a dress you love but would love to make slight changes, Maggie offers several different personalization and Sister Style options! This allows brides to make their dress as unique as they are. Read our blog on wedding dress customization here!
There you have it! A comprehensive guide on how to measure a wedding dress. To go with it, an in-depth look at how we advise measuring with our wedding dress size chart in mind. Always remember that wedding dress sizes are simply numbers that help us ensure our brides find styles that fit their bodies. Most Maggie gowns are available in US sizes 0 through 28, so no matter what your size, you will look stunning on your wedding day!

Be sure to sign up for our Newsletter to stay in-the-know on all things Maggie. When you're ready, use our Boutique Locator to find your nearest Authorized Retailer to schedule your bridal appointment! For more inspo, read more of our blogs:
8 Must-Have Tips On How To Shop For A Wedding Dress For The First Time
10 Wedding Dress Shopping Tips To Consider To Find Your Perfect Gown
The Ultimate Guide to Preserving Your Wedding Dress After the Big Day