Dresses
|
September 9, 2022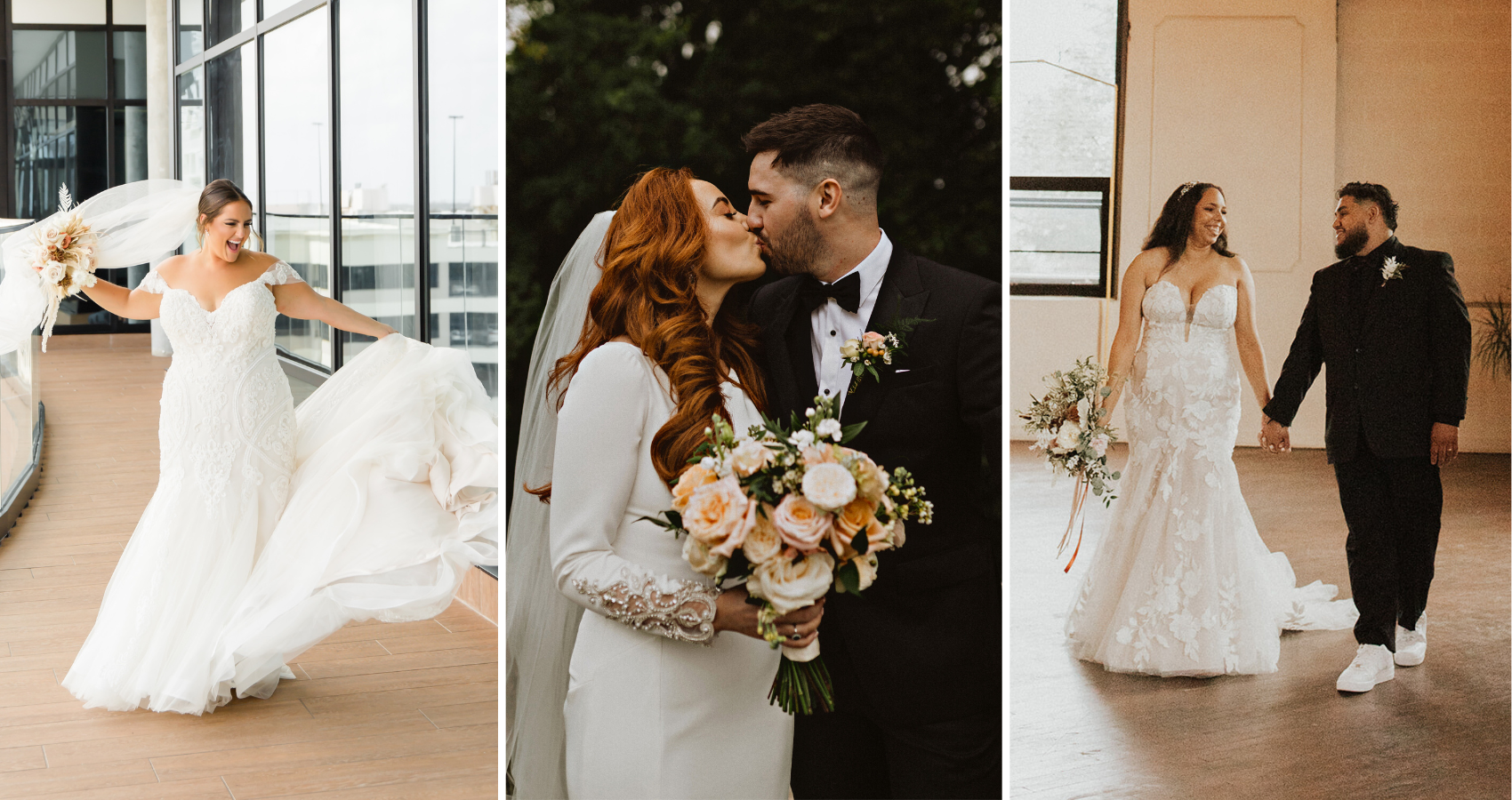 Hi Brides! Excited to embark on your wedding dress shopping journey? We know weddings can be expensive and overwhelming to plan at times, but no worries! We're here to help you understand how much wedding dresses cost and figure out what's best for you and your journey as a bride.
It's important to know your desired price point before you start shopping—make sure to factor in alterations costs as well because you want your beautiful gown to fit you like a glove!
If you want more tips and tricks, wedding education and #MaggieInspiration for your big day, make sure to sign up for some exclusive text messages below!
How much do Maggie Sottero wedding dresses cost?

According to the Knot, the average cost of a wedding dress varies based on various factors, including region, venue, and individual customizations. Here at Maggie, we have three incredible gown lines with a variety of price points, aesthetics, and styles to match the beauty and diversity of our brides.
Maggie Sottero is our core line of romantic gowns for a timeless-yet-personalized aesthetic. These gorgeous gowns range from $1200 to $3000.
Our Sottero and Midgley couture gowns are designed for glamour, sophistication, and a one-of-a-kind statement. These gowns are slightly more expensive, ranging from $1500 to $4500.
Rebecca Ingram is our line of classic, flirty, and elegantly tailored gowns at budget-friendly price points. These wedding dresses cost from $900 to $1500.
Wedding Dresses Under $1200
PC: Rebecca Ashley Photography
We can't think of anything better than finding a beautiful gown at the perfect wedding dress cost. Hattie by Rebecca Ingram is beloved by brides. This strapless, mermaid bridal gown features oversized lace and is available in 5 colorways, so you can have the exact look you desire! Not only is this gown priced at an outstanding price point, but it's also one of our Quick Ship wedding gowns! These gowns arrive faster than our normal delivery window, which is perfect for brides with short wear dates. Take a look at this beautiful Real Bride wearing Hattie!
PC: Captured by Kivinen
Josie by Rebecca Ingram is a stunning, timeless off-the-shoulder fit-and-flare gown under $1200. This gown features Huron Mikado, a sweetheart neckline, and delicate covered buttons trailing down the train. This beautiful Real Bride looks incredible in Josie!
PC: Kate Nolan
Looking for an A-line wedding dress cost under $1200? Joanne by Rebecca Ingram could be the one for you! This lovely wedding dress is the perfect combination of vintage and boho, with dreamy bishop sleeves and a sexy plunging neckline. In Ivory over Misty Mauve or All Ivory, this gown is sure to stun on your wedding day. Doesn't this bride look beautiful in Joanne?
You can't go wrong with a simple, elegant fit-and-flare dress! Dinah by Rebecca Ingram features Ganavi stretch Mikado, a soft V-neckline, and beaded spaghetti straps. Add a detachable tulle train accented with lace motifs for drama!
Wedding Dresses Under $1500
If there were ever a gown meant for a fairytale, it would be Harlem by Maggie Sottero. With its shimmer and shine, lace motifs with sequins, and sheer lace bodice lined with organza, this gown is a perfect option for brides mindful of wedding dresses cost and are looking for a gown under $1500. 
Paxton by Maggie Sottero is a wonderful, bedazzled wedding gown. Constructed with soft Mago satin, Paxton features a gorgeous bodice accented with beaded lace motifs, a deep V-neckline, and an illusion back bodice with asymmetrical lace trickling down the skirt. Not only is this beautiful style available unembellished, it's under $1500, making it the perfect choice for brides looking to keep their wedding dress cost budget friendly.
PC: Sarah Roshan Photography
Floral wedding gowns are SO in! Greenley by Maggie Sottero is a gorgeous, floral fit-and-flare wedding dress under $1500. With lace motifs over tulle, an illusion sequined lace bodice, a deep V-neckline and illusion V-back, and a gorgeous extended illusion lace train, this dress is a beautiful option for brides looking for an exquisite style without breaking the bank. How gorgeous is this Real Bride in Greenley?
Another wedding dress style for under $1500 is Amanda by Rebecca Ingram. This gown features lace motifs over texture tulle, a deep V-neckline, a deep V-back, and spaghetti straps, creating a shimmery, breathable, dreamy dress fit for an outdoor wedding.
Wedding Dresses Under $2000
PC: Blink and Company
If you're looking for a lovely off-the-shoulder mermaid gown, Frederique by Maggie Sottero is the one for you! This gorgeous style features beaded lace motifs over glitter tulle, a deep illusion strapless sweetheart neckline, a scoop back, and a stunning horsehair hem finish. And the best part? It's under $2000! Doesn't this Real Bride look breathtaking in Frederique?
PC: Dark Lab Photography
Tuscany by Maggie Sottero is another fantastic option for brides looking to take wedding dress cost into consideration when choosing their dream gown! This sexy mermaid wedding dress is all about glamour and sophistication, with its shimmering lace motifs over allover lace and tulle, gorgeous lined bodice, illusion plunging sweetheart neckline, and beaded spaghetti straps. Look how beautiful this Real Bride looks in Tuscany!
If a colorful, A-line is more your style, look no further than Nerida by Sottero and Midgley. This unique, artful design features soft tulle, a fully lined bodice with asymmetrical ruched tulle, a V-neckline, delicate off-the-shoulder ruched bishop sleeves with buttons at the wrist, and a sexy thigh-high slit. This gorgeous gown is one of our wedding dresses that cost under $2000!
PC: Tamar Hope Photography
Looking for a simple, chic look under $2000? Aston by Sottero and Midgley is a daring, Merona stretch crepe fit-and-flare style featuring a sleek bateau neckline, statement back, and long sleeves accented in beaded illusion embroidery featuring Swarovski crystals. Lined with Virtue jersey for a luxe feel, this stunning style is sure to wow on your special– this Real Bride is proof!
Wedding Dresses Under $2500
PC: Jessie Taft
Romantic, stylish, and glamorous are all words we'd use to describe the stunning Mallory Dawn by Maggie Sottero. This utterly feminine long-sleeved ballgown features gorgeous lace motifs, a sexy illusion plunging V-neckline, a sweet attached beaded belt, and an illusion V-back. This Real Bride looks marvelous in Mallory Dawn!
Shasta by Sottero and Midgley is a fairytale ballgown destined for the modern princess for under $2500. With its beaded tulle over glitter tulle, illusion bodice with corset detailing accented with beaded lace motifs, low scoop back, and strapless sweetheart neckline, this gown is an unforgettable moment meant for your beautiful wedding. Its matching detachable beaded tie straps are just to die for!
Love the look of a floral A-line? Kingsley by Sottero and Midgley is a gorgeously unique option! It combines everything there is to love about boho, vintage, and royalty! This style, available for under $2500, has lace motifs over tulle, an illusion lace bodice, a v-neckline, keyhole back, and lace cap-sleeves. Kingsley is also available with long illusion lace fitted sleeves or an illusion lace back.
PC: Bellagala Photo
Last, but certainly not least, Fiona by Maggie Sottero is a classic-yet-whimsical style adored by brides across the world. This sparkly, lace fit-and-flare dress features off-the-shoulder sleeves, a sexy sheer bodice, and a plunging illusion sweetheart neckline. It also features beaded lace motifs, a lovely scoop back, beaded spaghetti straps, and a scalloped illusion lace train. We adore Fiona and its variety of colorways and personalization options, but even more so, we love its price point! Fiona is one of our wedding dresses that cost under $2500! We think this Real Bride looks beautiful in Fiona!
All-in-all, we know wedding dresses cost a big chunk of change from your wedding budget. However, we want our brides to know they have options! No matter your ideal spend, you deserve to be your happiest, most confident self on your wedding day. We hope this collection of budget-friendly wedding dresses helps you narrow your search to find your perfect dream gown!
Be sure to sign up for our newsletter! In case you're looking learn more about Maggie or more wedding inspo, check out these blogs. Happy dress shopping!
More blogs to help you on your shopping journey:
The Story of Maggie Sottero: A Woman Owned Company
The Ultimate Guide To Choosing Your Wedding Dress Fabric
Wedding Dress Size Chart: How To Measure For Your Wedding Dress