Tips and Trends
|
November 23, 2020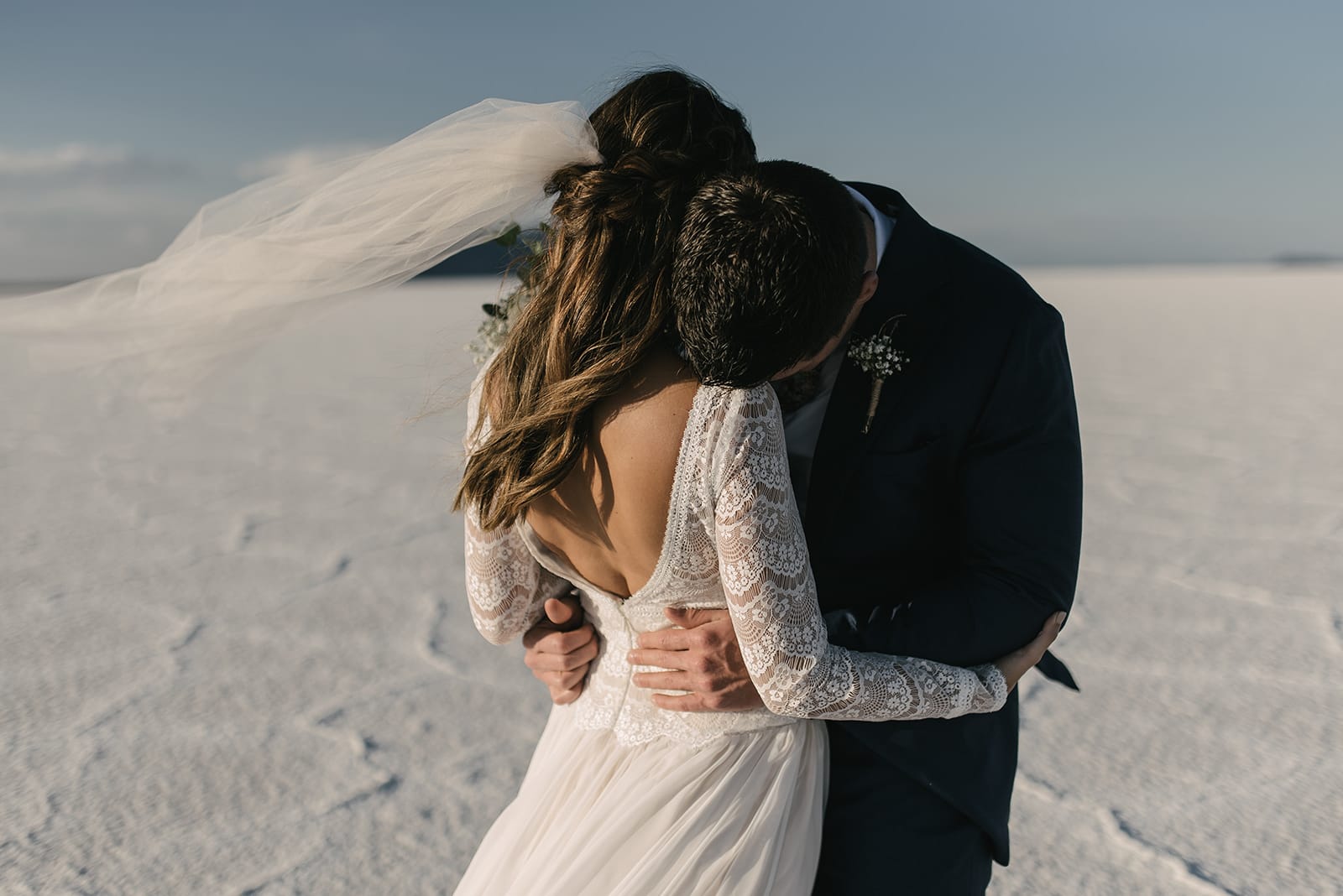 Wedding veils are yet another customizable detail of your personalized bridal look. The right veil can add romance to your lace wedding dress, glamour to your satin bridal gown, or complete the drama of your princess ball gown. Browse our ultimate wedding veil guide below to find your favorite bridal veil options, from delicate headpieces to show-stopping cathedral-length veils. Enjoy!
Birdcage Wedding Veil for Vintage Brides
The birdcage wedding veil is perfect for brides who love all things vintage. This mini veil is worn to cover just your eyes or extend a little past your chin. It has a chic look and tends to evoke Hollywood glamour. And for a little extra drama, opt for a black birdcage veil like this one that goes with our black and champagne wedding gown, Tristyn by Maggie Sottero.
Blusher Bridal Veil for Traditional Ceremonies
A blusher wedding veil is a shorter, single-layer veil that falls over your face and ends around your shoulders. This veil option is ideal for brides wanting a traditional look without the hassle of a long veil. And it looks great on heart or oval face shapes. Plus, it's also great for customizable headpieces! We love the look of this blusher veil with our netted lace wedding dress Antonia by Maggie Sottero.
Elbow-Length Wedding Veil for a Classic Look
Up next on our wedding veil guide: Elbow-length veils. These demure veils are romantic and traditional but still short enough to avoid the irksome-ness of a full-length bridal veil. This particular veil style looks exquisite with a sweetheart A-line wedding dress or blinged-out ball gown like Taylor Lynette by Maggie Sottero (pictured above). Tip: Consider adding face-framing tiers of tulle if you have a square or round face!
Fingertip Wedding Veil for a Trendy Look
Want to wear your veil for the after-party and reception? Choose a fingertip wedding veil. As one of the top trending types of veils, fingertip-length wedding veils flatter most wedding dresses, (even those with statement-making backs)!
The sheer fabric of a fingertip veil adds a touch of intrigue while still showcasing an open back or illusion lace detailing. This is a great veil pairing for fit-and-flare bridal gowns (like Esther by Maggie Sottero, pictured above), where the volume of the skirt begins between the hip and the knee. And it's perfect for brides looking to dance through the night!
Chapel Length Wedding Veil for Walking Down the Aisle
Just longer than floor length veils, chapel wedding veils create the illusion of a long train wedding dress without adding extra weight to your gown. Want to make a statement while walking down the aisle? Choose a chapel-length veil that extends just beyond your wedding dress' hemline to add drama and elegance to your wedding day look!
The best way to play up a shimmery mermaid wedding dress? An over-the-top chapel length bridal veil! This style also offers a gorgeous way to show off a mermaid silhouette while not going as long as a cathedral length veil. The length also frames and extends the gown without adding a visual break in the fit-and-flare lines. Case in point? Our Halle wedding dress and matching veil pictured above!
Cathedral-Length Bridal Veil for Show-Stopping Drama
Go for serious regal drama with a cathedral-length wedding veil á la Kate Middleton and Meghan Markle. This veil length is best suited for formal chapel or manor weddings, as an outdoor setting may ruin its delicate fabric. (Psst—plan on your best friend minding the train as part of her maid of honor duties!) We love how minimalist A-line wedding dress Josephine by Maggie Sottero pairs perfectly with our Josephine floral lace veil!
If you're after vintage wedding veil accessories with a little color and shimmer, consider embroidered lace veil Josephine Lynette by Maggie Sottero. This red lace trimmed wedding veil pairs perfectly with fairytale gowns, high-impact minimalist dresses, and formfitting silhouettes. All in all, it's a dazzling embellishment for your couture bridal aesthetic! Love this style of veil? For a classic look, browse our Picture-Perfect Vintage Wedding Veils!
Illusion Bridal Cape for an Alternative Wedding Look
If you love the look of a veil but want to forego the traditional headpiece, consider an illusion lace bridal cape! This alternative veil trend goes fabulously with slinky and fashion-forward wedding dresses like mermaid crepe wedding Anthony by Sottero and Midgley (pictured above). Bonus points for customizability from ceremony to reception!
There you have it—our ultimate wedding veil guide! We're all about the drama and romance of stunning bridal veils! This timeless bridal accessory looks great in wedding photos and adds intrigue to your bridal look. Be sure to check out our Veils Trend page for more inspiration. Then, visit one of our Authorized Retailers to try on our different accessories. Happy shopping!