Tips and Trends
|
August 30, 2022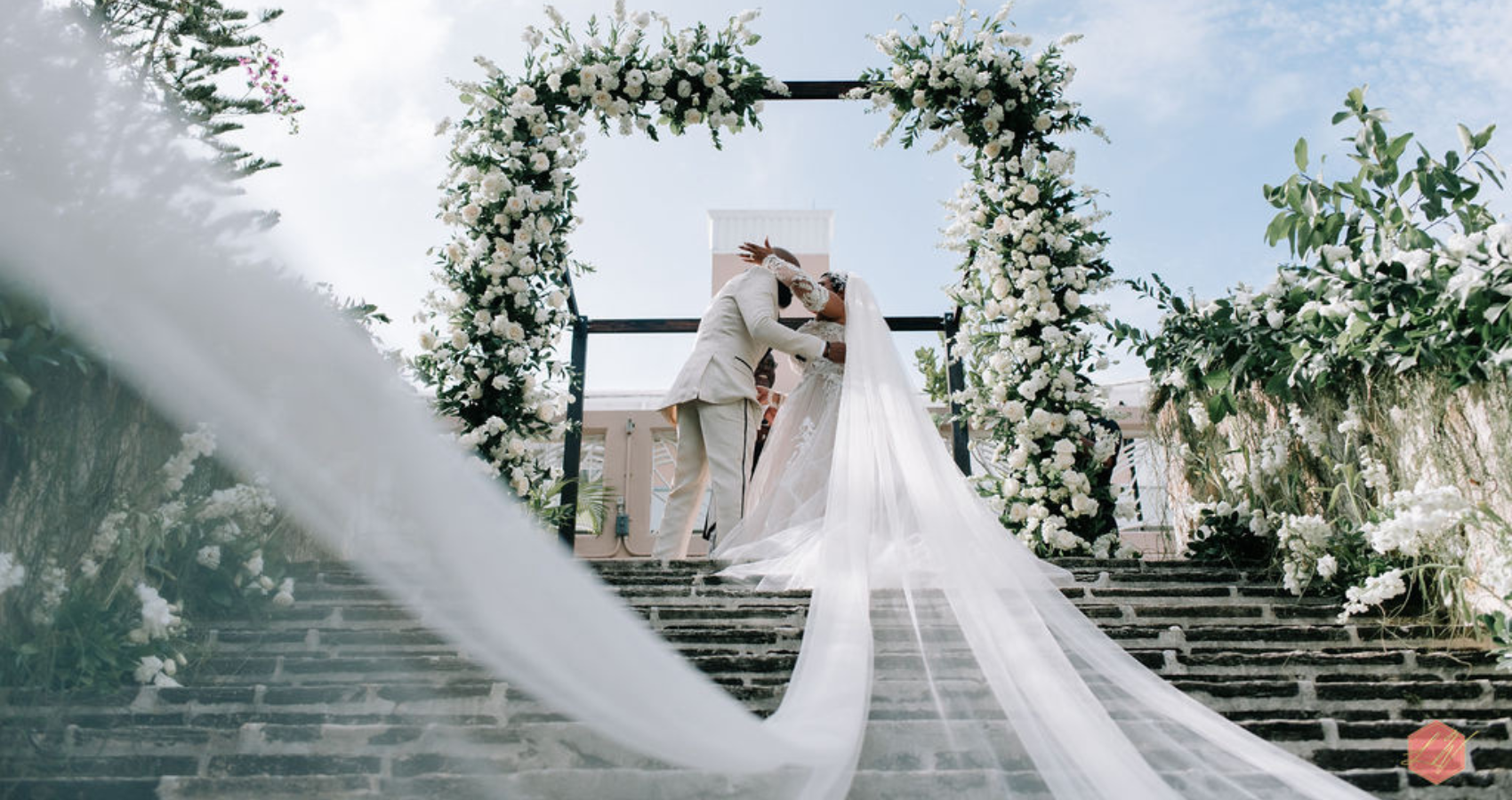 Are you a bride who's on the fence about bridal veils? Don't worry—we're here to help! As a bride, the possibilities are endless when it comes to accessorizing your fabulous wedding day look, and we think a wedding dress veil is an amazing, timeless addition to any style. Before we jump into all things veils, be sure to take our Style Quiz to find your perfect fit!
The History of the Bridal Veil
PC: Kyla Jeanette Photography
Bridal veils are used all over the world in many different cultures. Traditionally, veils have represented modesty, and some even believe they help to ward off evil spirits. Today, veils are used more as an accessory that completes the overall bridal look. Overall, they are a timeless tradition that adds another element to the gown.
Curious on how to wear it? Take a look at our top tips below!
Top Tips for Wearing a Bridal Veil
PC: Brett Booner Photography
We're huge lovers of veils, so it's only fitting that we provide our best-kept, not-so-secret tips on rocking a fabulous wedding veil:
A veil will work with any hairstyle! One important thing you'll want to remember is to make sure you anchor it in really well. If you're looking for an easy hairstyle that you won't have to worry about, consider a half-up or up-do hairstyle.
If you're getting married in the great outdoors, a wedding veil with edging— whether it's pearls, lace, or other beautiful adornment—will weigh it down to keep it from flying around.
Every veil comes with a comb attached to help the veil stay in your hair; however, bobby pins are a great way to really secure the veil in place.
Just like your wedding gown, you'll want to preserve your bridal veil! Store your veil in a protective bag before and after your wedding.
The world is your oyster when it comes to bridal veils! You can find any kind of style you desire, whether it's cathedral, sequined, lacy, scalloped, etc.
The best part about a veil is that you don't have to wear it the whole day! Of course, you can if you want to, but many brides choose to wear their veil during the ceremony and go a little more casual for the reception. It's up to you and the type of veil you choose!
If you're a bride who wears a hijab, or other type of hair covering, consider talking to a local seamstress to design a veil piece that is attached. Pinning it in is another easy and affordable option!
For brides with braids, the easiest option in securing your veil is taking a few of the braids and pinning them in the back to act as an anchor for your bridal veil.
If you're a bride that's planning on rocking your natural hair on your wedding day, a birdcage type of veil is always a fun choice that will enhance your look rather than take away. If want a long and dramatic veil though, tucking it underneath your hair will allow all the length and drama without flattening your hair at all.
Types of Bridal Veils
Fingertip-Length Bridal Veil
This popular veil style is the more casual choice, but it's not to be underestimated! You can find some stunning, show-stopping fingertip-length veils.
For example, Eldridge by Maggie Sottero is a dreamy, 3-D flower fingertip wedding veil that conveys the dreamiest, most whimsical vibe.
Johanna by Maggie Sottero is an elegant, lace fingertip bridal veil constructed in a simple-yet-chic way. This veil, accented in beaded trim, is the perfect complement to any gown.
If you're looking for oversized lace in the form of a fingertip wedding dress veil, look no further than Tuscany Marie by Maggie Sottero. This style is the perfect finish to a variety of simple or deluxe bridal styles. Whether you want to make a statement or simply elevate your wedding day look, this veil can accomplish every one of your wedding day goals.
Chapel-Length Veils
Unlike fingertip-length veils, chapel-length veils reach the floor and spread out just a few inches beyond your dress. They're the perfect compromise between fingertip and cathedral lengths!
Marvine by Sottero and Midgley is a beautiful example of the ever-fabulous chapel-length wedding veil. Its shimmery, alternative lace provides a perfectly unique, wanderlust-filled aesthetic meant for brides who want to make a statement with their bridal veil.
Are pearls more your vibe? Geddes by Maggie Sottero is your perfect match! This vintage-inspired pearl chapel-length wedding dress veil is a beautiful combination of elegance and romance, perfect for your wedding day!
If you're a bride who lives for the colorful floral aesthetic, you'll adore Lavinia by Maggie Sottero. This chapel-length veil comes in either All Ivory or Multi colorways and is accented with the most irresistible 3-D flowers. No matter which colorway you choose, this veil is sure to complete your wedding day look in the most beautiful of ways.
Cathedral Length Wedding Veil
Calling all regal, drama-loving brides! Cathedral-length wedding veils are simply made for you. These veils extend a foot or two beyond your dress, accomplishing the most dramatic of wedding day looks.
Harlem by Maggie Sottero is a classic, vintage-inspired floral lace cathedral-length bridal veil. This veil is a statement-making style designed to frame your favorite features.
We know brides LOVE Hattie by Rebecca Ingram, so it just makes sense that you'll love its matching veil! This sultry-yet-simple cathedral-length bridal veil is perfect for brides looking to add an extravagant layer of elegance, dimension, and soft drama to their special wedding day look.
If you're a nontraditional bride who loves a cathedral-length veil, Zander by Sottero and Midgley is a beautiful option for you! This gothic-inspired lace wedding veil is bold, sophisticated, and available in both Ivory/Champagne Accent and Black.
Two-Tiered Veil
What many might not know about wedding cake and veils is that they have one important thing in common—sometimes, one tier isn't enough! Brides are loving layered veils lately, so here are three of our favorite two-tiered veils.
Nakara by Rebecca Ingram is a stunning, traditional, and romantic two-tiered wedding veil featuring 3-D lace motifs. Paired with any style, this fingertip-length veil is simply breathtaking.
If you're looking for the best of both worlds between length and layering, Valetta by Maggie Sottero is the bridal veil for you! This two-tiered, floor-length wedding veil features scattered lace motifs that are destined to convey a sweet, romantic look.
You can't go wrong with a two-tiered, chapel-length wedding veil, and Kalina by Rebecca Ingram is the perfect example. This floral lace wedding veil adds the perfectly stylish, ultra-feminine dose of drama you're looking for. Available in All Ivory, this veil is sure to wow on your wedding day!
Ballet-Length Wedding Dress Veil
Last on our list is the ballet-length veil. Falling just below your hips, the ballet-length bridal veils are the perfect balance of fun and elegance.
Take Dover by Maggie Sottero for example—this style features vintage-inspired fringe edging the veil to create a dreamy, adventurous aesthetic.
Essex by Sottero and Midgley is another gorgeous ballet-length veil. This style is complete with illusion tulle and irresistible beaded trim.
And there you have it! We hope you've enjoyed getting the 4-1-1 on all things bridal veils. We can't wait to see which style you choose! Be sure to follow our socials below to keep up with Maggie, and for more wedding inspo, check out more of our blogs!
More Style Inspo:
6 Types Of Wedding Nails For The Classic, Edgy, And Girly Brides
5 Types Of Wedding Makeup To Inspire You For Your Wedding Day
Add Detachable Bridal Sleeves to Complete Your Bridal Look on Your Big Day