Tips and Trends
|
September 19, 2023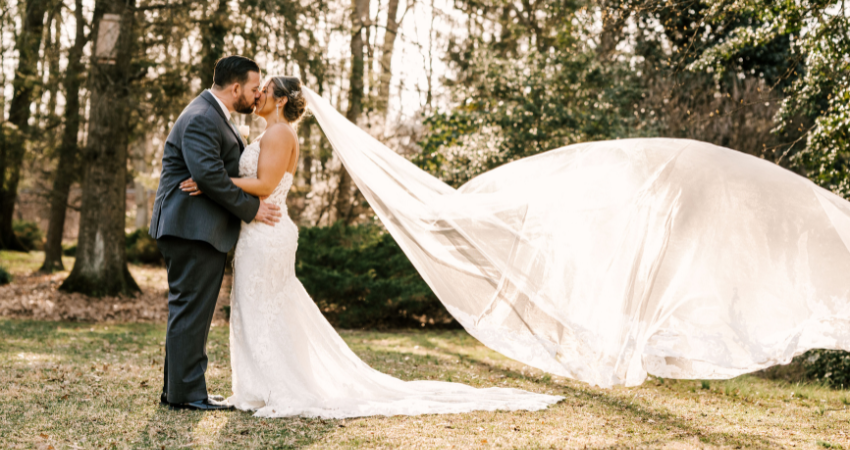 Behold, the bridal veil. It's dreamy, romantic, and a nod to tradition while still being fresh and personalized to your wedding vision. And best of all, there are virtually endless styling options to choose from  — from black tie formal to chic and beachy, kitschy vintage to whimsical boho, and all the magic between! So if you're dreaming up gorgeous accessory looks for your celebration, start with irresistible bridal veils and styling inspo from our latest collections…
But first, make sure to take our Wedding Dress Quiz so that you can find a dress to match your dream veil!
The History of the Bridal Veil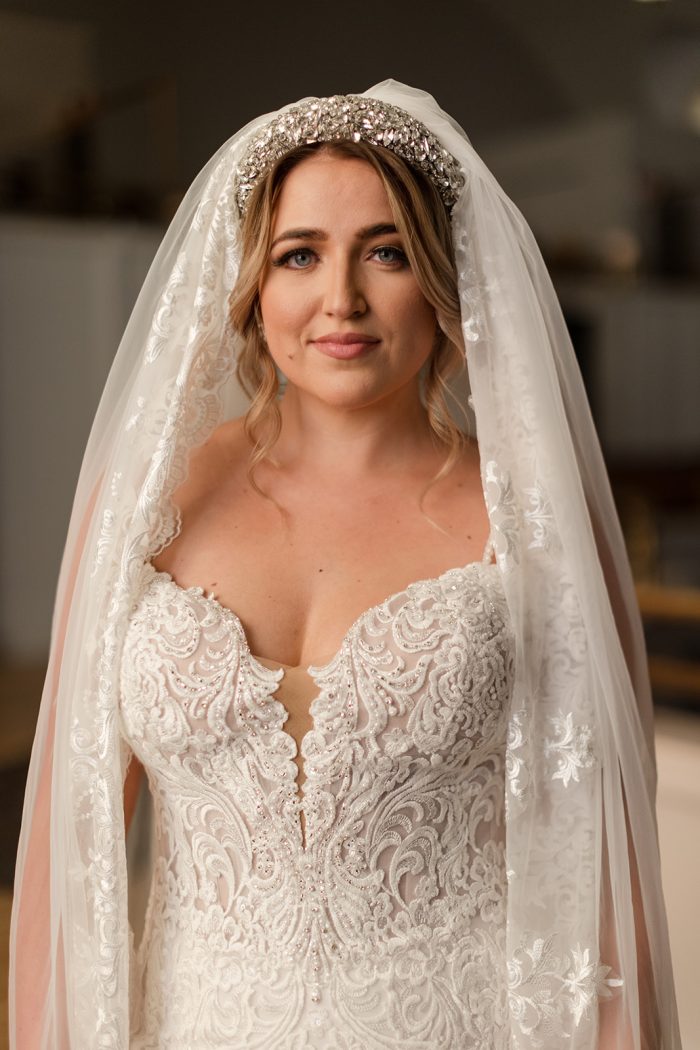 PC: Kyla Jeanette Photography
The veil tradition can be traced back centuries in various cultures throughout the world. It is typically meant to signal modesty and protection — a way to signal the bride's innocence and ward off energies that might attack or thwart the wedding ceremony. Most historians trace the Western history of the veil to Ancient Rome, and the practice has been prominent throughout Islamic, Jewish, and Christian traditions throughout history.
A few anecdotes and superstitions around the tradition of veils:
Accounts of brides wearing a veil to "hide their face" differ: Some focus on the nature of arranged marriages, i.e. not allowing the groom to see the bride before the ceremony is over lest he doesn't like what he sees, while others focus on the respect for modesty and decorum, i.e., ensuring the ceremony doesn't focus on superficial appearances.
In some traditions, the entire bridal party wears a veil, including the bride. This is meant to misdirect any evil spirits with "decoy brides," helping to create a "safety zone" for the actual bride against bad energies and spells.
Across many cultures and traditions, a flowing white veil is meant to symbolize the bride's purity and virginity.
In some iterations, a veil symbolizes the passage between the bride's former life and her new chapter of marriage. This adds to the meaning and dedication of the ceremony and vows.
Veils are still popular today — for religious and traditional reasons, or simply because brides appreciate the vibes. So whether you want to follow traditions or just love the demure aesthetic of wearing a wedding dress veil, make it your own! With tons of gorgeous shopping inspo to choose from, you'd be hard-pressed to not find a look that feels totally true to your personality, traditions, budget, and dream wedding dress…
Top Tips for Wearing a Bridal Veil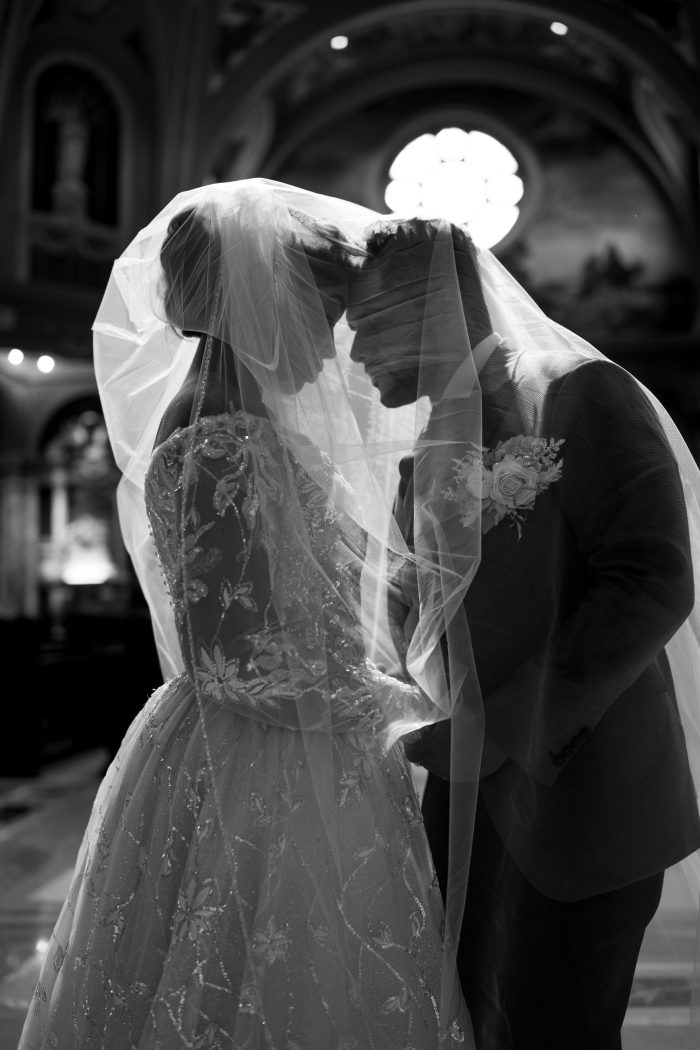 PC: Rehte Photography
A bridal veil is timeless and versatile, so you don't have to fuss too much to make it gorgeous! Here are a few tips to keep everything easy breezy…
A veil complements virtually any hair type and texture. We especially love them with half-updos so you have options to anchor the comb and attachment. The bun or braid detail helps to disguise the clip-in!
If you're getting married outdoors, we recommend choosing a veil edged in lace, beading, or pearls. This helps to weigh down the tulle and keep it from flying around when a breeze picks up.
A comb, clip, or bobby pins offer a subtle and easy way to anchor your accessory. Some brides also drape the full veil over their head for a romantic, sultry look. This looks especially dramatic in wedding photos.
Keep your veil in a protective bag before and after the wedding, and pack a steamer to remove wrinkles before the ceremony. It also helps to place in a room with a hot shower running to relax the wrinkles.
Don't feel like you have to wear the veil all day — it's typically best for photo ops and the ceremony, then removed for the reception and dance party.
Choose a style you love, which means it doesn't have to match perfectly. Many brides choose accessories with mismatched but complementary embellishments in lace, pearls, beading, and more. (This is especially true if you're wearing an heirloom style, such as your mom's veil or a lovely vintage piece!)
Keep the heirloom going! A veil makes a beautiful gift for future generations. You might choose a style to pass on to the next generation; reimagine as a stylish black-tie accessory for future events; or as a framed keepsake to display in your home. The tradition lives on!
Now, on to gorgeous wedding veils and styling inspo! These are popular types from our latest collections…
Types of Bridal Veils
Fingertip-Length Bridal Veil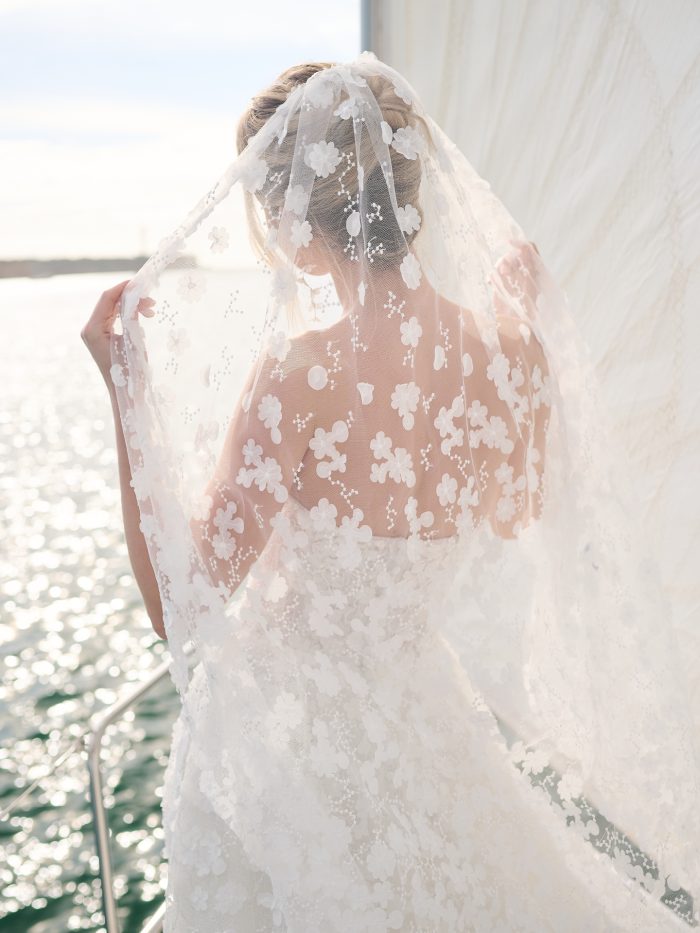 A short, casual, and ultra-chic choice for effortless accessorizing, these styles are all about lightweight fabric and flirty embellishments. This style is especially ideal for a vintage aesthetic, stylish elopement, or backyard soiree. Here are three fingertip styles from our latest collections…
Chapel-Length Veils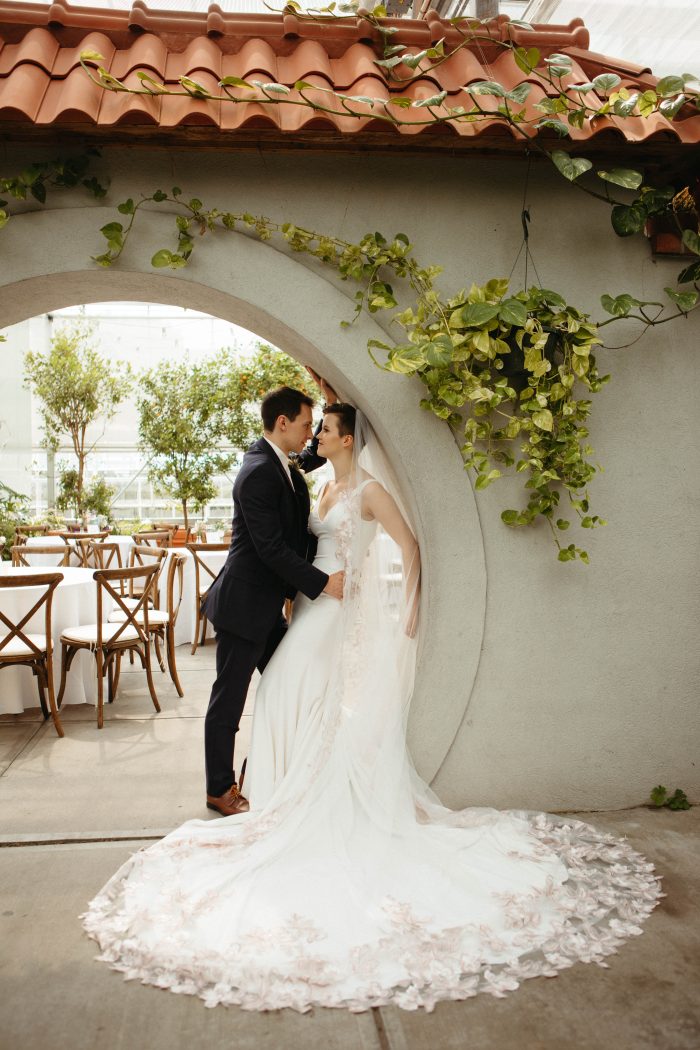 PC: Laura Sarlitto
This length goes down to the floor and spreads out just beyond your wedding dress — an elegant and versatile choice for your bridal look! Chapel-length veils are the perfect combination of simple styling and beautiful flourishes…
Tristyn by Maggie Sottero features romantic lace to match the bodice in Tristyn (or a variety of our other gown looks). Black or white? Your choice! We love this for a bold and nontraditional pop of black, or as a stunning accessory in traditional white or ivory. 
Lavinia by Maggie Sottero offers pops of color in a soft, romantic sweep. This is the perfect veil for a cottagecore aesthetic, nature-inspired venue, and rustic or woodsy wedding dress. It's also a lovely inspiration for the rest of your bridal party — from bridesmaid dresses to bouquets! 
Lizzy by Rebecca Ingram is a luxe and regal style featuring a beaded trim from tip to toe. It's a gorgeous choice for a more formal, black-tie aesthetic. 
Cathedral Length Wedding Veil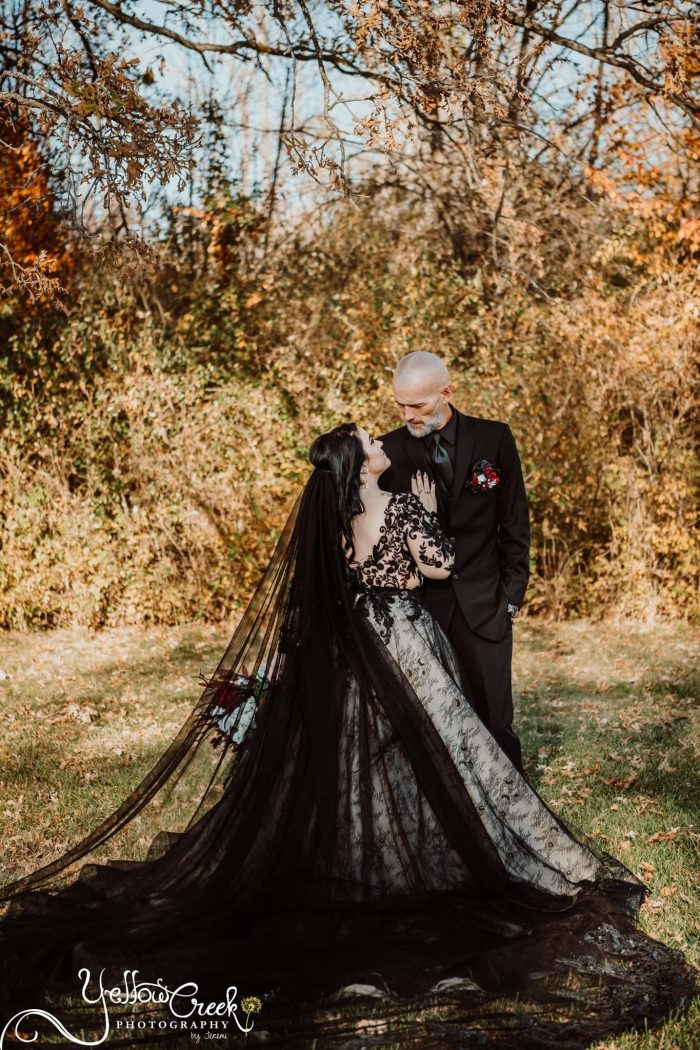 PC: Yellow Creek Photography
For a touch more drama, choose a length that extends a foot or so beyond your wedding dress. A cathedral-length style is gorgeous for more spacious wedding venues like ballrooms, outdoor gardens, and (of course!) cathedrals. It's an ideal accessory if you don't plan on moving around too much during the formal parts of your celebration — it looks picture-perfect for your ceremony and photo ops!
Kensington by Sottero and Midgley is all about the scattered lace along the sweep and hemline. It makes for a gorgeous entrance to your aisle walk and beautiful photo ops as you stand for the ceremony. 
Frederique by Maggie Sottero offers a romantic petal-shaped train — very detailed! This style is stunning with a sexy fit-and-flare, as the silhouette allows the embellishments to drape beautifully behind the gown's train. 
Zander by Sottero and Midgley is lush and dramatic. Choose black for Gothic-chic or white or ivory for a classic aesthetic. (Designed to match our ultra-popular Zander wedding gown, but this bridal veil looks magical with a range of dreamy silhouettes.)
Two-Tiered Veil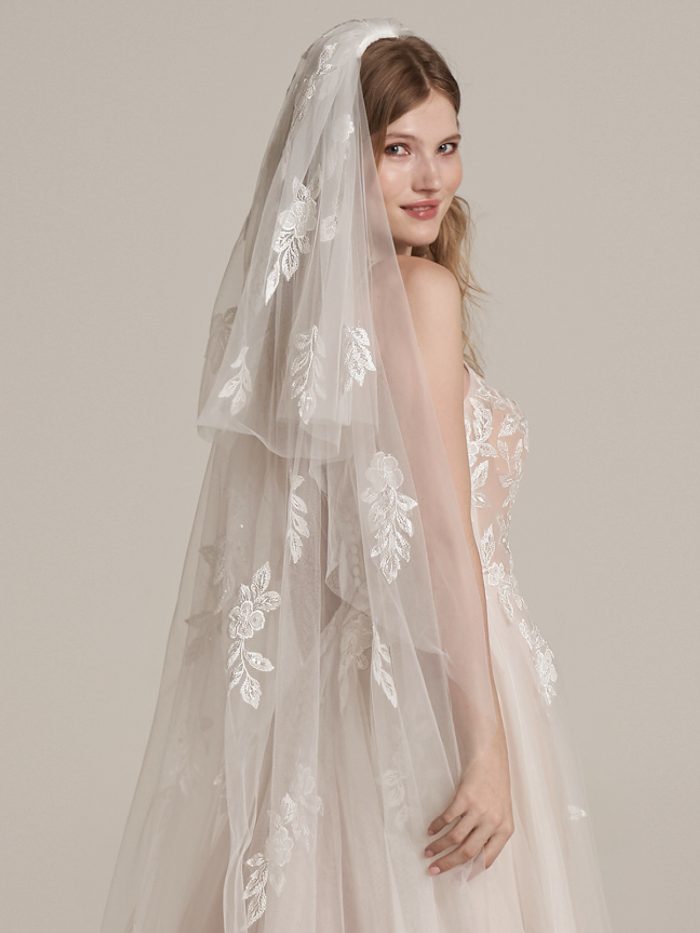 For a playful accent to your wedding dress, look to two-tone colors in your lace and embellishment. These add dimension and shimmer and play up your favorite gown features — the perfect choice for a one-of-a-kind accessory!
Cameron by Maggie Sottero features beautiful vintage-inspired lace with a silvery embroidered accent. This looks amazing under a range of indoor and outdoor lighting conditions — candlelight, chandeliers, sunshine, string lights, and more!
Ladonna by Maggie Sottero is all about the 3-D lace motifs. They offer a subtle texture to match the lace on our Ladonna wedding gown, but also complement a range of minimalist or embellished silhouettes. It's the perfect fusion of sweet whimsy and couture elegance!
Kalina by Rebecca Ingram is soft, feminine, and playful… and the tiered effect is especially dreamy with the two-tone lace and flourishes. This veil pairs beautifully with a range of simple, romantic, or dramatic wedding dress vibes! 
Ballet-Length Wedding Dress Veil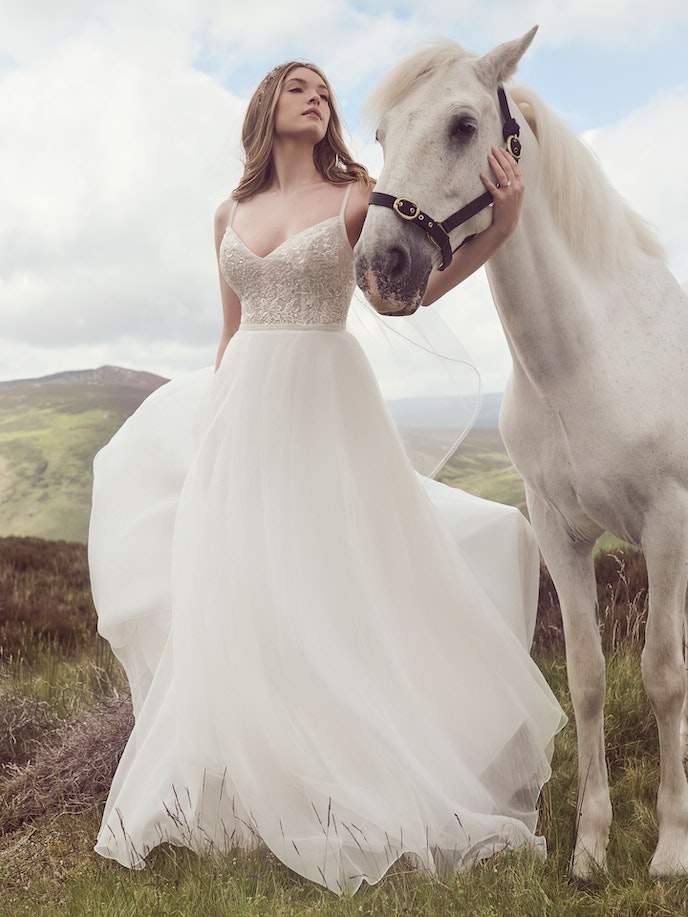 For a chic and effortless combination of everything you could love in veils, look to a ballet-length style. This falls just below the hips and is designed to highlight your face, bodice, and gown embellishments. It offers the drama and sophistication of a full-length bridal veil, but doesn't overwhelm your gown or restrict your motion throughout the day. In other words, it's perfection!
Here are two ballet-length styles to consider:
Ladonna by Maggie Sottero is embellished with gorgeous pearls… It's a chic, vintage, and romantic wedding veil that looks stunning with a range of gown styles and wedding aesthetics. 
Desia by Rebecca Ingram features a lovely tulle sweep with beaded trim. It's simple, shimmery, and perfectly on trend for a classic wedding vibe. 
Love our latest veils and accessory inspo? Follow our socials for more gorgeous wedding ideas! We're always serving up fresh ideas for your happily-ever-after…
More Style Inspo:
6 Types Of Wedding Nails For The Classic, Edgy, And Girly Brides
5 Types Of Wedding Makeup To Inspire You For Your Wedding Day
Add Detachable Bridal Sleeves to Complete Your Bridal Look on Your Big Day