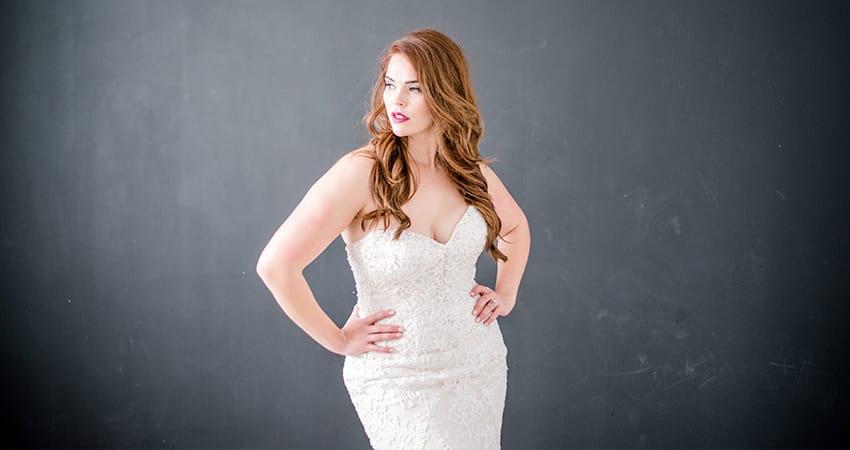 When it comes to shopping for your dream wedding dress, there are few things more exasperating than falling in love with a style you see online, tracking it down, trying it on, stepping in front of the mirror, and realizing it does absolutely nothing for your natural figure. (Bizarre puckering at the waistline, anyone?) But lucky for you, we're obsessed with fit and construction at Maggie Sottero Designs, and we've got a few favorites that are virtually guaranteed to look and feel like magic in the fitting room. Keep scrolling for our lineup of flattering wedding dresses for the plus size bride from past and current collections, and tips for prepping and perfecting your overall look for your big day. EXPERIENCE THE PERFECT FIT WITH MAGGIE SOTTERO'S FLATTERING WEDDING DRESSES FOR CURVY BRIDES!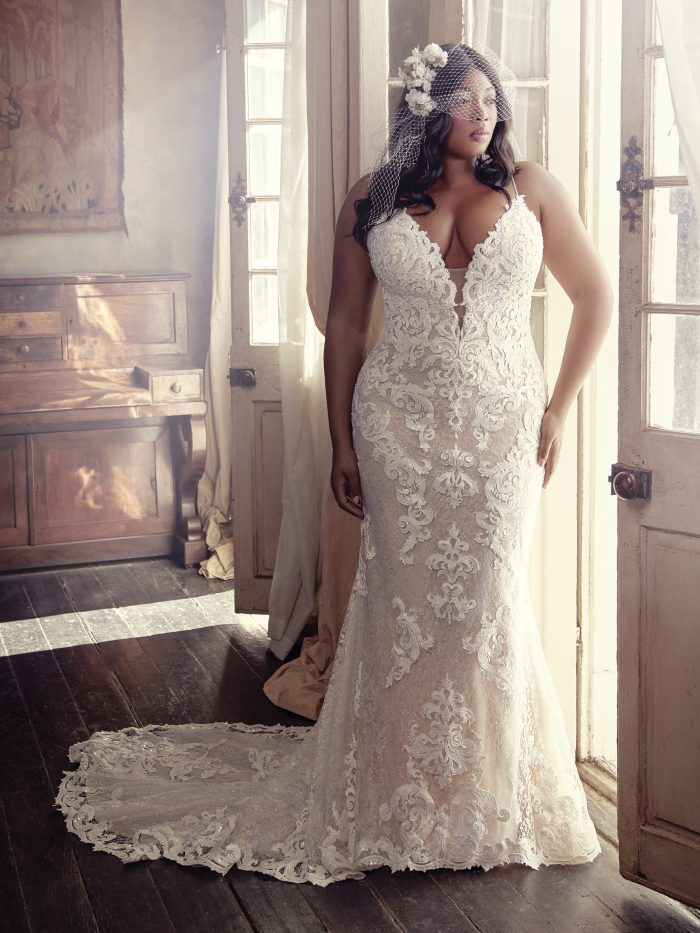 Liris Crosse said it best,

"Plus modeling has changed how I look at other people and how I look at myself because it has helped me to accept who I am and it's helped other people to accept who they are…`
If you wanted to call me Plus and put me in the plus category I had no issue with it cause plus means more. I am more, more hips, more lips… that is just me…We are all unique, every bride is unique. Maggie Sottero will definitely have a dress for my love story when I am ready to make it happen."

Lace Wedding Dresses for the Curvy Bride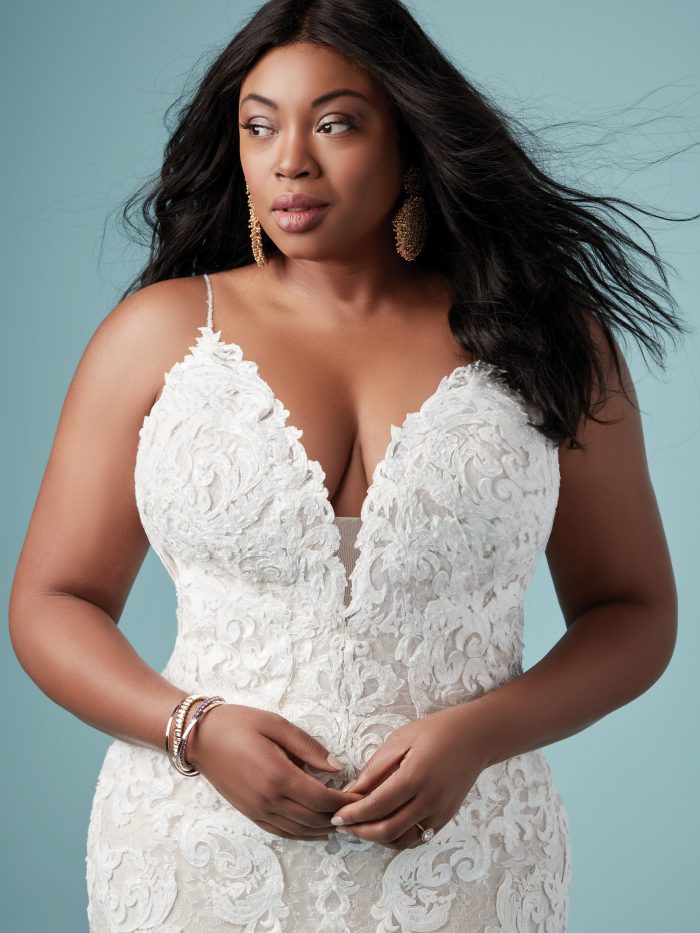 Tuscany Marie by Maggie Sottero
This sheath wedding dress brings the shimmering lace motifs with just enough coverage to complement those sexy curves of yours! You'll feel sexy and confident in this beauty!

McKenzie by Maggie Sottero
You'll be comfortable all day and night in this light and effortless choice. A lovely demure fit-and-flare wedding dress with allover lace that adds a soft touch of romance.
Beaded Wedding Dresses
Matilda Lynette by Maggie Sottero
Curvy brides don't have to sacrifice style for proper support. Featuring a lined bodice accented in vintage-inspired beading, lace, Swarovski crystals, and crosshatching. This gown gives you all the coverage and support you need in a chic and sexy A-line!

Mayla by Rebecca Ingram
Flatter those gorgeous curves with geometric lace motifs in this vintage-inspired wedding dress. Complete with shimmering details, this gown provides the perfect fit.

Curve Hugging Wedding Dresses
Jennifer by Rebecca Ingram
A strapless fit-and-flare for the curvy bride? Oh yes! This wedding dress features lace motifs atop allover lace, and illusion bodice with exposed boning. It's sexy, sophisticated, and hugs those curves in all the right ways!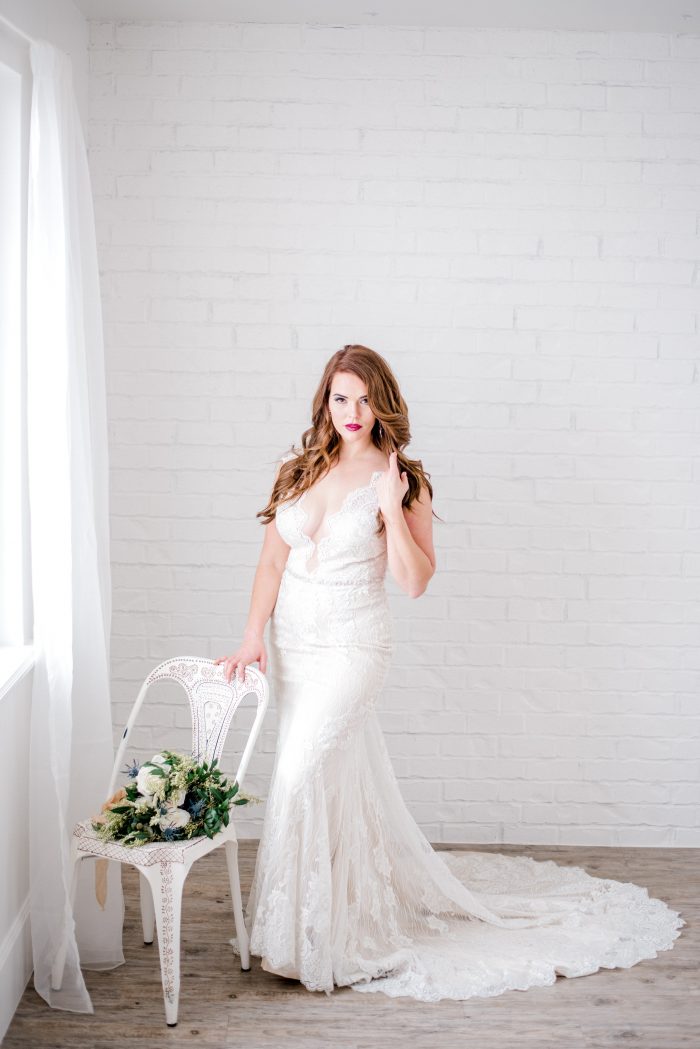 Wyatt by Sottero and Midgley
Just WOW! This stunning sheath wedding dress speaks volumes —glamour and romance all the way! A very elegant, and definitely sexy option for the plus-size bride. You need it.
Ballgown Wedding Dresses
Allen Lynette by Sottero and Midgley
A definite show stopper—this voluminous ballgown brings all the sparkle and great, comfortable coverage! Shown above in Rose Gold, but also offered in a pewter accent. You will feel perfect in this gown.

Sybil by Maggie Sottero
This dreamy ballgown wedding dress will charm you with its floral lace appliques drifting down the tulle skirt. A truly exquisite gown with a sweet and romantic elegance, fit for your fairy tale wedding.
Wedding Dresses with Sleeves Plus Size Brides
Ardelle Lynette by Rebecca Ingram
This slim A-line gown features a lined bodice for additional coverage. A princess wedding dress with elegant details that will flatter your curves and make you feel beautiful. You'll be ready to say, "I do."
Cathy by Rebecca Ingram
This sexy off-the-shoulder wedding dress is perfect for the curvy bride on a budget. You can't go wrong with comfort, elegance, and affordability, and this vintage-inspired sheath has everything you want.
Prep Tip:
Before you head to a boutique, get in that open-mind kind of mindset. There are so many options when it comes to flattering silhouettes and fabrications—the one for you just might be a fabulous surprise.
Fit Tip:
The right neckline is key to enhancing your proportions. A sweetheart neckline is universally flattering; illusion and embellishments play up a smaller chest; and straps and cap sleeves offer support for bustier brides.
Fit Tip:
If you love the look, don't shy away from sexy. We have plenty of sleeved and modest gowns, but don't treat these as your only option. Our brand-new lineup of "Curve" styles are optimized for curvy brides without sacrificing the "ooh la la" factor of illusion details and plunging necklines.
Prep Tip:
Before you head to a boutique, treat yourself to a manicure and a smoothie. You'll be in a far better mindset to say "Yes!" if you're feeling pretty and comfy. More shopping tips in the link.
Fit Tip:
Study up on undergarments. We've compiled our bras-to-shapewear rundown here.
Fit Tip:
Accentuate that waistline! It's one of the easiest ways for brides of any shape to feel sexy, confident, and comfortable on their big day.
Prep Tip:
Start shopping early, and plan on alterations. When it comes to finding the perfect fit, truancy = sabotage. Read more on this in a post from our plus-size bride and fashionista here.
You got this!Head to an Authorized Retailer to find "the one!" this weekend.