Tips and Trends
|
September 7, 2020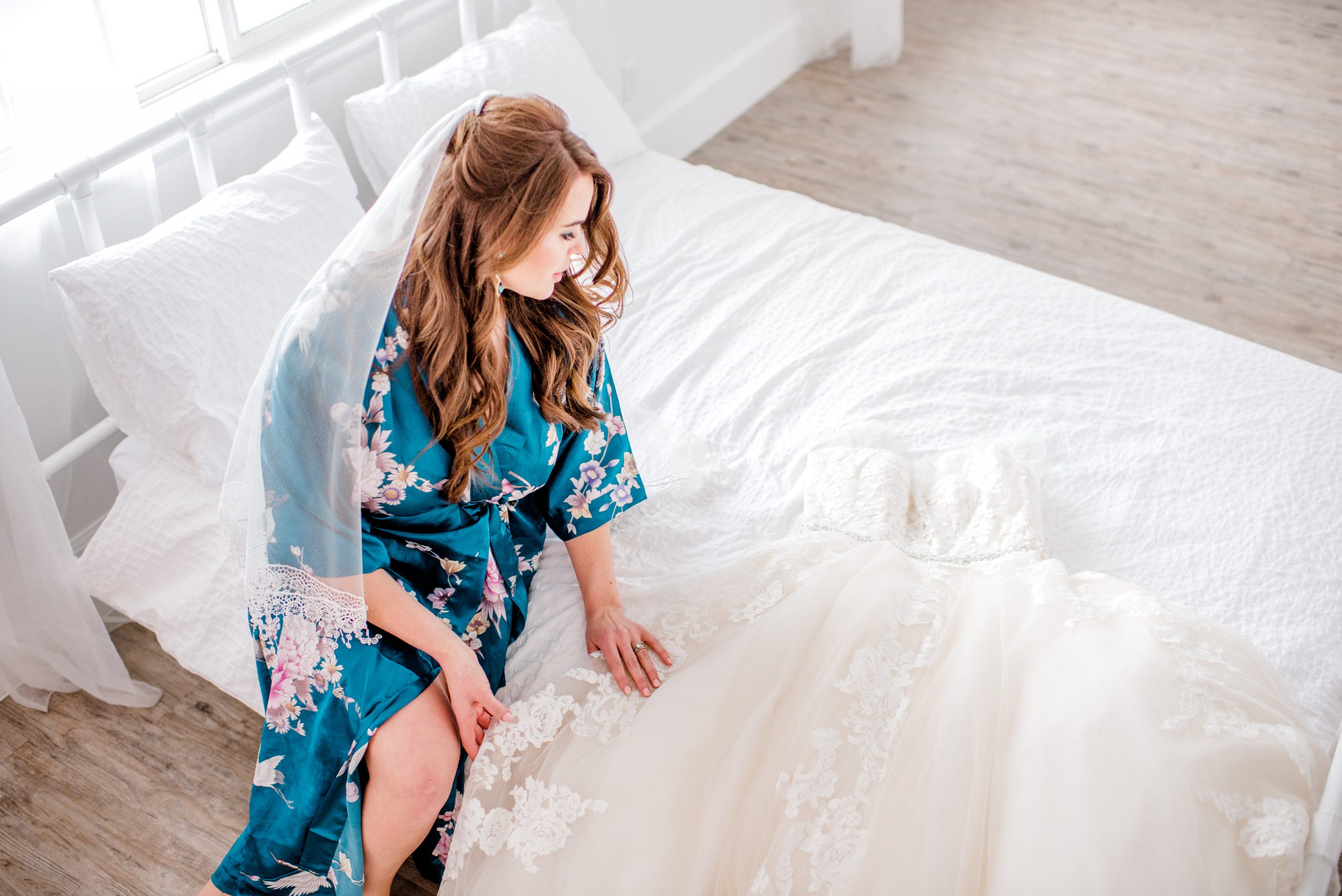 Why choosing the right wedding undergarments for your wedding dress is so important.
So, you want to look polished and confident in your wedding dress. We'll be the first to admit that a lot of this confidence depends on what you wear underneath! Keep the design integrity of a formfitting silhouette, plunging neckline, or statement back with the right wedding undergarments for your wedding dress. You'll thank us when you're gliding down the aisle (all eyes on you!), dominating the dance floor, and posing for wedding portraits!
Keep scrolling to see what types of wedding undergarments and bridal shapewear work best for your bridal gown!
If your wedding dress has a sexy, open back, opt for a backless bra.
When it comes to backless wedding dresses, a strapless, adhesive bra is a must! Silicone cups will provide the most natural look and feel, while keeping the attention on your gorgeous, dramatic back.
Shop backless bras by Fashion Forms, and choose from strapless, adhesive, push up, and lace up bra options. Thanks to these wedding undergarments, no pesky bra straps here on our Meletta and Gabriella wedding gowns!
For strapless wedding dresses, go for a long-line strapless bra.
Most strapless bras will do in a pinch. In fact, the classic strapless bra is one of the best wedding undergarments for you wedding dress. But for added support and definition, we recommend a strapless, long-line bra. You can find some great long-line bra options here!
The long-line bra is attached to a corset-like bodice that accentuates your waist and smooths any lines, creating a flawless look for your wedding day like in our Collin and Kaysen wedding gowns. It will also help to keep your dress from slipping down! What bride wouldn't want that?
Bridal shapewear is a must if you go with a mermaid silhouette.
Fit-and-flare and mermaid wedding dresses are perfect if you want to flaunt your curves, but they also draw attention to your tummy, hips, and thighs. Target these areas with bridal shapewear that falls just above the knees.
This type of wedding undergarment will give your silhouette a smooth finish, which is ideal for a curve-hugging bridal gown. Choose high-waisted shorts from Spanx or a full body suit from Skims. Shapewear will be your partner in crime if you want to flaunt your assets in a mermaid wedding dress like our Inga and Lonnie Lynette styles!
For a plunging neckline, think a bra with a special front cut out.
Look for a bra that has a special cutout in the front to accommodate a low neckline like in our Demi and Emmanuelle Lynette wedding dresses. This type of wedding undergarment will usually have extra support on the side to ensure everything stays put, despite the dip in the middle.
Browse black as well as nude U-plunge bras by Fashion Forms here. Or, as an alternative option, see if your bridal salon or tailor can sew the bra into your dress to give you built-in support.
If your wedding dress is a slimming sheath, choose bridal shapewear that smooths.
These slinky and slimming wedding dresses aren't too forgiving, but the right wedding undergarments make all the difference! Look for bridal shapewear that smooths problem areas such as lower stomach, hips, or your bottom.
Try boy-short or knee-length bottoms from Skims for your sheath wedding dress. These types of wedding undergarments ensure a seamless finish. Example A and B? Our Alice and Cosette wedding gowns!
An Extra Tip for Wedding Undergarments:
While purchasing wedding undergarments of any kind, stick to nude palettes and other light colors that disappear under white. And, of course, aim for seamless! Made from hi-tech micro-fibers, nude bridal shapewear smooths your silhouette and eliminates those annoying lines. Plus, seamless undergarments are way more comfortable to wear, allowing you to sit back and enjoy your party. It's your wedding day, after all!
Fit and Structure Features in Maggie Sottero Wedding Dresses
We design with our brides in mind! You won't need to worry about purchasing other wedding undergarments with a lot of Maggie Sottero wedding dresses because many of our styles have them built in!
Each of our wedding dresses is optimized for comfort and support. And many of our styles feature a variety of fit, construction, and shapewear options to accommodate your body type and style. Keep scrolling for our latest lineup!
Our New "Curve" Wedding Dresses
We've recently introduced our "Curve" bridal gowns, which are made for a wide range of body types. These styles feature demurely raised necklines, lined illusion, and wider boning in the bodice. They are perfect for bustier brides looking for a bit more coverage and support!
Bridal Shapewear: The Classic Corset
You can't go wrong with our signature closure—the corset! This outer construction ensures a magical, versatile, and ultra-comfortable fit in a variety of styles.
Plus, it's fun for your bridesmaids to learn how to lace one up in a jiffy. For brides who prefer the fit of a corset without the visible construction, an inner corset will do the trick. This feature is especially conducive to strapless ballgowns and A-lines that accentuate your waistline.
Jersey Lining for Breathability and Comfort
Designed to smooth and slenderize, this luxe fabric is a dream to wear. The layer of Jersey lining in a lot of our wedding dresses helps to maintain the integrity of the gown's silhouette, adapts and stretches to your natural curves, and keeps you feeling cool and breathable in all kinds of temperatures.
Pair a jersey-lined wedding dress (like Keenan Lynette and Hope Leigh) with a seamless bra and panties (or any other undergarments) to ensure this smooth fabric remains, well, smooth!
Smoothing Wedding Undergarment: Satin Slips
Lightweight and ultra-feminine, a satin slip adds that perfect dose of "ooh la la" to your soft fit-and-flare or relaxed sheath. Plus, a satin slip in a slightly different colorway adds visual dimension to your lace or illusion overlay.
When it comes to choosing wedding undergarments for your bridal gown, treat a satin slip as exactly that—a slip. It can smooth and enhance your silhouette, but it's not optimal for keeping everything in place.
Built-In Bridal Shapewear
As a last note, select Maggie Sottero wedding dress feature bodices with built-in shapewear. Choose one of these premium styles to avoid having to make additional wedding undergarment purchases down the line. Inquire with your local boutique about our wedding dresses that feature built-in shapewear!
Loving these bridal shapewear and wedding dress options? Head to an Authorized Retailer to experience our selection of structured gowns, fit and styling details, and personalization options.
Next on your wedding to-do list, browse flattering wedding dresses for your body type! And then learn about the wedding garter tradition.