Dresses
|
December 9, 2022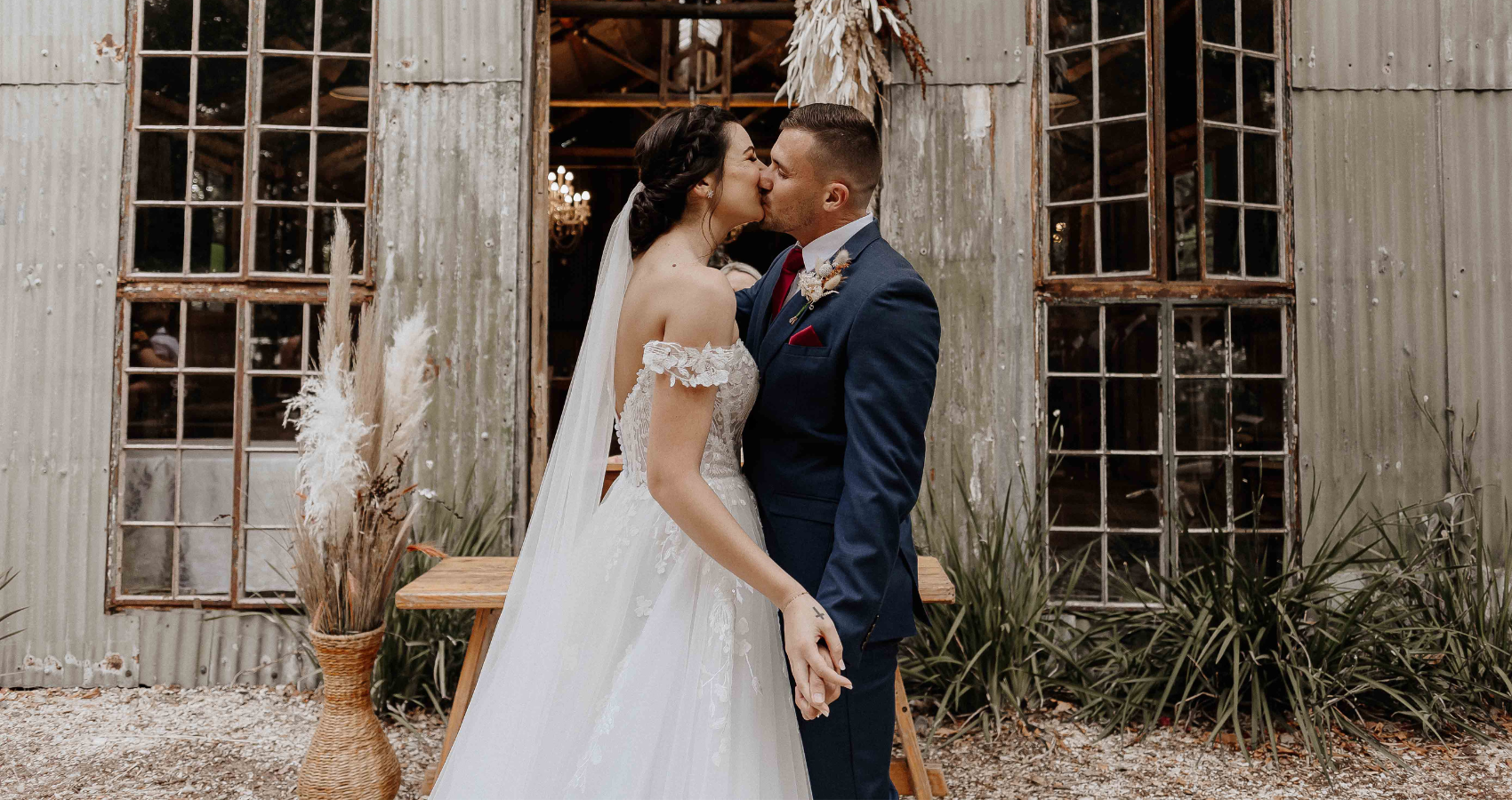 Are you a soon-to-be bride? Is your wedding day fast-approaching, but you haven't yet found your dream dress? We think you should never have to compromise on the style you love simply because it may not arrive in time for your wedding. So, we've got your back! We're here to share some of our favorite quick delivery wedding dresses, so you won't have to worry about cutting it close to your wedding day!
What are Quick Ship and Quick Delivery Wedding Dresses?
We completely understand the stress that may come with wedding planning. Finding your dream wedding gown is of utmost importance, and it's a decision you should be able to make with confidence. Our Quick Ship wedding dresses arrive faster than our normal delivery window, so you can relax and enjoy the wedding planning process without the extra wedding dress stress!
Before we get into our list of quick delivery wedding dresses, make sure to sign up for exclusive text messages for more tips, tricks, wedding education, and #MaggieInspiration for your big day!
Maggie Sottero Quick Ship Wedding Dresses
PC: Maggshots Photography
This gown is sure to wow on your wedding day! Tuscany Royale by Maggie Sottero is a sparkly lace sheath bridal gown, featuring all the shimmer and illusion any last-minute bride could possibly want! The options to personalize this gown for your love story are endless. Not only is this one of our fast-shipping wedding dresses, we have Quick Ship accessories to match, including detachable long sleeves and a veil! If you're in love with Tuscany Royale but want to explore some similar-but-different looks, check out its Sister Styles:
Look at how stunning this Real Bride looks in Tuscany Royale!

Fiona by Maggie Sottero
PC: Bellagalla Photography
If you're searching for fast-shipping wedding dresses, and love the classic-yet-whimsical look, Fiona by Maggie Sottero is for you! This sparkly lace fit-and-flare wedding dress features off-the-shoulder sleeves, beautifully beaded lace motifs over glitter tulle, and a plunging illusion sweetheart neckline. Make this dress your own through:
Changing glitter tulle to sparkle or plain tulle
Adding buttons down the back
Opting for detachable sleeves — these are also Quick Ship!
Paxton by Maggie Sottero was made for the last-minute bride who loves the look of classic elegance. This simple, ultra-luxe crepe wedding gown features a classic V-neckline and a beautifully embellished bodice. Personalize this gown for your love story by extending the train for added drama or opting for the unembellished bodice for a simpler, timeless look.
Psst… This is one of our newest gowns! Make an appointment at an Authorized Retailer near you to see this dress in real life ASAP!
Fayette by Maggie Sottero is the perfect casual meets lavish wedding dress. With a stretch crepe fabric (all the comfort), combined with a lace bodice (can you say, high-end?), you'll get the perfect combination of comfort and style!
Plus, you have the option for some beautiful personalizations to make this gown match your love story! For a more low-key look, you're able to shorten the train, or if you want to accent your look a little bit more, you can add a detachable chiffon train to make this beach-inspired wedding dress match your wedding dress vision.
PC: Silver Dune Photography
Who said you can't be a princess on short notice?! Harlem by Maggie Sottero is another one of our Quick Ship wedding dresses that makes a statement.
This beautiful ballgown features a voluminous skirt, sheer corset bodice, and a stunning off-the-shoulder neckline. Plus, it has many must-have personalization options:
You can change the 2nd tulle layer to sparkle tulle for more glamour.
Extend the train for added drama, or remove the train all together to make it a more casual look.
Add buttons down the back for a more vintage vibe.
Line the bodice for more coverage.
Add additional beading.
Psst… If you love this dress but want something that's a bit sexier, shop Harlem's Sister Style, Harlem Lane by Maggie Sottero. However, keep in mind that this isn't a Quick Ship gown!
Rebecca Ingram Quick Delivery Wedding Dresses
PC: Cassi B Films
What better way to kick off our list of fast-shipping wedding dresses by Rebecca Ingram than with Hattie? This gown is a show-stopping option loved by brides everywhere. This stunning, strapless mermaid gown features oversized lace made for the spotlight. Hattie comes in a variety of colorways and has several Sister Styles:
Personalize Hattie for your love story by accessorizing with the Faye veil, or read our blog post for more sexy beach wedding dress inspo! See how gorgeous this Real Bride looks in Hattie?
Tasha by Rebecca Ingram is a wonderful Quick Ship choice for any last-minute bride! This chiffon illusion lace bridal gown features an extra-dreamy A-line skirt and a sexy leg slit made for dancing the night away. Personalize this gown for your love story by adding buttons down the back for a vintage vibe. You might be weary about Tasha's chiffon fabric, but don't worry! We published a blog post that perfectly describes how to easily remove wrinkles from your gown for a smooth, wrinkle-free wedding day.
Lorraine, and its long-sleeved Sister Style Lorraine Dawn, by Rebecca Ingram are two lovely Quick Ship wedding dresses we adore! These soft, flowy gowns feature beaded lace and sequin motifs adorned on the cloud-like aurora chiffon, evoking the dreamiest sensibilities. Personalize these gowns by adding buttons down the back or opting one of their Sister Styles:
Look how beautiful Lorraine looks on this Real Bride!
PC: Lindsay Rossman
Looking for timeless, vintage glamour? Look no further than Josie by Rebecca Ingram! This fabulous off-the-shoulder fit-and-flare wedding dress is fabricated using Huron Mikado and features a sweetheart neckline and alluring buttons down the train. This style is perfect for soon-to-be brides who long for the kind of simple elegance Josie provides. For more dresses to channel your inner starlet, check out this blog post, and find inspiration through this beautiful Real Bride wearing Josie.
PC: Erica Mueller Photography
Marisol by Rebecca Ingram is sugar, spice, and everything nice and one of our favorite Rebecca Ingram Quick Ship wedding dresses! Featuring a beyond-dreamy tulle skirt, vintage-inspired lace, and a classic sweetheart neckline we imagine this quick delivery gown as the perfect wedding dress to wear for your perfect beachside wedding.
Sottero and Midgley Quick Delivery Wedding Dresses
We are OBSESSED with fairytale weddings, and there is no better dress to match this aesthetic than Valona by Sottero and Midgley. This ball gown is adorned with shimmery lace motifs and elevated texture. We adore the regality of this style and all its personalization options:
PC: Kelsey Lee Photography
Zander by Sottero and Midgley is one of THE most-loved styles among brides—for good reason! This dress is one of our fast-shipping wedding dresses perfect for our soon-to-be brides. Zander is a ball gown designed for the unconventionally chic brides. With several colorways (including All Black!), this gown is a breathtaking choice featuring contrasting layers of tulle and laces. With its illusion long-sleeves, plunging V-neckline, and scoop back, this dress is sure to "wow" on your wedding day. Personalize this gown for your love story:
For more black wedding dress inspo, have a read through our blog post! How incredible does this Real Bride look in Zander? Amazing!
The intricate detail, romantic lace, and daring neckline are just a few aspects of Hamilton by Sottero and Midgley that we absolutely love. Our favorite part though? The quick delivery times! To personalize this gown for this love story, consider these customizations:
PC: Katherine Sparks Photography
When we think of luxe sophistication, Bracken by Sottero and Midgley is the first style that comes to mind. This cold shoulder crepe bridal gown has a sexy, irresistible plunging neckline and an unstoppable petal-shaped train that is to-die-for! Make this gown as unique as you are through personalization:
Opt for no lace trim on the train
Choose Sister Style Bracken Lynette, featuring a lined bodice
This Real Bride looked stunning in Bracken!
If the luxurious fairytale look is the one you're dreaming about for your wedding day, walk down the aisle in Shasta by Sottero and Midgley, the last on our list of quick delivery wedding dresses. This sparkly ball gown wedding dress was designed for the princess bride who wishes to shimmer and shine on their special day. Achieve ultimate extravagance with this gown's beaded tulle over glitter tulle, strapless sweetheart neckline, illusion corset bodice fit with beaded lace motifs, and low scoop back. This gorgeous style also includes detachable beaded tie straps, which can be worn off the shoulder! Personalize this gown for your unique love story:
Add buttons down the back
Opt for a fully lined corset bodice
And there you have it! A comprehensive list of quick delivery wedding dresses, with beautiful styles from all three of our incredible labels. Get ready to find the dress of your dreams! In the meantime, sign up for our newsletter!
Check out more of our blogs for more inspo:
10 Affordable Wedding Gowns for Stylish Brides on a Budget
10 Beautiful Wedding Dresses for Plus Size Brides
Customized Wedding Dresses & Personalizations With Maggie Sottero