Tips and Trends
|
September 27, 2022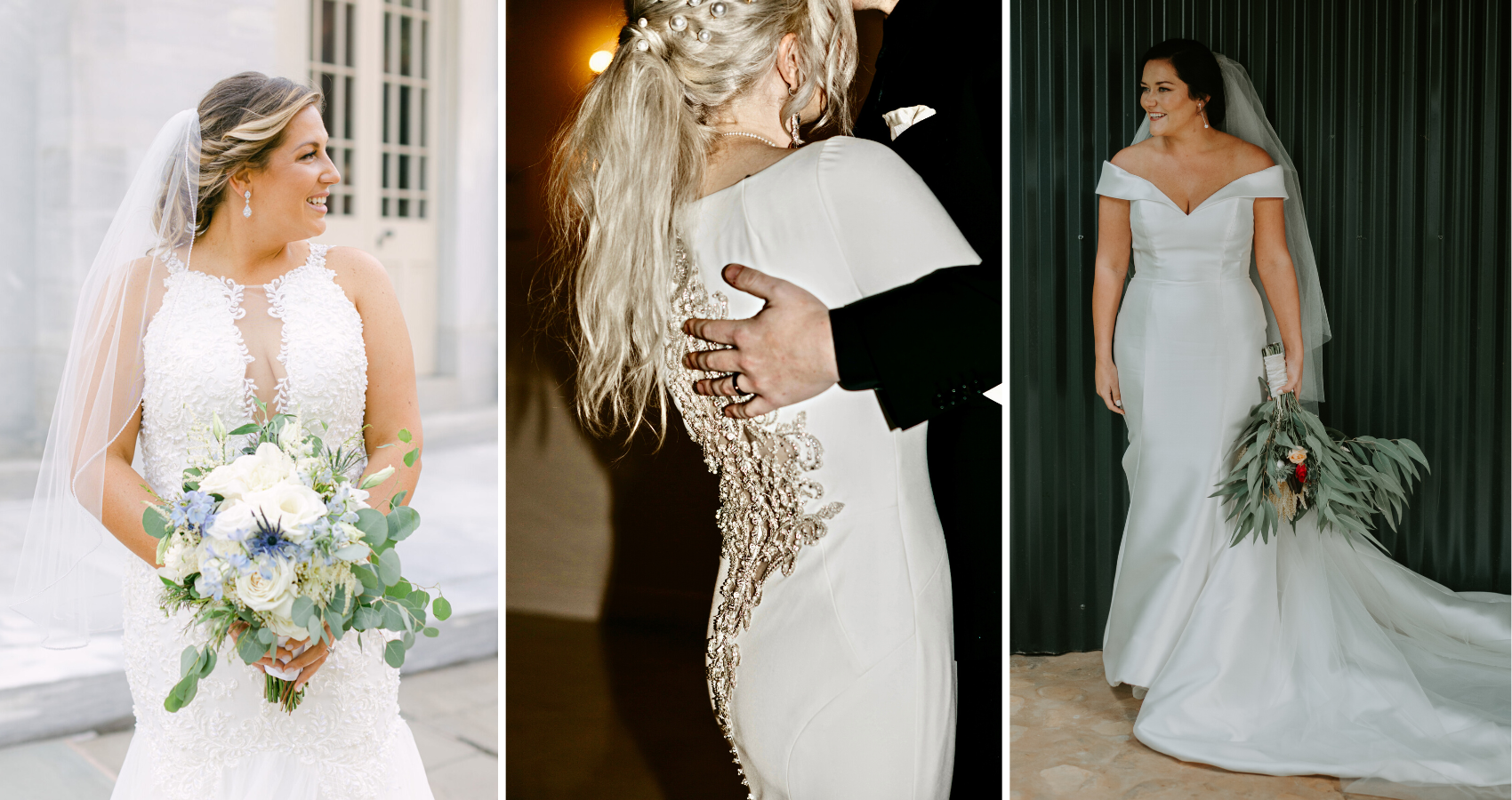 Ever wondered what makes a wedding dress? Well, we're here to answer all your questions! When it comes to breaking down the parts of a wedding dress, it's truly different for every bride and varies based on bridal preference, modesty, season, aesthetic and more.
Before we jump in, be sure to take our Style Quiz, then check out our Anatomy of a Wedding Dress video!
Different Parts of a Wedding Dress
Bridal Necklines
PC: The Philgreens | PC: Paperboys Photography | PC: Sarah Canning Photography | PC: Sarah McPherson Photography
One of the parts of a wedding dress that first catches the eyes of brides is the neckline. There are several different necklines to consider when finding your dream gown. Strapless? Sweetheart? Square? Scoop? Also consider V-neck and halter necklines. For some V-neck inspo, check out our blog post on V-neck wedding dresses. Don't these Real Brides look absolutely stunning? Which neckline is your fave?
Wedding Dress Sleeves and Straps
PC: Tetiana Photography | PC: Krystal Jones Photography | PC: Danielle Schury Photography
Next up, we have wedding dress sleeves and straps! Brides, the possibilities are endless when it comes to what sort of sleeve or strap you desire. There are spaghetti straps—your classic, thin straps. Tank straps—a wider, more supportive strap. Cap sleeves—a sweet, delicate sleeve that sits atop your shoulder. Long sleeves—loved by brides around the world. Off-the-shoulder sleeves—an elegant option that exudes sophistication.
Not feeling sleeves? No problem! Opt for a strapless gown. Want to check out more detachable sleeves? Read our blog post!
In the meantime, aren't these Real Brides gorgeous?
Different Types of Fabric
When it comes to the parts of a wedding dress, fabric is one of the most important! The choices seem endless, so let's break it down:
Crepe: a smooth, slightly stretchy fabric loved by brides for its thickness, comfortable elasticity, and versatility for embellishments.
Satin and Mikado: satin is a delicate, luxurious textile with a slight sheen and can be very supportive. Mikado is a heavyweight wedding dress fabric, perfect for creating clean lines and supporting shapes.
Lace: Alencon, eyelet, Chantilly, embroidered, guipure, soft-knit and point d'esprit; each lace type has unique characteristics.
Organza: a sheer fabric that is less stiff than tulle; traditionally made from woven silk. Organza can be used to create volume and drama without weight.
Chiffon: a simple, sheer weave fabric; lightweight and perfect for outdoor or warm weather weddings.
Tulle: a classic, stiff and transparent fabric typically made of either nylon, silk, polyester or a blend of fibers.
PC: Alyssa Cates | PC: Daniel Perez Photography
To learn more about lace wedding dresses, read our blog post!
Along with different types of wedding dresses and fabrics comes different kinds of wedding dress embellishments! Some options include:
Floral
Beaded
Crystals
Bows
Corset backs
Illusion
Identifying Different Silhouettes
PC: Max McQueen Photography | PC: Zark Goosen Photography | PC: Jessica Jones Photography
Now that we've covered parts of a wedding dress including necklines, sleeves and straps, and fabrics, let's talk about the different types of wedding dresses by silhouette!
A sheath wedding gown falls straight, portraying a classic, sexy look. Similar to a sheath silhouette, a fit-and-flare design hugs your curves but flares around mid-thigh. A mermaid style also hugs your curves, but the flare is typically lower, around knee-level.
An A-line style is a gorgeous silhouette on any bride! This silhouette resembles an "A" shape, and flares naturally at the waist. A-line gowns can be so versatile, pairing well with most necklines, fabrics, and embellishments. Ballgowns are similar to A-lines but offer a much more dramatic, princess-like vibe.
With all the different silhouette options, there are even more smaller details to consider! Some popular, gorgeous details you can find on many different styles include:
Slits in the skirt
Scalloped hems
Bubble hems
Look at these beautiful Real Brides! Which silhouette are you loving?
Bridal Trains
PC: Heirloome Photography
When you're a bride, you're awarded the luxury of having a lovely train on your dream gown! Bridal trains one of the many stunning parts of a wedding dress, but if it's not your vibe, no worries! Many of our trains can be extended or shortened to fit your wedding vision. We also have many detachable trains so you can have the two-in-one look you desire!
Take a look at this Real Bride in Tuscany Royale by Maggie Sottero.
Inner Constructions of Maggie Sottero Wedding Dresses
What makes a Maggie dress so special is the attention to detail and inner construction. At Maggie, we're committed to delivering impeccable design with every dress, including internal corsetry and support for brides of all shapes and sizes. While there are so many different types of wedding dresses and several different parts of a wedding dress, we're dedicated to creating an incomparable fit for each and every bride.
Maggie Sottero Personalizations
Another AMAZING thing about Maggie Sottero wedding dresses is the opportunity for brides to personalize their gowns! If you're loving a certain style but want different sleeves, more coverage in the form of a lining, gorgeous buttons draping down the train, detachable trains for a two-in-one look, a different neckline, etc., we have the options for you! We even offer Sister Styles of some of our most beloved gowns; each Sister Style is based on a beloved gown but offers something a bit different than the original gown, whether it's a different neckline, silhouette, more (or less!) coverage, etc.
If you want more info on wedding dress personalization, we have a great blog post for you to check out!
Accessories for your Wedding Dress
PC: Chelsea White Photography
Last, but not least, we offer SO many beautiful accessories for brides who want to elevate their wedding day look! First, the tried-and-true wedding veil. Much like your wedding dress, you can achieve any look you want to with a veil! Cathedral or fingertip length? Lace or beaded? Colorful or ivory? Anything you desire, you can find it in a Maggie veil!
We've talked a lot about sleeves already, but did you know you can opt for detachable sleeves? Elevate your wedding day look with gorgeous long sleeves, for example. You could even accomplish a two-in-one look by removing your sleeves for the reception! Accessorize with a jacket for an even more dramatic look.
We also have some very exciting NEW accessories launching very soon—and these are accessories you won't want to miss—so be sure to stay tuned for our new collections launch!
And there you have it: all the different parts of a wedding dress—now, you're ready to start searching for your dream gown! Don't forget to follow us on out TikTok below; we're launching 25 Days of Giveaways on October 4th, where we'll be gifting some amazing prizes to brides—only on TikTok.
Happy shopping, brides!
Check out more of our blogs here:
Wedding Dress Size Chart: How To Measure For Your Wedding Dress
Customized Wedding Dresses & Personalizations With Maggie Sottero