Dresses
Tips and Trends
|
January 6, 2021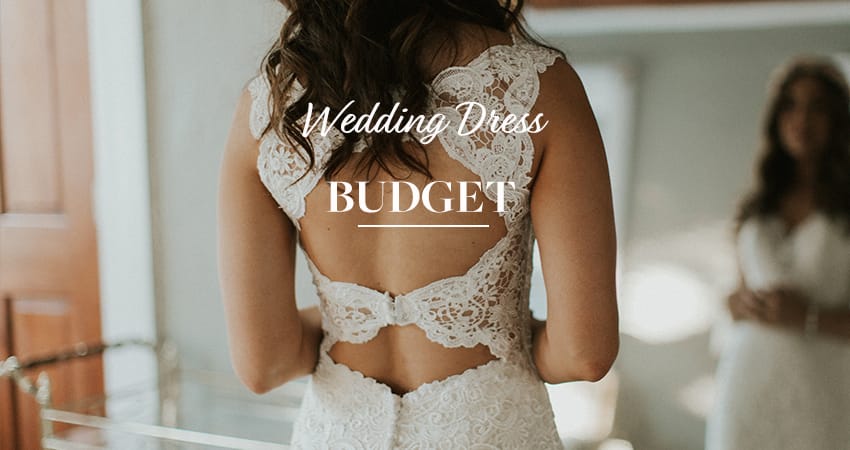 While Pinning and daydreaming about the perfect dress can be super exciting and loads of fun, it's important to know how much you can realistically spend on your wedding dress before going to your local boutique. Although setting a wedding dress budget might seem tricky, understanding how much you can afford to spend on your wedding gown makes the dress shopping experience a lot easier! So, keep scrolling to see our wedding dress budget breakdown, as well as tips on how to afford your dream wedding dress. Enjoy!
First things first: Think about your overall wedding budget.
Before you decide how much to spend on your dream wedding gown, you'll need to first figure out how much you can spend on your entire wedding. We cover more of this in our wedding budget breakdown, but here are the basics:
50 Percent: Venue Catering and Rental Costs
12 Percent: Photography and Videography
10 Percent: Wedding Dress, Accessories, Hair, and Makeup
8 Percent: Décor
7 Percent: Entertainment
4 Percent: Wedding Planner
3 Percent: Wedding Stationary and Invites
3 Percent: Wedding Bands
2 Percent: Other Miscellaneous Costs
1 Percent: Goodies for Guests
Basically, you'll need to allocate about 10% of your total wedding budget to your wedding dress, alterations, and accessories.
Next, do your research.
You've probably wondered how much the average wedding dress costs, but have you ever wondered how much a Maggie Sottero wedding dress costs? You'd be surprised at how affordable our designer wedding dresses are! See the price ranges below for our three designer brands.
Rebecca Ingram wedding dresses range from $800-$1300. This is our line of classic, flirty, and elegantly tailored bridal dresses at affordable prices. These wedding dresses would work with a $8,000-$12,000 wedding.
Maggie Sottero wedding dresses range from $1200-$2400. This is our core line of romantic bridal gowns for a timeless yet personalized aesthetic. These wedding gowns would be perfect for brides with a $12,000-$20,000 wedding budget!
Sottero and Midgley wedding dress prices range from $1400-$4000. These couture wedding gowns are designed for glamour, sophistication, and a one-of-a-kind statement. These luxurious wedding dresses are perfect for the bride with a wedding budget of $20,000+.
What goes into the cost of a wedding dress?
There are several factors that go into the cost of a wedding dress, and here are just a few:
The Fabric: Silk, embroidered lace, tulle, and extra layers are some of the reasons wedding dresses can be more expensive. To cut costs, opt for a simple fabrication in crepe, satin, or chiffon. To learn more about wedding dress fabrics, check out our All-in-One Wedding Dress Fabric Guide.
The Embellishments: Beading, sequins, Swarovski crystals, and lace appliques are a few of the embellishments that make a wedding dress more expensive. A tip: if you're after a glamorous look and have a modest budget, choose a simple wedding dress. Then, have your seamstress add embellishments, or up the "wow" factor with accessories like dangling earrings or a bling necklace.
The Accessories: If you think your bridal look is all about the dress, think again! Your accessories play a huge part in bringing your overall wedding vibe together. Make sure you budget for things like jewelry, shoes, and a veil or headpiece because these extra items can range from $150 to $400.
Remember to factor in the cost of alterations.
Whether you're ordering a wedding dress straight from a designer or purchasing something off the rack at a sample sale, keep in mind that alterations are almost always necessary and will most likely have an additional fee.
Some bridal boutiques offer in-house alterations, while others ask that you find a seamstress on your own. In general, expect to spend at least $100-$300 on wedding dress alterations (and even more if you're planning to add sleeves, change the neckline, etc.). So, don't forget to factor this cost into your total wedding dress budget!
Ways to save while wedding dress shopping:
Your wedding dress should make you feel like a superstar without spurning your revised-and-ratified wedding budget. So, if you're wondering how to cut down on your wedding dress budget while still being able to afford the wedding gown of your dreams, scroll on! Here are a few budgeting tips that apply ever-so-nicely to any price range.
Invest in a wedding dress that (almost) fits to begin with.
Save big on alterations by choosing a wedding dress that already "almost" fits. We say "almost" because nearly all wedding dresses need to be altered to fit each bride's unique (and totally gorgeous!) figure.
One way around this is to opt for a corset-style bridal gown that hugs your natural figure or features built-in shapewear to flatter your curves. This will help you avoid making extensive alterations or undergarment purchases in the future.
Buy a floor sample wedding dress.
If you want to save some serious cash while still having the real bridal boutique experience, consider buying a sample wedding dress off the floor instead of ordering a new wedding gown. Depending on how long the wedding dress has been on the floor and the condition it's in, you might be able to snag a great price! Just inspect it carefully before purchasing it to make sure there aren't any tears or potentially permanent stains.
Also, make sure to get on the mailing list for your favorite local bridal shops so you can stay in the know about upcoming sample sales to score the best deals on designer sample dresses.
Contrast your accessories with your wedding dress.
If you're going with an elaborate bridal gown, keep your accessories low-key. If you choose a more simple wedding dress, however, use the extra space in your budget to glam it up with anything from belts to bold necklaces to fabulous flower crowns.
Well, there you have it! Keep in mind that these wedding dress budget tips are just that—tips! If you've decided that your dream gown is a non-negotiable, see what other things you can sacrifice so you can splurge on this purchase. (By the way, we wholeheartedly support this decision!)
Visit our blog post 10 Maggie Sottero Wedding Dresses Under $1000 to see designer bridal gowns that won't break your budget. Then head on over to 5 Tips for Setting and Sticking to Your Wedding Budget for tips and tricks on how to cut corners and save money so you can splurge on the most important things (like your dream gown) for your special day.
And don't forget to read up on: How to Manage Your Finances as Newlyweds!
And for advice on how to know if your wedding dress is "the one," check out these tips from real brides! Happy dress shopping!