Events and Boutiques
|
March 5, 2020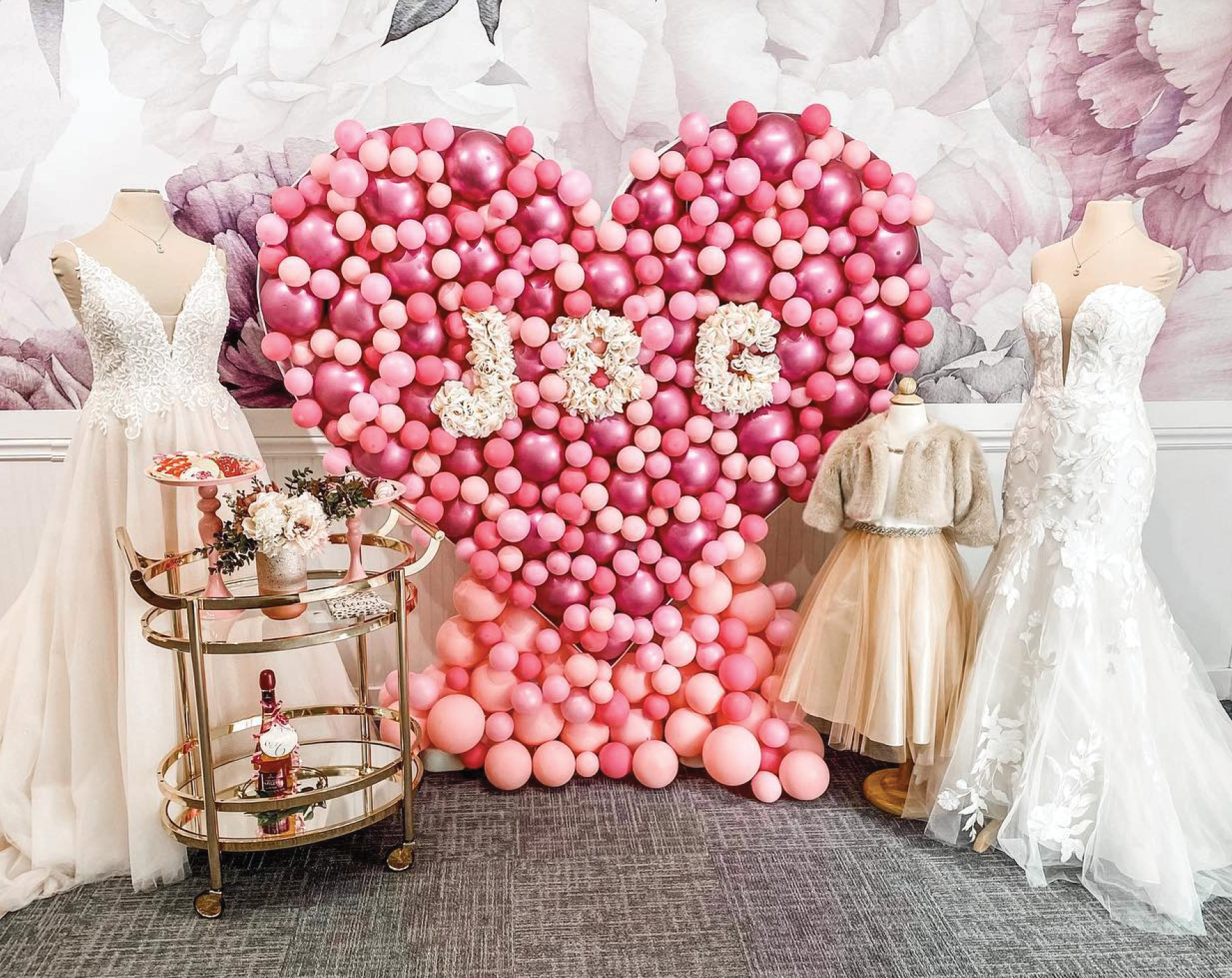 You just said yes, and love is in the air! We're extra giddy these days because if you've stopped by our blog, it probably means you and your S.O. are celebrating new life as an engaged couple. (Or maybe a ring is in the works? Whatever the case, we're living for it!) If you're ready to start your wedding dress shopping adventure, we want to introduce you to a few of our Authorized Retailers, a.k.a. the fabulously talented men and women who can match you with your perfect bridal style. Love is in the air at a boutique near you, so get ready to have that perfect wedding dress boutique experience!
Simply Blush Bridal from Zebulon, NC not only has an adorable town name but also is in the business of celebrating every bride that finds "the dress" with the cutest of traditions! After being pampered and finding a dream dress, each bride receives a heart to decorate. Once complete the heart goes "kerplunk" in a special box that was custom made for this little game (just like Plinko!) It's the little memories like these that make dress shopping special! And its super fun to find your heart among other love stories when returning to pick up your gown. Traveled from out of state? This store adds another heart to their map representing brides from across the country! 📍🌎
Every bride can get insta-famous posing with the famous "Say Yes" sign. And what's more? Leave this boutique feeling like family as you walk out with a squeeze goodbye and a goodie bag filled with a Simply Blush Shirt, tied with a custom phone accessory, and over 20 items from local vendors like discounts at local restaurants, coupons and gifts including a wedding magazine!
Take it from our 20+ years in the bridal industry—when it comes to the most important clothing purchase in your life, nothing can top the care and expertise of a Maggie Sottero Designs salon. Each of our shop owners has a unique, exciting, and personalized approach to their craft, but they're totally united when it comes to one thing: helping every bride find her dream gown at the perfect price point.
But hey, we totally get it—there are a lot of dress shopping options beyond the boutique in 2020, and it can be tempting to turn to the "variety" and "convenience" that seems to be available online. So let us remind you of a few reasons why an in-store shopping experience is totally worthy of your engagement checklist.
The experts are at the boutiques.
These bridal experts work and thrive in the one-on-one setting, not the clutter and chaos of online shopping. We guarantee they will help you find the dress that both flatters and fits your personal style and give you the VIP experience you and your bride tribe deserve.
As one of our top bridal shops in the U.S., Bridal Suite Boutique says, "Our talented stylists love nothing more than getting to know their clients, tending to each bride's needs, and using their expertise to find the right dress." If you are looking for expertise in the bridal sphere, book an appointment with them today!
You'll get a personalized experience.
There's nothing like a dress shopping session tailored to you to make you feel like a million bucks. It is the most important wedding purchase after all, and you deserve the special attention! With online shopping, you won't get the same personalized experience you will at a bridal boutique. In fact, the only experience you might get is a lonely one sitting in front of your computer screen, wondering why you never went into the store. So save yourself the time and frustration, and head into one of our Authorized Retailers.
Dress Gallery in Wichita Kansas provides brides with a unique shopping experience. They have personal, private bridal suites that offer brides a comfortable shopping environment where they won't share a mirror or seating area with anyone else. Along with that, their closed stock offers the ability to fine-tune a bride's personal wishes – she's not inundated with hundreds of gowns. Instead, she gives her wishes, budget, and feedback to her consultant who pulls dresses according to her wishes. The best part? Usually within 7 gowns, Dress Gallery brides have said YES! To have your YES moment, book an appointment today!
Fit matters.
Bridal experts are trained to measure, match, and make a plan for a perfectly-fitted wedding dress. Whatever size simulations you find online, nothing beats the hands-on sizing and fitting in a salon.
One of our most charming bridal shops, The Crystal Bride in Geneva Illinois, says," We feel it is important to walk with our brides from the initial purchase of their wedding dress, through her first "meet her dress" appointment, and finally through the fitting process to ensure that her gown is perfect when she says "I do".
And what's a dress without alterations?
When it comes to an online purchase, you're left high and dry with add-ons and alterations. But with a wedding dress boutique experience, tailoring and alterations go hand-in-hand with purchasing your dream dress.
Brides of Florida has an in-house alteration specialist. There are a lot of seamstresses out there, but this particular seamstress can pull out all the stops and has ten years of hands-on wedding dress experience. She is accustomed to creating all types of personalized features for brides, from lowering back necklines to creating long sleeves. If you are wedding dress shopping in Miami, Florida be sure to schedule an appointment with this premier bridal dress boutique.
It's worth it to invest.
It's worth it to invest in a luxe wedding dress boutique experience. After all, your engagement is a time to primp, pamper, and treat yourself.
For example, opt for the Diamond status experience with I Do Bridal. Brides in Seattle, Washington love wedding dress shopping here. Not only is the space breath-taking, but they tailor each bride's experience to make the day as special and unique as her taste. With the ultimate VIP experience, you can opt for up to 12 guests, with savory and sweet treats, specialty beverages, and a gift for the bride! This special experience is an extra cost, but 50% of the booking fee goes towards your dress purchase. Or keep it sweet and small at no cost to you with you and 3 of your nearest and dearest. No matter what your preference, I Do Bridal rolls out the red carpet for its brides.
You get to accessorize!
Bridal salons are experts when it comes to curating a head-to-toe wedding look. Look no further than your local Authorized Retailer for gorgeous veils, chic shoes, and one-of-a-kind embellishments.
Premiere Brides Perfect Dress in Fresno, CA is one of these bridal boutiques who emphasize the perks of shopping with them. Their perks include a free garment bag, a free gown pressing before the wedding, 10% off bridesmaids dresses, and 10% off accessories (veils/headpieces)! What more could we ask for?
Delivery is major.
Whatever a website offers as far as shipping and timelines, you're on your own when it comes to coordinating your delivery with tailoring and alterations. Only a bridal boutique can guarantee your completed gown by your wear-date, and most of our shops will offer certain services after the gown purchase just for shopping with them.
All of our Authorized Retailers guarantee on-time gown dates and deliveries so you can feel stress-free as you plan the other parts of your wedding!
You love local!
By purchasing your wedding gown from an authorized boutique, you're supporting small and family-owned businesses. And what better way to share all that #justengaged bliss?
One of our fav retailers in Southern California, Pebbles Bridal, says "As a family run business, we strive to create a comfortable atmosphere while working hard to make finding the perfect gown fun and easy. Our entire family works as a team to provide every bride and her bridal party with the best possible service to accompany our amazing selection." If you're in the area, set up an appointment to stop in!
Ready to head to your nearest retailer for the ultimate wedding dress boutique experience? Now is the perfect time, as bridal salons across the U.S. are participating in our "Love Is in the Air" window display campaign! Stop by a salon near you to check out the latest Maggie Sottero gowns on display, and take a moment to call, visit, or book an appointment online with them to start your search for the perfect wedding dress. Happy Valentine's!
Congratulations to Astra Bridal (@astrabridal.auckland) for winning our Love Is In The Air Giveaway! In case you missed it, we gave our beloved Authorized Retailers a little challenge- to get into the Valentine's Day spirit and decorate their window displays with LOVE as the inspiration. We're talking romance galore.
And, as always, our Authorized Retailers DID NOT disappoint. Our feed was flourished with beautiful window displays that could have been exhibits in art museums!
Then, we asked our amazing Instagram followers to help us choose a winner by voting on their favorite displays on our Instagram stories. (Not yet part of our digital family? Follow us @maggiesotterodesigns!).
Our followers then made the difficult decision to narrow down their favorite entry, and Astra Bridal Auckland was the winner! We can't get over the glorious, romantic vibes of this display. These styles (from left to right: Minerva, Amy, Orlanda, Inga) cultivate the magic of meeting your soulmate in a secret garden at midnight under moonlight. The soft blush hues, the pops of floral fantasy with the flowers, and the simplicity of the display caught our followers' eyes.
New Zealand brides! Book your appointment with Astra Bridal to find the dress of your dreams. They have four locations: Auckland, North Shore, Hamilton, and Wellington. If you're not local to their area, give them a follow on their social media to tell them congrats on winning our competition!
A huge thank you to all our fabulous Authorized Retailers who participated in this fun challenge. We love your creativity!