Dresses
Tips and Trends
|
February 3, 2021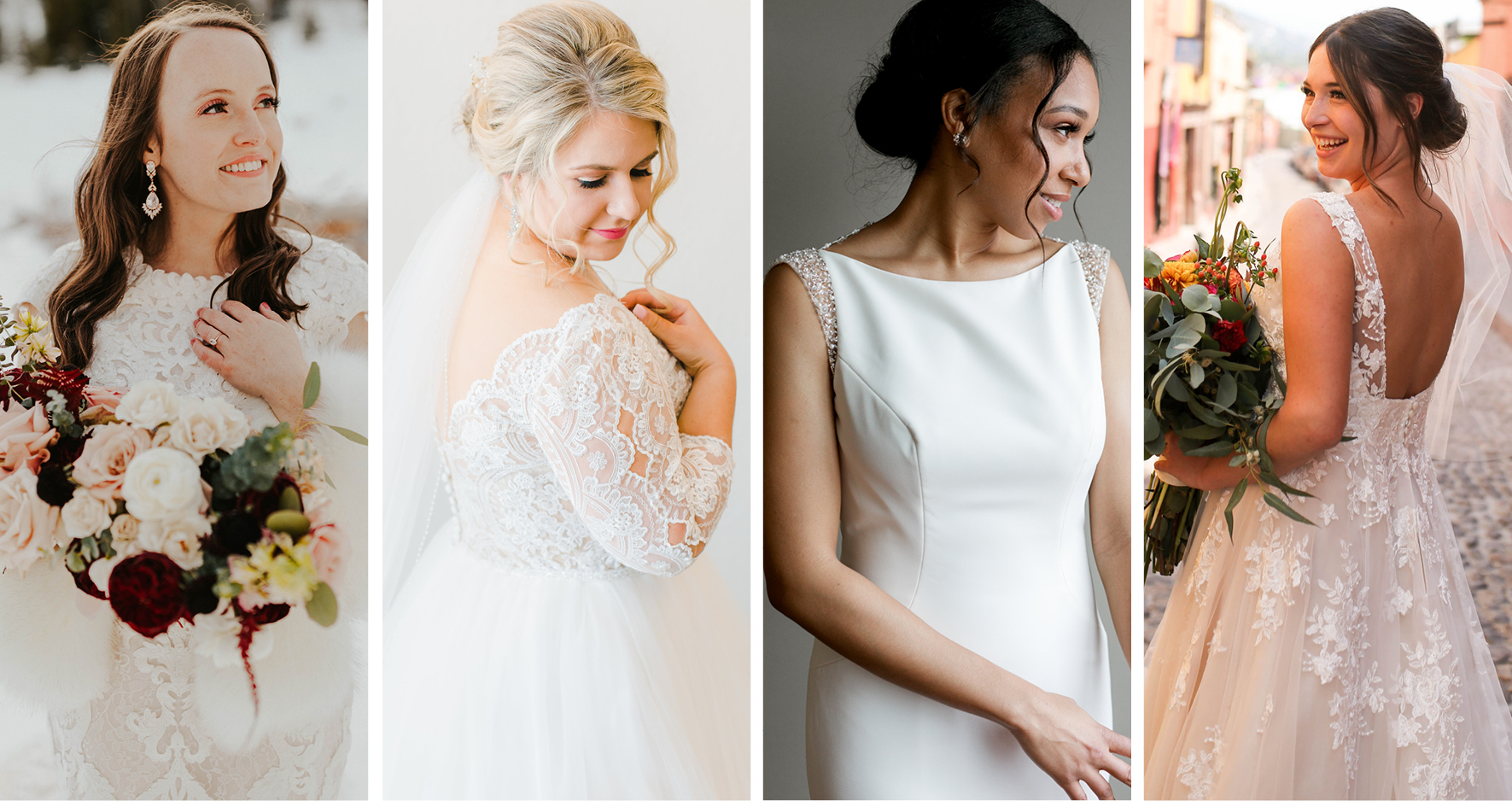 After all the searching, saving, and Pinning is done, it's time to go into the boutique and find the right wedding dress for you. Since your bridal gown will be one of the most memorable pieces of clothing you will ever buy, finding "the one" can seem daunting. And while there may be some ups and downs in the wedding dress shopping experience, with our tips on how to know if a wedding dress is "the one," you'll be able to enjoy the magic of finding the perfect dress and feel confident when you make your final decision.
So, if you're stressing over the pressure of finding the perfect wedding gown (which is totally normal), breathe easy and keep scrolling for the advice we've compiled from our real brides on how they knew their wedding dress was "the one." Enjoy!
You can feel that it's "the one."
Real bride Katie said of her experience, "During my appointment, my stylist brought in Taylor Lynette by Maggie Sottero. It was sparkly but did not have sleeves or lace, which is what I originally wanted.
I thought, "It's gorgeous, but it can't be the one for me." Despite this, my stylist told me that it would perfectly fit the Beauty and the Beast wedding vision I had described to her.
Even though I couldn't see myself in the mirror as I tried it on, I could just feel it was the one! It was the princess wedding gown to end all princess gowns. When I turned to see myself in the mirror, I immediately smiled at the reflection of a girl that looked and felt like a princess!"
All other wedding dresses pale in comparison.
Real bride Meleah, who had a ritzy and formal winter wedding, said, "For my wedding day, I wanted to have a classic, clean look without sacrificing style. When I tried on Evangelina by Maggie Sottero, my bridesmaids' faces immediately lit up.
The detail on the back of the dress provided just the right amount of sparkle and elegance. I felt like someone had made it just for my personality.
The classic wedding dress fit like a glove and made me feel like a queen. It was the second gown I tried on, and even though I continued to try on other gowns, each one paled in comparison. That's how I knew it was "the one!"
The wedding dress feels right, and you don't need to overthink it.
Real bride Maddy, (who also happens to be a part of our Maggie team!) said of her wedding dress shopping experience, "I had been eyeing a few Maggie Sottero wedding gowns for a while and knew I wanted a modest style with shimmer and lace.
I'm usually pretty indecisive and like to weigh all my options, but I didn't need to overthink things when I tried on Tuscany Leigh by Maggie Sottero.
The cap-sleeve lace wedding dress fit my wedding vibe, budget, and overall personality. I especially loved the oversized lace motifs and shimmery blush undertones. It also fit me perfectly and elongated my torso, which was what I had wanted since I'm only 4'11.
I didn't cry when I tried on my gown—I simply didn't want to take it off. Hearing so many other brides' experiences of how they cried when they found their wedding dress made me wonder if I had really found the dress for me.
When I tried on some other dresses, I liked them a lot, but they just didn't feel as right as Tuscany Leigh did. Finally, I decided to go with my gut and buy the wedding dress. I didn't need to overthink my decision like I usually do because the dress was the logical choice and just made sense!" To see more of her rustic winter wedding, click here!
You can't get the dress out of your mind.
Real bride Megan, who had a gorgeous spring wedding (featuring a donut truck!), recounted, "My family and I started dress shopping at a local bridal boutique in St. Petersburg, Florida, where my stylist, Courtney, helped me pick out several beautiful wedding dresses.
When I tried on a gorgeous lace ball gown wedding dress by Maggie Sottero, something inside me knew it was "the one." I felt so happy and could not stop looking at myself in the mirror!
Since I'm not great at making decisions, I walked out of the shop without officially saying "yes." However, I couldn't get that lace ball gown wedding dress out of my mind! We went to another bridal shop, but every wedding dress I tried on felt so "blah" compared to Mallory Dawn.
After that, I called Courtney, and she let me sneak back in to try the wedding dress on one more time for my perfect "say yes to the dress" moment. Once I tried it on a second time, I knew without a doubt it was "the one!"
You fall in love with an unexpected style.
PC: Sarah and Paul Photography
One of our real brides, Teresa, said of her experience, "When I went shopping, I was looking for a flowy, A-line wedding dress. At the local bridal boutique, my stylist picked out Hope by Rebecca Ingram, a flirty boho fit-and-flare wedding dress.
I was very reluctant because I didn't want a gown that was too formfitting. But I trusted that my stylist knew what she was doing.
It was an unexpected wedding dress choice for me; the gown featured Allover lace, a figure-hugging silhouette, and double keyhole back. It wasn't what I had originally envisioned for my lakeside wedding, but when I tried it on, I started crying. I fell in love and purchased it that same day!"
You don't care what other people think of your wedding dress.
PC: That First Moment Photography
Our next real bride, Patrice, who got married in Disney Animal Kingdom's Pandora: World of Avatar, said of her dress shopping experience, "I went wedding gown shopping at a bridal boutique in Ann Arbor, Michigan. It was an amazing experience. They helped me from start to finish—from my gown to my veil.
Before the appointment, they sent me a link to look at different wedding dresses. I remember seeing Mylene by Maggie Sottero, a princess-inspired ball gown wedding dress featuring a beaded bodice and voluminous satin skirt. When I got to the boutique, I couldn't wait to try it on!
Mylene was the first wedding dress I tried on, and I compared it to every gown after. Before I had made my decision known to my bridal party, however, I knew I didn't care what anyone else thought or said about my dress. I had wanted a classic and modern princess bridal look, and I felt like Mylene nailed my fairytale wedding vision!
You feel comfortable and confident in it.
PC: Jordan and Scott Photography
Real bride McKenzie, who had a destination Mexican wedding, said of her wedding gown, "I immediately felt so comfortable and confident when I first tried on my dress.
However, I knew it was "the one" when I thought about walking down the aisle and dancing around the streets of San Miguel de Allende in it.
Not only was Meryl Lynette by Maggie Sottero comfortable and easy to walk in, but it also felt whimsical, shimmery, and ethereal. It truly was the perfect complement to the romance of the location."
You get emotional while wearing it.
Real bride Kelcie said of her wedding dress, "I went dress shopping at a Maggie Sottero pop-up event almost a year before my wedding. I knew my wedding date was far away, so I had no intention of buying a wedding dress that day.
My intention was to try on some dresses to get an idea of what I liked. My best friend came with me, but my family lives in Florida, so we Facetimed them. As soon as I tried on Alaina by Maggie Sottero, I was instantly obsessed.
The sheer lace bodice accented in pearls and Swarovski crystals evoked the drama I wanted. And I loved the vintage feel of the illusion neckline and back. When my best friend she saw me, she started crying, along with my mom and sister on Facetime. I also had tears in my eyes and got quite emotional as I pictured myself walking down the aisle in it.
In the end, only you know if a wedding dress is "the one" for you.
We hope these real brides' experiences of how they knew their wedding dress was "the one" will help you in your own dress shopping journey! And while these brides had these experiences when they found the perfect gown, keep in mind that these are not the only ways to know a wedding dress is "the one."
No one else can tell you which wedding dress is the right one! Only you'll be able to make that decision. Sometimes it's the calm feeling, and sometimes it's the strong emotions. Whatever your experience ends up being, trust your gut, and you can't go wrong!
To try on our wedding dresses IRL, book an appointment with an Authorized Retailer in your area! And once you order a gown, make sure to check out these tips: How to Have a Successful First Wedding Dress Fitting. Cheers and happy wedding dress shopping!