Wedding Inspo
|
July 22, 2020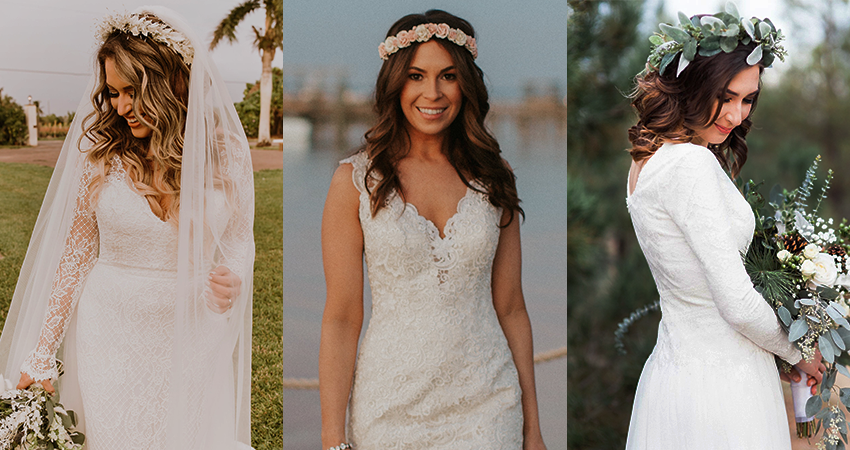 Love the idea of a bridal hair accessory and don't know where to start? We've got you covered with a flower crown for every bride! Check out our gallery of blooms, embellishments, jewelry, and halos in our gallery of real weddings, HAMU inspo, and accessory styling—everything you need for your happily-ever-after in head-to-toe perfection.
PC: Erika Diaz Photography
So, you're planning a garden wedding. You've got a boho heart and a major style streak. You've got a chic sleeved wedding dress like Antonia. And you're after the perfect topper for your stylish and romantic bridal look.
Opt for elegant and sophisticated with an all-white halo in finespun embellishments, á la this bride's gorgeous flower crown for her fabulous boho-chic celebration. This style is classic yet captivating, distinctively feminine, and totally on trend for a modern celebration!
PC: Todd Collins Photography
Babe alert! Don a stylish and fabulous princess wedding dress like Kathleen, and you'll be itching for the biggest and boldest of boho flower crowns. Then get inspired with this chic festival wedding featuring vintage furniture, sizzling palettes, and all-out glamping fabulousness.
This real bride looks oh-so-dreamy in those oversized blooms. It's the ultimate flower crown style for glamour, whimsy, and color! For more festival wedding ideas, click here!
PC: Wandermoore Photos
Do you have an intimate outdoor elopement in the books? We've got you covered with perfectly affordable wedding gowns from our Rebecca Ingram line!
Fall in love with a dreamy and elegant design like Raelynn—the perfect foundation for a classic bouquet, effortless hair and makeup, and a rosy flower crown. Your wedding portraits will be sensational!
PC: Alicia Wiley Photography
Get inspired with this real bride's soft and romantic wedding aesthetic featuring emerald and white flower crowns and a pop of pastel in the bouquets. Needless to say, your bridesmaids will be thrilled.
With the plethora of flower crowns and floral hair trends available to modern brides, it's refreshing to remember the timeless and elegant appeal of an all-green or foliage-forward design. And the best part? This bride paired her nature-inspired aesthetic with Meryl by Maggie Sottero. So chic!
PC: Sarah Paul Photography
Love the idea of flowers in your hair, but don't want to look like you're fresh out of Coachella? Opt for a delicate ribbon of rosebuds in a soft blush or neutral palette. It's easy to style, flattering for any hair type, and classically feminine.
This bride complemented her look with Hope from our affordable Rebecca Ingram line. It was a dreamy choice for her summery outdoor celebration.
PC: Zandra Barriga Photography
Featuring modest wedding dress Deirdre Marie with a totally unique vibe, this vintage-chic 60s wedding is all about the luxe retro and industrial details.
The jewel-toned flower crown adds to the bride's chic and playful hippie aesthetic. Plus it's a gorgeous way to add a veil headpiece, show off your long hair, and match your sweetheart's attire!
(And speaking of chic bridal hairstyles, head to our post on Hairstyles to Complement Your Wedding Dress for more curls, buns, braids, and accessories!)
PC: Oliver Smith Photography
Keep your look elegant and romantic with a classic lace gown and simple headpiece of greenery and light roses. This bride fell in love with Camille (affordably priced from our Rebecca Ingram line!).
Then she dressed her bridesmaids in mismatched neutrals and topped everyone off with a lovely halo of white roses and emerald eucalyptus. It's a winning combo for an intimate wedding, City Hall ceremony, or small reception!
Simple Flower Hair Clip + Destination Elopement: Nola by Maggie Sottero
PC: Brady House Photography
Not to go mad with jealousy or whatever, but we're really wishing we were on a jet plane to Hawaii this month! This couple's oh-so-romantic destination elopement to the Aloha State is the perfect celebration of love, nature, and adventure.
For a chic and shimmery bridal look, consider relaxed fit-and-flare Nola by Maggie Sottero—dreamy, effortless, and divine!
PC: Anna Leigh
Finally, for the ultimate in "enchanted forest" couture, consider a sleeved Chantilly lace wedding dress paired with a halo of greenery.
Deirdre by Maggie Sottero is sweet, sexy, and perfectly bohemian—the best excuse for gorgeous florals and nature-inspired embellishments!
Ready to dive into more florals and accessories? Head over to our Boho Wedding Dresses page and Pinterest mood board, A Dreamy Bohemian Romance, for real weddings, beauty inspo, and styled shoots.
And of course, head to an Authorized Retailer near you to try on soft, romantic, and perfectly flattering wedding dresses for your best day ever. Happy planning!