Tips and Trends
Wedding Inspo
|
June 5, 2020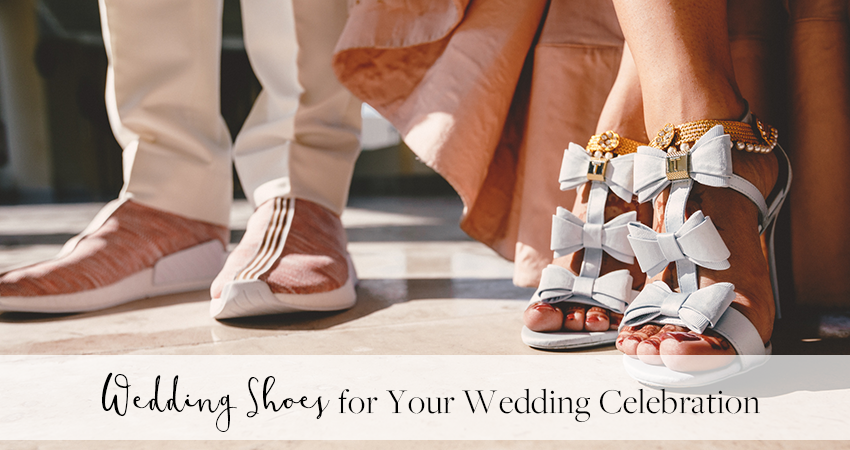 Congrats! You've found your perfect wedding dress. What's the next best style item for looking head-to-toe gorgeous? The fabulous footwear, of course! Get inspired with our gallery of accessories from our real brides, featuring our favorite wedding shoes for your 2021 celebration!
Classic Closed Toe Wedding Shoes
Looking for something classic and versatile? Start with a neutral hue, opt for clean lines, and stay steady with a block heel or wedge. These sophisticated closed toe heels can be paired with a flattering A-line, classic ball gown, or slimming sheath!
Pink Open Toe Shoes with Straps
These strappy bridal shoes in elegant mauve is a great choice for spring and summer weddings. It also matches easily with blush, metallic, or other neutral accessories.
This particular pair was styled with retro décor and embellishments. (We're especially smitten with the ultra-cool heart-eye sunglasses!)
Open Toe Wedge Bridal Shoes
For a glam look that's super easy to wear, consider ivory wedges with girly details and dazzling embellishments. The wedge heel works perfectly for outdoor terrain or hard flooring, while the shimmery accents keep everything formal and romantic.
Casual Blue Scallop Flats
For the laid-back bride, a pair of flats is just the ticket for an easy-breezy wedding look! These scalloped flats are as cute as they are comfortable and pair easily with a variety of casual wedding dress elements, from soft lace to flowy chiffon.
Tip: Incorporate "something blue" into your color scheme for extra style and romance!
Casual Converse with Polka Dots
You've seen the bridal sneakers trend—now it's time to make it your own! Glam up a new pair of Keds or Converse with big bows, shimmery rhinestones, personalized pins, or fancy trimmings to make a cute and comfy statement.
Tip: Stick to a neutral white, blush, or gold palette for a sweet and sophisticated vibe, or go bold with blue, bright pink, or allover bling. Whatever your color, these alternative wedding shoes will make for great photographs. And after the big day is over, you'll have a cute memento!
Gold Ankle Boots
For a unique and playful bridal look, opt for ankle booties in a fab shade of gold or silver! These shoes are a great choice for whimsical or retro bridal aesthetics, and adapt especially well to fall and winter celebrations.
Tip: You can search for ready-made gold ankle boots at most department stores and shoe shops. Or you can find a pair to spray paint on your own as a wedding DIY.
Open Toe Bridal Shoes with Bows
Calling all couture brides! You already know that your wedding will be your day to show off your chic and one-of-a-kind taste. If you're a fan of color and flourish, these blue-bowed beauties are sure to steal the show!
Bedazzled Straps with Bow
When it comes to fabulous wedding shoes, you can't go wrong with bows and Swarovski crystals! This pair of pink strappy heels is perfect for a variety of bridal looks, from vintage and classic to garden-chic and girly-glam.
Tip: Amp up the romance with a matching hair or gown bow accessory, and go full razzle-dazzle with blingy jewelry or a crystal-embellished bodice. It's your day to shine!
Cowgirl Boots
For a rustic or woodsy ranch wedding, you can't go wrong with a little leather. You'll make an iconic statement to complement your country-chic vision. And your bridesmaids will be thrilled to match!
Statement Pink Rockstud Bridal Shoes
This modern pair of heels is designed for the chic and elegant bride looking to add a little edge to her wedding gown.
Tip: Spiky gold bling pairs easily with minimalist silhouettes, sexy crepe styles, and flirty ballgowns, while a neutral hue keeps the accessory from looking cheap or costume-y. Win-win!
Wedding Shoes with Thin Diamond Straps
There are many ways to incorporate diamond embellishments into your footwear. We're particularly fond of how these blingy heels balance bold crystals with thin straps for a simple yet undeniable statement.
Glamorous Heels with Rhinestones
These heels are positively dripping with shimmery accents! You won't be able to resist strutting around your venue to show off this over-the-top bridal accessory under your one-of-a-kind wedding gown.
Bridal Heels with Crystals
Looking to add a little bling to your elegant bridal look? Consider these wedding shoes decked out in diamonds and uneven pearl accents. Just be sure to bring a pair of flats or sneakers for backup, as these thin heels aren't very well suited for outdoor terrain or all-night dancing.
There you have it—bridal shoes for your 2021 celebration! If you're looking for more accessory and style inspiration, head to our post on Real Brides and Their Fabulous Shoes, and our bridal shoe Pinterest page! And after the big day has come and gone, be sure to send us your photo gallery for the chance to be featured on our social media pages (because we'll never get enough of our real brides' hair, makeup, accessory, and wedding dress inspo!). Best wishes!