Dresses
Our Heart
Tips and Trends
|
October 21, 2023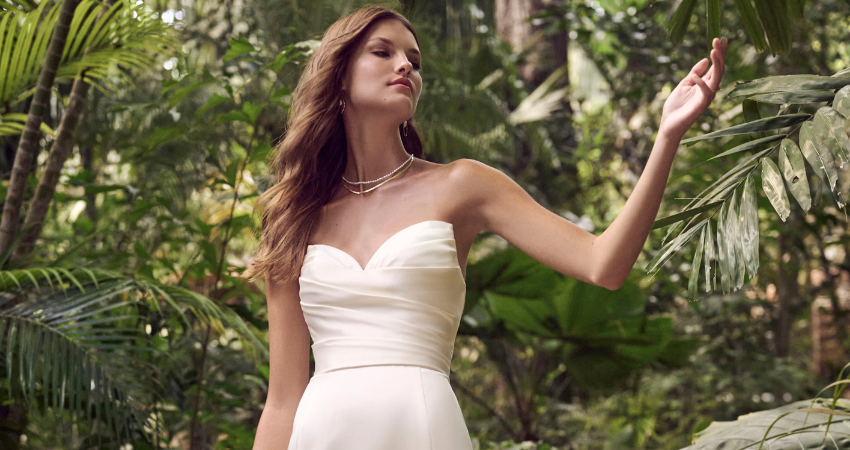 Welcome back, bride! Maggie Sottero has been working to support a more sustainable future in the bridal industry with a focus on three key areas: Waste Reduction, Resource Consumption, and Protecting Biodiversity. This week we're talking about resource consumption at Maggie Sottero and our wedding dresses made of recycled materials!
What has Maggie Sottero Been Up To?
Maggie Sottero has been making positive impacts through our inclusivity efforts, social responsibility, and environmental consciousness. We have promised to create beautiful and inclusive experiences for all our brides, expand into our global community through charitable actions, and disrupt the standard to create a more sustainable wedding space.
We're reimagining everything we do with a regenerative, future-facing view. The Maggie family is committed to being the change, disrupting the standard, and creating the future to ensure our brides' love stories—and our Planet— endure.
We're focusing on three key areas of impact: Waste reduction, resource consumption, and protecting biodiversity. We're so excited to share more about this work! Keep reading to learn more about how we're reimagining our resource consumption!
Reimagining Resource Consumption
Maggie Sottero is supporting renewable power projects, reducing our product impact, and investing in the circular supply chain. We are working to become a more regenerative brand.
Our move towards more regenerative practices involves lots of research, creativity, and old-fashioned elbow grease. Whether it's carefully sorting our plastic shipping waste into recycling streams or designing wedding dresses made of recycled materials, it is all-hands-on-deck in our Maggie family!
Our Resource Consumption Initiatives
We are a Bue Sky Visionary Business Partner with Rocky Mountain Power to reduce our annual carbon footprint by an estimated 154,000 lbs of CO2/year.
100% of our excess stock is diverted from landfills and into textile recycling programs and donation efforts.
We are investing in the circular textile supply chain sending 2630 lbs. of excess gown stock to be recycled into new fibers or products.
We are hosting our website and databases through cloud services that use sustainable practices to power the infrastructure and computing needs. We are also replacing our in-house servers with newer, more energy-efficient equipment featuring a smaller power footprint and less cooling needs.
Our U.S. offices are shifting to energy-efficient LED lighting.
We have implemented a hybrid/virtual work environment based on role.
We provide discounted monthly transit passes to staff at our U.S. headquarters.
We are reducing our resource consumption by switching to water-saving sprinkler systems and drought-tolerant landscaping at our Salt Lake City headquarters.
We are optimizing collections brought to market and minimizing product skus to create a reduction cascade effect in the supply chain.
In our warehouses, we are transitioning to post-consumer recycled content shipping boxes, and we're testing gown packaging made from recycled and recyclable materials
We are transitioning to recycled-content printer paper in our offices and at bridal markets.
We have started printing our production swing tags with vegetable-based ink on recycled cardstock.
We're digitally optimizing B2B operations, reducing paper resource consumption by 50%.
That's not all, though! We are working to reduce the impact of our beautiful gowns! We've been testing lower-impact materials to design wedding dresses that not only look good but have a reduced impact on Mother Earth. Let's look at these wedding dresses made with recycled materials and yarn-dyed fabrics!
Wedding Dresses Made of Recycled Materials
For our Spring 2024 collections, we're reimagining textile resource consumption, reducing layers without compromising the fit and quality of our gowns, and scaling up lower-impact materials in our collections. We're starting with fabrics made from recycled polyester and resource-efficient yarn-dye production.
Why are these considered lower-impact fabrics?
Recycled polyester reduces overall pressure on virgin materials and use of non-renewable resources like oil (Source: Waste & Resources Action Program – wrap.org.uk)
Our recycled polyester is derived from post-consumer PET waste products (primarily post-consumer plastic bottles) and no fossil fuel feedstock is used
Yarn-dyeing production methods can create a significant reduction in water/energy use
Our "Elin" Mikado is a yarn-dyed fabric; our mill partner is achieving a 70% reduction in water use and carbon emissions in the making of this fabric
This fabric is featured in our Spring '24 Emmanuelle and Miranda gowns, and the Ice Pink "Aspen" gown for Spring '23
And we're reducing our impact by incorporating recycled polyester linings into our collections, too. Ready to see some of these gorgeous gowns?
Gowns with Outer Shells Made of Recycled Materials
Addison by Rebecca Ingram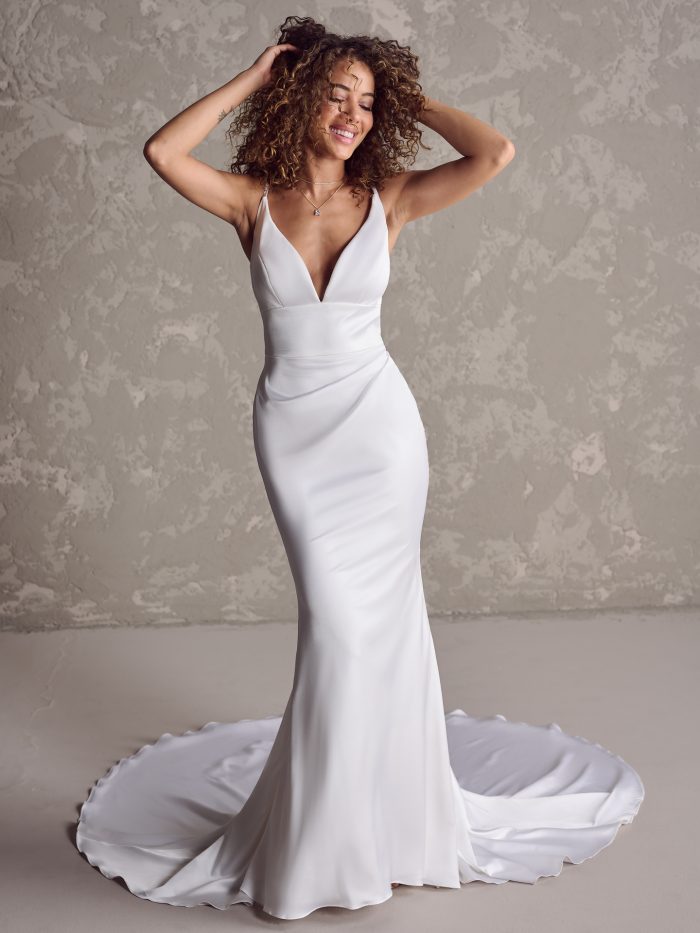 Say hello to Addison by Rebecca Ingram, an effortless style! This sleek, simple, and sophisticated gown brings more to the table than a chic open-back and deep V-neck. The outer layer of this gorgeous lower-impact wedding dress is made of Noivo recycled content stretch satin made of 100% post-consumer content polyester.
Hilo Marie by Maggie Sottero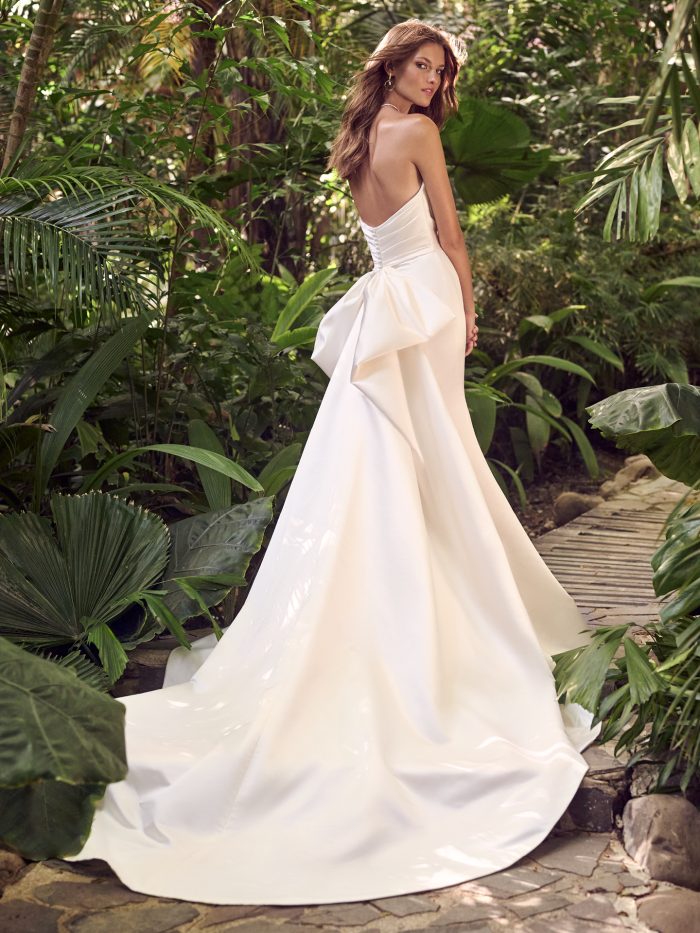 Hilo Marie by Maggie Sottero is another more sustainable wedding dress made of lower-impact materials! Simple yet stunning, this fit-and-flare bridal gown is made of Acer recycled content satin composed of 53% recycled polyester; plus, this gown includes Kahili recycled content lining!
Hilo Marie features an oh-so-chic draped bodice and a detachable bow also made of Acer recycled content satin!
Jackie by Rebecca Ingram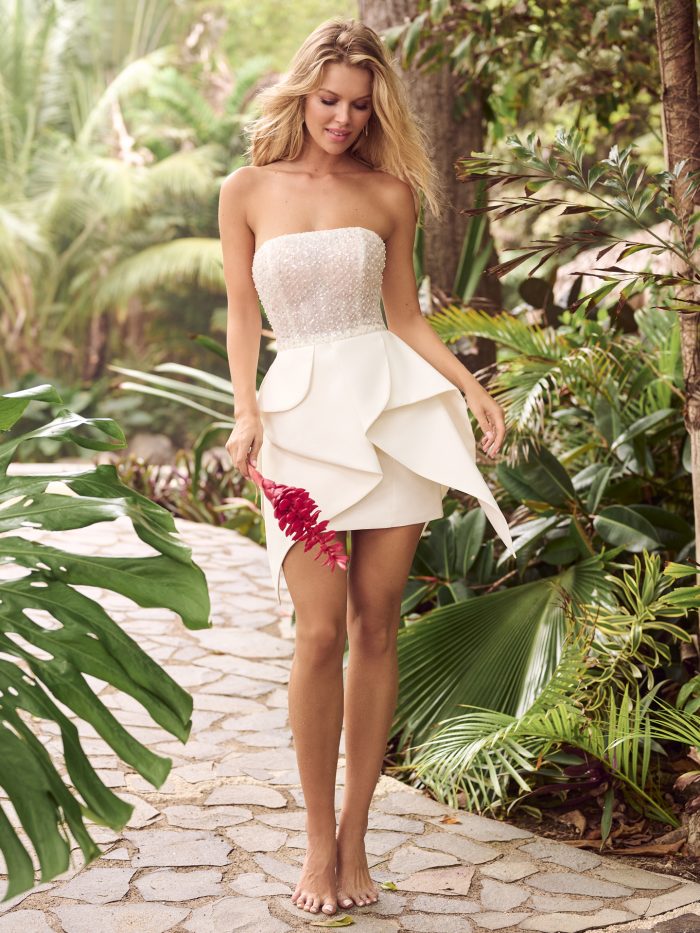 Vintage glamour, chic simplicity, and a fabulous recycled-content Mikado mini-skirt: Jackie by Rebecca Ingram has it all! Another of our lower impact styles, this short wedding dress is the perfect choice for a reception outfit change. Jackie is also helping us to reimagine our resource consumption with her fabulous Berritu recycled polyester Mikado mini-skirt!
This chic little white dress also features flirty ruffles to make any bride feel like a dancing queen. Jackie finishes with a straight strapless neckline and a beaded and sequined organza-lined bodice.
Interested in viewing our other ruffled wedding gowns? Read our blog to see our other ruffled options!
Wedding Dresses with Inner Linings Made of Recycled Materials
Our lower-impact wedding dresses aren't only made of recycled materials on the outside! We're reimagining our resource consumption in our choice of inner linings too. Take a look at some of these beautiful gown options below:
Carter by Sottero and Midgley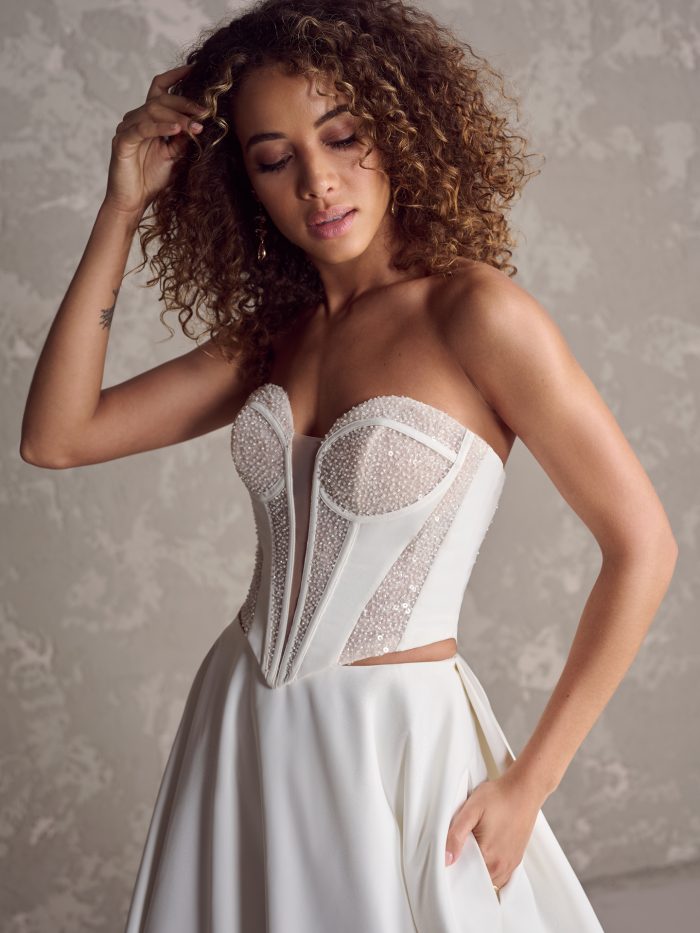 Carter by Sottero and Midgley equals ultra-glam. It's even more special with its lower-impact lining! This two-piece couture gown features a plunging sweetheart neckline and an illusion corset bodice accented with striking beaded tulle to give this dreamy dress a rock 'n' roll vibe.
In addition to these unique details, this satin wedding dress is lined with Kahili recycled content lining made of 100% recycled polyester, and has a full skirt complete with pockets!
Delphine by Maggie Sottero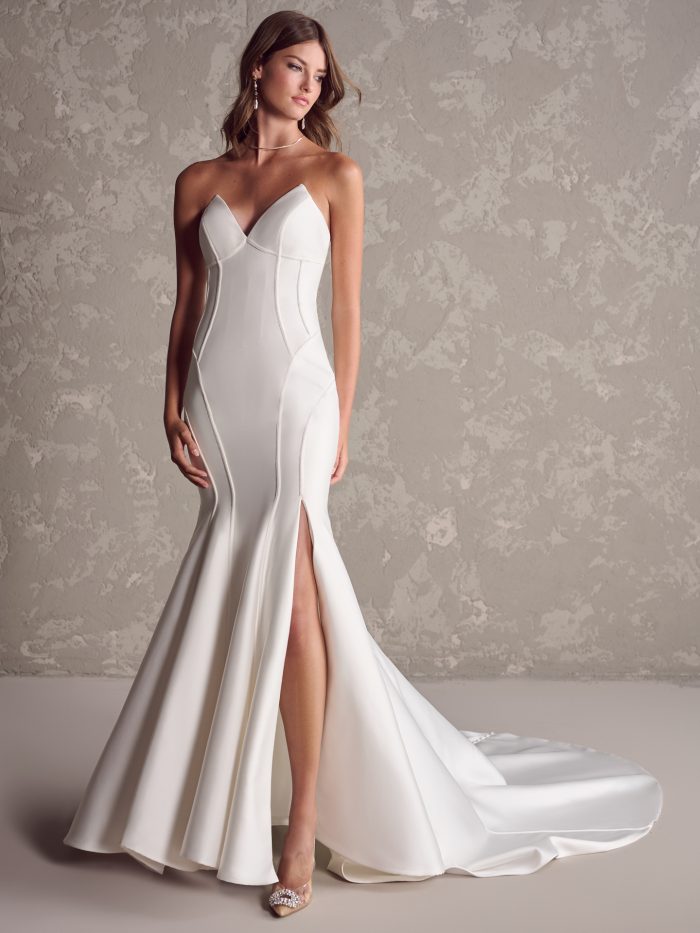 Delphine by Maggie Sottero is another one of our corset wedding dresses featuring a lower-impact lining that we absolutely adore!
If you're a fan of simple and chic, then you'll absolutely love this satin mermaid wedding dress! Designed with Hollywood icons in mind, this bridal gown stars a striking exposed boning detail, a deep strapless V-neckline, and a sexy thigh-high slit (perfect for showing off your wedding day heels!)
This wedding dress was also designed with Kahili recycled polyester lining which is made from post-consumer recycled materials.
Love the corset look? Make sure to read our blogs to see our other corset wedding dresses!
Doritte by Maggie Sottero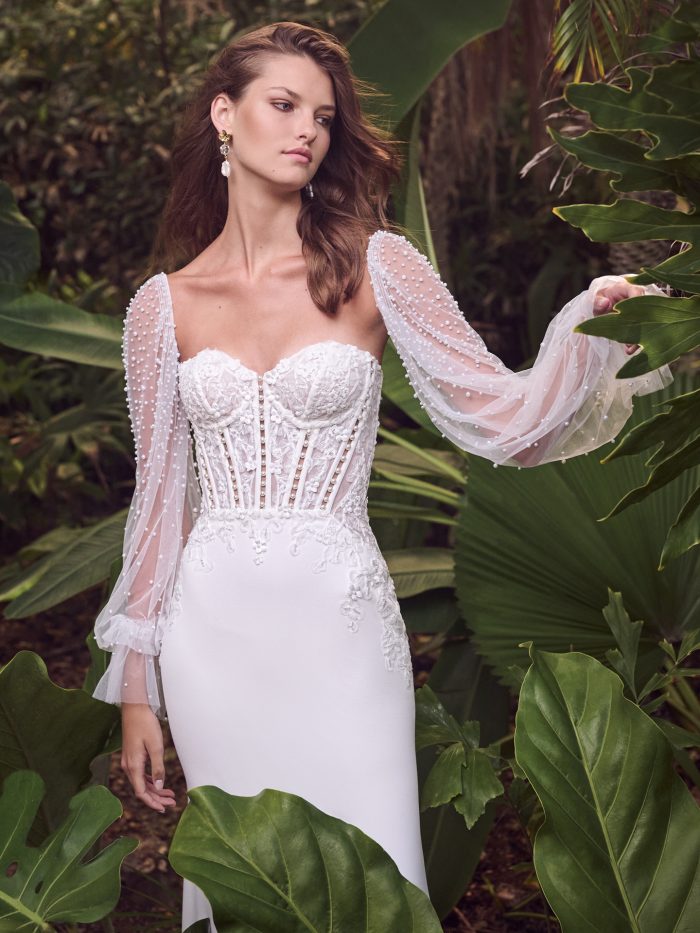 Our designer corset wedding gowns don't end there though! If you love the pearlcore trend and you love an exposed corset, then you'll absolutely love Doritte by Maggie Sottero. Designed with a combination of crepe and 3D floral lace, this fit-and-flare bridal gown also features a romantic exposed bodice with pearl detail accents.
Additionally, Doritte features Serene recycled content stretch chiffon lining. You also have the option of detachable cap sleeves and poet sleeves so you can personalize this gown for your love story!
Jasper by Sottero and Midgley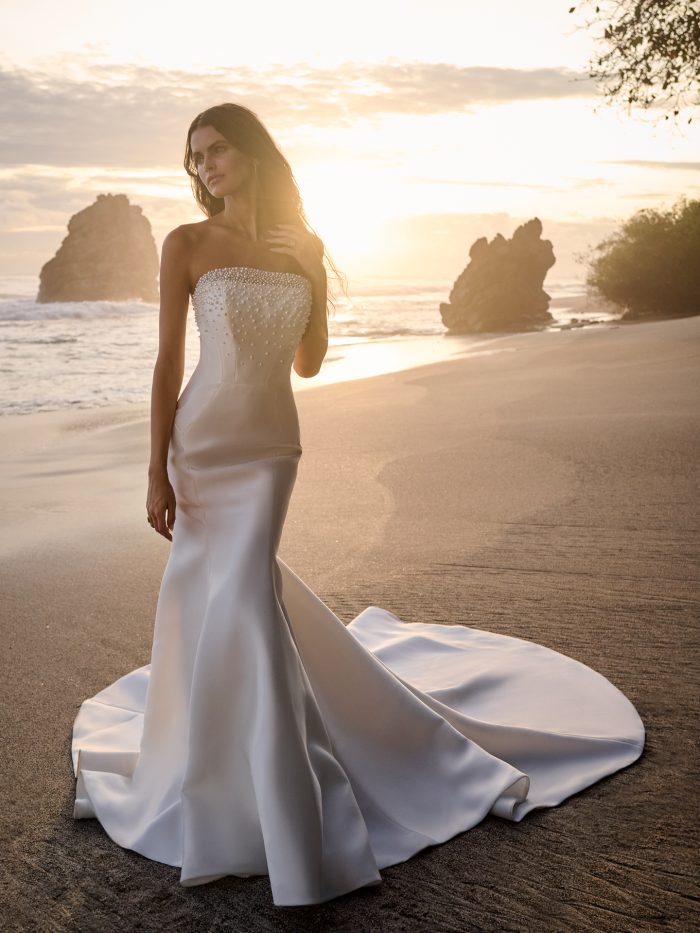 Jasper by Sottero and Midgley is another one of our pearlcore wedding dresses. Made with a Serene recycled content stretch chiffon lining, our brides absolutely adore this stunner!
Want to feel like a movie star on the red carpet for your special day? Consider saying "yes!" to this strapless Mikado bridal gown. This wedding dress is dripping with chic pearls down the bodice and a corset closure on the back so you can have a side of sexiness with your elegant look.
Nisha by Maggie Sottero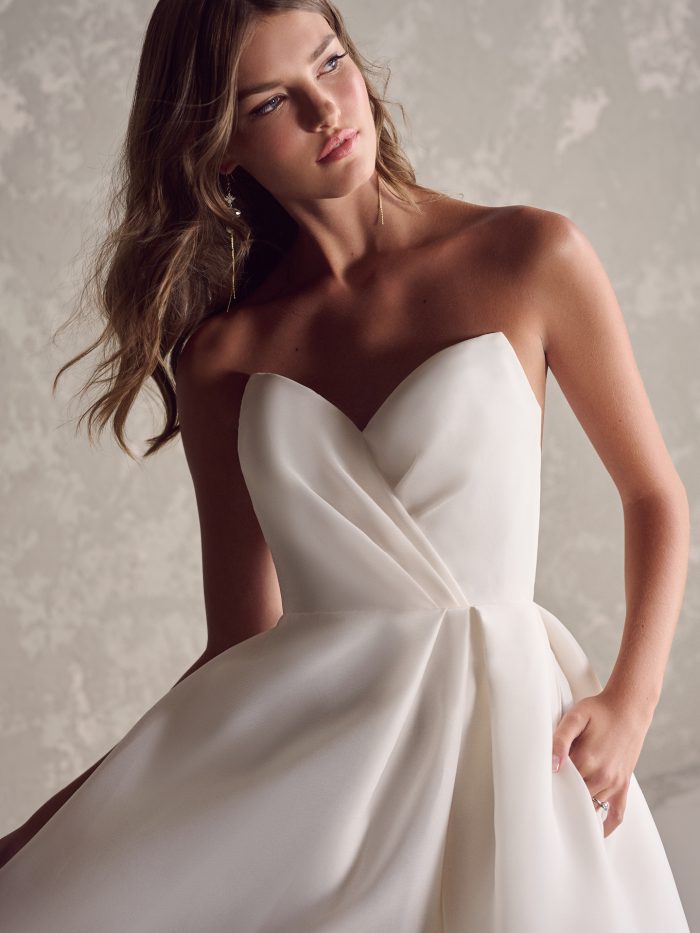 If you love the flow and beauty of organza, then say hello to Nisha by Maggie Sottero! This simple A-line wedding dress is head-to-toe romance. Between an asymmetrical pleated bodice and thigh-high slit Nisha is a classic. Say "yes!" to a beautiful dress that ALSO features 100% recycled polyester lining.
Looking to add a little bit more drama to this gown? Pair this bridal look with the detachable organza armbands so you can walk down the aisle in style. Better yet, for a 2-in-1 look you can take them off to party!
Psst… If you love the look of a thigh-high slit read our blog to see more gowns in this style!
Summer by Maggie Sottero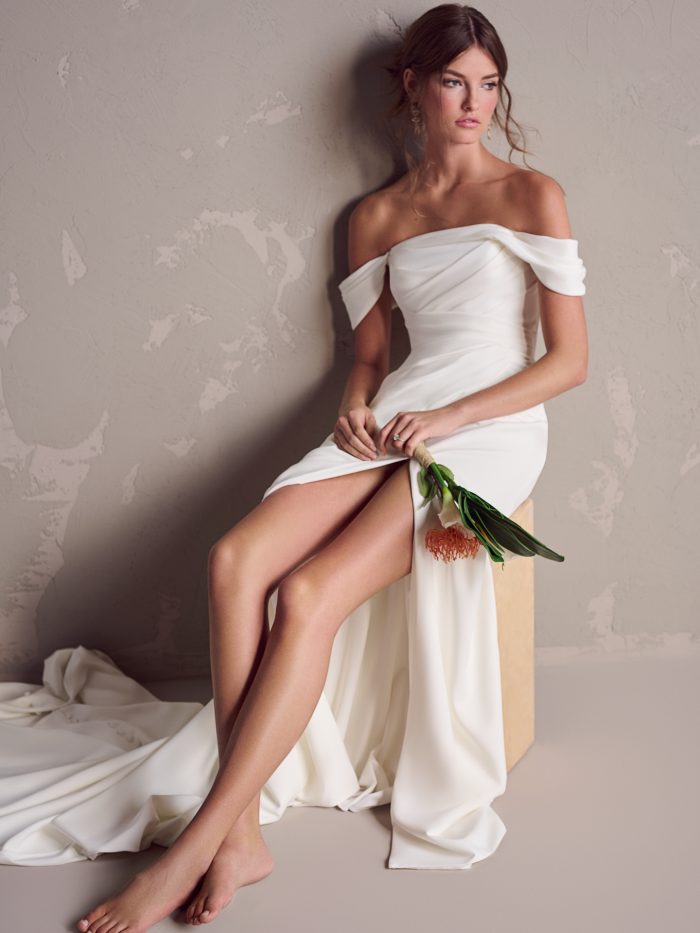 There's nothing we love more than a Grecian-inspired look. Summer by Maggie Sottero fits the bill perfectly! This classically beautiful wedding dress features Serene recycled content stretch chiffon lining. What's really cool about it? It's made with 100% post-consumer content. This ethereal wedding gown features a romantic off-the-shoulder neckline and sexy V-back. The best of both worlds!
Bridal Gowns Designed with Yarn-Dyed Fabric
Miranda by Maggie Sottero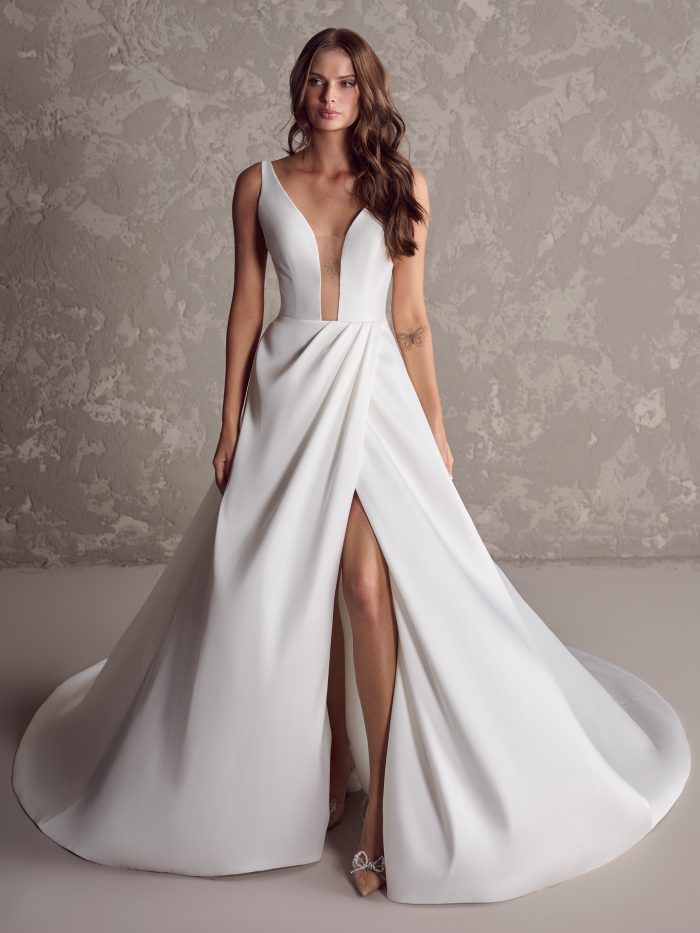 Diamond white and breathtaking, Miranda by Maggie Sottero was created with our Elin stretch Mikado made with resource-efficient yarn-dyed fibers. This modern wedding dress also features a plunging square illusion neckline, square back, and a thigh-high slit perfect for dancing!
We imagine this wedding dress in a European-inspired celebration with chic white orchids, linen tablecloths, and a starlit sky reflecting on sparkling waves!
Emmanuel by Maggie Sottero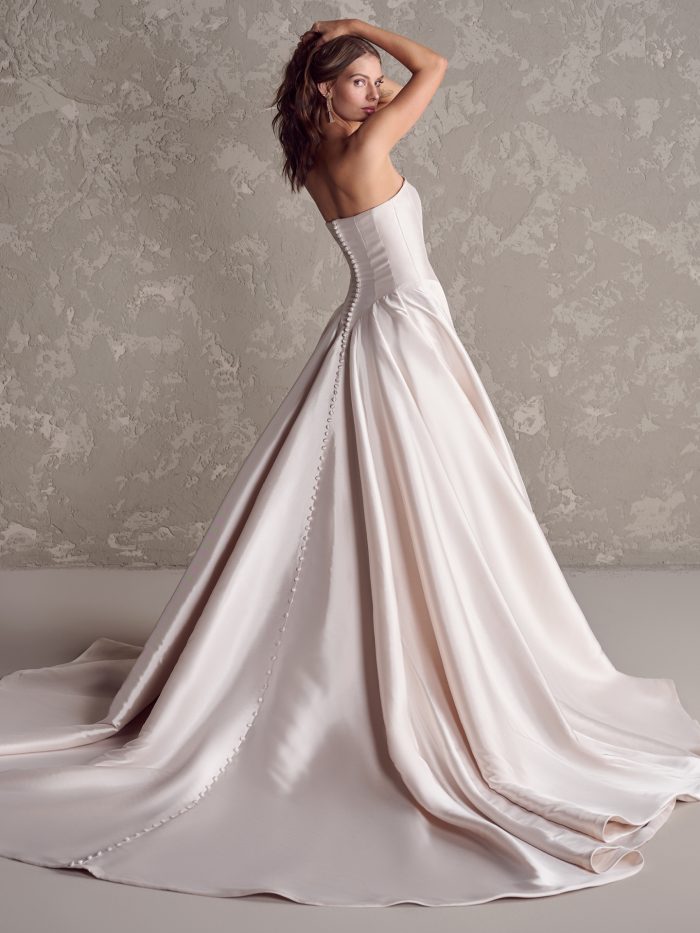 Emmanuel by Maggie Sottero is another one of our Elin Mikado wedding dresses made with yarn-dyed fabric. While this chic gown has the same modern simplicity as Miranda, it has an elegant, straight strapless neckline and breathtaking Basque waist!
Psst… You can personalize this romantic gown by having a zipper closure with covered buttons or a lace-up corset to create a vintage vibe.
Recycled Materials Interview With Our Design Team
If you'd like to learn more about our design process, keep scrolling to read our interview with Lead Designer Edric Woo and Sustainability Director/Design Patricia DeLaunay!
What has been the most exciting aspect of designing wedding dresses made of recycled materials?
Edric Woo: "Once we find fabrics that have the lower-impact quality we're looking for, then we get excited about the details and try to use those materials, but we still need to test the fabric and see if it will work for us. It's exciting when you find out some test results, like it's a washable fabric, it's good for pressing, it drapes well, etc. And when that more sustainable fabric looks just as good as a standard option, that's really exciting!"
Do you have a favorite lower-impact wedding dress from the Spring 2024 collections?
EW: "Emmanuelle; the yarn-dyed Elin Mikado fabric falls beautifully and has beautiful seaming. And Hilo Marie, made with a beautiful recycled content Acer satin; it looks expensive!"
PD: "Addison; she is so sleek and modern and that Noivo recycled-content satin looks and feels amazing."
What types of lower-impact materials would you love to design with in the future?
EW: Chiffon…stay tuned!
PD: There are some truly amazing next-generation fabrics becoming available. Like Edric said, stay tuned!
What are some future initiatives that our brides can look forward to as Maggie Sottero continues to introduce lower-impact materials to the collections?
PD: We started with recycled-content materials because these were more readily available for testing, and we wanted to support the Textile Exchange recycled polyester challenge, which calls for brands to reduce their consumption of standard polyester. We also know how important it is to use more resource-efficient processes like yarn-dyeing, so watch for more of those. And we're looking at next-gen fabrications as another way to practice more regenerative resource consumption. Very exciting!
To learn more about our efforts to create positive impacts, make sure to check out the Our Heart page by clicking the button below and keep up with us to learn about all our sustainability initiatives!
More Blogs Like This:
Positive Impacts: Maggie Sottero's Sustainability, Diversity, and Community Initiatives
Sustainability Initiatives: Waste Reduction Efforts
10 Wedding Dress Trends in Maggie Sottero's Fall 2023 Collection