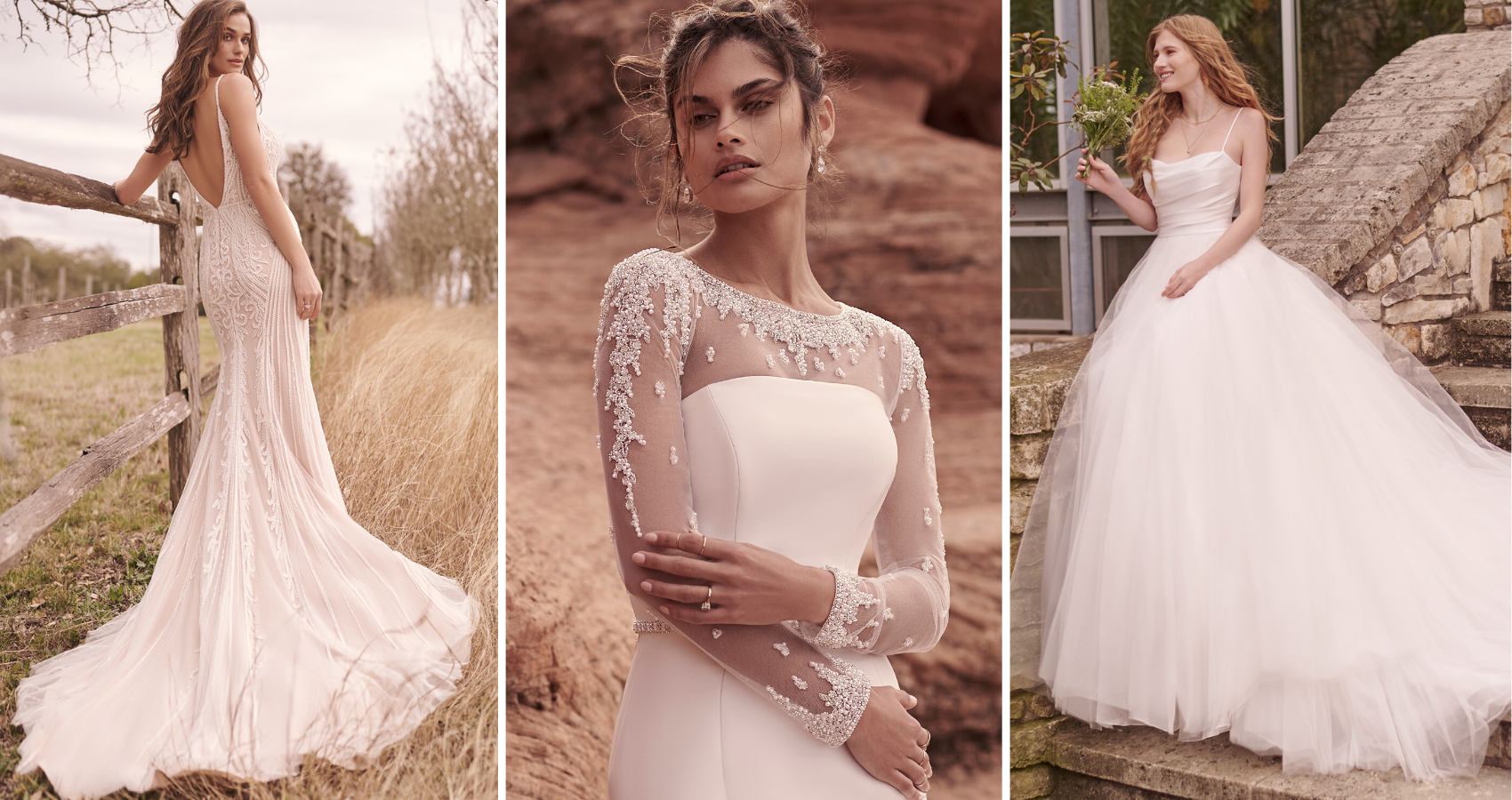 Is there anything better than a fresh set of brand new, trendy wedding dresses?? We don't think so! That's why we're so excited to announce that our Fall 2022 Collection has officially hit the racks at our Authorized Retailer locations and is live on our website for you to fall in love with.
Our Maggie Sottero, Rebecca Ingram, and Sottero and Midgley Fall 2022 wedding dresses were carefully created with modern takes on classic silhouettes, celestial-styled beading, and romantic bohemian laces. Don't worry, though! We know how hard it is to decide on your dream wedding day look. So, take a deep breath and take our Style Quiz to help you pick and choose the dress of your dreams from this brand-new collection!
Before you start oohing and aahing over these ethereal gowns, make sure to sign up for some exclusive text messages below to be the first to see our New Collection!
What are the inspirations behind the Trendy Wedding Dresses in the Fall 2022 Collection?
The Maggie Sottero Collections for Fall 2022 are the epitome of femininity. They have soft flowy fabrics, tonal beading, and delicate laces that embody modern romance. They're the perfect balance between sexy and effortless beauty.
Our Lead Designer, Edric Woo (#fangirling), created these gowns to reflect the beautiful complexity of the stars, the ease of a wave against the shore, and the simplicity of the wind through the trees. Don't just take our word for it though, dive into our newest gallery of trendy wedding dresses—fresh off our runways and heading to an Authorized Retailer near you! Enjoy!
Trendy Wedding Dresses: Maggie Sottero Wedding Dresses
The name "Ambreal" means "powerful and completed," and we couldn't think of a better description for this vintage-inspired gown.
This head-to-toe beaded fit-and-flare is the epitome of 1920s grace, and we can easily imagine it in a big city wedding—somewhere like New York, Chicago, or LA. With its beautiful deep V-back, and dainty beaded straps, we're sure you'll be swooning as soon as you try it on.
Looking to have a vintage-inspired bridal look? Make sure to read our blog and see our other vintage wedding dresses.
Looking to show off your glam wedding shoes along with your wedding dress? Then Fayette by Maggie Sottero is the gown for you! With its sexy, thigh-high slit, you'll have no issues showing off your runway heels, or dancing the night away with ease.
There are too many highlights to this lace crepe gown to list all of them, but we simply must gush over the gorgeous detachable chiffon train with scalloped lace that you can add on for some extra drama! It's just so good!
We know how popular crepe is, but we also know that brides worry about creases and wrinkles. Read our blog on how to care for your crepe wedding dress before the big day!
Sometimes, the simplest things in life are the sweetest. That's at least what we think when it comes to Foster by Maggie Sottero.
This wedding dress is head-to-toe elegance in stretch Mikado with a beautiful V-back, ruched bodice, and sheath silhouette.
Simple doesn't have to lack drama! Consider adding a vintage-inspired Mikado bow, buttons, and a long detachable train!
We don't know about you, but if Princess Diana hadn't selected her jaw-dropping gown, we're pretty sure she would've worn Paxton by Maggie Sottero.
This V-neck A-line wedding dress is full of class (and just a little bit of sass). We are absolutely in love with its simple skirt and deep scoop back. And can we talk about the beautiful lace embellishments throughout the gown?! It's giving garden elegance and princess in the garden.
However, don't worry! If you're more of a "simple is more" type of bride, you can order it without all the embellishments for a clean look.
Backless wedding gowns are our bread and butter, and Phoebe by Maggie Sottero is one of our favorite styles for this fabulous trend!
While its beautiful deep-scoop back with intricate straps may be the showstopper aspect of this trendy wedding dress, we can't forget to gush about its beautiful floral lace and sophisticated V-neckline!
You can easily make this modern wedding dress a more laidback wedding day look by removing the train, but honestly, what's not to love?!
Trendy Wedding Dresses: Rebecca Ingram Wedding Dresses
Nature-inspired elopements are all the rage right now, and we couldn't think of a better modern wedding dress to go with this trend than Tasha by Rebecca Ingram!
This lowkey (but stunning!) gown is all about ease and comfort with its flowy chiffon skirt, intricate lace high-neck bodice, and illusion lace back. We can easily see this gown paired with hiking boots on a sunrise hike with your partner to profess your love to one another. And as if this gown couldn't get better, you can add buttons down the back for a more vintage-inspired look and remove the train for a more casual look!
Love chiffon but worried about the wrinkles? Read our blog on how to take care of this beautiful fabric!
We loved this gown so much, that we decided to make it twice! Meet Emily and Emily Lynette by Rebecca Ingram. Both gowns were made with beautiful nature-inspired lace, flowy tulle A-line skirt, and deep V-neckline.
There are some major differences between these shimmer trendy wedding dresses, however! While Emily has gorgeous illusion lace on the bodice, Emily Lynette (specially designed for our curvy brides!) offers a little bit more coverage and support.
Let one of these western wedding dresses whisk you away from your dream wedding fantasy!
Vivien by Rebecca Ingram is vintage meets modern. Simple meets drama. Sweet meets sassy. Wedding day meets wedding day look. If you're a bride on the hunt for a square neck wedding dress, then this ballgown is certainly the look for you!
The devil is absolutely in the details when it comes to this beautiful gown. The ruched bodice, deep V-back, and subtle sparkle in the skirt are bound to take your breath away (and draw the attention of all your guests!
We could go on and on about Stephanie by Rebecca Ingram, but let's start with its dreamy tulle skirt lined with lace. This whimsical skirt was infused with the magic of gardens and fields full of flowers and it's obvious when you look at its beautiful nature-inspired lace!
Additionally, it sports beautiful thick straps (perfect for dancing) and a V-neckline and back (perfect for showing off your wedding day jewelry!
To see more romantic A-line wedding dresses, read our blog!
Do you dream of being a living, breathing, work of art for your wedding day? Then take a look at Amanda by Rebecca Ingram. This shimmer beach backless wedding dress is full of eye-catching details. From its lace flowers to subtle shimmer, to crisscross V-back, you'll never stop finding unique details in this gown.
This modern wedding dress comes with a ton of fun details as well! Shop this gown in four different colorways of ivory over misty mauve, all ivory, ivory over soft blush, and ivory over soft nude.
It also comes with the option of extending the train for added drama and a matching whimsical veil!
Trendy Wedding Dresses: Sottero and Midgley Collection
Cottage core wedding dresses are all the rage right now, so we're sure you'll fall head over heels in love with the colorful wedding gown, Nerida by Sottero and Midgley.
Beautiful pink flowers are scattered throughout the dreamy chiffon fabric of this wedding dress, from its classic sweetheart neckline, puff sleeves, and A-line skirt. And you can't forget the sexy slit up the skirt to make your walk down the aisle as dramatic as possible!
If the floral isn't your thing, don't worry! This showstopping gown also comes in classic ivory for our more traditional brides.
What's better than a vintage wedding dress? A simple wedding dress that comes in a red colorway! Alera by Sottero and Midgley is all about making a statement from its square neckline to its full ballgown skirt.
And as if it couldn't get better, it has pockets and a detachable Mikado bow!
We're all about making a statement here at Maggie, which is probably why we love Holden by Sottero and Midgley so much. This dramatic tulle wedding dress is regal from head-to-toe from its straight neckline to its full tulle skirt.
The drama doesn't stop at the dress though! You can also find stunning statement personalizations like an added train, beaded belt, and decadently beaded long-sleeve bodysuit.
Is a mermaid wedding dress the top silhouette on your bridal dress list? Read our blog for more inspo!
Octavia by Sottero and Midgley is the definition of sexy wedding dresses. Its formfitting crepe fabric, deep V-neckline, illusion lace back, and sexy cutouts will make you (and your guests) ooh and aah.
We imagine this look on a tropical beach, in a beautiful greenhouse, or in a metropolitan wedding venue!
Last, but certainly not least, in our featured Fall 2022 wedding dress collection is Marvine by Sottero and Midgley.
This A-line wedding dress is head-to-toe whimsy with its beaded garden-inspired motifs, full skirt, and scoop back. As if it couldn't get better, it also has a matching beaded veil! Pro Tip: Beaded veils tend to be heavy, so make sure to anchor them in your hair with bobby pins and hairspray!
Lover of fairytale wedding dresses? Make sure to read our blog for more gown inspiration!
From A-lines to sheath, beaded to lace, simple to statement, our Fall 2022 Collections have a gown for any and every type of bride!
Make sure to Find a Boutique near you ASAP to snag one of our new gowns early, and don't forget to Pin these gowns for later and sign up for our exclusive newsletter for insider tips and tricks.
Cheers to you and your wedding dress style this season!
Explore our exclusive tips and tricks for finding the gown of your dreams!
How to Choose the Right Wedding Undergarments for Your Wedding Dress
Customized Wedding Dresses & Personalizations With Maggie Sottero
8 Must-Have Tips On How To Shop For A Wedding Dress For The First Time