Tips and Trends
Wedding Inspo
|
February 11, 2023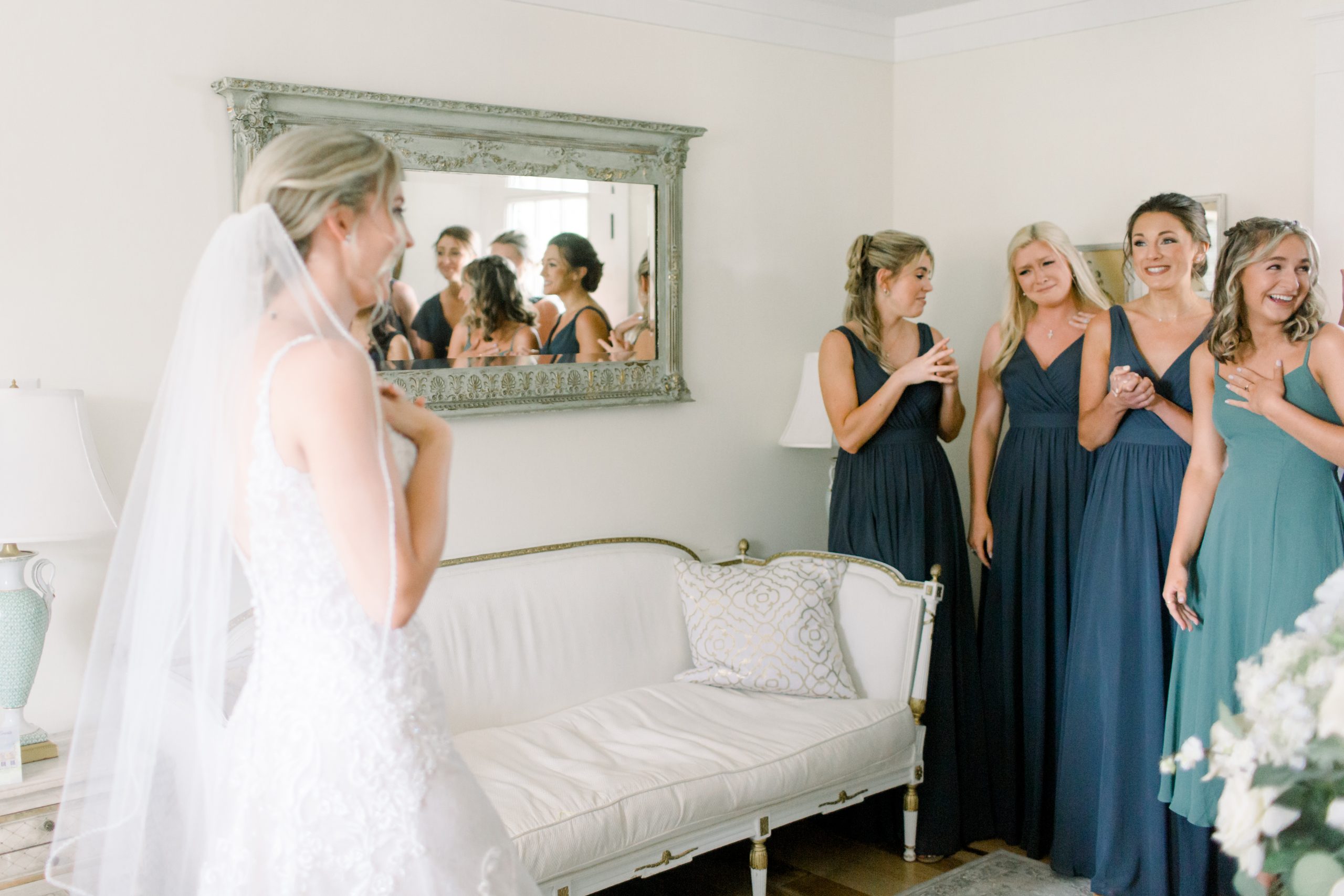 Congratulations, you said "yes" to your sweetheart! Now that you've got the ring, it's time to find your dream dress. Maybe we're biased, but gown shopping should be the most exciting part of your wedding planning journey. We know the first appointment can be a little bit intimidating, but don't worry! To make your first appointment easy breezy and stress-free, we've compiled our favorite first-time tips for wedding dress shopping. Scroll on!
Step one? Find an Authorized Retailer near you below to book an appointment!
Tips for Wedding Dress Shopping Before the Appointment
Tip 1: Determine Your Timeline & Book Your Appointment
We get it. The endless bridal gown options out there can be overwhelming. If you're not sure how to prepare for wedding dress shopping, here's some help:
First, find an Authorized Retailer near you to book an appointment! Just keep your wedding timeline in mind. Typically, you will need to buy your wedding dress 9-12 months in advance. However, if you're on a shorter timeline take a look at our Quick Ship wedding dresses to find your dream gown on your dream timeline!
Psst… You can find a Boutique near based on your location, or if you have a special dress in mind you can click the gown on our website and find your gown to try it on in real life!
Tip 2: Determine Your Wedding Dress Style
After you have your first appointment set (yay!), it's time to determine your wedding dress style. This is one of our most important tips for wedding dress shopping before you try on wedding dresses at your appointment.
Though it might feel a little overwhelming, having a general idea of your dream wedding style is important to know before you start trying on wedding dresses. It doesn't need to be as concrete as having a dress in mind (though it never hurts). Knowing "the vibe" you're looking for is enough.
First step? Take our Style Quiz! You can determine your wedding dress style based on aesthetic, price, and must-haves. After that, do your research and start your must-have's list by scrolling through Pinterest and looking at our Blog; two expert resources to help you find your dream wedding dress. Doing your research on popular wedding dress styles can also be helpful before your first appointment!
Trend Alert! These popular wedding dress styles are all the rage right now and might give you some must-have inspo:
Tip 3: Determine Your Budget
Wedding costs can quickly add up, so make sure to budget for your dream wedding dress right at the beginning! Wedding dresses cost between $1200-$2000 (not including alterations or accessories). Make sure to take a look at our Maggie Sottero, Rebecca Ingram, and Sottero and Midgley gowns to get an idea of what kind of gown you want to purchase for the big day!
If you're stuck on how much you should spend, make sure to read our expert blog on how to determine your wedding budget!
Tip 4: Find Your Bridal Entourage
PC: Amand Owen Photograph
You can't start wedding dress shopping before you find your bride squad! The people you take to this appointment should have the following criteria:
Supportive, yet honest.
Kind, full of excitement, and knows you best.
A family member, close friend, or in-law.
Ready to take all the photos of you in your dream gown!
For the best wedding dress shopping results, we recommend bringing around 3-5 people. Anymore and the appointment could get hectic and take away from you and your beautiful wedding dress!
Tips for Wedding Dress Shopping at Your Appointment
Tip 5: What to Wear Wedding Dress Shopping
Aside from a wedding dress's construction, the secret to a perfect fitting wedding dress is proper-fitting undergarments. To experience the best fit possible, make sure to wear the right type of undergarments. (Need help? Take a look at our bridal undergarment guide!)
Note: When shopping for your wedding dress, also make sure to bring a strapless bra and any shapewear you may want to wear on your wedding day. The bra will let you rock those backless styles, and the shapewear will support you while smoothing and holding everything into place! Additionally, for the best outcome, make sure to wear something that closely matches your skin tone.
Psst… If you're a bride who loves to save happy memories, make sure to wear your cutest "say yes!" outfit to take photos in!
Tip 6: Bring Shoes That Are the Right Height
PC: Rachel Laxton
Don't know what to wear wedding dress shopping when it comes to shoes? When trying on wedding dresses, don't forget about the shoes! Whether you are planning on wearing heels or flats, make sure you wear shoes similar in height to the shoes you plan to wear on your wedding day.
You don't need to bring the exact pair of bridal shoes you'll wear for your wedding. However, wearing similar ones will help you determine what length of wedding dress you need to order. And it will also help you better envision your overall wedding day look!
Pro tips for wedding dress shopping from a professional: If you haven't decided on your shoes or been able to get a pair, you can mimic your heel height by standing on your tiptoes in the dress!
Tip 7: Come with Your Hair and Makeup Done
PC: More Beatty Photography | PC: Emily Cutting
Do you know how to shop for a wedding dress while truly feeling like a bride? Having your hair and makeup done! To help you get a complete feel for which wedding dress is your style, do your hair and makeup in a way that resembles the hairstyle you are thinking about wearing for your wedding day.
This way, you'll get a more realistic image of how you will look on your special day in the wedding dresses you are trying. It will also help your bridal stylist find you the perfect accessories to complement your gown. And lastly, it'll be easier to imagine yourself in the dress on your wedding day if you look and feel "wedding-day-ready".
Make sure to read our blogs below to get some wedding hair and makeup inspo:
Tip 8: Communicate with Your Stylist Your Must-Haves
No matter whom you bring to your appointment, your #1 fan and supporter in you finding your wedding dress is your bridal stylist, so don't be afraid to communicate everything with her! If you are feeling some anxiety going into your appointment, let them know! They will make sure you're comfortable while you're there. If you have some must-haves or aren't sure about a dress, talk it out with them. You might be surprised by what you find out concerning alterations or an alternative style they have.
Pro tips for wedding dress shopping: Have your Pinterest board ready to go to share with your stylist. From wedding dress ideas to wedding colors to venue, your stylist will want to know them all and will help you and them select a wedding dress for you.
If you'd like to build your bridal knowledge before you start trying on wedding dresses, make sure to read our blogs below to know everything about your future dream dress:
 Seven Types of Lace to Know While Shopping for a Wedding Gown
Anatomy of a Wedding Dress: Understanding the Parts of a Wedding Dress
Tip 9: Questions to Ask Your Stylist
You know that saying "there's no such thing as a dumb question?" We couldn't agree more! To keep yourself organized before your big day, make sure to remember these important questions to ask why wedding dress shopping.
How many dresses is typical to try on?
What is the timeline for alterations?
What is the general cost for alterations?
How can I personalize my dress?
How do I bustle?
How will this gown work with my venue?
How do I keep this stored until my wedding day?
Tip 10: Don't Be Afraid to Say Yes!
We know this might seem cheesy, but you can't predict a beautiful moment like finding your dream dress. It might be your first gown, it might be your last! Either way, keep your mind open to any and every possibility and don't be afraid to say "yes!" to finding the one.
Bonus Tips for Wedding Dress Shopping: Entourage Edition
PC: Annie Ryan
Alright entourage, we've all seen "Say Yes To The Dress" and know how horrible a bridal entourage can be. If you want to make your bride feel as loved and celebrated as they should be, don't be like those groups! Your duty for the wedding dress shopping trip is to make your bride feel as special as you can, and to help them find the dress of your dreams!
Make sure to do the following to prevent any tears, and encourage a yes!:
If the bride is in love with a dress and are having "the moment" don't take that away from them! If you disagree with their choice in gown, keep it to yourself. The most beautiful thing at the wedding should be your bride's happiness!
Never ever mention a bride's weight, or how a dress fits.
If your bride is asking for feedback, make sure it is kind and constructive.
Make sure to bring the essentials: water, hair ties, bobby pins, tissues, a good camera, and maybe a bottle of prosecco (or two!).
Congratulations again, and we hope this list of tips and tricks on how to find your wedding dress make your first bridal appointment easy and fun! Take some deep breaths and just remember that this is one of those days that help make your wedding day the special day it is. Good luck!
Make your bridal appointment TODAY by clicking the link below to find an Authorized Retailer near you, and read more of our blogs for expert tips and tricks as you plan your wedding day.
More Blogs Like This:
Finding a Wedding Dress for Your Body Type to Promote Body Positivity
15 Quick Delivery Wedding Dresses for the Soon-To-Be Bride
10 Wedding Dress Trends In Maggie Sottero's Spring 23 Collection