Dresses
Tips and Trends
|
November 16, 2021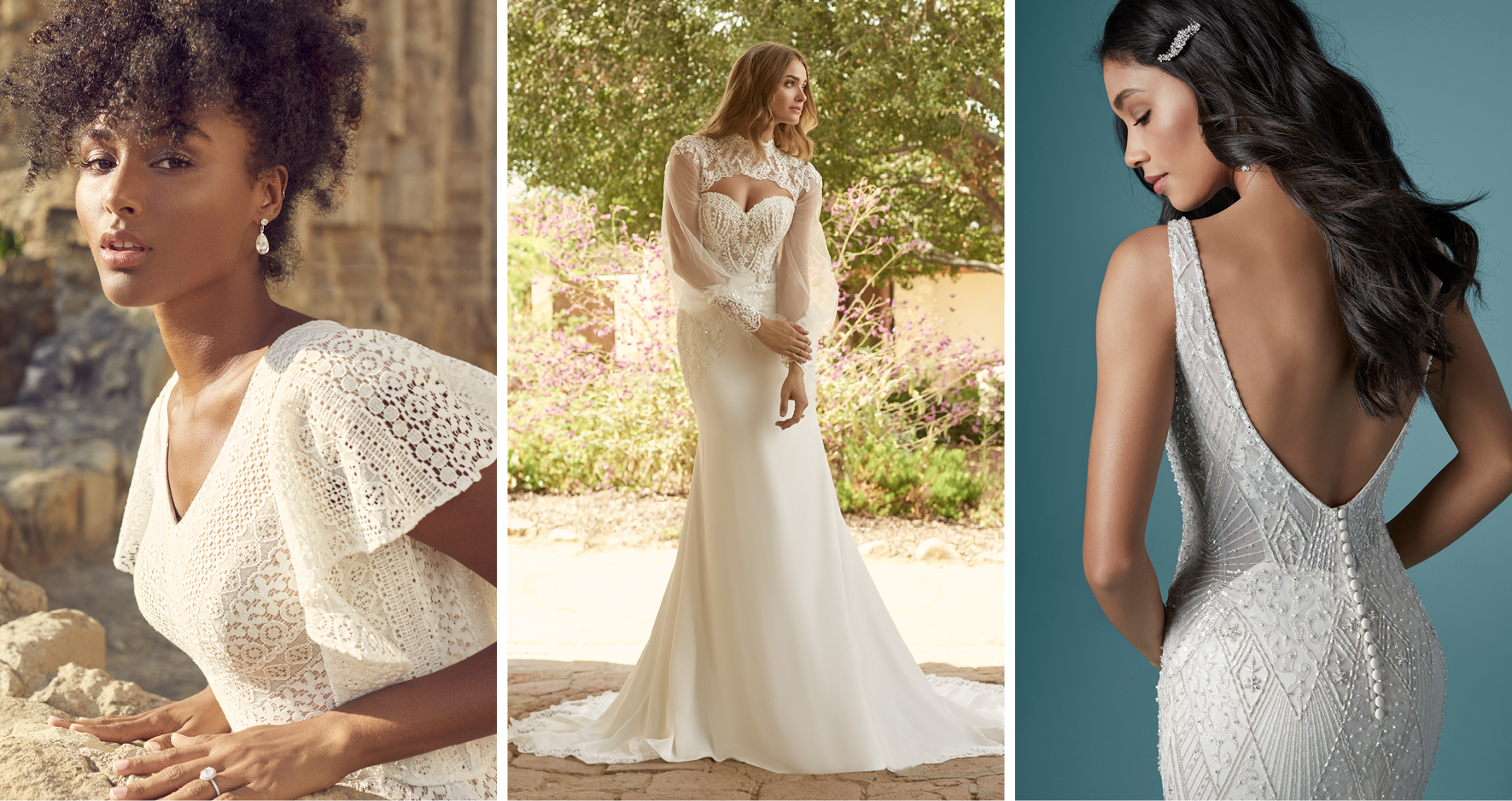 Ok, here us out: Bridal trends may come and go, but vintage style wedding dresses are basically future proof. Featuring exquisite details and personalized flourishes, these elegant silhouettes prove "nostalgic bridal vibes" are anything but fleeting. To celebrate your one-of-a-kind aesthetic, we've rounded up shimmery, whimsical, and ultra-romantic trends from our latest collections. Keep scrolling for chic fabrics, gorgeous sleeves, and shimmery embellishments—AKA statement bridal looks inspired by decades past!
Simple makes an extraordinary statement in Lupita by Sottero and Midgley. This sexy fit-and-flare wedding dress is all about cut and tailoring, featuring a barely-there bodice and sleek, graceful silhouette. Wear on its own for effortless elegance, or add the ethereal jacket for vintage-inspired glamour.
Beyond its minimalist silhouette, the highlight of Lupita is its fabrication. Made with cloud-like organza and stretch crepe, it's the perfect combination of comfort and flourish.
This simple silhouette can be paired with other bridal jackets designed for our vintage style wedding dresses. Some are soft and simple, others luxe and embellished. (Lupita lends beautifully to either aesthetic.) Shop picture-perfect styles in the link.
If you're going for a vintage mood, Priscilla Leigh by Rebecca Ingram offers bygone-era charm in a demure and timeless silhouette. The flutter sleeves are soft and sweet. The embroidered lace shimmers in the sunlight. The jewel neckline is undeniably classic. It's a gown worthy of its traditions—embellished for a fresh and modern update.
A beautiful feature in flutter sleeves is how they move and frame your face. They look stunning in portraits, especially if your photographer has a little breeze and a long exposure. If you're working with great light conditions and a topnotch vendor, the blur effect is divine!
Priscilla Leigh is from our Rebecca Ingram line—featuring classic, romantic, and vintage inspired bridal dresses at affordable prices. These budget-friendly styles are perfect for brides planning a chic, lowkey, and intimate wedding reception—even a courthouse wedding or minimony.
Eyelet, floral, and geometric lace combine for a whimsical statement in Orchid by Maggie Sottero. This boho wedding gown is easy to style with a flower crown and vintage jewelry. It's flattering and feminine, and undeniably playful. Simply put, it's a joy to wear!
Orchid is another modest bridal gown with sleeves. We love this look for vintage style wedding dresses. It's a little Renaissance-inspired, a little Grecian, and a little 60s flower-child. In other words, everything we love about a whimsical and romantic bridal look.
There's a lot of fabulous going on in Yates by Maggie Sottero. This fit-and-flare bridal gown is sexy and shimmery, from beaded neckline to sleek satin skirt. The illusion bodice option features an alluring "corset" vibe in tulle and beading… a sexy statement for a bold and modern vibe. The satin skirt is long and lovely, complete with lace-trimmed hem.
For a bit more coverage, opt for the fully lined bodice. It's shiny, sophisticated, and undeniably flattering. We love the sheer bodice for a boudoir-inspired vibe, but the lined option is truly classic. (And both vintage inspired bridal dresses feature that stunning neckline and beaded embellishments.)
Yates makes a stunning statement with accessories. Add the exquisite bell-sleeved jacket for a regal, glam, and super sexy vibe. This mermaid style is also perfect for bridal crowns, capes, and veils (also inspired by antique looking wedding dresses). Play up the shimmer and you'll feel nothing short of exceptional.
One of our most popular statement styles, Aston by Sottero and Midgley features the perfect balance of simplicity and decadence. The crepe silhouette is luxe and ultra-flattering, while the crystal embellishments add bling and shine to your cuffs and back.
Aston makes an ultra-stylish statement for a black-tie celebration. We love how it echoes modern royalty á la Meghan Markle, but with a nod to Old Hollywood glamour á la Rita Hayworth and Lauren Bacall. It's slinky, classy, and irresistibly glam.
Bethany by Rebecca Ingram offers a simple, sweet, and luxe upgrade to the classic sleeved silhouette. This crepe fabric is truly comfortable. There's nothing like it for a smooth, graceful design for all seasons.
This simple yet luxe wedding dress is perfect for accessories. Pair with a long, simple bridal veil for a romantic regal aesthetic. Or add a vintage bridal crown for a fairytale-goddess vibe. Statement earrings finish the sophisticated neckline, and lace illusion sleeves make a statement unto themselves.
Bethany is another stunning style from our budget-friendly wedding collections. Head to our Rebecca Ingram gallery for our full selection of styles.
Long, lush flourishes combine with a sleek and slimming silhouette in Kevyn by Sottero and Midgley. This beaded crepe fit-and-flare wedding dress is certifiably STUNNING.
This couture wedding dress is all about the details. Textured tulle and lace combine to make a unique "hourglass" effect along the front and back. There are fleur-de-lis motifs, pearl-like garlands, and delicate rosettes… a gorgeous tapestry to accent your curves and frame.
We love the halter neckline on Kevyn. It's a modern upgrade to an elegant silhouette, and perfect for a variety of body types. This detail helps to balance out a petite or round silhouette by drawing the eye upwards. It's supportive and flattering to a full bodice, but also adds visual interest to a small bustline. It also lets you show off your arms and collarbones—perfect for athletic frames and broad shoulders.
Love the lace on Kevyn? Check out sister-style Kevyn Leigh if you're after a bit more coverage. This modest neckline and cap sleeves are perfect for a cool-season wedding and demure aesthetics.
From Queen Victoria to Grace Kelly to Kate Middleton, it's clear that sleeved wedding dresses have never gone out of style. Featuring sweet illusion and unique flourishes, this demure and flattering silhouette is guaranteed to look fabulous in photos for years to come.
Hamilton by Sottero and Midgley is all about personalization options. You can change the shimmer, the bodice, the train, and most importantly, your sleeves. First, consider chic lace straps. It's simple, summery, and so flattering. Next, check out the fitted long sleeves—regal and sophisticated. Finally, for a whimsical vintage vibe, go for illusion puff sleeves.
Hamilton also features a sister style, Hamilton Lynette, featuring a bit more coverage and support in the bodice. It's a perfect choice for busty or plus-size brides and features the same sleeve and train personalization options as Hamilton.
You don't have to travel back in time for your dream wedding dress. Finley by Sottero and Midgley is an icon of groovy-era romance. The lace is stunning. The silhouette is over-the-top. The illusion makes a soft and sexy statement. And that deep V-neckline? DIVINE.
Finley is a perfect choice for boho wedding venues. If you love a vintage vibe for your reception, get inspired with alternative and unexpected backdrops. National Parks, ritzy theaters, museums, music halls, and enchanted gardens make a one-of-a-kind setting for your one-of-a-kind celebration.
Finley also serves up gorgeous inspiration for wedding florals, from over-the-top cascades to wildflower nosegays and non-floral arrangements in jewels, feathers, and ribbons.
Last but not least, the ultimate variation of vintage style wedding dresses: the beaded Art Deco sheath. Elaine by Sottero and Midgley is shimmery, chic, and statuesque. When it comes to an over-the-top party statement, this red-carpet silhouette is unmatched.
The highlight of this gown is its geometric design. Shimmery angles and linear lace motifs combine for a unique architectural statement. It's flattering, sophisticated, and truly iconic.
Elaine comes in four stunning colorways: striking Ivory, sweet Ivory over Blush, intriguing Ivory over Mauve, and (drumroll, please) Black over Blush. The Ivory variations are divine and the Black is truly exceptional. Choose your perfect palette—a vintage-inspired statement worthy of champagne and chandeliers.
Excited to shop vintage style wedding dresses for your upcoming celebration? We have more to inspire! Keep going with swoon-worthy vintage wedding rings from Edwardian, Victorian, Art Deco eras, and beyond. (Just in case you need a reminder, jewel tones and unique flourishes make the perfect complement to antique looking wedding dresses.) After that, dive into lace bridal gowns inspired by more boho, Gatsby, midcentury, and 60s wedding vibes. We're also loving these vintage wedding ideas from Brides.com, from stationery to ceremony entrance to vows and reception. From our vintage-loving heart to yours, best wishes for your best day ever!