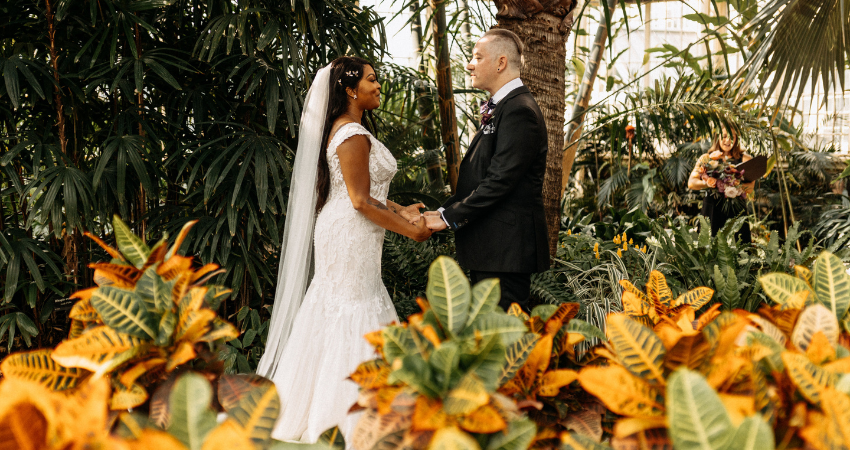 Wedding trends may come and go, but we've definitely cracked the code for timeless, figure-flaunting, and wedding-ready glam. Behold, the lace mermaid wedding dress — a gorgeous combination of chic, flattering, and romantic bridal trends. The fitted silhouette is designed to show off your curves and play up your assets, while allover lace adds dimension, shimmer, and detail. It's everything you could ever need for that "red carpet moment" on your best day ever.
To find your perfect variation on the style, dive into our gallery below!
Oh, by the way, make sure to find an Authorized Retailer near you by clicking the link below to try one of these beautiful gowns on IRL!
PC: Dana Lynn Photography
Getting married outdoors? Picture this gorgeous curve-hugging wedding gown beachside. It's chic and feminine, yet perfectly comfortable and effortless to style. It's soft and lightweight, easy to move in, and fuss-free for the elements. It's versatile for accessories and add-ons, and the lace and sparkle make it perfect for sunset photo ops. Beachy goddess vibes? Yes, definitely beachy goddess vibes.
Here are a few easy ways to personalize Hattie:
Use the extra lace motifs included for neckline alterations.
Add a bridal veil, cape, jacket, or overskirt.
Order as a sister style variation. Options for ordering include:

Different silhouettes, including fit-and-flare and A-line.
Options for neckline style and coverage.
Different bodice structure and support.
Love these lace mermaid wedding dresses for the beach? We've curated more sexy silhouettes and nature-inspired details in our gallery.
"Black tie" takes on a whole new level of gorgeous with Zander Lane by Sottero and Midgley, a sexy and modern gown in a mysterious shade of (you guessed it!) black. If you're planning a lush, luxe, and ultra-glam celebration, this lace mermaid wedding dress may be your "meant to be."
Of course, if you're married to more traditional colors, Zander also looks stunning in white and off-white hues.
Zander Lane also features a sister style, Zander — an equally dramatic ballgown with long sleeves and a plunging neckline. To customize either of these lace mermaid wedding dresses, you can change the lace to textured tulle, add the matching veil, or choose among their various sleeve options.
PC: New Image AR
As you're looking for the perfect mermaid style, you may fall in love with a more relaxed construction… After all, even though mermaid silhouettes are all about showing off your curves, you still want "the one" to be effortlessly comfortable.
For an easy-breezy take on the trend, check out Gianna Lynette by Maggie Sottero. Here are a few real bride reviews for this mermaid bridal dress:
"I felt absolutely gorgeous. I've always had body image issues and when I put this dress on, all my anxiety and negative thoughts went out the window. I couldn't stop staring at myself in the mirror." — Jessie S.
"I felt confident and beautiful. I'm not one to be the center of attention but the dress made it easy to enjoy all the attention." — Kate R.
"I couldn't be happier with the dress I chose for the big day! Thank you!" — Danila
Giana Lynette also features personalization options, including a sister style (Giana) and options to change the fabric and lace.
If you're shopping for an elegant mermaid wedding dress, you're likely to find plenty of strapless and strappy options. A less common (and thus uniquely gorgeous) option is a sleeved silhouette: regal, feminine, and perfectly styled for cool-season celebrations.
Our top pick for the trend? Glenrowan by Maggie Sottero, a lush and graceful fit-and-flare with illusion and lace embellishments. We love the combination of classic and daring details… It's a timeless look that feels both fabulous and demure.
To personalize Glenrowan, you might consider:
Changing the sparkle tulle to classic tulle.
Adding a bridal veil or overskirt.
Backless makes an irresistible statement in Beatrice by Rebecca Ingram, a sequin lace mermaid wedding gown with delicate strappy details. This silhouette is also exceptionally comfortable and flattering, from the relaxed fit-and-flare skirt to stretch jersey lining.
To personalize Beatrice:
Add a bridal veil, cape, overskirt, or train.
Accessorize with statement earrings, a tiara, or flower crown.
We love this style for sweet summery weddings, outdoor destinations, romantic elopements, and decadent dance parties! The silhouette is so versatile for your body type, wedding style, season, venue, and party details.
Looking for the perfect combination of sleeves, lace, and a mermaid silhouette? Riviera by Sottero and Midgley is an icon of vintage, boho-inspired romance. The shape is stunning. The beading is exquisite. The illusion details make a soft and sexy statement. And that layered lace? DIVINE.
Riviera is a perfect lace mermaid wedding dress for black-tie accessories. If you love a vintage vibe for your reception, get inspired with glam embellishments like:
Bridal tiaras.
Dramatic veils.
Platform heels or stilettos.
Statement earrings.
And if you this combination of bodice, V-neckline, and boho details, get inspired with our gallery of similar styles from our latest collections.
PC: Amy Rizzuto
We love so many things about Fiona by Maggie Sottero, but gorgeous personalizations and unique accessories are at the top of our list. Your options include:
Change the glitter tulle to plain tulle.
Change the glitter tulle to sparkle tulle.
Add covered buttons down the back for a vintage vibe.
Add the detachable lace off-the-shoulder cap sleeves or long sleeves, sold separately.
Add the detachable overskirt, sold separately.
Accessorize with the matching lace bridal veil, sold separately.
Need more convincing? Here are a few quotes from our real brides who chose beaded mermaid wedding dress Fiona for their celebration:
"I LOVED the detachable sleeves. I wanted sleeves for my winter wedding, but I wanted my arms to be free for when I danced, and this gave me the best of both worlds. ALSO — the train is just woooow!" — Caitlin B.
"I felt like a sexy angel in this dress. I felt elegant, glamorous, and the look is timeless. Everyone loved my dress and it fit my personality so well." — Rachel C. H.
Combine gorgeous tailoring with breezy-chic details in Wendi by Maggie Sottero — a flirty, ultra-feminine, and vintage-chic wedding dress featuring a striking silhouette and soft lace.
Wendi marries a divine silhouette with whimsical flourishes, a timelessly yet surprisingly romantic combo that's picture-perfect for spring, summer, and fall weddings. This look is a little coy, a little decadent, and everything you love about a soft yet glamorous bridal look.
The effortless details and vintage flourishes on Wendi are also a perfect choice for rustic, woodsy, or Western wedding aesthetics. If this is your vibe, we've curated this gallery of gorgeous trends!
PC: Ian Jared Bell Photography
"Booty-enhancing" doesn't even begin to describe Joss by Sottero and Midgley… This curve-alicious fit-and-flare wedding gown will make you feel like Old Hollywood, supermodel, and couture princess all in one. We're smitten with these luxe and elegant details and personalizations:
Soft lace layers and shimmery illusion.
Delicate off-the-shoulder cap sleeves .
A flattering and feminine bodice shape with sheer underlay.
Option to add glitter tulle under the Chantilly lace.
Option to change the Chantilly lace to sequined Chantilly lace.
Also available with long illusion sleeves with covered buttons at the wrist.
Order your perfect variation at a boutique near you!
Exquisite lace combines with head-to-toe shimmer in Marabel by Maggie Sottero, an elegant mermaid wedding dress made for moonlit venues and ballroom dancing. From the delicate bodice to lush skirt, Marabel is pure magic!
A few ways to personalize this beaded mermaid wedding dress:
Change the second layer of tulle to sparkle tulle.
Remove the train for a more casual look, through special request.
Also available with lined sweetheart bodice and hip dips lined to back princess seam.
Did you see your wedding dress in this blog? Make sure to follow the link below to leave a review and become on of our Real Brides!
More Blogs Like This:
Seven Types of Lace to Know While Shopping for a Wedding Gown
15 Quick Delivery Wedding Dresses for the Soon-To-Be Bride
10 Affordable Wedding Gowns for Stylish Brides on a Budget
Happy shopping and best wishes from our team!