Dresses
Wedding Inspo
|
February 28, 2022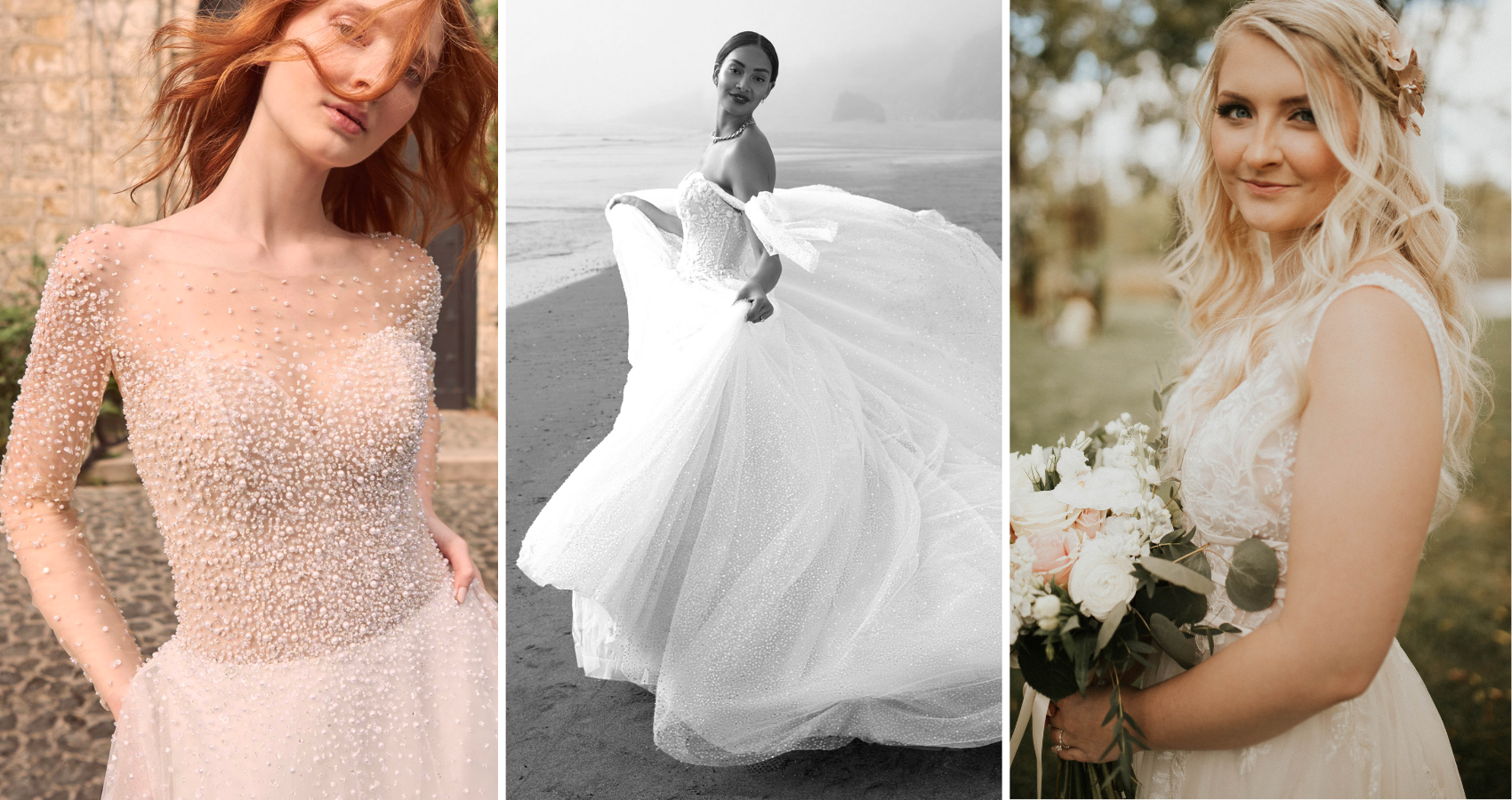 With books like "A Court Of Thorns And Roses" taking TikTok by storm, we can't help but gush about our favorite fairytale wedding dresses at Maggie Sottero. From ballgowns to mermaid wedding dresses, and lace to shimmery fabrics, we have a fairytale wedding gown for any bride looking to unleash their inner princess! Take our Style Quiz and find an Authorized Retailer near you to find your perfect dress!
Fairytale Ballgown Wedding Dresses
We could go on and on about how much we love ballgown wedding dresses. Disney Princesses like Cinderella, and Sleeping Beauty come to mind when it comes to this gown! It will make you feel like absolute royalty on your wedding day!
Valona by Sottero and Midgley is one of our favorite fairytale ballgowns. This bridal dress is not only fit for a palace, but it is absolutely fit for your wedding day! With floral lace, and a subtle shimmer your guests will wonder whether it's you or Cinderella walking down the aisle!
This gown is the perfect choice for any bride hoping to have a little bit of magic on their wedding day, but especially because of how you can personalize it for your love story! With Valona you're able to add buttons down the back, and have detachable illusion cap-sleeves, or detachable illusion long sleeves!
Norvinia Lynette by Sottero and Midgley is another fairytale inspired ballgown. This regal bridal gown is giving us queen energy with its plunging illusion back and sparkle tulle. This ballgown practically stepped out of a fairytale and is PERFECT for our brides who obsess over the details and want to make a statement. Additionally, this dress comes in a variety of colors and is one of our many black wedding dresses if you're hoping to have a more "Brothers Grimm-inspired" fairytale wedding.
PC: Crystal Newgen Photography
Satin ballgown, Kimora by Sottero and Midgley, is another elegant wedding dress we carry that is fit for a princess! This intricate fairytale wedding gown has a bodice accented with Swarovski crystals, sequins, and pearl beads that will make you the belle of the ball at your wedding. Not only does this give whimsical, fairytale vibes but it's also filled with classic elegance like many of our gowns listed here.
Whimsical Wedding Dresses
PC: Haley Jessat Photography
Speaking of whimsical wedding dresses, have you seen Stevie by Rebecca Ingram?! This cold shoulder princess wedding gown with chic bishop sleeves is perfect for brides looking to feel like a real-life fairy on their big day. Its sparkle tulle skirt, plunging illusion v-neckline, and garden-inspired lace are the definition of whimsical in our opinion!
No, your eyes are not deceiving you! This fairytale inspired wedding dress has whimsical, intricate butterfly motifs that catch the light and the eye of your beloved. This beautiful plunging illusion v-neckline gown also has detachable flutter sleeves and a matching veil to personalize Rubena by Rebecca Ingram to your love story!
Laramie by Sottero and Midgley is another whimsical, fairytale inspired wedding gown that will give you goosebumps when you wear it on your wedding day. What's that saying from Peter Pan, "All you need is faith, trust, and pixie dust"? Well, there's certainly a little bit of that in this wedding dress. With a glittery tulle that reminds us of fairy dust, and structure in the bodice of the gown to die for, this is truly a gown fit for a fairytale.
Princess Wedding Dresses
It's hard to decide what we love more, lace, pearls, or minimalism. Luckily for you, when it comes to princess wedding dresses we have all of them!
Alessandra by Maggie Sottero is a fairytale wrapped in lace. This princess wedding dress suggests phrases like, "once upon a time," and "happily ever after." AKA all things romantic and dreamy. Its sheer bodice, classic sweetheart neckline, and elegant scoop back, is the definition of fairytale inspired wedding dresses.
Personalize this dress for your love story by adding detachable cap sleeves, buttons, and a fully lined bodice!
Where Alessandra was all lace, Rosette by Maggie Sottero is all exquisite, intricate beading and pearls. This artful gown has anything you could ask for when looking for princess wedding dresses. Its sparkle tulle, v-back, and dreamy, illusion sleeves remind us of Elsa, Cinderella, and all those other Disney wedding dresses that we know and love!
When you think of fairytale or princess wedding gowns you probably aren't thinking of a minimalist crepe wedding dress. However, when it comes to Bethany by Rebecca Ingram, we can't help but think of elegant balls, glittering rubies, and all things royal. While the gowns above are fit for a princess, with Bethany's beautiful illusion cut-out sleeves and bateau neckline, this wedding dress is fit for no one else but a queen.
Floral Wedding Dresses
Whimsical florals are key to fairytale wedding dresses! This playful addition to your wedding gown invokes fields of wildflowers, fairies flittering about, and childhood fairytales.
PC: Kelsie P Photography | PC: Chelsea White Photography
Raelynn by Rebecca Ingram is one of those fairytale gowns that will cause you, your partner, and your wedding guests' jaws to drop when they see you coming down the aisle. The tropical flower lace motifs and plunging v-neckline are delicate and beautiful. However, the bands across the bodice will accent your shape and make you feel sexy as can be.
There is a lot to love about Cruz by Sottero and Midgley. This mermaid wedding gown has everything you'd want in a fairytale inspired wedding dress! The 3D flowers, detachable long puff sleeves, and plunging neckline will make your guests wonder if they stumbled into a fairytale rather than your wedding day! There's so much you can do to this gown to personalize it for your love story as well. Not only does this gown have detachable puff sleeves, but there are also buttons to add down the back!
Remember when you were kid and played dress up and pretended to be a beautiful princess in a castle? Just us? Well either way, Winter by Maggie Sottero is that fantasy come to life! This fairytale inspired gown is equal parts delicate and dramatic, timeless yet unique. We love the deep illusion scoop back and dainty floral motifs throughout the dress! Together, it makes the wedding dress equal parts bridal and fairytale inspired.
Fairytale Inspired Wedding Dresses
PC: Stine Heyerdahl Photography
We keep saying fairytale wedding dresses, but what about the literal fairy wedding dresses?! Shasta by Sottero and Midgley is that. You will feel like a fairy princess in this beaded and glittery ball gown. With its sweetheart neckline, low scoop back, and illusion bodice with corset detailing, you will feel ready to preside over a court and walk down the aisle towards your partner!
Where Shasta is a traditional fairy princess wedding dress, Tristyn by Maggie Sottero is a little bit more unconventional and mysterious. Its swirly black lace gives it a gothic-chic energy and is great for our brides who are looking to have more of a "medieval age" fairy tale inspired wedding. Not to mention, the all over sparkle and sweetheart neckline is to die for!
Last, but certainly not least is Fontaine by Maggie Sottero. Who said that a fairy tale wedding dress can't be sexy?! Whereas the gowns above were giving us big fairy vibes, this gown stepped right out of The Little Mermaid. We love this sparkly lace fit-and-flare bridal gown because of its sexy cut outs and deep illusion v-neckline!
This is another one of our many gowns that you can also personalize for your love story! Brides who say yes to this gown can add more sparkle to the gown, and a detachable scalloped lace train for more drama!
Up to this point, your love story has absolutely felt like a fairytale. So, start your marriage off with one of the fairytale gowns above! Pin the gowns for later through our Pinterest, and if you're one of the lucky brides who got one of these gowns, share your love story with us here!
For more wedding dress inspiration, take a look at these blogs!
Sneak a Peek of Maggie Sottero's Latest Wedding Dresses for Spring 2022
Top Alternative Wedding Dresses for an Unconventional Bridal Look
How To Find The Best Wedding Dress Styles For Body Types Of Every Shape And Size