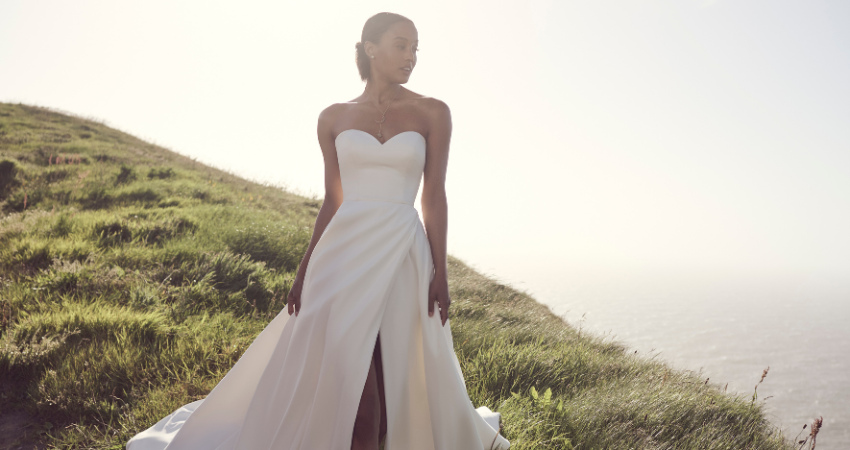 While a timeless bridal look is, well, timeless, the latest wedding trends are all about adding a little something extra to a classic silhouette. Behold: the A-line wedding dress with a side slit in the skirt. It's classic, it's feminine, it's exceptionally versatile. This silhouette is sexy without being over the top, and effortlessly to wear for outdoor venues, summer vibes, and breezy backdrops. Keep scrolling for all the pretty details, but first take our wedding dress quiz for some bridal inspo!
Why Choose an A-Line Wedding Dress with a Side Slit?
To start, what are A-line wedding dresses, and what's the buzz with thigh-high slits? Gowns with a slit in the skirt are a popular trend that has been all over the latest runways and in bridal collections. A classic A-line silhouette is a favorite among brides for its universally romantic shape… and adding a slit in the skirt adds a touch of modern glamor and drama. This trend has quickly become a go-to for brides who want to add a little something "wowza" to their wedding day ensemble.
If you've been browsing and pinning wedding dresses, you probably know the A-line silhouette is a timeless style that complements a wide range of body types. The fitted bodice and flared skirt create a feminine and elegant look that is both classic and romantic. This silhouette is also incredibly versatile and can be styled in a variety of ways, from simple and understated to ornate and embellished.
Choosing an A-line with a slit in the skirt takes this classic silhouette to a whole new level. A slit adds movement and fluidity to the skirt, allowing you to move with ease and grace throughout your wedding day. It also adds a touch of sexiness and drama, making it perfect for brides who want to show off a little leg and add a sensuous element to their bridal look.
A slit can be as subtle or dramatic as you'd like. Whether it's a small slit or a daring high slit, this trend is a great way for brides to add some personality and style to their wedding day ensemble. And with so many variations of this trend — minimalist to embellished to vintage or nontraditional — there's sure to be a gorgeous variation for every bride.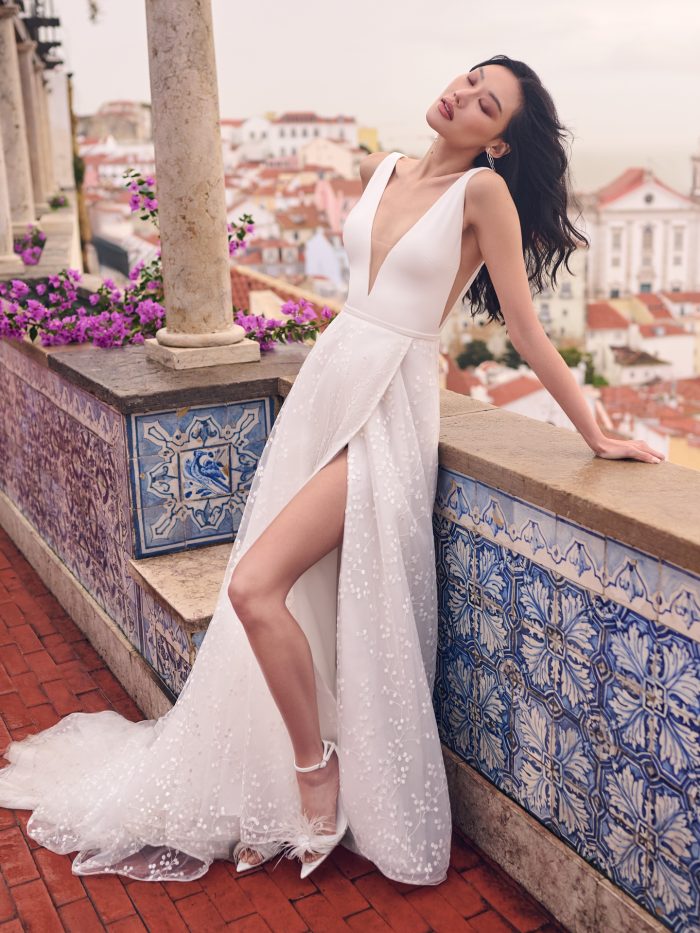 Simple, sexy, playful, dramatic — this crepe and tulle A-line is all about the one-of-kind flourishes. The side slit is central to the silhouette and layers… We love how it grazes the upper thigh in a unique asymmetrical draping pattern.
This A-line lace wedding dress can be personalized with different train length and button style. Speak to your Authorized Retailer for details!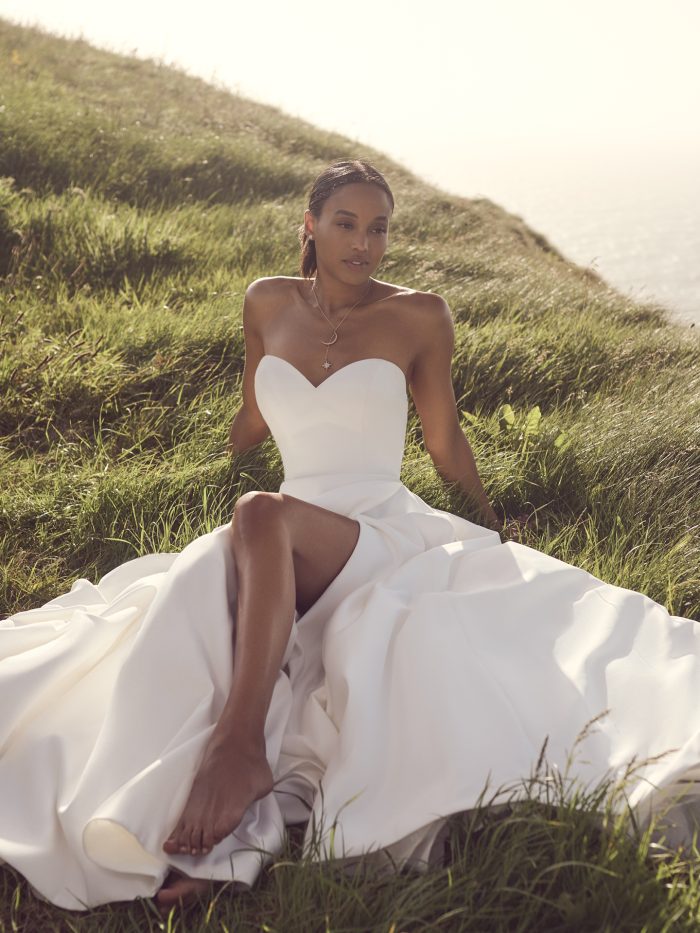 First up in A-line designs: an A-line that looks a lot like a ball gown, but with elegant details and breezy layers to make it lightweight and effortless to style. Minimalist satin is the star of the show here… It's soft, glamorous, and beautifully structured for a bold yet breezy silhouette.
And of course, there's the side skirt. It's a sexy red-carpet statement on a classic Hollywood design — and beautifully draped for a unique asymmetrical effect. You'll feel totally irresistible for your ceremony walk, wedding photos, and all-night dance party. (Plus, it has pockets!)
How to personalize this gorgeous yet simple A-line wedding dress:
Add a bridal veil
Add layers with a bridal jacket or cape
Add a unique train detail like an oversized bow
Accessorize with long tulle or matching satin gloves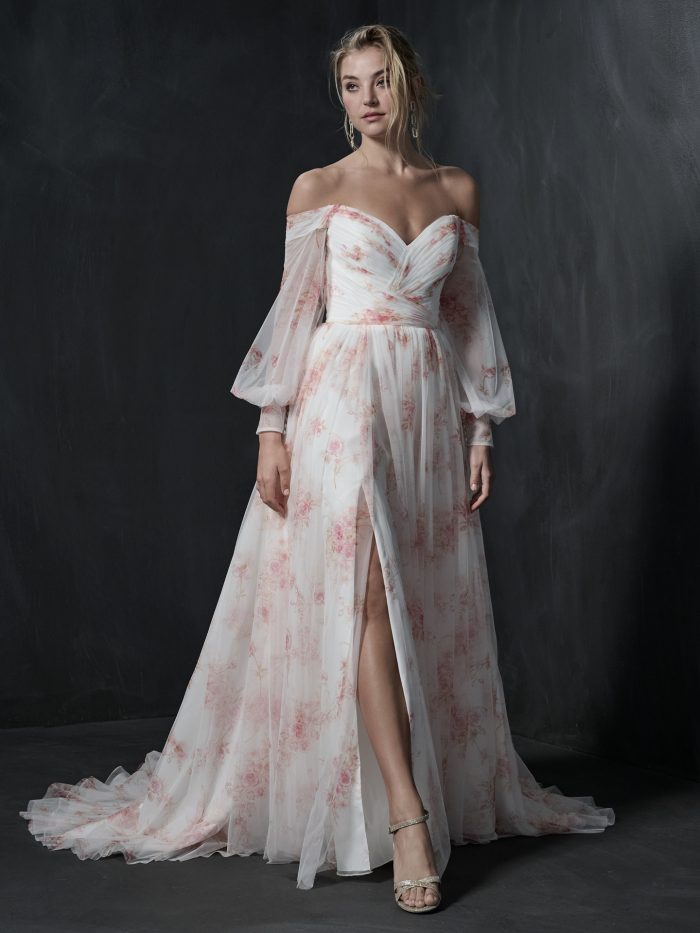 Looking for something ultra luxe and feminine — and uniquely nontraditional for your wedding day? Say hello to Nerida by Sottero and Midgley, a soft chiffon style with off-the-shoulder sleeves and a soft layered skirt. It's whimsy meets cottagecore meets Renaissance princess… and the perfect choice for brides who love a pop of color.
The side slit also adds extra movement and dimension to this chiffon skirt. It's breezy, beautiful, and an effortless choice for a summer wedding celebration.
Want to make this look your own? Personalize by removing the train or adding covered buttons. You can also shop a variety of bridal veils and other floral wedding accessories from our latest collections.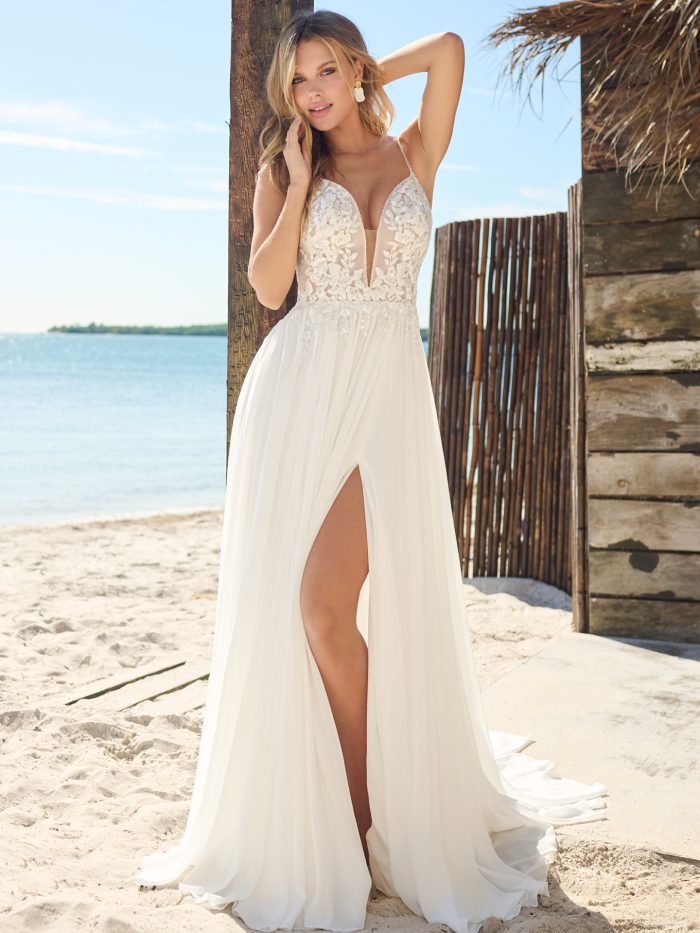 For a beachy take on the A-line wedding dress with side slit, look to the soft styling and shimmer on Gayle. From the illusion lace bodice to the swishy chiffon skirt, this look is all about charm and flourish.
Ways to personalize this A-line lace wedding dress:
Add covered buttons down the back
Add a bridal veil
Dress it up with a cape, jacket, or detachable overskirt
Gayle is also part of our Rebecca Ingram line, featuring budget-friendly styles in an array of classic and romantic silhouettes. Whether you're looking for lightweight beachy silhouettes or lovely ball gowns or soft vintage styles, Rebecca Ingram has you covered!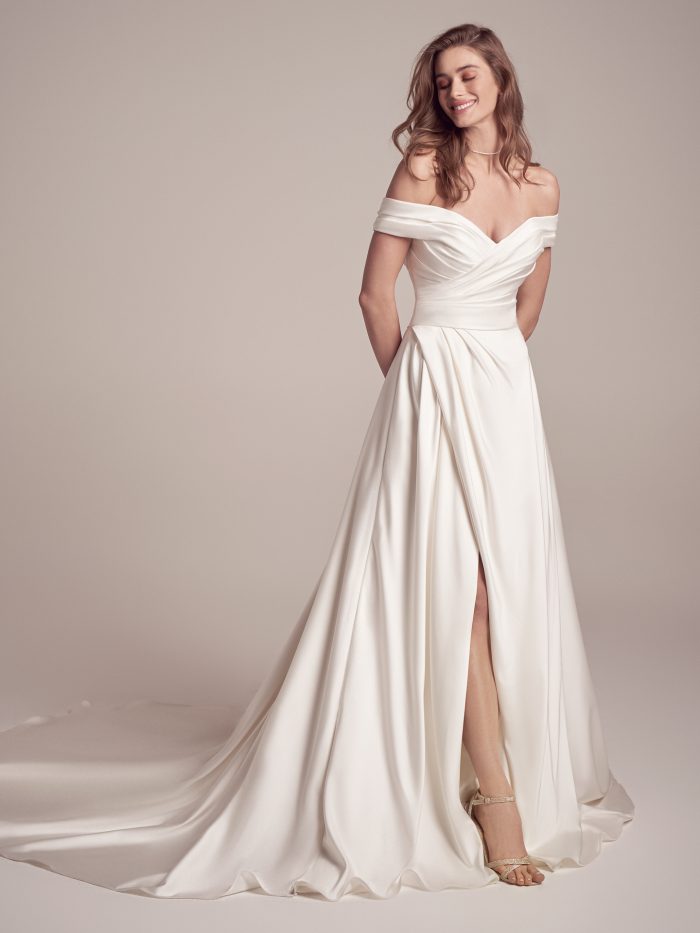 Beautifully layered and draped for maximum fabulousness, Ekaterina is a gorgeous choice for that "classic meets modern" kind of vibe. The off-the-shoulder sleeves give a nod to Hollywood chic, while the layered ruching and draping is all about Greek-goddess glamor.
This A-line wedding gown is available with both a skirt slit and not slit… so the coverage and styling is up to you. We love the slit for a summery or breezy wedding vibe, but no slit is perfect for a more black-tie celebration.
Ekaterina is another of our classic satin wedding dresses. This is a stunning fabric with versatile draping and exceptional stylin potential… and always picture-perfect for more formal wedding aesthetics. Explore more of this beautiful fabric in our gallery of trends.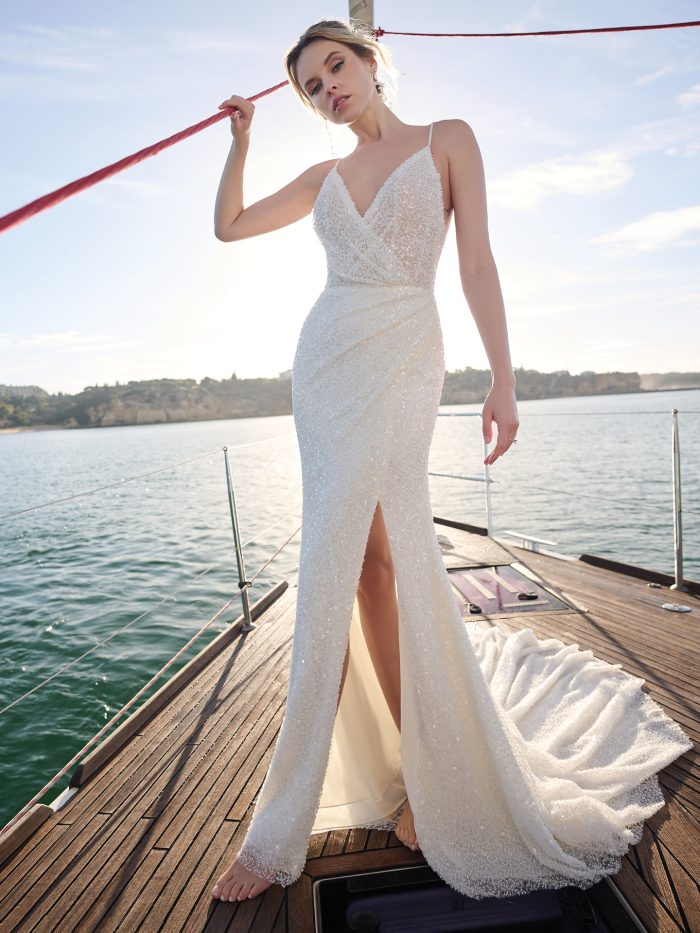 Allover beading makes a luxe red-carpet statement in Topaz by Sottero and Midgley, a vintage-inspired A-line design with perfect shimmer. This stunning style features all the treasures: sheer underlay, beaded lace, shimmer sequins, and a sexy asymmetrical bodice. And that skirt slit? You're ready for an unforgettable entrance.
Here are ways to make Topaz your own:
Extend or remove the train
Add a simple or luxe bridal veil
Ask your retailer about creating a matching cape or ordering an overskirt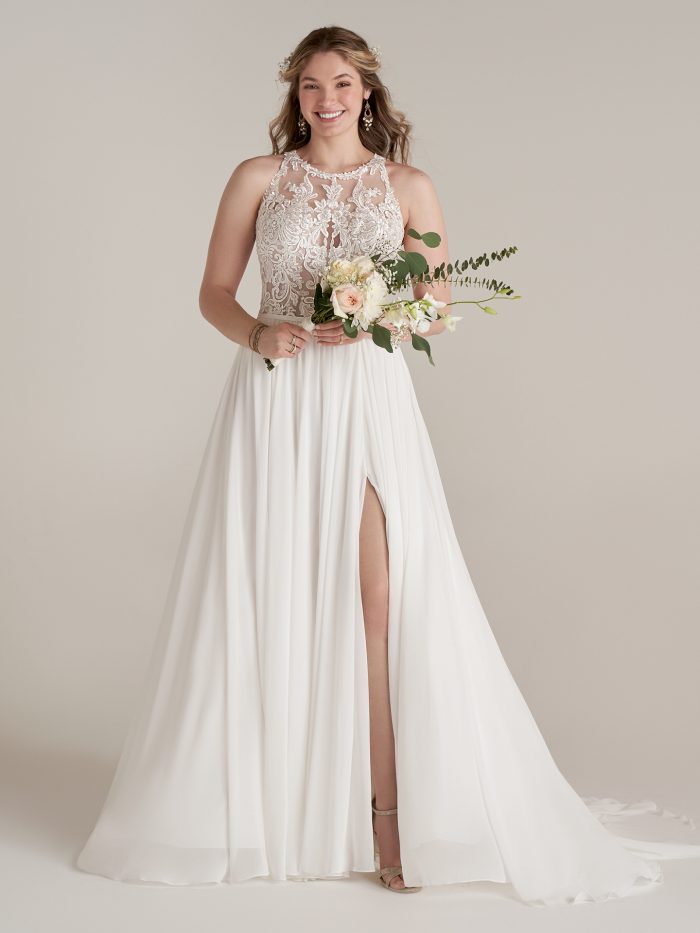 Planning to frolic in the wildflowers on your wedding day? We have the perfect A-line wedding dress for your happily ever after. Tasha is stylish, sweet, and so chic for outdoor venues. It's everything you could want for an easy-breezy, zero-fuss bridal look.
If you have your eye on a chiffon A-line wedding gown like Tasha, be sure to bookmark our guide for getting wrinkles out of this unique fabric. Chiffon is beautiful for a range of wedding seasons, but it's important to know what to expect for care, maintenance, and presentation. (Especially if you plan to pack it for a destination celebration!)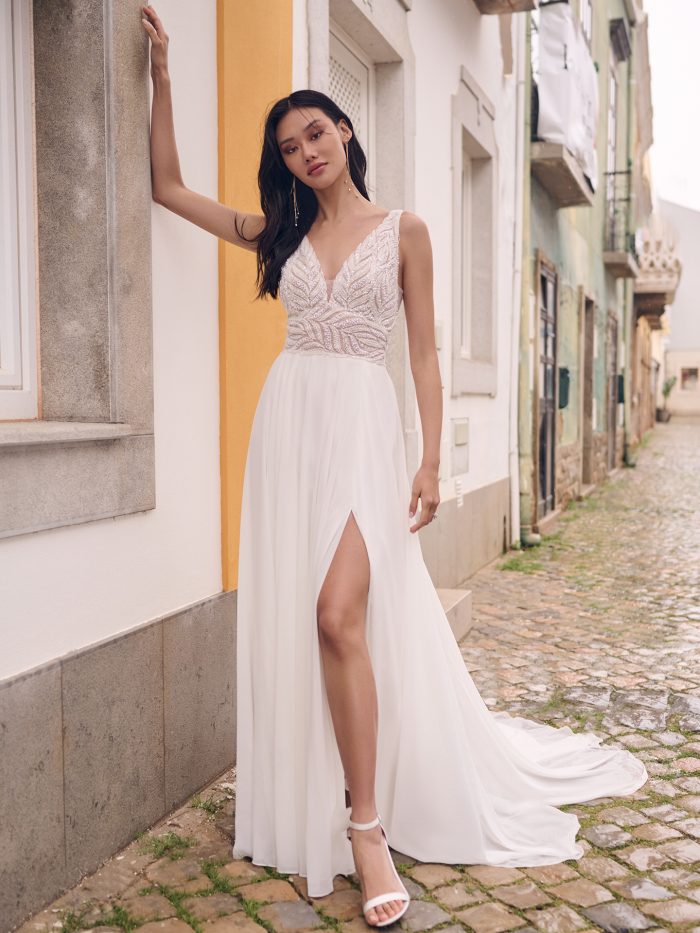 Beaded lace makes an exquisite statement in Maurelle by Maggie Sottero. This dreamy and ethereal A-line complements a variety of bridal aesthetics, from soft and ethereal to boho-chic and everything in between.
Maurelle is another example of a deceptively simple A-line lace wedding dress… It's effortlessly cool, yet perfectly tailored and embellished for a formal wedding aesthetic. We promise you'll adore your bridal portraits for decades to come.
Personalize this simple A-line lace wedding dress by adjusting the train length or adding covered buttons down the back.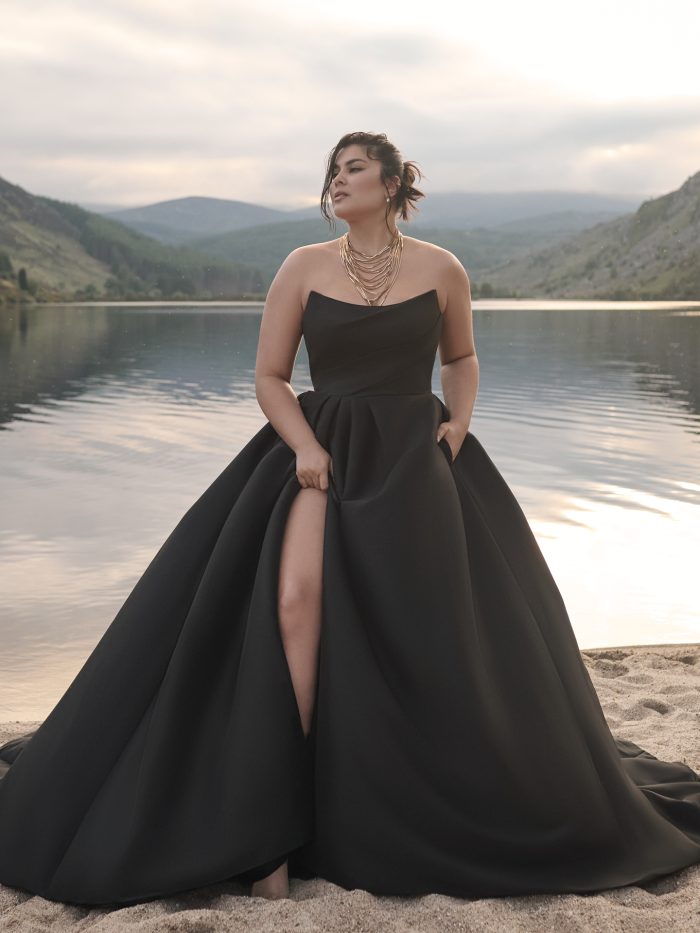 Aspen is another gorgeous A-line wedding gown that looks like a ball gown but offers all the ease and structure of a lighter silhouette. From the unique strapless neckline to the lushly layered skirt and train and minimalist fabric, this elegant style is made for the spotlight.
Aspen has two fabulous skirt features: the thigh-high slit and (of course) pockets! This gown is the perfect fusion of style, comfort, and functionality. And here's how to personalize this simple A-line lace wedding dress:
Add the embellished bridal cape
Add other unique accessories like an illusion jacket, detachable sleeves, gloves, or an overskirt
Add a dramatic bridal veil
Love this eye-catching colorway? Explore more bold black gowns and colorways in our gallery. Opt for a soft non-white hue like blush or gold for a nod to nontraditional, or go full-out fashionista with black, crimson, or blue gowns from our latest collections.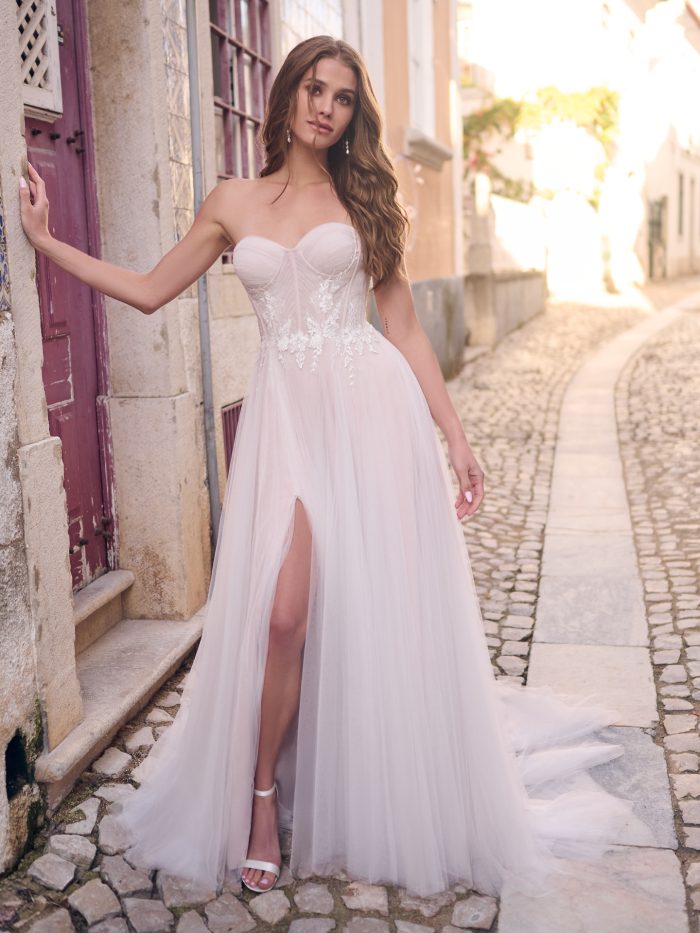 The boudoir trend is strong this season, with A-line wedding dress Gwen leading our latest collections. We adore this soft yet textured tulle with 3D lace motifs… It's the perfect combo for the exposed boning and ruched bodice.
The side slit makes a lovely statement in this ballerina-inspired silhouette. It's sexy, chic, and beautifully on trend for summer celebrations.
Gwen can be personalized with different train lengths. You can also add a bridal veil or cape for extra drama and flourish. As always, explore more corset wedding dresses and accessory inspo in our latest collections. 
Ready to shop A-line wedding dress trends IRL? Love these gorgeous silhouettes? Head to an Authorized Retailer to get started:
More Blogs Like This:
Cheers to your gorgeous, perfect, and exceptionally stylish wedding!