Tips and Trends
Wedding Inspo
|
April 19, 2022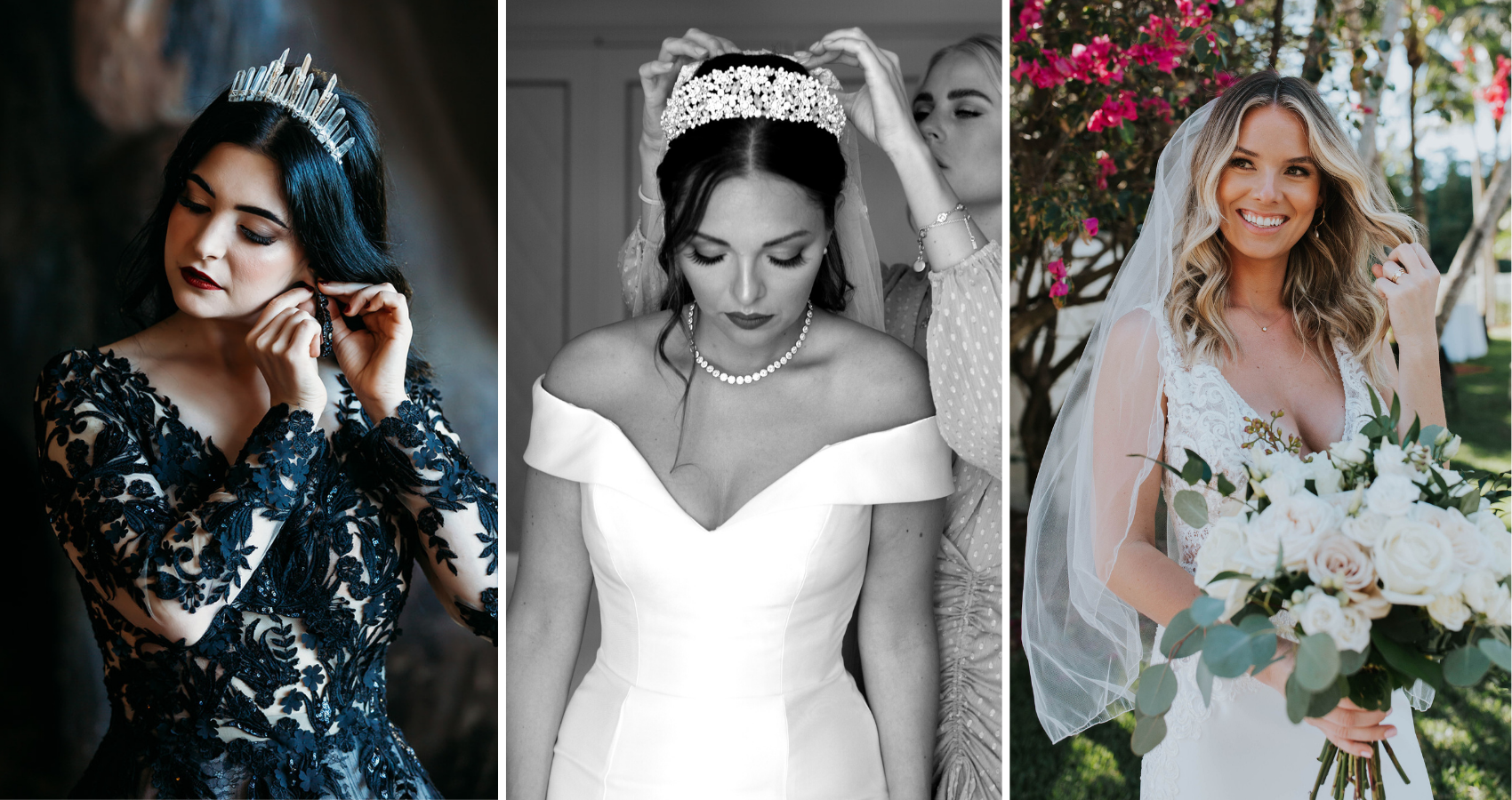 Spring has sprung, and the wedding planning fun has just begun! One of the most enjoyable parts of planning your wedding day look is planning out your wedding makeup looks (and picking the clean products to glam yourself up with).
Your face is where you really get to express yourself and decide how simple or glam you want your look to be. So, make sure to start out strong by taking our Style Quiz and finding an Authorized Retailer to match your dream wedding dress, with your dream wedding look.
Keep reading to learn how to incorporate clean beauty products into your bridal makeup and shine as you walk down the aisle and celebrate all night long.
P.S. If you want more tips and tricks like these, and #MaggieInspiration for your big day, make sure to sign up for some exclusive text messages below!:
What Is Clean Beauty?
Clean beauty is defined as cosmetic products that steer clear of using toxic ingredients within their formulas. The concept of clean beauty has become quite popular over recent years, which shows that consumers care what they put onto their skin. But pay attention, not every product that claims to be clean is actually free from harmful chemicals.
The Food and Drug Administration (FDA) isn't legally obligated to approve most beauty products on the market, but they do have some regulations over the industry. This means that some products still have toxins in them, even though they use words like "clean beauty" or "organic ingredients" on their labels without being clean or organic.
For example, some products may have hidden ingredients such as asbestos. Although not usually the intended ingredient, this dangerous mineral is known to be mixed in with talcum powder— a common ingredient found in powder-based makeup products. Any amount of asbestos exposure can put you at risk for asbestos-related cancer and related diseases. Not even your wedding day is worth that risk.
Formaldehyde is another naturally occurring chemical that may be lurking in your makeup. This toxin is commonly used as a preservative agent in makeup and other cosmetic products, and when inhaled, can cause cancer.
Ensure your bridal makeup routine is free of chemicals by considering some of the following tips:
Use an ingredient checker app such as Think Dirty or visit the website Skincarisma to check the ingredients in your wedding makeup.
Look for the Leaping Bunny certification on labels to ensure the product is cruelty-free.
Avoid products containing these ingredients:
Fragrance

Phthalates like Dibutyl phthalate
Keep reading to find the wedding makeup (and clean products) for you!
Natural Wedding Makeup
APC: Sydney Langr Photography | PC: UNKNOWN
Are you a bride dreaming of the perfect classic meets boho look? If yes, a natural makeup look might appeal to your taste! Natural makeup is an effortless style providing that "no makeup" makeup look (just look at our real bride wearing Aidan by Maggie Sottero!).
The intent of natural makeup is to enhance facial features while preserving natural beauty. This means that there are minimal colors used, and all the products used are soft and in the same color palette of your skin.
For a natural look on your wedding day, you'll want to start with an SPF moisturizer to keep your skin protected from the sun. Use a light coverage foundation to cover up any blemishes, light blush, or highlighter if you desire, a natural lip tint, and mascara to extend your beautiful lashes.
Take some bridal inspo from our lovely real bride wearing Charlene by Maggie Sottero who is absolutely rocking the "no makeup" wedding makeup look.
To learn how to achieve glowing skin like our brides above, make sure to watch out expert video below!
Some of the best-recommended makeup for a natural bridal makeup look include:
Full Glam Look
PC: Robby and Savannah | PC: Margan Photography
Full glam wedding makeup is the perfect option for those brides looking to spice up their look. Opting for a full glam look allows you to have a more dramatic style that will really stand out in your wedding photos (and will make your partner absolutely swoon when you walk down the aisle).
Just take a look at our real bride wearing Zander by Sottero and Midgley in a unique black colorway! We love how this bride pair their sultry black lace ballgown, with an equally sultry dark, glamorous wedding makeup look.
Glam makeup looks are perfect for any skin tone and face shape, because they're personalized to your features and desires. This means there's plenty of room to define and highlight your best features.
For a full glam look, you'll want to have a bold lipstick, blended eyeshadow in a color that complements your eyes or wedding colors, eyeliner, filled-in brows, mascara or fake eyelashes, rosy blush, and glowing highlighter. AKA, take point from our real bride and her dramatic red lip and long lashes wearing Mallory Dawn by Maggie Sottero.
A few clean beauty products for a glam look include:
If you're inspired by these glam makeup looks, make sure to read all about our black wedding dresses!
Classic Bridal Makeup
PC: BRK Shots | PC: Lucy Cuneo
A classic bridal look falls between a natural look and a full glam look. Classic bridal makeup is classic for a reason––it works for anyone and looks good on everyone. Classic is a bit more than your go-to natural, everyday look but is soft and elegant. Think Audrey Hepburn, and Grace Kelly, and Olivia Rodrigo (or take point from our real bride wearing Alistaire Lynette by Maggie Sottero).
To achieve the classic bridal makeup look, you'll want to ask for a dewy foundation base, simple or cat eye makeup, rosy blush, shaped brows, and a natural or red tinted lipstick or gloss (like our bride wearing Kimora by Sottero and Midgley did).
Test out some of these cosmetics for a classic bridal makeup look:
Sultry Vibes For Wedding Makeup
PC: Erica Cervantez Photography | PC: Gabriella Vanstern Photography
You know that smokey eye makeup look that you've been obsessing over on your Pinterest? Then you'll love these sultry wedding makeup looks inspired by our real bride wearing Hattie by Rebecca Ingram. This look is minimalistic yet elegant and highlights your best facial features.
To create your sultry wedding day look, you'll want to ask for a smooth texture, symmetrical eyebrows and eye looks, a bold lip, powerful lashes, and blended eyeshadow with colors that accentuate your eyes. Take point from our real bride wearing Josie by Rebecca Ingram for your sultry wedding makeup look!
For a sophisticated look, check out some of these great makeup options:
Unique Glam Aesthetic Wedding Makeup
PC: Nora Hutton | PC: Ashley Piszek
When it comes to unique glam, think of the makeup looks created on the HBO Max™ smash hit, Euphoria. The characters on this original series always have out-of-the-box makeup looks that really pop and grab your attention. No rule says you can't try something beyond the ordinary for your wedding day glam.
To try something a bit edgier with your makeup, test out using different shapes and layering techniques with your makeup. You might ask for non-traditional eyeliner that's on the crease of your eyelid or consider adding gems to your winged eyeliner look.
If you're accenting your wedding-look with pearls, consider accenting your eyeliner with more pearls. The possibilities are endless! Create something fun and unapologetically you with a unique wedding makeup look. Consider pairing your dream unique wedding makeup look by pairing it with one of our unique wedding dresses!
For an out of the box look, try out some of these clean beauty products:
Deciding on your wedding makeup look is one of the most exciting parts of your big day. So, get started with some of the romantic, sexy, and unique makeup looks to pair with one of our dresses from an Authorized Retailer! And don't forget to Pin these looks for later, and share them with us when the big day arrives.
As always, good luck bride!
Plan Your Wedding Day Look With More Blogs Like This:
How to Choose the Right Wedding Undergarments for Your Wedding Dress
Customized Wedding Dresses & Personalizations With Maggie Sottero
Our Ultimate 12-Month Health and Beauty Tips For Wedding Preparation