Tips and Trends
Wedding Inspo
|
July 3, 2020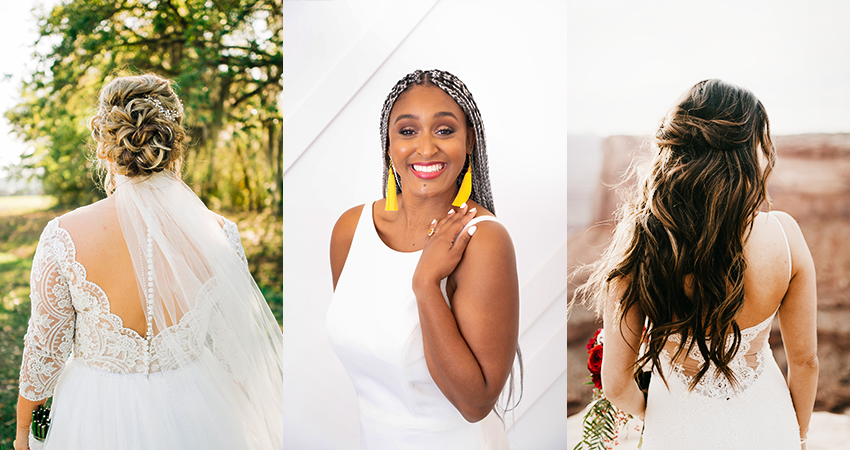 No surprises here—but when it comes to the non-dress-related items of wedding planning, hairstyle inspo just might be our favorite! We get especially excited about pairing beauty looks with gowns from our newest collections, whether it's a chic updo with a unique neckline or loose, tousled waves for a dreamy beach style. Curate a picture-perfect look with these wedding updos and hairstyles to complement your wedding dress below!
Wedding Updo for Ball Gown Wedding Dress: Classic Chignon
PC: Rachel Laxton Photography
If you've fallen in love with the stylish, elongating effects of a ball gown wedding dress, choose an updo that won't detract. Style medium or long hair in a classic chignon or ballerina bun. Or keep short hair minimally styled and accessorized—thus keeping the focus on your neckline, shoulders, and bust.
This real bride in Mallory Dawn by Maggie Sottero shows how a chic neckline and a loose chignon hairstyle make for a dazzling and ultra-feminine combo.
Hairstyle for Minimalist Wedding Dress: Unique Braids
PC: Peterson Design & Photography
If you've got thick, curly locks, consider platted braids for a trendy, non-traditional look. Braids will keep fly-aways out of your face and are great for outdoor celebrations. Wanting something even more unique? Try dying your locks a different color!
We especially love the white contrast in this bride's wedding hairstyle. They complement the color block wedding theme and accent her modern, minimalist wedding dress, Claudia Dawn by Maggie Sottero. So chic! For more hairstyles for curly hair, check out our How to Style Curly Hair for Your Wedding + Curly Wedding Hairstyles blog!
Hairstyle for Boho Wedding Dress: Fishtail Braid
PC: Digital Day Dreams Photography
There's no question that braids go with boho, so if you have long locks and a free-spirited bridal aesthetic, this hair inspo is for you! Pair a relaxed fit-and-flare wedding dress like Narissa by Sottero and Midgley with loose yet intricate plaits. Think fishtail braid to accentuate your gown's low neckline, elegant spaghetti straps, or illusion bodice details.
This is a great way to show off curls, glam up straight hair, or work with texture and volume while playing up your gown's best features.
Udpo for V-Neck Wedding Gown: Chignon with Flower Crown
PC: Alicia Wiley Photography
Your V-neck wedding gown is a classic and flattering choice, so best to browse wedding updos that don't mess with your best features. This real bride shows how a chignon with a flower crown can balance several bridal aesthetics at once.
Her portraits look polished and formal, yet naturally gorgeous—a perfect complement for her timeless V-neck gown, Meryl by Maggie Sottero. Gorgeous!
Classic Wedding Hairstyle: Side-Swept Curls
PC: Olga Creative Photography
Inspired by all things gorgeous, glam, and timelessly feminine? You'd be hard-pressed to find a more classic wedding hairstyle than side-swept curls.
This real bride is giving us major Old Hollywood vibes with her formfitting Abbie gown by Maggie Sottero and polished locks—the most delightful of combos for a luxe and elegant celebration.
For Boho Brides: Half Updo with Waves
PC: Nicole Aston Photography
If you're getting married in nature for a chic and boho vibe, consider updo hairstyles for weddings that work with your gown style, season, and environment. The outdoors will not be kind to a slicked-back ponytail. And a loose blowout will flatten and collapse, so it's best to find a middle ground.
A half updo with waves offers a romantic and wedding-ready aesthetic, but still adapts to movement, humidity, sun, and wind. And best of all, it's the perfect complement to your chic boho wedding gown, á la Narissa by Sottero and Midgley. Bring on those elements in style!
Wedding Hair for a Plunging Neckline: Chignon with Side Braid
PC: Love to the Core Photography
As far as we're concerned, a plunging neckline calls for at least two kinds of wedding updos: a minimalist bun to accentuate your gown's graceful lines, or a unique bun-and-braids combo to balance the focus between the sexy bodice details and your natural features.
If you're leaning toward the latter option, get inspired by this real bride's chignon with side braid and tendrils. Don't you agree that it is a gorgeous complement to her chic lace Tuscany Lynette with a plunging neckline?
Casual Wedding Hairstyle: Flower Crown with Curls
PC: Sarah & Paul Photography
What's the chicest bridal hair accessory, you ask? We're lifelong fans of the simple flower crown, especially if you're planning a relaxed, feminine, and summery celebration.
This bride styled her Hope dress (affordably priced from our Rebecca Ingram line) with a delicate halo of rosebuds. This relaxed hairstyle showed off her luscious locks while complementing the gown's vintage-inspired lace and unique keyhole back. Perfection!
Hairstyle for Any Length of Hair: Side Swept with Accessory
PC: Hailey Williams Photography
Take it from our experience with many, many wedding galleries: long, medium, short, and bobbed hair all look lovely in side-swept curls or pinned updos. And a well-placed accessory takes your look from everyday fab to extra bridal fabulousness.
This real bride styled her romantic black wedding dress Zander (from our Sottero and Midgley line) with Old Hollywood-inspired waves. And then she finished her look with a crystal hair clip for a side-swept/half updo kind of feel. Call us inspired!
Wedding Updo for Princess Ballgown: Ballerina Bun with Crown
PC: That First Moment Photography
Planning a fairy tale occasion to dazzle and delight? How about a destination wedding in Disney World's Pandora? Match your classically formal ball gown wedding dress with a chic, sleek, and sophisticated ballerina bun!
This real bride kept her wedding updo clean and chic to show off her face, shoulders, and décolletage, as well as showcase the gorgeous neckline on her Mylene gown by Maggie Sottero. Not to mention her hair pairs fabulously with her bedazzled princess crown. It's the perfect combo of glam and sophisticated!
Hairstyle for a Romantic Affair: Soft Waves
PC: Adrian Wood Photography
And finally, if you're looking for simple, relaxed, and perfectly timeless updo hairstyles for weddings, consider the easy yet gorgeous impact of soft waves with a veil accessory.
This real bride styled her Hadley by Sottero and Midgley gown with breezy and romantic curls for her summer wedding. No bells and whistles necessary. Trés chic!
Love these wedding hairstyles to complement your wedding dress? Head over to our gallery of wedding updos and gowns for every bride, and five wedding hairstyles inspired by hair type for more. And don't forget to check out our Pinterest boards! Your chic and flattering bridal look awaits!