Tips and Trends
Wedding Inspo
|
September 7, 2022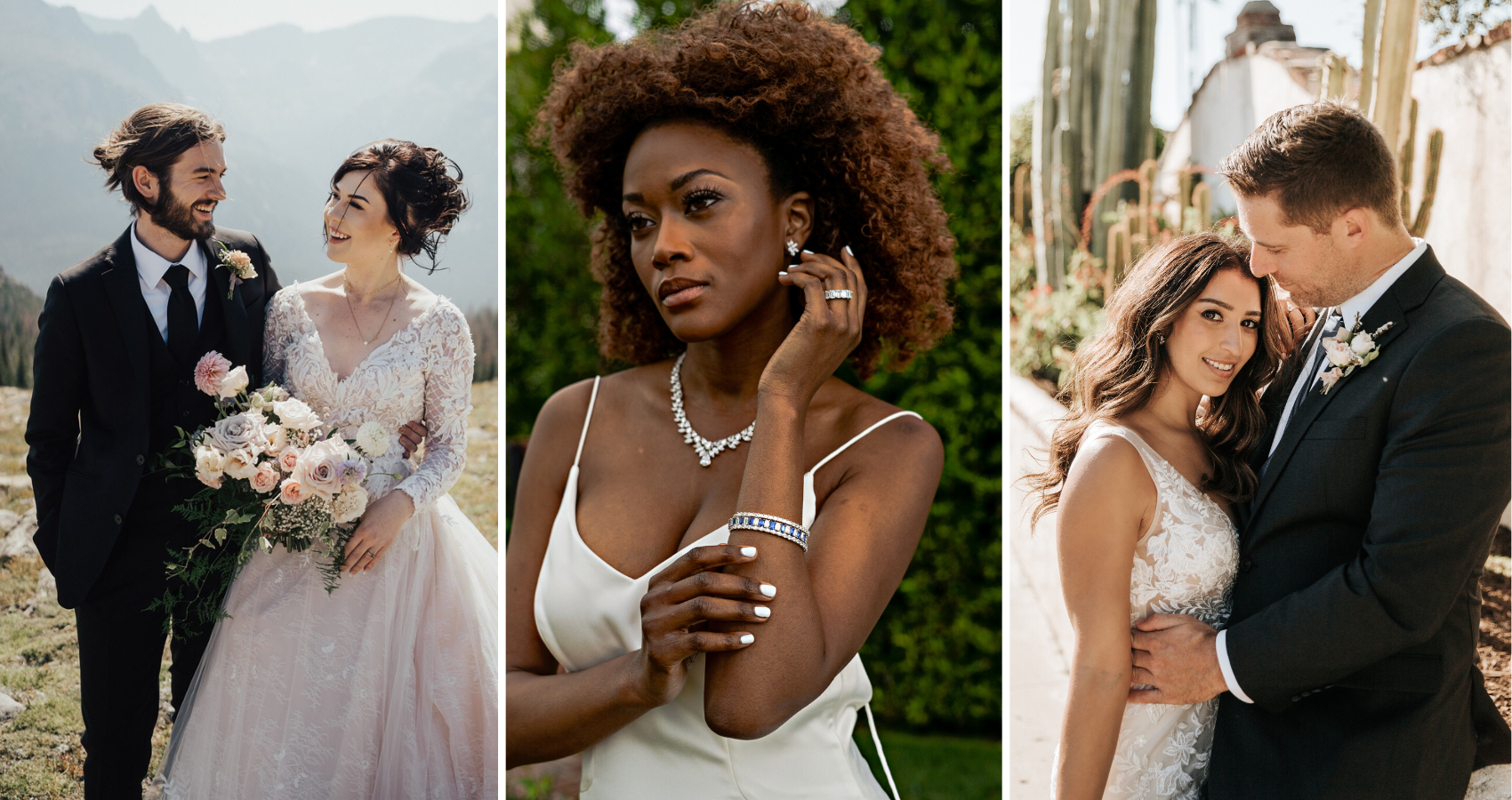 Hi there, bride-to-be! We know planning a wedding takes a village—and a large village, at that. Invitations, catering, table arrangements—it's easy to get lost in the shuffle of things. Important decisions like choosing your wedding day hairstyle may drop to the bottom of your list with so much going on. Luckily, your friends at Maggie Sottero have you covered! We want to take stress off you as your day comes closer, so we've compiled twelve different wedding hairstyles that will match whatever look you're going for.
Before we find the hairstyle for you, take our Style Quiz so you can find your perfect wedding dress to match! Now, have your Pinterest board on stand-by, and get ready to find the perfect 'do for you!
Correlating Your Wedding Hairstyle with the Silhouette of Your Dress
Choosing a bridal hairstyle that correlates with the silhouette or style of your dress is a huge must. You want a wedding hairdo that complements your dress and balances out the overall look, not one that competes with your aesthetic or interferes with the details of your gown. Whether you're looking for a gorgeous mermaid gown that showcases your curves or a beautiful long-sleeve dress that gives off a more elegant look, the perfect wedding hairstyle is out there for you!
A Line Wedding Dress Hairstyles
PC: The Kensington Photographer
Our A-line silhouette dresses are some of the most comfortable and flattering silhouettes a bride could choose for their special day. Typically, an A-line wedding dress is characterized by being fitted at the hips and gradually flaring out from the waist to the train, mimicking a capital "A" shape.
A-line gowns are an extremely popular silhouette due to how versatile they can be—they can have almost any neckline you can imagine! Whether you're looking for a classic and elegant or a bold and lacy gown, there is absolutely no doubt we have what you're looking for.
In the same way an A-line gown can be so versatile, your wedding hair can be, too! If you are looking to have your hair up during your wedding, try a voluminous ponytail that showcases your gorgeous locks.
PC: Zané Corlett
We know what you're about to say, so hear us out. Even though a ponytail is often criticized for the limited hairstyle options it can give you, there's no reason why you shouldn't be able to wear it as your wedding hairdo. In fact, there are a lot of reasons why you should consider a ponytail for your big day:
Minimal Effort: Don't take this the wrong way! Minimal effort is a great thing when it comes to wedding ponytails because after seeing the final product, you would never know how little effort it took! Ponytails are a great way to get a classic and flawless look without using up precious time while you're getting ready.
Face Framing: Loose strands from your voluminous ponytail add a romantic touch to your overall look and can draw attention to your beautiful eyes.
Emphasis on Your Natural Beauty: A voluminous and loose ponytail allows for your gorgeous face to be the star of the show without taking away from your dress.
Ballgown Hairstyles
PC: Nate Shepard Photography
Oh, the classic ballgown: the perfect silhouette to make you feel like a princess on your wedding day. Often confused with an A-line silhouette, a ballgown silhouette's bodice is fitted like a corset and flares wide at the waist, giving the dress a voluminous skirt. Flattering on everyone, a ballgown highlights the waist and gives the legs free movement, which is a huge benefit for any bride!
PC: Joshua Veldstra
Since a ballgown dress flares out wide in the skirt, you may want to opt for a beautiful, swirled updo that works together with the rest of your look. It can also balance out a seemingly bottom-heavy gown. While bridal updos take a lot of time and attention to detail to finish, they're perfect for our brides who are busy getting down on the dance floor or brides who want to look flawless from any angle.
Want to feel like a princess at your wedding? Make sure to read our blog for more magical inspo!
Fit & Flare Bridal 'Dos
PC: Sydney Bliss Photography
Our fit-and-flare gowns are fitted throughout the bodice and flare ever so slightly, beginning in the mid-thigh to the knee region. Simple-yet-stunning, a fit-and-flare silhouette dress is perfect for accentuating any body type, cinching your waist, and highlighting your hips.
Pairing a dress that gives you length with a hairstyle that does the same is the move! It leaves you feeling like a supermodel (and a gorgeous bride!). Having your hair down on your wedding day is something that's often overlooked, but ditching the hot rollers and embracing your natural hair is a new trend to which we cannot say no!
PC: Simsational Memories
A fuss-free, natural hair-down style gives off a fresh feel while giving your look much more personality in an effortless way. Just look at how these gorgeous Real Brides look on their big days!
Pro tip: If you are worried about becoming overheated and frustrated with your hair don't fret. Keep an elegant hair clip or hair tie close by to pin it up if you begin feeling hot.
Mermaid Wedding Hair Looks
PC: MB Red Carpet Photography
Known for being the most dramatic and glamorous of all wedding gown silhouettes, our mermaid gowns are fitted tighter around the bodice, waist, and hips. They're the ultimate gown to show off the natural curve of your body. These dresses flare out at or just below the knee area, mimicking a mermaid tail. Let's be honest, who wouldn't love feeling like a mermaid on their wedding day?
PC: MB Red Carpet Photography
Since a mermaid gown is a sexier fit, wedding hair that reflects that will emphasize the overall look. A half-up, half-down 'do would pair perfectly with this silhouette. With loose waves and a veil as the finishing touch, this gorgeous bridal style is perfect for any hair type or length.
Love a mermaid wedding gown and want to see more options? Read our blog to get all the fishtail wedding dress inspo!
Sheath Wedding Hairstyles
PC: Mariel O. Photography
Calling our minimalistic brides! Our sheath gowns may be the perfect silhouette for you. We want you to remember that minimalistic and simple does not mean boring. A sheath gown traditionally features a "not-too-tight" bodice and a skirt that falls straight to the ground. It gives off a seamless look that works hand-in-hand with your body type. These gowns are a huge "yes!" for our brides who want a simple dress that still makes heads turn.
As far as your wedding hairstyle goes, consider brushed-out curls instead of defined curls. Run a brush through your fresh curls to create a soft, bouncy look that gives off an effortless, off-duty model vibe.
Correlating Your Wedding Hairstyle with the Style of Your Dress
We already know it's a good idea to choose your hairstyle based on your dress silhouette, but what if you haven't picked one out yet? Don't stress, soon-to-be bride! We've rounded up some wedding hairstyles that work best based on the style of gown you're looking for!
Boho and Vintage
PC: Eliza Wedding Photographer
If you're a bride who loves the free-spirited aesthetic, a boho or vintage wedding hairdo is the route for you!
A flower crown is the epitome of a bohemian hairstyle, and we are here for it! However you style it, a flower crown adds a whimsical touch to your overall look. Another thing we absolutely love about a flower crown is that you can wear it with any hairstyle. If you're thinking about finishing off the look of loose curls, add a fishtail braid, and a flower crown. It's a gorgeous hair accessory that will work perfectly with the style you're looking for.
Another wedding hairstyle we absolutely love that works beautifully with a vintage, boho style is a braided low updo. This timeless hairstyle is great because it requires minimal effort and will stay put for the entire night. With the braid being the center of attention, you can make this wedding hairstyle as complex or as simple as you are. Consider adding a few loose curls for a more relaxed look. Or, pin back some pieces to create a polished updo.
Read our blog on more boho wedding dresses for more gowns to fit your style!
Glamour, Lace, and Statement
PC: Love Stories TV | PC: Jinal Govind Photography
If you're a bride who's not scared to try something different, these looks are for you! We decided to put these styles into the same category because each style reflects one thing: boldness.
For any type of daring look you desire, there's no doubt we have a bridal hairstyle for you. If you're looking to capture an ageless look, try classic Hollywood waves. Instead of a casual center part, section your hair off into a deep, dramatic side part and pin it back with a barrette. This look is absolutely stunning and is the perfect hairstyle for a bride who's looking to make jaws drop. To elevate this look a bit further, use a hair product that boosts your shine. This will create a signature style that ties the rest of the look together.
Sexy, Romantic, and Curvy
PC: Jenna Marie Clark Photography
We are all about being in touch with your femininity, and these styles will do the work for you. Pairing a romantic hairstyle with a dress that emphasizes your body is the ultimate jackpot!
Turn up the romance with a slightly loose low bun that sits at the nape of your neck. This wedding hairdo allows you to get your hair out of the way. However, you'll still have face framing pieces with a few loose strands to accentuate your cheekbones. If you're worried that a loose, low bun may seem too simple for your big day, tuck the loose pieces back, grab your hairspray, and add volume! This will transform the style into a gorgeous voluminous low bun that adds a touch of glamour.
Classic and Simple
If you're a bride who favors a minimalistic style, show that less is more with these classic yet gorgeous hairstyles.
Say goodbye to the curling iron and hello to the blow dryer and roller brush. Who doesn't love a classic blowout? Whether you're hitting the salon or doing it yourself, a classic blowout is the way to go. It is such an underrated wedding hairstyle. It's simple to achieve and will leave you feeling like an elegant and classy bride! Like they always say, less is more!
PC: Chelsea White Photography
Last, but certainly not least, a classic chignon. There are many different ways to achieve a chignon bun. A classic chignon is achieved by tying the hair into a bun at the nape of the neck or the back of the head. They vary from simple, pulled-back hair to intricate, braided pieces pinned back with lots and lots of bobby pins.
(For some last-minute wedding planning advice, take a look at these quick tips):
Planning a wedding can be difficult, time-consuming, and costly. One thing you should do before you begin planning for your big day is research. From having an idea for the bachelorette party to the honeymoon, you'll be way more successful if you have clear goals. Set a budget, and an established vision before you get too far into planning the wedding! As you plan, write down how much you're willing to spend. See if using a personal loan could be the best decision for you and your fiancé! A loan can even help take the stress off of you if you weren't necessarily saving for your wedding and over time.
It may even be the more feasible option versus spending entirely on a credit card! Aside from the financial aspect, you'll need a plan for all the other parts of your big day. Create a list of your wants and needs. For example, think through things like travel itineraries, mood boards, and style inspo. It's also good to think of accessory ideas, potential venues, DJs, invitations, and everything in between. Once you have your vision set, the rest of the planning will come naturally. And we promise: it will be so much fun seeing your vision come to life!
Whatever wedding hairstyle you pick, we know you're going to look absolutely stunning on your special day. Take a look at our blogs below for more wedding style tips!
6 Types Of Wedding Nails For The Classic, Edgy, And Girly Brides
5 Types Of Wedding Makeup To Inspire You For Your Wedding Day
How to Choose the Right Wedding Undergarments for Your Wedding Dress