Tips and Trends
|
March 5, 2018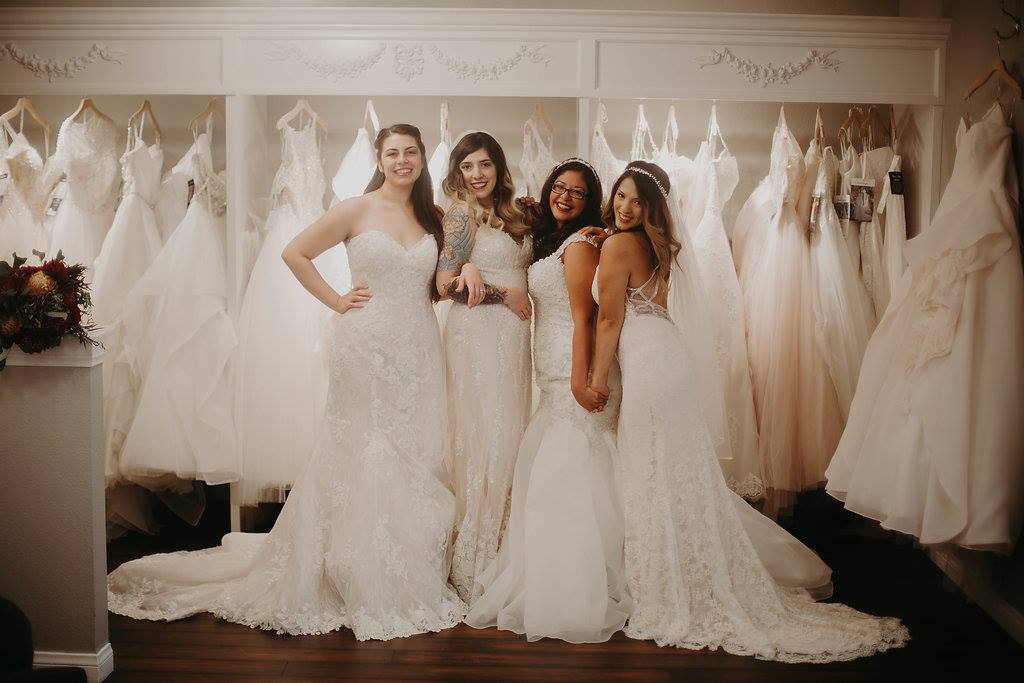 Some brides have planned their weddings since they were little girls. Others have no idea what an "A-line" actually is. Whatever your experience in bridalwear, don't let these 10 questions to consider while shopping for your wedding dress fall through the cracks!
What works for my body type?
Research a few wedding dress silhouettes, wedding dress designers, and styles you like before heading to your bridal shop, but trust your sales associate to help you find something beautiful.
Can this gown be delivered in time for my wedding?
Most brides shop for gowns about 6-9 months before their wear dates. We recommend starting about a year ahead to accommodate delivery and alterations. Whatever your timeline, ask about specific styles with quicker or longer delivery windows to narrow your options.
What does the alterations process entail?
Ask the retailer if they offer in-house alterations or if they recommend a professional seamstress. Plan on an average of two fitting sessions, but anticipate changes based on your body type, dress style, and requests for customization. Lastly, don't forget to factor in the cost of alterations to your overall dress budget.
Are there additional fees I should know about?
Plan on a rush charge for a short wear-date, or a storage fee if you don't pick up the gown on time.
Will this dress still be available in a few weeks or months?
Sometimes wedding dresses go off the market without warning, so many boutiques offer an incentive to purchase a gown on your first visit. Make sure "the one" doesn't slip away!
Speaking of gown availability… this image is a brand new Fall 2018 style! Sign up here to be the first to know when this gown is at an authorized store near you.
What is my range of motion in this dress?
Wedding dresses are made with expensive and delicate materials, which can limit your range of motion. Can you raise your arms in a dress? Does the skirt feel heavy? Will the fabric breathe well for your season and venue? These factors help you lock down beauty AND function for your big day.
What size should I order?
Wedding dress sizes are different than street sizes, and you'll want to anticipate weight fluctuations before the big day. Your sales associate is the best resource for deciding what size to order.
What kind of undergarments should I wear with this style?
Features like a plunging V-neckline or illusion lace back determine the type of undergarments you should wear for the big day. Many bridal shops have an in-house selection of shapewear and undergarments to complement your gown, ensuring a dreamy and ultra-flattering fit!
Can I change my mind about a specific style?
Before you sign your name and make a payment, be sure to completely understand your boutique's cancellation policy. A wedding dress is an important made-to-order purchase, so many retailers do not allow you to change your mind. If you do end up having regretting your purchase, take a moment to collect yourself and make a smart game plan, rather than panicking about the payment.
Happy shopping! Find an Authorized Retailer near you to get started: Store Locator.