Events and Boutiques
Tips and Trends
|
February 3, 2020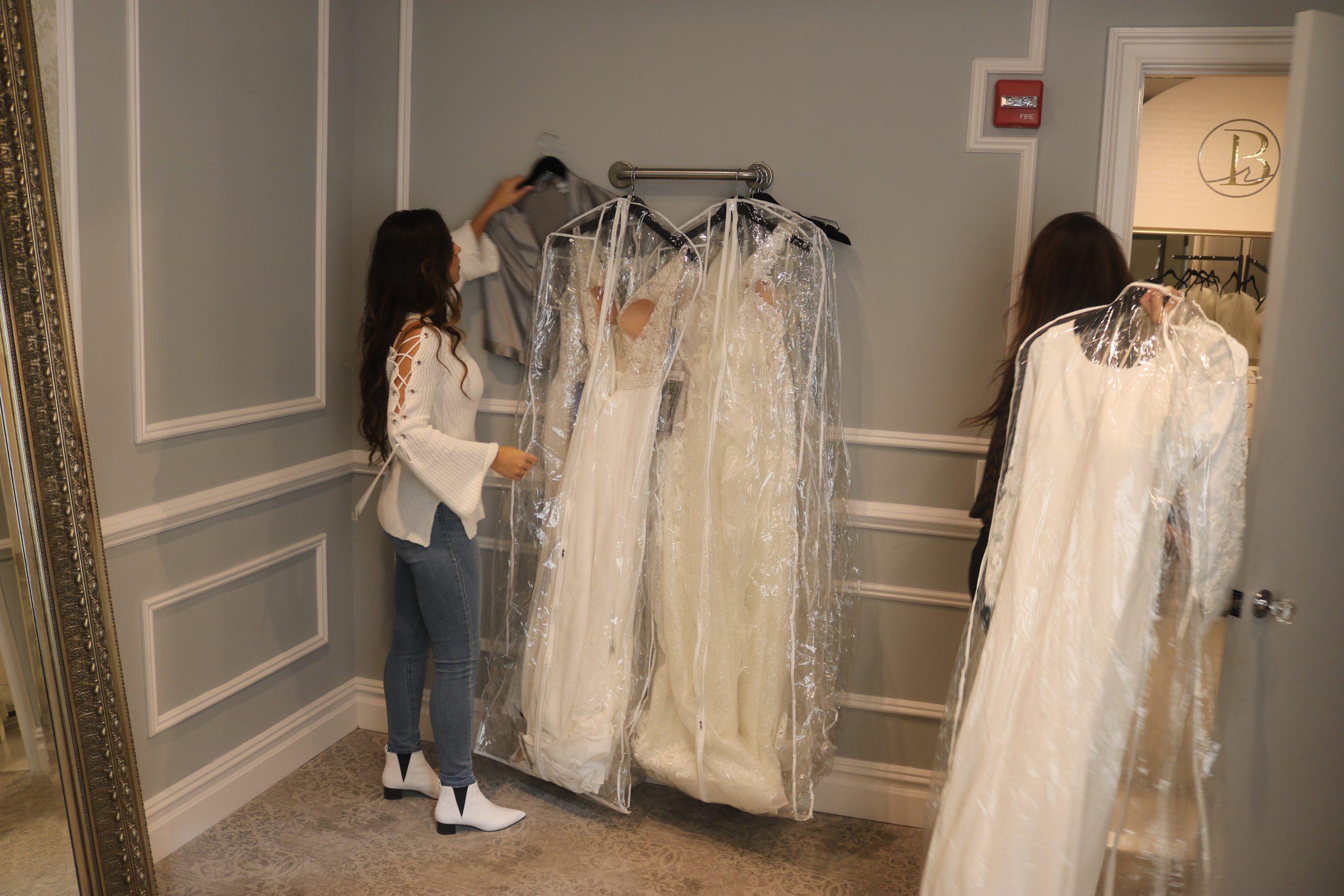 Congrats, you're engaged! Now it's time to find the perfect wedding dress—the one you've been dreaming about and talking about nonstop! So where do you start? You might think finding "the one" shouldn't be too complicated. However, doing your homework is important. If you don't put enough preparation behind it, the search for your dream gown can quickly turn from fun to stressful. That's why we've created the ultimate wedding dress shopping guide here: Shopping for Your Dream Dress, and prepared these wedding dress shopping tips to help make your experience smooth and exciting. Now let's begin!
First Things First: Determine Your Wedding Style
Before you begin the hunt for your dream wedding dress, gather some wedding inspiration from your favorite social media profiles and Pinterest boards. And don't forget to look at our real bride's weddings for trending inspiration!
Consider your venue, accessories, floral arrangements, and wedding colors. These details will greatly influence your wedding dress choice. From classic to beachy to boho to rustic, there are many bridal styles to consider. If you're still looking for inspiration, start with our bridal quiz!
Set A Budget For Your Wedding Dress
Once you have a vision of your dream wedding gown, set a budget. Decide on a price point you're comfortable with and stick to it. Determining a realistic wedding dress budget can be difficult, but rest assured that there are Maggie Sottero wedding dresses at every price point!
Decide Who to Bring While Shopping
Next, decide on who is going to accompany you on this memorable journey. This is an important detail that is sometimes overlooked, but it can make all the difference between a good or bad shopping experience. Having too many opinions can make it more difficult for you to come to a decision. Limit your squad to 2-3 people, and needless to say, only take people you trust!
What to Wear to Your Bridal Appointment
Wear something comfortable, but dress it up a bit. And try to wear the hairstyle and makeup that you will on your wedding day. You'll feel more confident if you do. It will also help the consultant get a better sense of your style.
Don't forget to take a pair of heels that match the height you plan on being on your wedding day. And remember to eat beforehand and stay hydrated so your focus stays on finding your perfect wedding dress!
When To Shop For Your Wedding Dress
To make sure your wedding gown arrives with plenty of time to spare, start shopping 10-12 months before your wedding, and have an order placed at least 6 months ahead. Of course, the ordering process can be expedited, but 6 months should allow plenty of time for shipping, alterations, etc.
Also, if your schedule is flexible, book your appointments midweek when boutiques are the slowest. You'll have a more relaxed experience during that time frame. Weekends are almost always super busy for bridal shops, so the atmosphere is more intense and can feel at times stressful.
Where To Buy Your Wedding Dress
Make sure to shop at one of our Authorized Retailers. To find the store nearest you, put in your zip code or city into our Find a Store page. If there are multiple shops where you live, choose one based on sizing options and personal style.
Location is also a big factor. You might not mind traveling 100 miles initially, but keep in mind that it won't just be one visit. You'll be making more trips there for fittings and alterations once your wedding gown arrives.
Also consider asking these questions when deciding where to buy your wedding dress:
What are your payment options?
What price ranges do you carry?
Do you carry Maggie Sottero's lines: Maggie Sottero, Rebecca Ingram, and Sottero and Midgley?
How does your alterations process work?
What customizations do you offer?
Tips For Your Bridal Appointment
Shopping for your wedding dress should be a special experience, so enjoy it! Trust your consultant. They will walk you through all the details, from price and styles to alterations, deposits, cancellation policy, etc. Don't feel pressured to buy anything, but if you find a dress you absolutely love, go for it! Trust your gut and don't doubt yourself.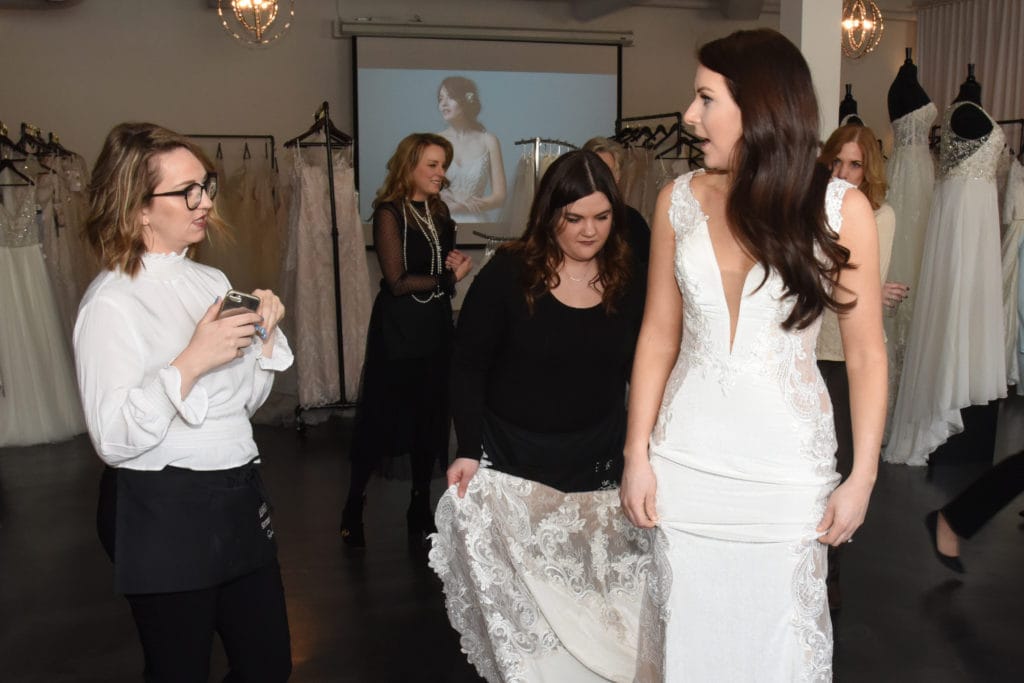 A few things to keep in mind during your appointment:
Forget about traditional sizes. Bridal wear is very different from the ready-to-wear world. Instead, focus on the perfect fit.
Stick to your budget and don't be afraid to ask questions.
Keep an open mind! Your dream wedding dress may end up being one you never before considered.
Wedding Dress Terms You Should Know
Off-the-Rack – Gowns sold directly off a retailer's rack or floor.
Made-to-Order – The manufacturing process following a gown order.
New Seasons – New collections of wedding gowns, usually called fall and spring collections.
Sample – Wedding dresses chosen by the retailer to be displayed in their boutiques.
Wear Date – The day your gown needs to be ready to wear by.
Sister Style – Gown variations of a particular style.
We hope this wedding dress shopping guide helps you have a successful in-store experience! Remember: this is your experience, your wedding, and your dress. You're the only one who knows exactly what you want and how you want to feel in your wedding dress. Choose what makes you feel beautiful. After all, this is the most important dress you'll ever wear!
Want more tips? Check out these other helpful posts:
How to Have a Successful First Wedding Dress Fitting
Our Top Tips for Wedding Dress Shopping at Your Local Bridal Boutique