Real Weddings
Tips and Trends
|
October 31, 2016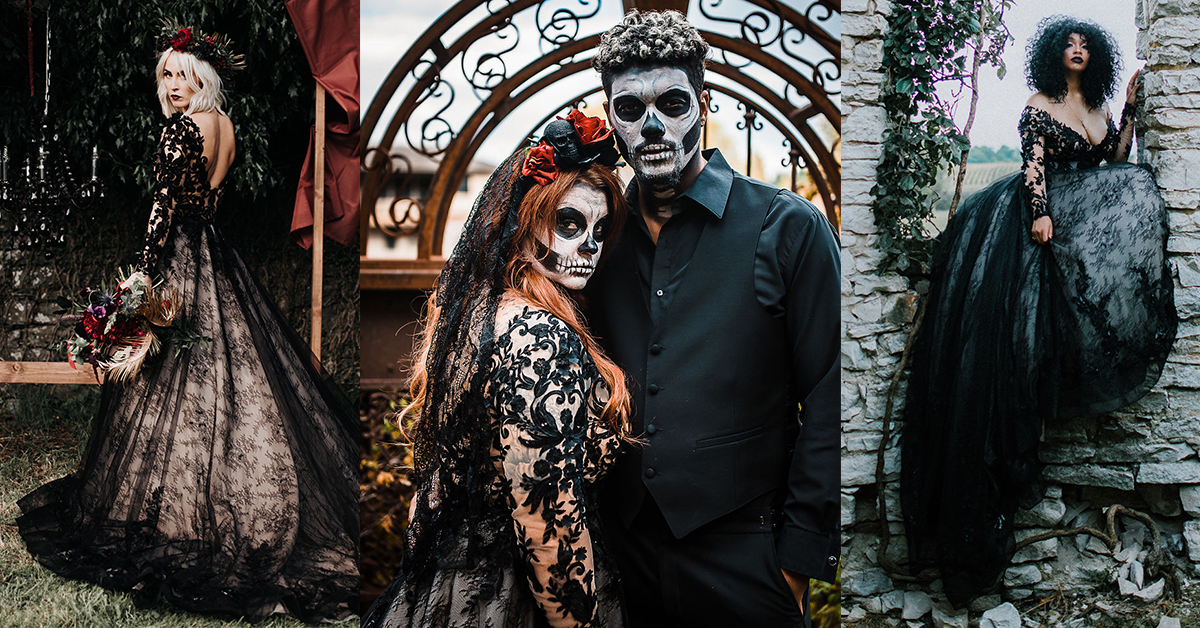 Your Halloween wedding dress and October nuptials don't have to be morbid. Or maybe they will be, with an air of whimsy, romance, and intrigue as well. (After all, Morticia and Gomez Addams are all kinds of macabre, but they're one of the most madly-in-love TV + movie couples of the 20th century—not to mention the perfect models for a stylish suit and gorgeous Halloween gown.) So keep scrolling for Halloween wedding dress ideas and gothic inspiration… if you're batty for the bizarre and silly over steampunk, this gallery is for you!
Black is Always the New Black (Especially in a Halloween Wedding Dress)…

So treat it as your foundation for your spooky reception and Halloween wedding gown. Here are palettes to take you beyond the basics and keep you looking chic and unique:

Black, white, and gold (our favorite for your head-to-toe Halloween wedding dress ensemble)
Black, light lavender, and punchy orange
Black, crimson, and silver
Black, mocha, and sunburst yellow
Black, slate blue, and orange
Black, bronze, and pale green
Halloween Wedding Décor: Steampunk's Not Dead

Fill your Halloween wedding décor space with magical machines, turn-of-the-century curios, and vintage tapestries. Channel a mad-scientist theme with beakers, blood-red "shot" needles, and effervescent mixers, or stick to a more "subtle" Victorian aesthetic, incorporating moon-and-star accents, black lace in your Halloween wedding dress, decorative mirrors, and peculiar displays of skulls, pumpkins, butterflies, and beetles.
Halloween Wedding Recepetion Spirit: It's All About Mood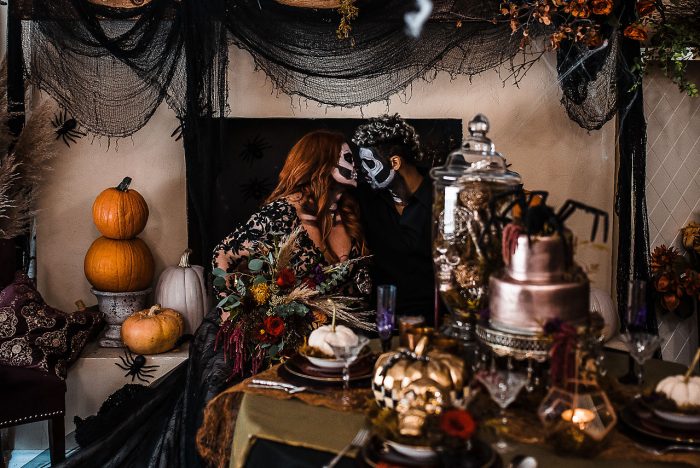 Plan to invest in lighting effects for your Halloween wedding reception. Choose a venue with centuries-old charm or spooktacular whimsy. Play vintage Halloween cartoons (for example, 1941's The Legend of Sleepy Hollow, Silly Symphony's The Skeleton Dance, Disney's Haunted Halloween) with no sound in the background for a little quirkiness. Light up your dark corners with elegant candelabras and lanterns. (Or for a Harry Potter feel, floating candles on the ceiling.) Finally, make a confident and dramatic entrance in your Halloween wedding dress to get the party started!
Halloween Wedding Photography Needs a Little Theatricality

Research wedding photographers in your area who specialize in themed, posed, and edgy aesthetics that fit your Halloween celebration. Schedule time before or during the wedding for high-drama shots, including the dip-kiss, the sunset musing, the lost-in-the-dark-forest, the wistful maiden and her steed, and the star-crossed lovers. And of course, use photography to showcase your Halloween wedding dress! A black wedding gown looks incredible at golden hour or alongside fall colors, while white glows like a ghost against moody tapestries, candelabra centerpieces, and moonlit gardens.
The Halloween Theme's the Thing

Cover all the classics with themed Halloween wedding table names inspired by spooky cinema:

Elvira, Mistress of the Dark
Treehouse of Horror
Good Ash, Bad Ash
The Zed Word
Frau Blücher
Camp Chippewa
Thackery Binx
Lost Souls Room
Eli Roth Presents…
True fans will love the references, and all your guests will enjoy the conversation starters. Carry the Halloween theme into your photo booth props, signature cocktails, and party favors for a frenzy of interactive fun. Lastly, utilize your Halloween wedding dress accessories to incorporate imagery, references, and themed flair—from cameo jewelry and embroidered embellishments to bouquet symbolism and movie allusions.
Art and Literary Influences for a Halloween Wedding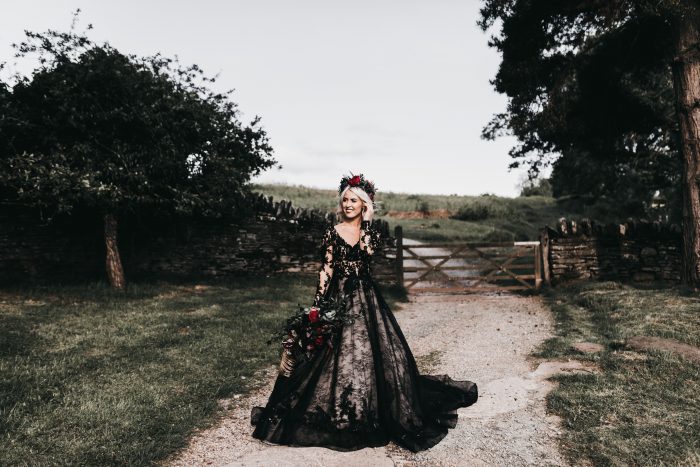 Poe, Lovecraft, and Stephen King will do the trick, but don't stop there. If you're attracted to the Halloween wedding aesthetic, you're likely the moody and romantic type, so summon your favorite love stories, tragedies, ghost tales, and reveries for the classiest of soirees. Here are a few to get you started:
Literature:
Henry James
Ray Bradbury
Ann Radcliffe
Robert Louis Stevenson
Flannery O'Connor
Cormac McCarthy
Mary Shelley
Gaston Leroux
Bram Stoker
Neil Gaiman
Anne Rice
The Bronte Sisters
Art:
Hieronymus Bosch
Salvador Dali
Alexandre Cabanel
Andrew Wyeth
Zdzisław Beksiński
Margaret Keane
Be Afraid, Be Very Afraid of a Boring Halloween Wedding Dress

New gothic and romantic Halloween wedding dress styles from Maggie Sottero Designs ensure a chic, intriguing, and gorgeously nontraditional bridal look:
Black Halloween Wedding Dress: Ally by Maggie Sottero
Featuring lace embellishments and a feather capelet, Halloween wedding dress Ally brings whole new meaning to the term "sexy vampire."
Vintage Halloween Wedding Dress: Elaine by Maggie Sottero
Opt for drama and opulence in this shimmering A-line gown for a Halloween wedding, featuring beaded lace appliqués and an illusion plunging V-neckline. (Morticia Addams would be THRILLED.)
Lace Ball Gown Halloween Wedding Dress: Tristyn by Maggie Sottero
We're getting major gothic princess vibes from this black and white Halloween wedding gown, featuring shimmery texture, bold embroidered lace, and a Victorian-inspired veil edged in matching motifs.
Abby-Normal Florals to Complement Your Chic Halloween Wedding Dress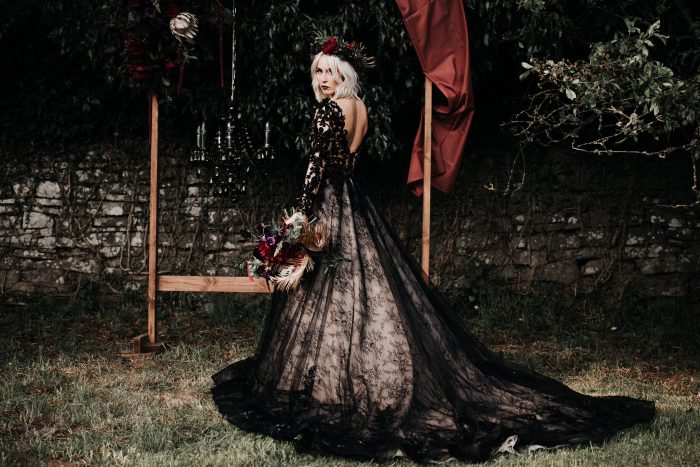 If you've a flair for the dramatic, scatter crimson roses reminiscent of an Old World wake. If you love a non-standard arrangement, DIY a bouquet of bright brooches and feathers, or go au naturel with pinecones and sea berry. If you still want a traditional-yet-intriguing aesthetic, choose ghostly white blossoms and sea-green accents in the spirit of Poe's Annabel Lee. All look incredible paired with a white or black Halloween wedding dress, jewelry, and accessories.
Harvest-Time Halloween Wedding Banquet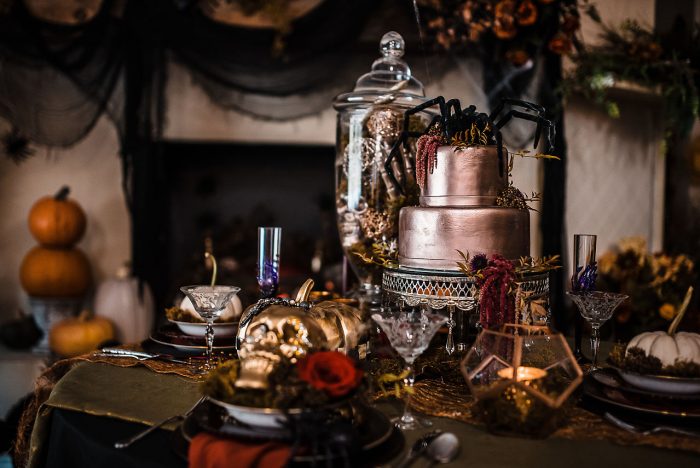 A Halloween wedding banquet spread must be irresistible to the eye. Find your perfect balance of rich, sweet, and novel with special effects drinks, jewel-like palettes, and decadent desserts on a table overloaded with color and embellishment.
All Work and No Play…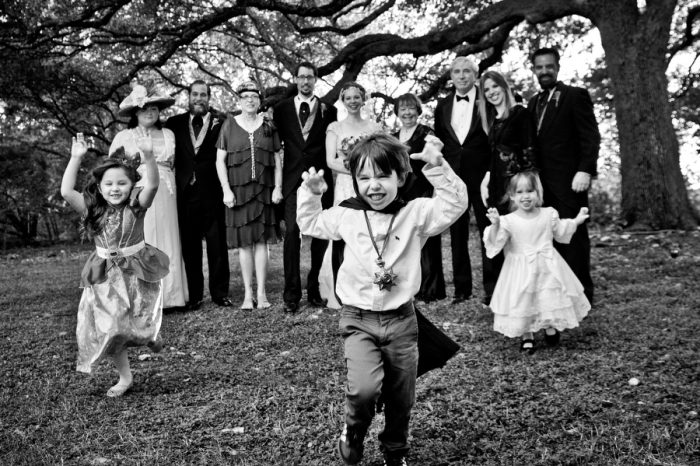 Double up on the party efforts with games and revelry. Invite the kiddos to dress up for the occasion—a few Pokémon and Captain Marvels will only liven up your group shots. Add some fab to your DIY photo booth with groovy props, vintage animal masks, and creepy-crawly backdrops, then transition into entertainment with lawn or night games, a pumpkin-carving station (with smocks to protect that Halloween wedding gown), fortune telling, and karaoke. It goes without saying that getting married around your favorite holiday should feel like a truly unique festival, so get out there and make a stylish and one-of-a-kind statement!