Tips and Trends
Wedding Inspo
|
September 30, 2021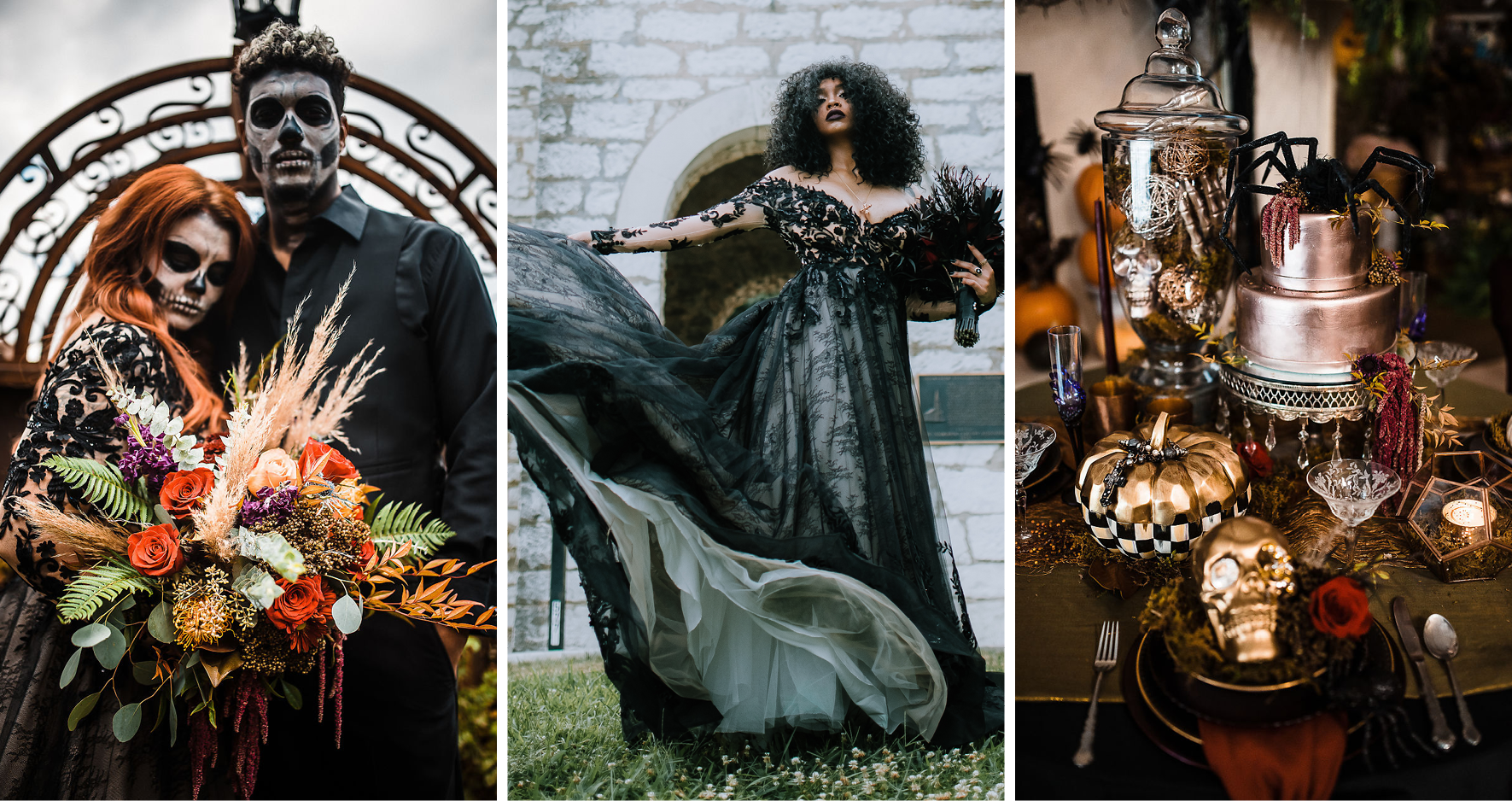 Your Halloween wedding and October nuptials don't have to be morbid. Or maybe they will be, with an air of whimsy, romance, and intrigue as well! (After all, Morticia and Gomez Addams are all kinds of macabre, but they're one of the most madly-in-love movie couples of the 20th century.) So, if you're buzzing for the bizarre and silly over steampunk, this gallery is for you. Keep scrolling to see our 10 hauntingly beautiful Halloween wedding ideas for a gothic celebration!
1. Moody Color Palette
PC: Francesca Hill Photography
Treat your color palette as the foundation for your festive ceremony and spooky reception. After all, nothing says gothic elegance like a moody wedding palette featuring whites, blacks, golds, and crimsons. Here are a few Halloween wedding palettes to take you beyond the basics and keep you looking totally gothic chic:
White, black, and gold (our favorite for your head-to-toe Halloween wedding ensemble)
Black, light lavender, and punchy orange
Crimson, black, and silver
Black, mocha, and sunburst yellow
Bronze, black, and pale green
PC: Sarah Louise Photography
Unique Halloween Wedding Idea: Add metallic accents into your color palette to create a hip, steampunk vibe. We promise your guests will love it! For more fall color palettes ideas, click here.
2. Halloween Wedding Décor: Steampunk or Gothic
PC: Sarah Louise Photography
Fill your Halloween wedding décor space with magical machines, turn-of-the-century trinkets, and metallic tapestries. Or, stick to a more subtle Victorian-gothic aesthetic by incorporating moon-and-star accents, black lace in your Halloween wedding dress, decorative mirrors, and peculiar displays of skulls, pumpkins, butterflies, and beetles.
Gorgeous Halloween Wedding Idea: To achieve an over-the-top vibe, invest in lighting effects for your Halloween wedding reception. Light up the dark corners of your venue with elegant candelabras and lanterns.
Or, for a Harry Potter feel, go with floating candles on the ceiling! Finally, make a confident and dramatic entrance in your Halloween wedding dress to get the party started!
3. Harvest Banquet with Pumpkins
PC: Sarah Louise Photography
A Halloween wedding banquet spread must be irresistible to the eye. Find your perfect balance of rich, sweet, and novel with special-effect drinks, jewel-tone palettes, and decadent desserts on a table overloaded with color and embellishment.
Festive Halloween Wedding Idea: Feature harvest and October-themed food and beverages at your reception like butternut squash soup, apple cider, and pumpkin cookies, bread, or cake. So yum!
4. Spooky Halloween-Themed Table Settings
As one of our favorite Halloween wedding ideas, spooky table settings really establish the mood for a hauntingly beautiful celebration. Cover all the classics with themed Halloween wedding table names inspired by scary cinema.
PC: Francesca Hill Photography
True Halloween fans will love the scary movie references, and all your guests will enjoy the conversation starters. Here are a few of our fave spooky film references:
Elvira, Mistress of the Dark
Morticia Addams
Treehouse of Horror
Good Ash, Bad Ash
Frau Blücher
Camp Chippewa
Thackery Binx
Lost Souls Room
Interactive Halloween Wedding Idea: Carry your Halloween theme into your photo booth with props, signature cocktails, and party favors for a frenzy of interactive fun!
5. Unique Halloween Wedding Cake
PC: Sarah Louise Photography
These unique Halloween wedding cakes really "take the cake" with striking accents, decadent tiers, and festive props. We love the steampunk look of this metallic wedding cake complete with a spider topper.
And we can't get enough of this trendy geode wedding cake, featuring purple crystals and matte black tiers. Last but not least, we're getting gothic vibes from this black to white ombré wedding cake with yellow florals. For more festive fall wedding cakes, click here!
PC Left: Francesca Hill Photography; PC Right: Lor Barely Photography
Halloween Wedding Idea: For literature-loving couples, incorporate Poe, Lovecraft, and Stephen King quotes into your wedding. But don't stop there! If you're attracted to the Halloween wedding aesthetic, you're likely the moody and romantic type, so summon your favorite love stories, tragedies, ghost tales, and reveries for the classiest of soirees.
6. Alternative or Gothic Florals
PC: Francesca Hill Photography
If you have a flair for the dramatic, scatter crimson roses reminiscent of an Old World wake. And if you love a non-standard arrangement, DIY a bouquet of bright brooches and feathers, or go au naturel with pinecones and sea berry.
PC Left: Sarah Louise Photography; PC Right: Heather Marie Photography
Hauntingly Beautiful Halloween Wedding Idea: Use your bridal bouquet and Halloween wedding dress accessories to incorporate imagery, references, and themed flair—from cameo jewelry and embroidered embellishments to bouquet symbolism and movie allusions.
7. Dramatic Wedding Portraits
To get the dramatic photos you want, research wedding photographers in your area who specialize in themed, posed, and edgy aesthetics.
PC: Heather Marie Photography
Schedule time before or during the wedding for high-drama photo opportunities, including the dip-kiss, the sunset musing, the lost-in-the-dark-forest, the wistful maiden and her steed, and the star-crossed lovers. And of course, use this time to showcase your Halloween wedding dress (keep scrolling for our top picks)!
A black wedding gown looks incredible at golden hour or alongside fall colors, while white glows like a ghost against moody tapestries, candelabra centerpieces, and moonlit gardens.
Elegant Halloween Wedding Idea: Choose a venue with centuries-old charm or spooktacular whimsy that will play up the elegant and gothic details of your wedding dress.
8. Gothic-Inspired Makeup
PC: Sarah Louise Photography
For bold and alternative brides, dramatic makeup might just be the thing that sets their Halloween wedding apart. We're especially loving this couple's edgy, sugar skull makeup that gives us "Dia de Los Muertos" vibes.
PC: Heather Marie Photography
Fun Halloween Wedding Idea: Play vintage Halloween cartoons with no sound in the background for a little quirkiness. Our top picks? 1941's The Legend of Sleepy Hollow, Silly Symphony's The Skeleton Dance, and Disney's Haunted Halloween.
9. Matching Grooms' Attire
PC: Francesca Hill Photography
We're digging the moody ensemble this groom wore to his gothic celebration. Featuring a marron suit coat, white dress shirt, and semi-casual khakis, his attire contrasted the bride's black lace wedding dress strikingly. To see more groom wedding attire ideas, visit our Trends for Grooms Wedding Attire blog post!
PC Left: Francesca Hill Photography; PC Right: Sarah Louise Photography
Halloween Wedding Idea for Kids: Double up on the party efforts with games and revelry. Invite the kiddos to dress up for the occasion—a few Pokémon and Marvel superheroes will only liven up your group shots. Add some fab to your DIY photo booth with groovy props, animal masks, and creepy-crawly backdrops. Then, transition into entertainment with lawn or night games, a pumpkin-carving station (with smocks to protect that Halloween wedding dress), fortune telling, and karaoke.
10. Gorgeous Black Wedding Dresses
PC: Francesca Hill Photography
Lastly, we know you want a statement wedding dress when it comes to a Halloween-themed celebration. Because this is one of our favorite Halloween wedding ideas, we have just the picks for you!
PC Left: Sarah Louise Photography; PC Right: Lor Barely Photography
Modern gothic and romantic Halloween wedding dresses by Maggie Sottero ensure a chic, intriguing, and gorgeously nontraditional bridal look. Because your spooky attire can make or break your aesthetic, make sure to wear a gothic gown that suits your personality and wedding vision. Keep scrolling to see our line up below!
Glamorous Black Lace Ball Gown Wedding Dress: Norvinia by Sottero and Midgley
Dramatic, gothic elegance is materialized in this black lace and champagne wedding dress. Entrance your beloved and your guests with this daring, divine style that is perfect for your Halloween-themed wedding. Norvinia by Sottero and Midgley will be released soon for those brides leaning more toward a non-traditional look. Regardless of the venue, this modern wedding ball gown will complete your gothic wedding day vision.
Look for this wedding gown to be released with our Spring 2022 launch, including its ivory over nude colorway option.
This black lace ball gown wedding dress also comes in ivory and champagne options. But if you're going for Victorian drama and unconventional gorgeousness, those wouldn't have quite the same impact, would they? And a plus, Morticia Addams would be THRILLED with this black version.
If you still want a traditional-yet-intriguing aesthetic, choose ghostly white blossoms or all black flowers in the spirit of Poe's Annabel Lee. All options look incredible paired with a white or black Halloween wedding dress, jewelry, and accessories.
When romancing the black wedding dress, "ball gown" is often the silhouette of choice. Add some chic spaghetti straps and consider a birdcage veil for a flirty vintage affair. We promise this look will make even the die-hard traditionalist swoon.
Opt for drama and opulence in this shimmering sheath bridal gown for a Halloween wedding. Featuring Art-Deco beaded lace appliqués and an illusion plunging V-neckline, this wedding dress gives a whole new meaning to the term "sexy vampire."
We're getting major gothic princess vibes from this black and white Halloween wedding gown. Featuring shimmery texture, bold embroidered lace, and a Victorian-inspired veil edged in matching motifs, this gorgeous bridal dress is perfect for an elegant and romantic soiree!
It goes without saying that getting married around your favorite holiday should feel like a truly unique celebration. So, get out there and make a stylish and one-of-a-kind statement with these Halloween wedding ideas!