Tips and Trends
Wedding Inspo
|
October 31, 2022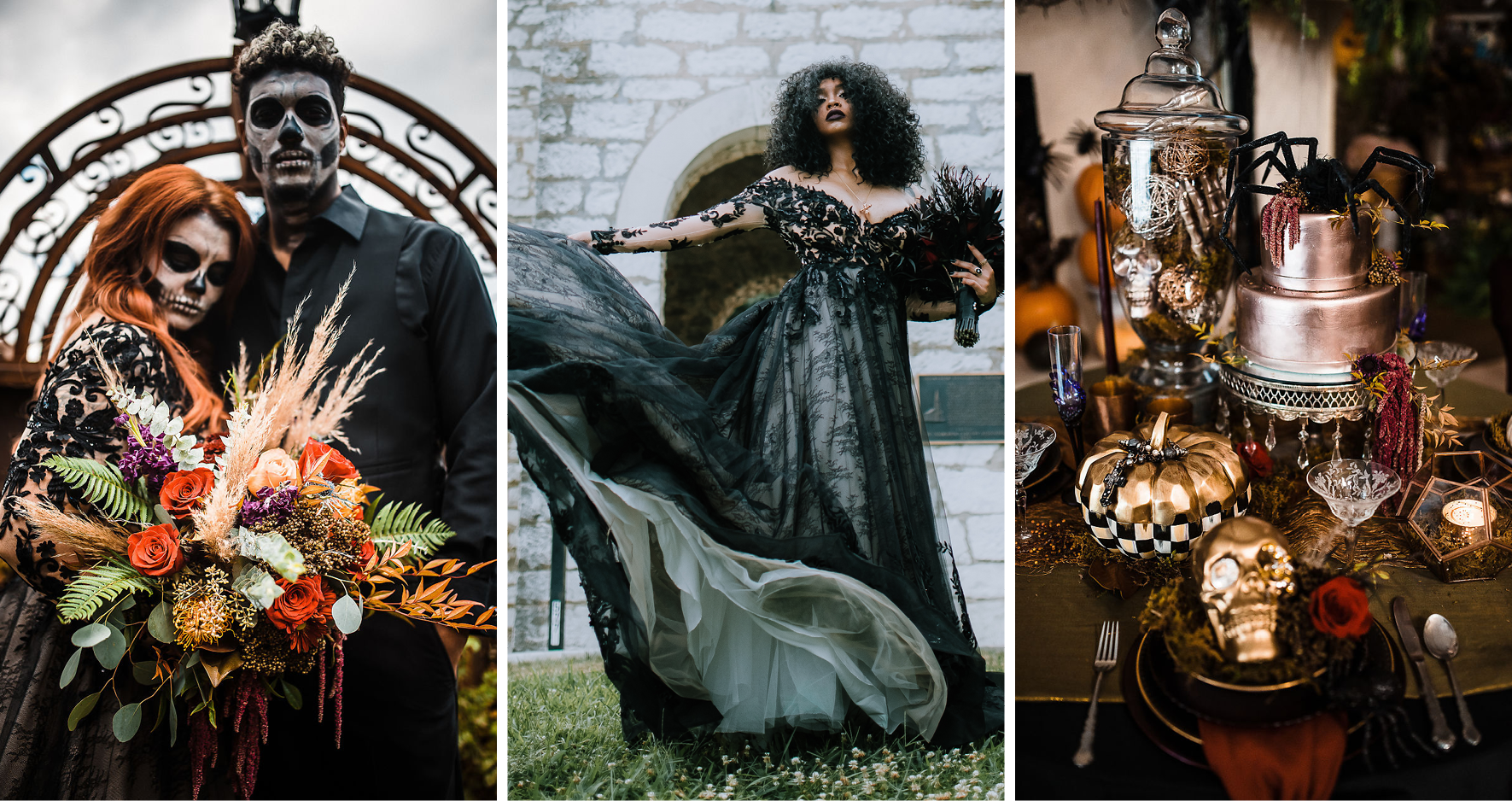 Happy Halloween brides! October is filled with all things spooky: pumpkins, ghosts, and the occasional wedding or two. Just because you're getting married in the spookiest of months, your Halloween wedding and October nuptials don't have to be morbid! Maybe they will be, with an air of whimsy, romance, and intrigue as well—after all, Morticia and Gomez Addams are all kinds of macabre, but they're one of the most madly-in-love movie couples of the 20th century! So, if you're buzzing for the best Halloween wedding ideas, this blog is for you. Keep scrolling to take our Style Quiz, and to see our 10 hauntingly beautiful Halloween wedding ideas for a gothic celebration!
Moody Color Palette
PC: Francesca Hill Photography | PC: Amy Louise Photography
Treat your color palette as the foundation for your festive ceremony and spooky reception. After all, nothing says gothic elegance like a moody wedding palette featuring whites, blacks, golds, and crimsons. Here are a few Halloween wedding palettes to take you beyond the basics and keep you looking totally gothic chic:
White, black, and gold—this is our favorite for your head-to-toe Halloween wedding ensemble!
Black, light lavender, and punchy orange.
Crimson, black, and silver.
Black, mocha, and sunburst yellow.
Bronze, black, and pale green.
PC: Francesca Hill Photography
Here's a unique Halloween wedding idea: Add metallic accents to your color palette to create a hip, Victorian-era vibe. We promise your guests will love it! For more fall color palette ideas, read our blog!
Halloween Wedding Décor
PC: Sarah Louise Photography
Nothing says Halloween like a few spooky-inspired decorations! Fill your Halloween wedding décor space with magical machines, turn-of-the-century trinkets, and metallic tapestries, or stick to a more subtle Victorian-gothic aesthetic by incorporating moon-and-star accents, black lace in your Halloween wedding dress, decorative mirrors, and peculiar displays of skulls, pumpkins, butterflies, and beetles.
PC: Francesca Hill Photography
Want something a little more subtle? Consider black candles, tarot card cake toppers, or dried flowers to give your wedding celebration an October feel without going overboard or breaking the bank! Thankfully, all these décor ideas can easily be DIY. While you carve pumpkins with your loved ones, get them to work on some of these ideas well, and make sure to read our blog for all the DIY inspo.
If you're channeling your inner witch or wizard this Halloween, consider going for a Harry Potter feel. Add floating candles on the ceiling, banquet tables loaded with Autumn food, and twinkling starlight! Finally, make a confident and dramatic entrance in your Harry Potter-inspired wedding dress to get the party started!
Spooky Halloween-Themed Table Settings
Extend the Halloween feel to the table! Black and gold place settings, ornate wine glasses, and orange or burgundy napkins should be the first on your list. Want to make it even more Halloween centered? Find your perfect balance of rich, sweet, and novel with special-effect drinks, jewel-tone palettes, and of course, pumpkins!
Spooky table settings really establish the mood for a hauntingly beautiful celebration, so cover all the classics with themed Halloween wedding table names inspired by scary cinema.
True Halloween fans will LOVE the scary movie references, and all your guests will enjoy the conversation starters. Here are a few of our fave spooky film references:
Elvira, Mistress of the Dark
Morticia Addams – The Addams Family
The Sanderson Sisters – Hocus Pocus
Good Ash, Bad Ash – Army of Darkness
Frau Blücher – Young Frankenstein
Camp Chippewa – The Addams Family
Thackery Binx – Hocus Pocus
Lost Souls Room – Beetlejuice
Pennywise – It
When it comes to festive food, we have a few suggestions as well:
Butternut squash
Apple cider
Pumpkin cookies, bread, or cake
Mashed potatoes
Pumpkin pie
Poisoned apples – oops, we meant candy apples! 😉
Unique Halloween Wedding Desserts
PC: Sarah Louise Photography | PC: Bloom and Wander Co Photography
These unique Halloween wedding cakes really "take the cake" with striking accents, decadent tiers, and festive props. Whether you're going spooky or cutesy for your Halloween wedding dessert, it's sure to be a scream!
PC: Francesca Hill Photography | PC: Natasha Shapiro Photography
For a super spooky feel, we love this steampunk-inspired metallic spider wedding cake. It's the perfect mixture between decadent and themed. If you want something with a Halloween feel that is a little more subtle, consider a simple but striking black frosting with seasonally colored flowers like this cake from Sift and Gather.
PC: Amy Louise Photography
Other ideas are an oh-so-trendy black geode cake like this matte black cake with edible purple crystals, a cupcake tower with a skull topper, or an orange cake with marigolds that are sure to be a showstopper!
Alternative or Gothic Florals
PC: Heather Marie Photography
Halloween wedding florals are the perfect accessory for your wedding look. The obvious choices are black roses and greenery – the perfect gothic expression for your bridal look. If you want some hints of color, consider mauve, violet, red, orange, and earthy green. They will fit your theme without being over the top!
PC: Sarah Louise Photography | PC: Melissa Shorts Photography | PC: Ashley Swineford Photography
Here's a hauntingly beautiful Halloween wedding idea: Use your bridal bouquet and Halloween wedding dress accessories to incorporate imagery, references, and themed flair—from cameo jewelry and embroidered embellishments to bouquet symbolism and movie allusions.
Interested in learning more about your bridal bouquet? Read our blog to learn the meaning behind each bloom!
Matching Groom's Attire
PC: Francesca Hill Photography | PC: Natasha Shapiro
Let's get the groom in on this spooky celebration! We love a good moody ensemble and luckily there are a lot of choices to choose from.
First up, we love this maroon and khaki suit this groom wore to his Halloween wedding. It's the perfect way to be on-theme without going over the top. If you want a little bit more flair, consider adding a seasonal boutonniere and patterned tie!
PC: Central Oregan Photography | PC: Ashley Swineford Photography
A gothic suit is also a unique and classic way to go. Not only is a black suit ultra-flattering and matches any color scheme you might go with, but it's perfectly on theme! If you want something a little less monochromatic, add a white suit jacket to your dress shirt and trousers to make the look more playful.
On Theme Bridesmaids' Dresses
PC: Nikk Nguyen Photography
We've covered the groom's suit, now let's cover what the bridesmaids will wear! We love a good Autumn palette, and there's no better way to show it than with your bridesmaids' gowns.
PC: Natasha Shapiro Photography | PC: Jessica Jones Photography
Maroon, black, emerald, plum, burnt orange, grey, or even silver are great colors to assign to your bridesmaids for their dresses! If you want to add even more of an October feel to their looks, take some inspiration from our gorgeous Real Bride who added some gorgeous shawls to her bridal party's outfits.
Autumn Inspired Location
PC: Paperboys
Your wedding venue says everything about your wedding, so if you're planning to host a Halloween-themed wedding, incorporate your venue into the action!
Consider these ideas for a wedding venue that will fit your Halloween themed wedding and may have a ghost (or two!) to join in on the fun:
Historical (haunted!) hotel
A grand mansion complete with dark wood, vintage books, and candlelight
The great outdoors with plenty of fall leaves
A traditional church setting complete with a creepy organ
Stately ballrooms
Saloons for a spooky, intimate reception
PC: Heather Marie Photography | PC: Morgan Manney Photography
Curious about other wedding venues? Read our blog to find the best one for your wedding!
Spooky Accessories
You can't have a Halloween-themed wedding look without some accessories to pair with it! Lucky for you, we have some gothic-inspired accessories for you to choose from! Take a look at our black accessories: the Alexandria veil, the Clark cape, and the Kara bridal gloves. Brides, beware! These just might end up haunting your dreams.
PC: Morgan Moos | PC: Margan Photography
For other accessory ideas, consider pairing your Halloween wedding dress with black shoes, an accent ribbon in maroon, and gothic-inspired jewelry. If you're really hoping to incorporate the Halloween spirit into your wedding day look, add some skeletal hair accessories, a spider or pumpkin brooch, a ghostly crown, or even skeleton makeup!
Gothic-Inspired Wedding Dresses
Last, but certainly not least, you can't have a Halloween wedding without a Halloween-themed wedding dress! Lucky for you, we have a wide selection of colorful and black wedding dresses to choose from for your big day.
PC: Margan Photography
First up, the endlessly sexy Zander by Sottero and Midgley. This beautiful A-line gown features black lace, a deep V-neckline, an open back, and swirling black lace. If you love this gown but would prefer something fitted, consider its Sister Style Zander Lane by Sottero and Midgley!
PC: Nikk Nguyen Photography
Next is art-deco beauty Elaine by Maggie Sottero. If you're looking to add a little bit of sparkle to your Halloween wedding look, this is the gown for you. With intricately beaded lines, a plunging V-neck, an open back, and a fit-and-flare silhouette, this wedding dress is sure to be the envy of all your guests – just don't let Morticia Adams get her claws on it!
Don't worry, brides: we have more shimmer in our list of Halloween-inspired wedding dresses! Meet Alexandria by Rebecca Ingram. This beautiful ballgown wedding dress features a full black colorway, whimsical bishop sleeves, a plunging V-neck, and endless sparkle. For brides who are hoping to look a little vintage on their wedding day, this is the dress for you.
Finally, our red ballgown Alera by Sottero and Midgley. Think of Carrie at the prom or Lydia from Beetlejuice while you gaze at this striking wedding gown. With its crimson colorway, strapless neckline, and vintage buttons down the back, it's the ideal wedding dress for your unique wedding day.
Love these gowns? Make sure to read our blog to see more of our black wedding dresses.
It goes without saying that getting married on or near your favorite holiday should feel like a truly unique celebration. So, get out there and make a stylish, one-of-a-kind statement with these Halloween wedding ideas!
For more wedding inspo, make sure to sign up for our exclusive #Maggie text messages below and explore more of our Fall wedding blogs!
More Blogs Like This:
Memorable Fall Wedding Ideas and How to Plan It
Fall Wedding Cakes and Desserts For Your Autumn-Inspired Celebration