Real Weddings
Tips and Trends
|
October 31, 2016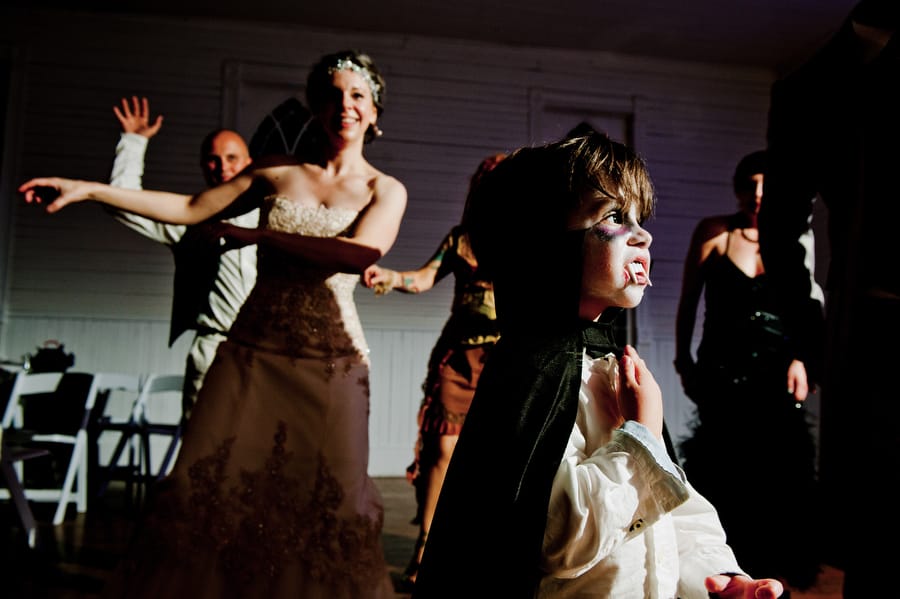 Your Halloween wedding doesn't have to be morbid. Or maybe it will be, with an air of whimsy and intrigue as well. Remember, Morticia and Gomez Addams are all kinds of macabre, but they're one of the most madly-in-love TV couples of the 20th century. So keep scrolling… if you're batty for the bizarre and silly over steampunk, our Halloween wedding inspiration is for you!
Black is Always the New Black…
So treat it as your foundation. Here are palettes to take you beyond, while still looking elevated:
Black, white, and gold
Black, light lavender, and punchy orange
Black, crimson, and silver
Black, mocha, and sunburst yellow
Black, slate blue, and orange
Black, bronze, and pale green
Steampunk's Not Dead
Fill your décor space with magical machines, turn-of-the-century curios, and vintage tapestries. Channel a mad-scientist theme with beakers, blood-red "shot" needles, and effervescent mixers, or stick to a more "subtle" Victorian aesthetic, incorporating moon-and-star accents, black lace, decorative mirrors, and peculiar displays of butterflies and beetles.
In the Mood
Plan to invest in lighting effects. Choose a venue with centuries-old charm or spooktacular whimsy. Play vintage Halloween cartoons (1941's The Legend of Sleepy Hollow, Silly Symphony's The Skeleton Dance, Disney's Haunted Halloween) with no sound in the background for a little quirkiness. Finally, light up your dark corners with elegant candelabras and lanterns. (Even better, floating candles on the ceiling.)
A Little Theatricality
Research wedding photographers in your area who specialize in themed, posed, and edgy aesthetics. Schedule time for some high-drama shots, including the dip-kiss, the sunset musing, the lost-in-the-dark-forest, the wistful maiden and her steed, and the star-crossed lovers.
The Theme's the Thing
Cover all the classics with table names inspired by Halloween cinema:
Elvira, Mistress of the Dark
Treehouse of Horror
Good Ash, Bad Ash
The Zed Word
Frau Blücher
Camp Chippewa
Thackery Binx
Lost Souls Room
Eli Roth Presents…
Art and Literary Influences
Poe, Lovecraft, and Stephen King will do the trick, but don't stop there. If you're attracted to the Halloween aesthetic, you're likely the moody and romantic type, so summon your favorite love stories, tragedies, ghost tales, and reveries for the classiest of soirees. Here's a few to get you started:
Literature:
Henry James
Ray Bradbury
Ann Radcliffe
Robert Louis Stevenson
Flannery O'Connor
Cormac McCarthy
Mary Shelley
Gaston Leroux
Bram Stoker
Neil Gaiman
Anne Rice
The Bronte Sisters
Art:
Hieronymus Bosch
Alexandre Cabanel
Andrew Wyeth
Zdzisław Beksiński
Be Afraid, Be Very Afraid of a Boring Wedding Dress
New styles from Sottero and Midgley ensure "It just doesn't do anything for you" will be the last thing on your guests' lips:
Lacrecia
Featuring Swarovski embellishments and an organza cape, Lacrecia brings whole new meaning to the term "sexy vampire."
Alba
Opt for drama and opulence in this shimmering A-line, featuring beaded lace appliqués and a plunging V-neckline.
Ellington
If Morticia Addams ever wore a white wedding dress, she'd choose this slinky and sophisticated fit-and-flare.
Abby-Normal Florals
If you've a flair for the dramatic, scatter crimson roses reminiscent of an Old World wake. If you love a non-standard arrangement, DIY a bouquet of bright brooches and feathers, or go au naturel with pinecones and sea berry. If you still want a traditional-yet-intriguing aesthetic, choose ghostly white blossoms and sea-green accents in the spirit of Poe's Annabel Lee.
Harvest-Time Banquet
Photo inspiration is all you need, and that's the point—a Halloween spread must be irresistible to the eye.
All Work and No Play…
Double up on the party efforts with games and revelry. Invite the kiddos to dress up for the occasion; a few Pokémon and Katniss Everdeens will only liven up your group shots. Add some fab to your DIY photo booth with groovy props, vintage animal masks, and creepy-crawly backdrops, then transition into entertainment with lawn or night games, a pumpkin-carving station (with smocks!), fortune telling, and karaoke.