Dresses
|
December 5, 2022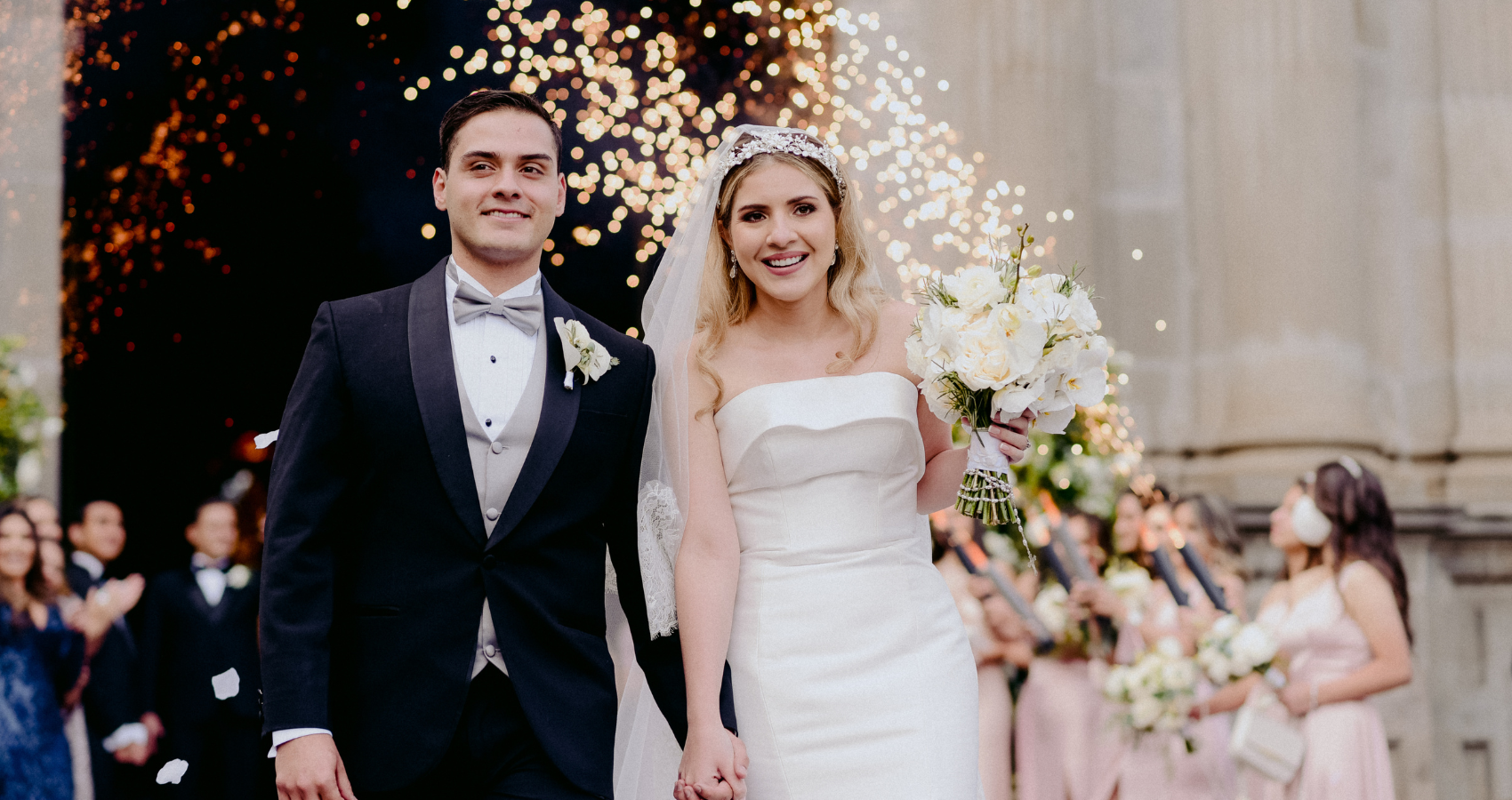 Wedding trends may come and go, but decade after decade, satin remains a foolproof choice for luxe, regal, and sophisticated bridal vibes. If you have your eye on this glamorous and versatile fabric, look no further than our gallery of satin wedding dresses and their perfect personalizations! 
To see our complete selection of satin wedding dresses and accessories, start with our Style Quiz below and play with the gown filters in your results! 
What Is a Satin Wedding Dress?
Satin is a type of textile weave that produces a glossy, soft, and lustrous material. It's commonly used for formal, black tie clothing with unique structural details. 
The pros of this fabric: it's luxurious, versatile, smooth, and easy to take care of. 
Satin is one of the most common fabrics for wedding dresses. It's luxe, regal, and ideal for creating timeless, elegant silhouettes. 
Satin can come in an array of different styles, silhouettes, and colors
Our collections feature satin wedding dresses in bold and romantic colors, including black, champagne, ivory, diamond white, red, and ice pink. 
Our collections also feature stretch satin: a shiny fabric with more elasticity compared to other types of satin. This creates more of a dreamy boho feel. 
We also adore Mikado satin: a heavier structural weave that's ideal for supporting shapes, statement details, and black-tie silhouettes. 
Starting off with a pure and elegant classic, Darius by Maggie Sottero is the perfect showcase of satin, shimmer, and silhouette. This A-line wedding gown features stunning off-the-shoulder details, artful ruching, and a side slit in the skirt. (One of our top trends from our latest wedding gown collections.) It's a lovely combination of softness and structure, detail and simplicity, and ultra-feminine flourishes.
We love the Old Hollywood vibes in Darius. It's red carpet meets modern muse — effortless to style and foolproof for any season. Your bridal portraits will look absolutely timeless.
We also love Darius's versatility for accessories. Wear minimalist jewelry and a loose hairdo for that "just waltzed out of a fairy forest" effect, or choose a polished updo and statement embellishments for more formal, regal vibes. We're smitten with both!
To make Darius your own, accessorize with one of our bridal veils. This silhouette would look gorgeous with a variety of lengths, styles, and details from our latest collections.
PC: Gricel Photography
Satin is all about luxe details, and Kimora by Sottero and Midgley is nothing short of pure decadence. From the shimmering bodice to the lace-embellished train, this princess ball gown is sure to make an entrance!
This statement Mikado satin is an ideal option for regal silhouettes: It's perfect for layering, structure, and adding dimension with light and shimmer. As real bride Estafany writes in her 5-star review, "I felt elegant, beautiful and like a true princess. It definitely gave me a 'Princess Diana' moment. The moment I put my dress on I instantly felt regal."
Kimora features a lovely personalization option: a classic strapless neckline or beaded off-the-shoulder straps. You can also add a gorgeous bridal veil to this satin ball gown wedding dress. (Imagine your stunning entrance in a cathedral-length design!)
If you love Kimora, you'll be totally smitten with our gallery of Disney-inspired wedding dresses. You're sure to find the perfect style inspired by your favorite leading lady!
PC: Love Story Films
Satin takes a starring role in Mitchell by Maggie Sottero, a luxe wedding gown featuring a statement bow detail in the back. The Mikado satin fabrication is the ideal choice for this one-of-a-kind structural detail… As real bride Caroline writes in her 5-star review, "the bow gave it the unique edge I wanted while keeping the look very classic."
Personalizations for Mitchell include:
Opt to shorten the train to floor length (AKA no train) for a more casual look, through special request
Add covered buttons down the back for a chic vintage vibe
Also available without bow train detail as sister-style Mitchell Marie. This variation is all about the chic, streamlined silhouette.
For a more soft and delicate take on satin, look to the sweet details on Lorraine Anne by Rebecca Ingram. This boho-inspired style is all about a long, graceful train, chic bodice embellishments, and an easy-breezy silhouette. We especially love the contrast of the lace and satin — a unique and eye-catching combination.
This top wedding gown also has several sister styles, including:
Minimalist wedding gowns are a classic and timeless choice for your big day. For an ultra-glam take on the style, look to Fabienne by Sottero and Midgley. This sexy red-carpet style is the perfect combination of simplicity and embellishment!
To personalize Fabienne, you can opt to remove the train for a more casual look. Talk to your Authorized Retailer to place this special request.
A few ways to play up the drama of Fabienne with accessories:
Add a headpiece or tiara.
Don a gorgeous bridal veil.
Pair with a statement necklace and earrings.
However you personalize and accessorize, you're sure to feel like a million bucks in this sexy, chic, and formfitting design.
Play up the stunning hues and unique details with satin ball gown wedding dress Scarlet by Maggie Sottero. We can't get enough of this wedding gown's classic yet daring features:
A lush layered skirt and train.
Effortless ruching details in the bodice.
Delicate spaghetti straps.
A gorgeous V-back.
A soft scoop neckline.
A thigh-high slit in the skirt.
Pockets!
And of course, that rich scarlet color. (But also with black and white hues — whatever strikes your fancy!)
Another true-blue classic is Jamie by Rebecca Ingram. We love the elegant, regal styling of this timeless wedding gown. It's a little Old Hollywood, a little princess, and a whole lot of couture. It's also a perfect option for unique accessories.
These are our top personalizations for Jamie:
Add the illusion jacket with lace embellishments. It adds a little coverage and visual interest… perfect for changing up your look between photos, ceremony, and reception. 
Add a bridal veil for extra drama.
Add a cape or other unique accessory. Though not made specifically for Jamie, several of our embellishments could be ordered separately and customized to fit this silhouette. 
Add one of our detachable trains or overskirts. 
Talk to your Authorized Retailer to explore your options!
Satin makes an irresistible statement in Aspen by Sottero and Midgley. This may seem like a simple satin wedding dress, but this luxe and covetable fabric is ALL about the drama. 
Choose your hue from three delectable colorways: Black, Ivory, and Ice Pink. If you're loving classic and traditional, opt for "white wedding" vibes. If you're feeling a little edgy, flirt with pink. And if you're all about the bold and nontraditional, indulge in this chic and captivating black.
Aspen also features beautiful accessories. Add this bejeweled cape, Clark, for a dose of vintage glamor, or choose from other capes, trains, and bridal veils in our latest collections. 
PC: Kathlyn Johnes Photography
This crown jewel of a design is Selena by Maggie Sottero, a simple and ultra-chic ball gown with endless accessory potential. We're smitten with this "vintage meets modern" silhouette — it's timeless, fresh, and undeniably sophisticated. 
Here are a few ways to personalize the look and feel of this simple satin wedding dress:
Add straps or opt for strapless
Add a long, dramatic bridal veil
Add a sparkly cape
Embellish with statement jewelry or a headpiece
Add long, vintage-inspired gloves
And for more simple and elegant wedding gown inspiration, explore gorgeous minimalist styles from our latest collections. 
PC: Zark Goosen Photography
Fall in love with Mikado satin in Josie by Rebecca Ingram, a stunning vintage style with red-carpet details. This is one of our top-reviewed gowns, as you can see from our real bride feedback:
"I can't choose one favorite feature! Loved the fit, the off the shoulder style, the vintage look, and the button detail." — Giuliana
"Classy, elegant and chic." — Kate
"This dress is magic, you have to try it on to understand and feel the beauty of the dress!" — Nikoletta
To personalize Josie, consider adding a bridal veil, tiara, or statement jewelry. This is also a Quick Ship gown, meaning it's available for shorter wear-dates!
Love these satin wedding dresses and all their chic personalizations? Book an appointment with a bridal boutique near you to try on your favorites! 
Psst… If you buy your wedding dress in the month of December, not only are you finding your dream gown but you will also be doing a good deed! Read more about our Cheer for Charity Initiative here for more information.
And for more style and shopping inspo, these are a few of our most popular wedding gown galleries:
The Ultimate Guide To Choosing Your Wedding Dress Fabric
10 Crepe Fabric Wedding Dresses and Everything You Need to Know About Them
10 Beautiful Wedding Dresses for Plus Size Brides
We know you'll find the most perfect satin wedding gown for your vision and budget! Happy shopping and best wishes for your best day ever.