Dresses
Wedding Inspo
|
March 10, 2022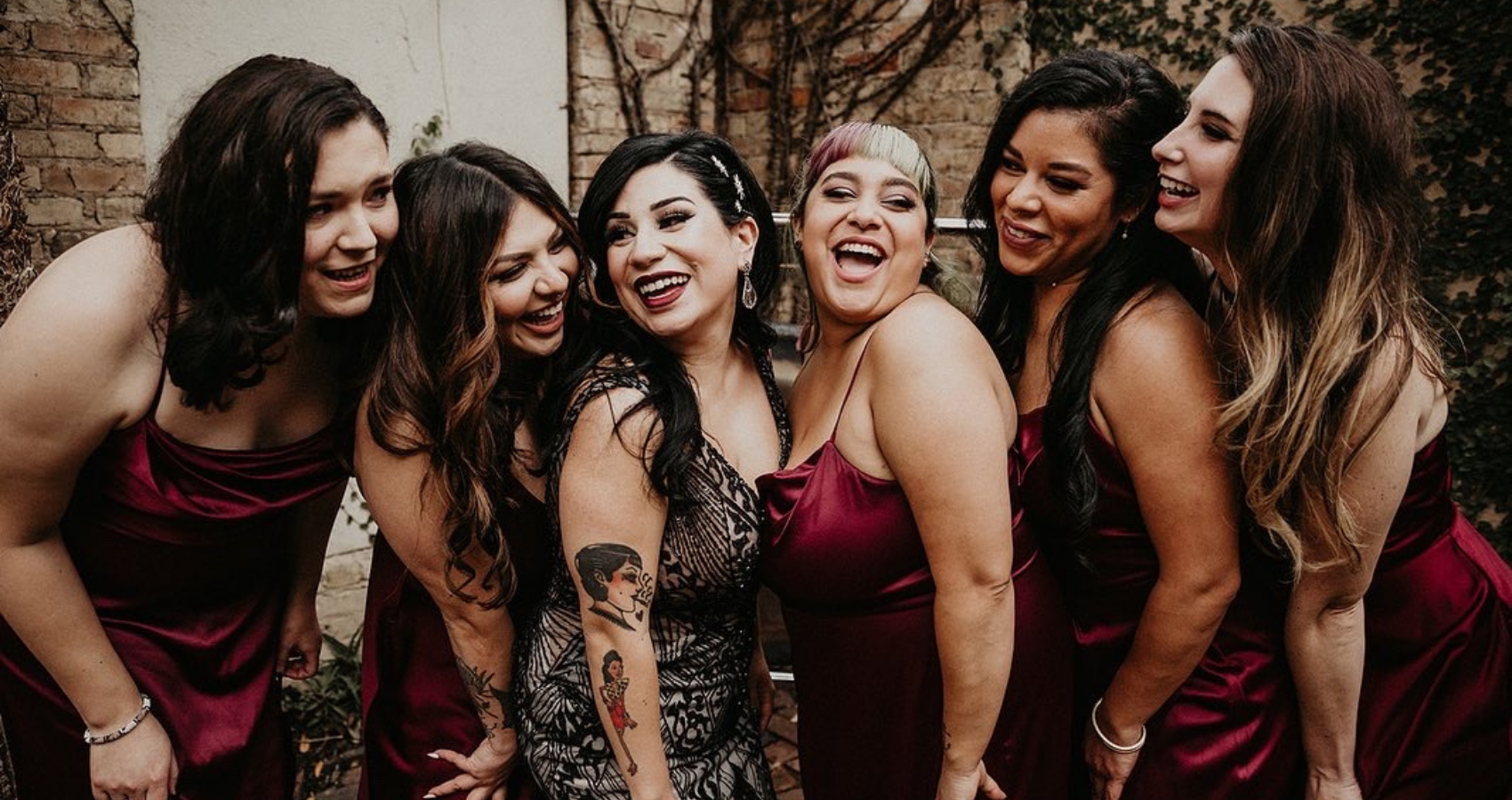 Have your eye on colorful wedding dresses this year? Flirting with an unconventional bridal palette? Say hello to this season's black wedding dresses in lace, shimmer, and illusion. From stunning ball gowns to sexy fit-and-flares, we have gorgeous designs to complement your chic and edgy bridal aesthetic.
If you are still in the initial inspo phase for gown shopping, get started with our Find Your Style wedding quiz to narrow down your preferred bridal style. We'll serve up tons of gorgeous bridal gowns to complement your aesthetic, season, and budget—romantic styles from Maggie Sottero, chic and sophisticated designs from Sottero and Midgley, and budget-friendly classics from Rebecca Ingram. Once you have your quiz results, you can keep playing with filters to change up silhouette, fabric, sleeves, necklines, and more.
When you're ready to shop, book an appointment! Head to our Store Locator to search boutiques in your area and get in touch. To find a specific wedding dress style, you can click on the gown's details page to search in your area. It's a great idea to pin each wedding dress you're interested in to help your bridal stylist cross-reference with samples in their shop.
Tips & Tricks For Your Appointment
Other things to remember while shopping for your wedding dress: Bring correct undergarments, shoes with the correct height, and a small group of your trusted wedding party; understand your timeline for delivery and alterations; and ask about additional fees for customizations and accessories.
Your bridal stylist is the perfect resource to discuss wedding gown personalizations, from changing up fabric and neckline to adding a gorgeous bridal veil, overskirt, or cape. Many of our wedding gowns can be ordered with different combinations of style details. It's a perfect way to make your dream wedding gown feel completely yours.
Now, on to the dress highlights!
PC: Nik Nguyen
What season is best for a black wedding dress?
If you have your heart set on a black wedding dress, you can make it work for any season or venue. That being said, a black fabric tends to fit and function best for the fall and winter seasons. The palette is moody and adaptable to cooler temps, especially if you're working with sleeves or a veil
What fabric is best for a black bridal gown?
Black works for a variety of fabrications, but most often lace and tulle. We're in love with the latest trends in shimmer, beading, and textured tulle as listed below.
What does a black wedding dress mean?
While the symbolism behind a white gown may feel a little outdated, the meaning of a black wedding dress is a bit more modern and sophisticated. Black can symbolize power, strength, mystery, sophistication, and fantasy. Bottom line, these styles project a cool, confident, and fashionable attitude.
Trends for elegant black wedding gowns to keep an eye on this year:
Dimensional contrast: Instead of solid black, most of these wedding gowns features a black and white, black and nude, or black and illusion contrast. This is a gorgeous way to play with a black palette in an elegant and romantic design.
Unique necklines: scoop designs, deep Vs, and plunging sweethearts make for a gorgeous highlight on your wedding gown's bodice.
Vintage silhouettes for brides of the gothic-chic persuasion.
Matching veils and other bridal accessories.
Over-the-top black ball gowns paired with bold bridal tiaras.
Art Deco-inspired beading and red-carpet embellishments.
How to style elegant black wedding dresses for the big day:
Give the unique color palette the full spotlight with minimal jewelry and accessories, or go luxe and extravagant with gold statement pieces, a long veil, and gorgeous footwear.
Choose a dramatic venue worthy of your nontraditional color palette. Think industrial-chic warehouse, a villa or castle, a contemporary museum, a theater, or a botanical garden to show off your glam and discerning style.
For your bride or groom—work with the drama of your outfit to make your pairing even more sophisticated. If your sweetheart is a bride, she might wear romantic white, gold, or blush to play up the contrast of your two gowns. If your sweetheart is a groom, think luxe and dashing, e.g., a velvet suit, a black-tie tux, or a printed vintage pattern.
For florals, go elegant and effortless with neutrals and greenery; bold and sumptuous with jewel tones; sweet and romantic with pinks and golds; or red-carpet with glitzy jewel and feather accents.
PC: Anna Delores Photography
First up on the black palette spectrum: Zander by Sottero and Midgley, a regal sleeved ball gown with a stunning lace treatment. This is one of our most popular wedding gowns—an edgy and unconventional take on a timeless silhouette. The multiple 5-star bride reviews don't lie; this bridal dress is truly one-of-a-kind!
This ball gown silhouette is a gorgeous choice for a modern wedding aesthetic. It's feminine and flattering and a perfect blend of form and function. It's sophisticated with a hint of sexy, and effortless to style for a glam celebration vibe. (We especially love these beautiful black wedding dresses for a fall or winter wedding. The coverage is exceptional.)
One of the highlights of this black wedding dress with sleeves is the illusion bodice. A deep V neckline and deep V back look so flattering on your decolletage, and the waistline makes a perfect "cinch." The long illusion sleeves are unique and romantic; think Princess Grace of Monaco meets red-carpet diva.
The black colorway is a stunning choice for Zander, but if you're feeling more traditional, get inspired with the Ivory and Champagne colorways. They may not be midnight black, but these classic bridal colors are stunning in their own right!
PC: Stine Heyerdahl Photography
Love black but still attached to white? Check out this white and black lace wedding dress. This classic-meets-new design is equal parts romantic and sophisticated.
Black lace may be our favorite feature on Tristyn, but textured tulle and soft shimmer make a close second. Shimmery sequins add light and dimension to the lush, layered skirt—a gorgeous feature for sunshine, candlelight, and photos.
Love this vibe for a Gothic theme? For more black wedding dress inspo, look at this Halloween wedding inspiration.
Unique Black Wedding Dresses: Norvinia and Norvinia Lynette by Maggie Sottero
Love the moody princess vibes and unique black wedding dresses so far? Keep the inspo rolling with black wedding Norvinia and Norvinia Lynette by Maggie Sottero. From the gorgeous silhouettes to the beautifully placed lace motifs and ultra-feminine bodices, these over-the-top ball gowns are pure luxury.
If you're getting married outdoors and love a strapless vibe, check out Norvinia by Maggie Sottero. This glam ball gown features a unique scoop neckline, a corset-like bodice, and a lush and lovely train. Personalize with detachable spaghetti straps and a matching veil—the head-to-toe effect is divine.
For a bit more regal coverage on beautiful black wedding dresses, opt for the Norvinia Lynette variation. A little Grace Kelly, a little Kate Middleton, and a little Cinderella magic combine for a stunning design in black, ivory, and nude palette options. (Plus, shimmer!)
If you love the unique back on these styles, explore more statement-back wedding gowns.
Sexy, formfitting, and perfectly flattering, London by Maggie Sottero is the perfect mermaid silhouette with unique black lace flourishes. This style marries a red-carpet silhouette with an edgy upgrade, a unique combo that's picture-perfect for photos.
This wedding gown is another style with a matching bridal veil edge in black lace. Check out more bridal veil accessories for you to choose from for your wedding day.
PC: Nik Nguyen
Our most sophisticated and luxurious take on the black wedding dress trend is Elaine by Maggie Sottero. This stunning beaded wedding gown is one part Gatsby glamour, one part champagne cocktail, and one part red-carpet glitz. It's a chic, slimming, and daring design, perfect for an unconventional black-tie celebration.
One of our favorite features on Elaine is the illusion bodice. Shimmery geometric lace helps define the waistline and draw the eye vertically. A deep V flatters your decolletage, while the open back creates a sensual angle. We promise you'll feel like absolute royalty when you put it on.
Elaine is divine in black, but also comes in a stunning range of ivory, blush, and mauve colorway options to complement your style, season, and skin tone. While you're browsing color and shimmer, look into these gorgeous bridal accessories to top off your vintage bridal look.
Ready to get shopping? Be sure to pin these black wedding dresses to get ready for your bridal appointment and find a boutique to get your dream gown!
And if you're loving the palette trend but can't quite commit to black, explore more colorful wedding dresses from our three lines. And we've got plenty more inspiration to spare… Shop around and see these 10 detailed wedding dresses for the unique bride, 10 unconventional wedding gowns for a modern vibe, and our guide to different wedding dress colors in the links. You're sure to find your edgy and one-of-a-kind bridal look from our latest collections!