Dresses
|
December 2, 2022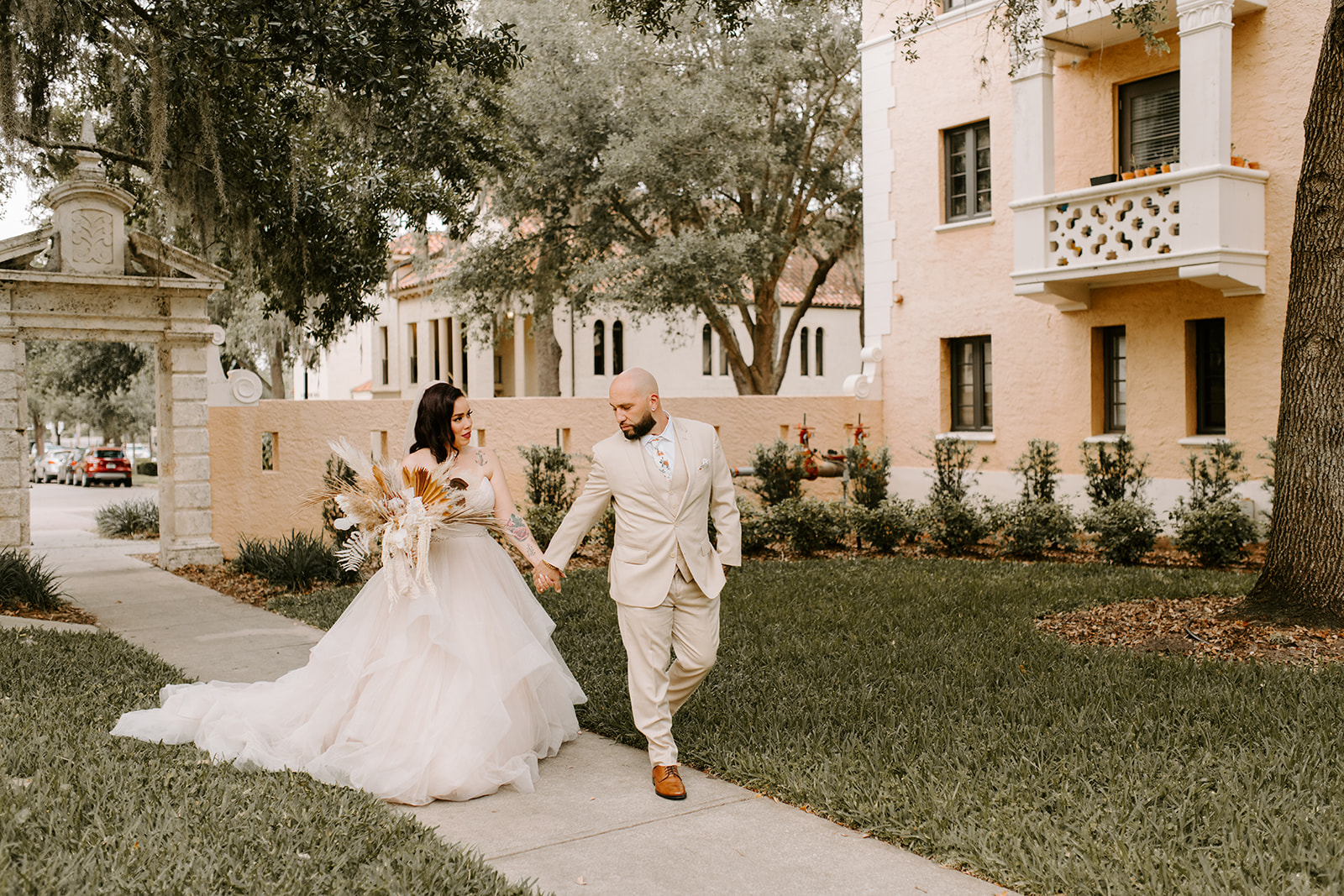 If you're a glam and ultra-feminine bride, it's likely the latest selection of ruffled wedding dresses and embellishments have caught your eye. We certainly don't blame you…. If there's ever a time to wear something over the top, it's definitely your wedding day! Dive in for all the pretty details on this one-of-a-kind bridal trend below and take our Style Quiz to find the wedding dress for you.
What Are Ruffled Wedding Dresses? 
Ruffled wedding dresses are a top trend for brides this season. They're dramatic and feminine, sometimes vintage, super regal, and very couture. Brides who wear them aren't afraid of a statement "look at me" silhouette.
What counts as a ruffle, you may ask? Typically it's a strip of material, an individual motif, or a frill made with a gathered or pleated fold. Ruffles can be made into a variety of wedding dress embellishments along the neckline, wrists, skirt, bodice, veil, and train. And the trend certainly isn't going anywhere; these embellishments have been around for centuries of style!
A few pointers to get you started with the category:
Ruffled wedding dresses are usually made out of organza and tulle. This helps with flow, structure, and draping.
Wedding dresses with ruffles can have a lot of texture. This is due to the visual interest of the trimming, draping, ruching, and embellishment. You can see plenty of these details in our gallery of trends below. 
The ruffle trend could be a gown with romantic cascading tulle or a close cluster of texture — there's plenty of versatility in the design. There are also 3D trends that pair beautifully with lace and sparkle. 
Some ruffles are vintage, some are more modern and edgy. Don't let one idea of a ruffle limit your options. 
Ruffles also add a lot of dimension to your dress. This is perfect for photo ops! 
Ruffled wedding dresses are very trendy for 2023. Consider it a return to the whimsy, drama, and femininity of decades past, as well as a counterpoint to the simple and minimalist styles that have dominated the latest runways. 
Let's start with high drama: the luxe and regal Italiana by Sottero and Midgley. This stunning ball gown is made for glamorous brides with a big romantic streak… The ruffles are soft and billowing, the fabric is gorgeous, and the beading adds the perfect dose of shimmer.
We also love the unique notched sweetheart neckline, a perfect way to show off your shoulders and decolletage. This wedding gown would look STUNNING with a dramatic cathedral bridal veil.
For another variation on this timeless silhouette, consider sister style Italiana Lane by Sottero and Midgley. This sexy wedding gown features a mermaid silhouette and corset-style bodice. It doesn't feature the same ruffles as Italiana, but you can add the detachable train with bubble hem for that extra dimension and drama.  
PC: Meri & Martin Photography
Tiered wedding dress ruffles and a unique colorway combine to make Yasmin by Maggie Sottero, one of our most popular and covetable ball gown styles. It's everything you imagined your princess wedding look to be!
Delicate details on this gown include the sweetheart neckline, ruched bodice, subtle shimmer, and Swarovski crystal buttons.
Feeling the fairytale vibes? Dive into more over-the-top Disney wedding dresses inspired by their movie counterparts. 
There's something undeniably magic about combining an ultra-simple silhouette with a ruffled accessory. That's what's happening in this look: the Dinah by Rebecca Ingram wedding dress with its stunning ruffled train accessory. The combination is classy, feminine, and sophisticated. What's not to love? (Actually, here's something to love: This wedding dress is part of our Rebecca Ingram line, AKA timeless styles at affordable price points.) 
Chic beading and boho details make a lovely statement in Timbrey By Maggie Sottero, one of our perfect wedding dresses with ruffles for a spring or summer soiree. This style features the ideal amount of embellishment: a little shimmer, a little floral, and perfect volume in the skirt. These ruffles are made for the dance floor!
Looking for a bit more shimmer? This style features the option to change the top tulle layer to sparkle tulle. Talk to your Authorized Retailer for more details on how to order.
Be sure to read the reviews for Timbrey under its style details for feedback from real brides!
For a simple yet striking take on the ruffled dress trend, look to Holden by Sottero and Midgley. This minimalist mermaid fit-and-flare is all about contrast: a clean and elegant bodice combined with lush ruffles in the skirt. 
This style features several unique personalizations:
Add the illusion bodysuit for extra sparkle and drama. (It also features shapewear!)
Opt for strapless and chic.
Add a beaded belt.
Pair with vintage bridal gloves for a sexy statement.
And if you love this look, consider other elegant wedding dresses from our latest collections.
PC: Max McQueen Photography
Another of our top wedding dresses with ruffles is Fatima by Maggie Sottero, a simple yet eye-catching take on the trend. A chic silhouette combines with a luxe fabrication, highlighting the meticulous construction and lush draping. It's volume, texture, and whimsy in a one-of-a-kind package.
Consider ways to personalize this stunning gown:
Also available with long fitted sleeves.
Add the detachable beaded belt (sold separately).
Add a bridal veil.
Consider sister style layered wedding dress Fatima Lynette, featuring a soft bateau neckline. 
We mentioned ruffled wedding dresses are all about texture, right? Take that dimension to couture levels with Ripley by Sottero and Midgley, a red-carpet-worthy style with shimmer and sophistication to spare. This mermaid silhouette steps out with perfect lace, a jaw-dropping bodice, and an over-the-top ruffle treatment. We're smitten!
These are a few ways to make this gown completely yours:
Extend the train for added drama, opt to shorten the train, or remove the train for a more casual look through special request.
Also available with a lace-up corset closure with a raised back neckline.
Cathedral wedding veil adorned in sequined lace motifs sold separately. 
Next up from our affordable Rebecca Ingram line: Lettie, a soft and chic A-line adorned with lace and tiered ruffles. We love the soft illusion and sparkle — it's the perfect choice for outdoor wedding venues. 
With this gown, you can personalize the buttons or order extra lace for minor alterations. It would also look stunning with any of our bridal veils. 
And speaking of outdoors, be sure to shop our beach wedding dresses if you're getting married at the seaside! These lightweight styles are also perfect for gardens, forests, national parks, and anywhere else you might be working with the elements. We're smitten with these soft yet decadent designs. 
For a fresh, boho take on the ruffled wedding dress trend, consider Beckett by Maggie Sottero. This chic and modern silhouette is all about the natural lace patterns and cascading ruffles. We love the unique lace and layers in the bodice that drift beautifully into the tiered skirt. This layered wedding dress is SO flattering to wear IRL. 
This tiered wedding dress is also available with a fully lined bodice — for brides looking for a bit of extra coverage. We'd also recommend pairing this style with a wedding veil, tiara, or other bridal accessory from our latest collections. 
"Soft and sensual" doesn't even begin to cover it with Knox by Sottero and Midgley. This couture wedding gown is a crown jewel of a design! It's certainly one of our most unique trends of the season. 
Start with a one-of-a-kind bodice treatment: corset details, an illusion keyhole, delicate beading, and 3D lace florals. These details drift beautifully into the ruffled organza skirt and stunning train. Here are all the ways to personalize:
Remove the train for a more casual look by special request.
Add the detachable off-the-shoulder cap-sleeves with beaded lace motifs and 3-D flowers (sold separately).
Indulge in the cathedral length veil embellished with beaded lace motifs and 3-D lace motifs (sold separately). 
Available without the ruffle skirt in plain Mariota organza skirt as Knox Lane. 
Ready to try on ruffled wedding dresses and find your perfect style? Head to an Authorized Retailer near you to discuss styles, personalizations, accessories, delivery dates, and more.
Psst… If you buy a gown in the month of December, not only will you find the gown of your dreams, but you will also be contributing to our Cheer for Charity initiative!
Next, explore more blogs like this below for more Maggie Inspo:
10 Celestial Wedding Dresses and How to Plan Your Wedding Around Them
The Ultimate Guide To Choosing Your Wedding Dress Fabric
10 Wedding Dress Trends In Maggie Sottero's Spring 23 Collection
And of course, you can always find inspiration in the dress you choose. Ruffles and embellishments can be incorporated throughout your wedding, from your bouquet and accessories to your table decor, banquet, and wedding party attire.
We can't wait to see which ruffled wedding dresses catch your eye! Best wishes!