Tips and Trends
Wedding Inspo
|
March 8, 2022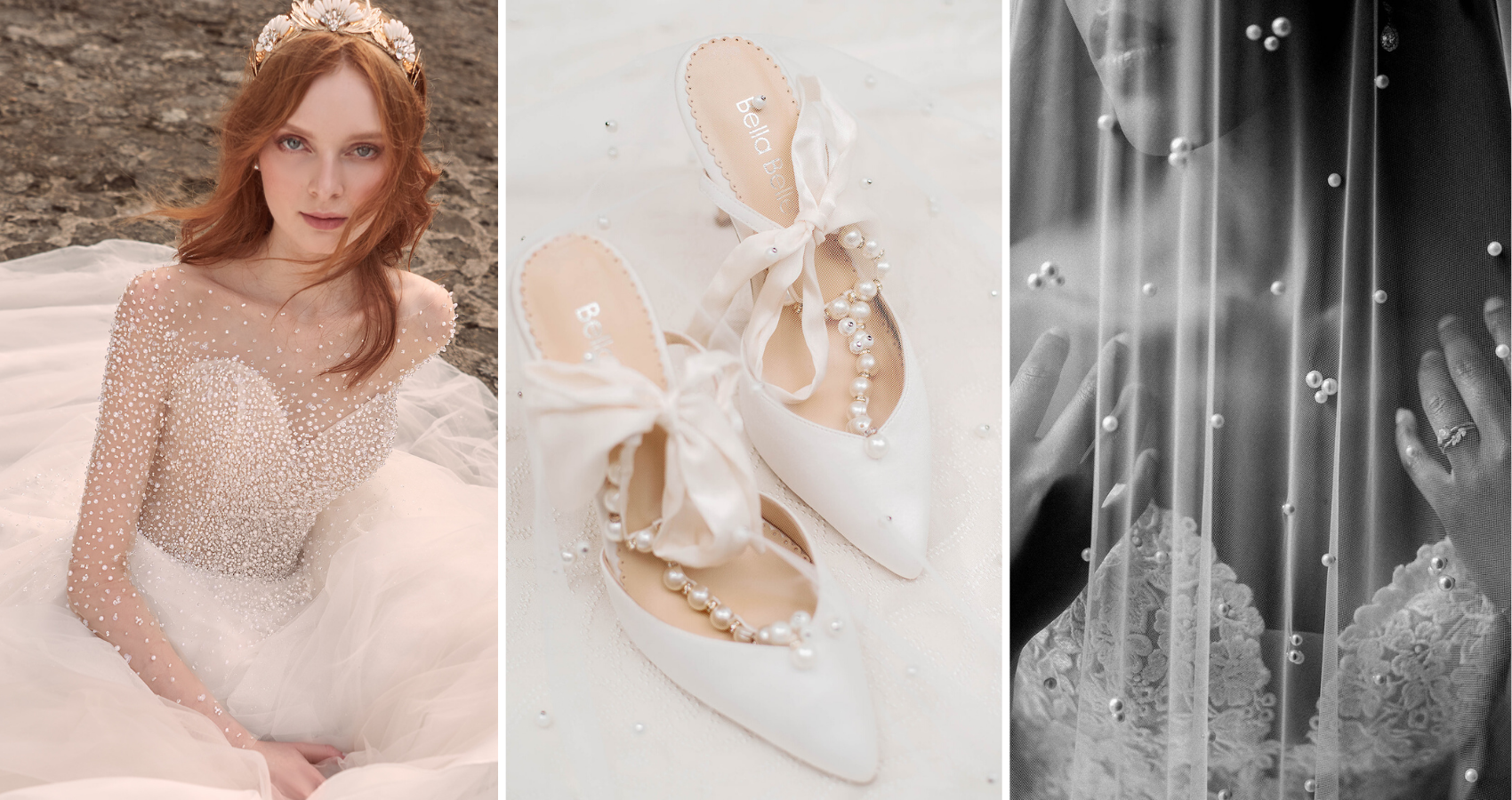 Jackie Kennedy once said that "pearls are always appropriate," and we could not agree more. That's why we are so excited that "pearlcore" and wedding pearls are taking the fashion world by storm!
What exactly is "pearlcore" though? Known as the "Queen of Gems," pearls have been worn since before the Roman Empire and have continued to be a staple in fashion – especially with brides today! The "Pearlcore" trend and aesthetic have transformed this vintage gem into something new and fashionable. From unique wedding dresses to decadent wedding cakes, there's little you can't do with this aesthetic.
If you're a fan of this romantic fashion statement, take our Style Quiz to find a bridal dress that will not only be perfect for you, but for this trend as well. After that head to an Authorized Retailer to buy the gown of your dreams!
Before you read all about this elegant trend though, make sure to sign up in the link below for exclusive #MaggieInspiration text messages from our team of experts!:
Vintage Inspired Wedding Pearl Accessories
There are millions of ways to rock wedding pearls on your big day, but including them in your accessories has been tried and true for brides over the years.
Consider pearl bridal jewelry to add a little bit of sophistication to your wedding day look! A pearl bridal bracelet and wedding pearl necklace will not only make you like royalty, but will complement any gown you choose for your big day.
PC: Elizabeth Austin Photography
Classic pearl earrings are another way to add the "pearlcore" look to your bridal outfit – think "Girl with a Pearl Earring" by Vermeer. They will subtly complement your wedding day look while still standing out in every photo! From Queen Elizabeth to Marilyn Monroe, there's a reason why pearl earrings have been a staple to many brides' wedding day outfits over the years.
Other Pearl Accessories
While pearl wedding jewelry is a classic, don't forget about hair accessories and even shoes! Y2K fashion is something that has come back into fashion and we're beyond grateful for it! Wearing a cutesy pearl clip or headband will spice up your look for your wedding day while being playful and romantic as well. Pearl studded wedding shoes are also an elegant look that we LOVE that will peekaboo under your gown as you walk down the aisle. Can you say romance and elegance?!
PC: Elizabeth Austin Photography
Lastly, did you know that pearls come in a variety of colors? Pearls get their unique shades from the color on the outer edge of the mollusk's shell, which means the world (or at least your bridal look) is your oyster.
Pearls come in different variations of white, black, golden, pink, lavender, blue, chocolate, and more. The possibilities of wearing this jewel are endless! It also means that no matter what color flowers you carry in your bouquet or what your bridal party wears, you will be able to seamlessly match.
For more accessories like these make sure to read about some vintage-inspired pieces in our blog!
Romantic Pearl Wedding Veils
PC: Elizabeth Austin Photography
When you've pictured your wedding day, you've probably dreamt of that moment when you walk down the aisle, and everyone sighs as you reveal your wedding day look. You've also probably dreamt of seeing your fiancé's eyes well up with loving tears as you make the walk towards your forever. Well, having a pearl veil is guaranteed to make that happen as our veils, Pierce and Anissa are the perfect accessories to this daydream.
If you're a fan of something dramatic and royal then the Pierce veil by Sottero and Midgley is the veil for you. This gorgeous two-tone veil will add all sorts of drama to your look as you walk down the aisle and pop in all your wedding photos.
On the other side of a very similar coin, our veil, Anissa by Maggie Sottero is perfect for our brides who want something a little bit more sweet and lovely when walking down the aisle. This fingertip pearl wedding veil is deceptively simple and perfect for a vintage-loving bride.
Read more about our other favorite eye-catching veils in our blog!
Unique Pearl Inspired Cakes
PC: Elizabeth Austin Photography
Don't these pearls look good enough to eat?! Well, when it comes to the "pearlcore" trend you can! Rather than going the traditional wedding cake route, add gorgeous delicate pearls to your cake to add a unique aspect to your romantic wedding day.
While they may look real, don't be fooled. The majority of the time they're fondant! And not only are they delicious, but pearls look good with everything and will always match your wedding theme.
Stylish Pearl Wedding Gowns
PC: Elizabeth Austin Photography
You can't exactly have a "pearlcore" inspired wedding without a pearl wedding gown! Pierce by Sottero and Midgley is one of our favorite pearl bridal dresses. Pearls have historically symbolized beauty, and this gown is certainly that. The boho-sophistication of this dress is emphasized by its pearl embroidered bodice, plunging v back, and sexy side cutouts. On top of all those dreamy details, Pierce also comes with a matching veil sold separately!
Pearls also symbolize romance and elegance and that's why we love Sahar Marie by Maggie Sottero. Like Pierce, Sahar Marie has a gorgeous A-line skirt with pearl accented tulle. On top of that, this bridal dress also sports a stunning plunging v neckline and sexy open back.
P.S. if you love the look of Sahar Marie but want something with a little bit more coverage, consider wearing the sister style, Sahar by Maggie Sottero!
PC: Marcus Jones Photography
Remember when the goddess Aphrodite came out of the pearl? Well, we're pretty sure she was wearing Fiona by Maggie Sottero. This sexy and whimsical gown is the pearl wedding dress choice for most goddesses – so it makes sense that it would be for you as well! This stunning fit-and-flare has head-to-toe sparkles, pearls, and lace with a gorgeous plunging neckline. Additionally, if you want to personalize this dress for your love story, add detachable lace off-the-should long sleeves and buttons down the back for a vintage vibe!
Fiona might be fit for a goddess, but Rosette by Maggie Sottero is fit for royalty. This pearl long sleeve ball gown is no less than artful in its details. The exquisite pearl beading trails down the skirt and over the illusion sweetheart neckline. Rosette is unlined, but there's a lined option for our curvier brides called Rosette Lynette by Maggie Sottero as well!
PC: Black Rider Photography
Another pearl wedding gown that we carry at Maggie Sottero is Nikki by Maggie Sottero. Pearls might have a vintage vibe, but Nikki is making them modern. We love its trendy bell sleeves and pearl beaded bodice! This crepe fit-and-flare dress oozes cool-girl-vibes with its illusion cutouts and lace back and pearl buttons. Who said sexy and romance couldn't go well together?
Pearl Wedding Nails
PC: Kevin Vin
Pearls are taking over the fashion world and that includes your nails as well! Consider adding sweet and romantic pearls to your wedding day manicure to highlight your gorgeous engagement ring. This nail trend is sweet, simple, and bound to make a statement.
While diamonds might be a girl's best friend, the "pearlcore" trend has made us rethink that statement. With so many ways to style these gorgeous gems, it makes sense that this has been a necessary addition to most brides wedding day looks – including yours!
After buying a dress from one of our incredible Retail Partners, share your wedding day look on our website. Who knows, maybe you'll start a trend of your own!
Similar Blogs to Check Out:
Maggie Sottero's 2022 Report: 10 Popular Wedding Dress Trends
Sneak a Peek of Maggie Sottero's Latest Wedding Dresses for Spring 2022
How To: The Ultimate Guide To Different Color Wedding Dresses For Your Big Day