Tips and Trends
Wedding Inspo
|
December 9, 2021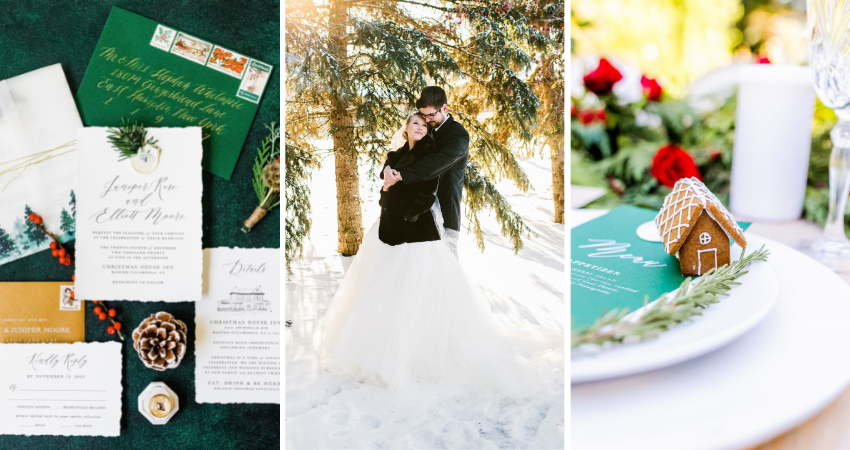 Glittering snow, cozy fires, and holiday cheer are just a few things that come to mind when thinking of a winter wedding. Brides can make their perfect winter wonderland weddings come to life with the right timing (a blanket of snow for your reveal photos), holiday snacks (cozy cocktails and tasty hors d'oeuvres), and cheery accessories (a velvet blazer for your groom and colorful florals).
So go ahead: book that rustic lodge reception and glacier photo package. Start pinning the twinkly guest favors. Find a florist who specializes in jewel tones and eucalyptus. To help narrow your chicest cool-season accoutrements, we've collected 10 winter wedding ideas and details for a luxe and enchanting celebration. Keep scrolling!
Gift Ornaments for a Winter Wedding
Skip the boring party favors (looking at you, Jordan almonds) and give your nearest and dearest a sweet and personalized holiday ornament to commemorate your winter wedding!
PC: Vanessa Hicks Photography
As a general rule, save monogrammed items for parents and immediate family. This includes guests who definitely want to display your names and faces on their Xmas tree.
For example, for other guests, choose a cute object that honors the celebration rather than overtly references marriage stats. This could be a snowflake bauble or a pair of winter lovebirds. These cute wedding favors are sure to be a hit!
Winter Wedding Ideas for Food and Drink
A chic upgrade to the chocolate fountain is a hot chocolate dispenser that adds cozy charm to your dessert display—without the sticky kiddo fingers all over the satin tablecloth. Check out this real wedding to see how this couple incorporated a hot cocoa bar at their rustic winter celebration.
For an expert holiday spread, go big on the bright and cheery add-ons, from colorful cups and mini marshmallows to cute straws and whipped cream topping. Kids and grownups alike will be back for seconds all evening!
PC: Megan W Photography
Love another choco-phile winter dessert idea? Consider a delectable "s'mores smorgasbord" for a little interactive reception magic. If your venue allows it, bring in some outdoor fire pits to double as warming and s'mores stations (some assembly required).
Or, opt for DIY roasting stations with Sterno cans or camping stoves. Some catering companies also offer specialized equipment for indoor s'mores, so be sure to check in your area!
For the Bride: Winter Wedding Dress and Accessories
Dressing for a winter wedding often requires a little wherewithal for the elements. Versatile accessories are a must for brides planning on taking outdoor photos during their winter celebration. No need to cover your gorgeous wedding gown with a parka though! Keep it classy, glam, and functional with winter appropriate accessories.
PC: Ben Guminger Photography
Get inspired with this real bride's gorgeous ensemble. She paired a gorgeous tulle and crystal wedding gown, Allen by Sottero and Midgley, with a faux fur jacket for her winter inspired wedding (major Grace Kelly vibes).
This bridal look is perfectly suited for a winter wedding checklist, from braving the weather conditions to the portrait session and accessory options for your reception. For more winter wedding dresses, follow the link!
Winter Wedding Details: The Invites
If your wedding date falls between November and February, your guests will expect nothing less than a fabulously festive invitation. To avoid save-the-dates that look like a North Pole brochure, opt for rich hues and lustrous accents.
PC: Vanessa Hicks Photography
In other words, choose something bold and cheery, yet classic and sophisticated. We're grooving on this green, red, and gold palette for a holiday-inspired wedding. It gives a subtle nod to theme without losing its style or finesse. The same can be applied to your winter inspired wedding bouquet!
Enchanted Holiday Themed Florals
A holiday celebration calls for a little fairy-forest enchantment! Stunning bouquets and other florals in holiday themed rubies, golds, and emeralds will make a lovely addition to your winter wedding. Just look at this gorgeous bride wearing Zander by Midgley & Sottero!
It's a sweet and subtle way to incorporate the holiday season and all that nature has to offer, and they will stand out in all of your snowy white photos.
PC: Sam Starn Elopements
To complete your cheery winter wedding reception palette, pair these florals with stunning greenery, white, and black or brown accents to truly make them stand out. Your guests will never say no to some nature inspired centerpieces like pinecones, holly, and pine either! Bring on the cozy!
A Statement Christmas Tree for a Holiday Wedding Reception
Fair warning: you and your S.O. may be the stars of your reception, but a dazzling Christmas tree centerpiece might just give you a run for your money. This cheery holiday focal point makes for a festive photo op. Plus, it's a sweet gathering spot for kids and families, and even a couple's gallery.
Making DIY ornaments out of you and your partners polaroid photos, or getting crafty with your family during the holidays and making ornaments together is a perfect touch for your wedding Christmas tree. We also love the idea of guests leaving well-wishes and reception photos in the tree branches. All you need is a signing table, an Instax camera and film, stationery, and some pretty pens! For more holiday wedding ideas, check out our Holiday Wedding Inspiration for a Festive Celebration.
Love this real bride's winter bridal look? She's wearing Timbrey by Maggie Sottero, an enchanting ball gown wedding dress with style and shimmer to spare.
Winter Wedding Details: Shoes for the Season
Shoes are a stylish part of any bridal ensemble, and particularly essential when it comes to glitzy winter celebrations. (In other words, as much as you love that pair of strappy diamond flipflops, they're just not going to cut it.)
PC: Megan W Photography
Opt for form and function with winter booties or embellished loafers that peak out ever so stylishly from under your wedding dress. It's snow-happy footwear you'll love to be photographed in!
This rustic wedding dress is Tuscany Leigh by Maggie Sottero, a stunning choice for classic winter themes, woodsy celebrations, and intimate ceremonies. Pure magic!
Groom's Attire
Spring through fall, grooms put on classic black, breezy blues, and neutral tans. Come holiday hitching season, however, and they suddenly have the perfect excuse to rock head-to-toe ruby and velvet.
PC: Vanessa Hicks Photography
We say make the most of this sartorial opportunity. It's your sweetheart's only chance to dress like James Bond in Christmas couture. Plus, a ruby velvet suit can be the perfect accent to your winter wedding color palette!
Photography Ideas for a Winter Wedding
Wherever you're located for your winter wedding, ask your photographer to set up some dramatic background and atmosphere shots. For instance, stormy weather and natural vistas make for extraordinary couple's portraits, while unique lighting effects and holiday accessories elevate your theme and storytelling.
PC: Jessa E Photography
Modest lace fit-and-flare wedding dress, Tuscany Leigh by Maggie Sottero, looks absolutely breathtaking in this mid-January, wintery bridal photoshoot. If you have the chance to pose in the mountains for high-drama winter fabulousness, we 10/10 recommend! For more winter wedspo, visit this blog: Rustic Winter Wedding with Chic Details and a Romantic Lace Wedding Dress.
Winter Wedding Table Setting Ideas
There's nothing like baking for the holidays! Treat your guests to a sweet and nostalgic table setting with mini gingerbread houses decked out in sprinkles and confection. It's perfect for a festive or holiday wedding!
PC: Vanessa Hicks Photography
To complete your spread, lay out holly and ivy runners, print some cute place cards, add candlesticks, and don't forget the stemware for bubbly for beautiful winter wedding ideas!
Festive lighting, cozy wardrobe upgrades, a general uptick in excuses to bake—the wintery months are truly the season to go overboard on merrymaking.
Get inspired with these chic winter wedding ideas. In conclusion, head to your local craft headquarters, and invite your MOH over for a décor planning session (hot toddies required), and yours will become a celebration worthy of the most wonderful-est time of year. Happy holidays!