Tips and Trends
Wedding Inspo
|
December 14, 2022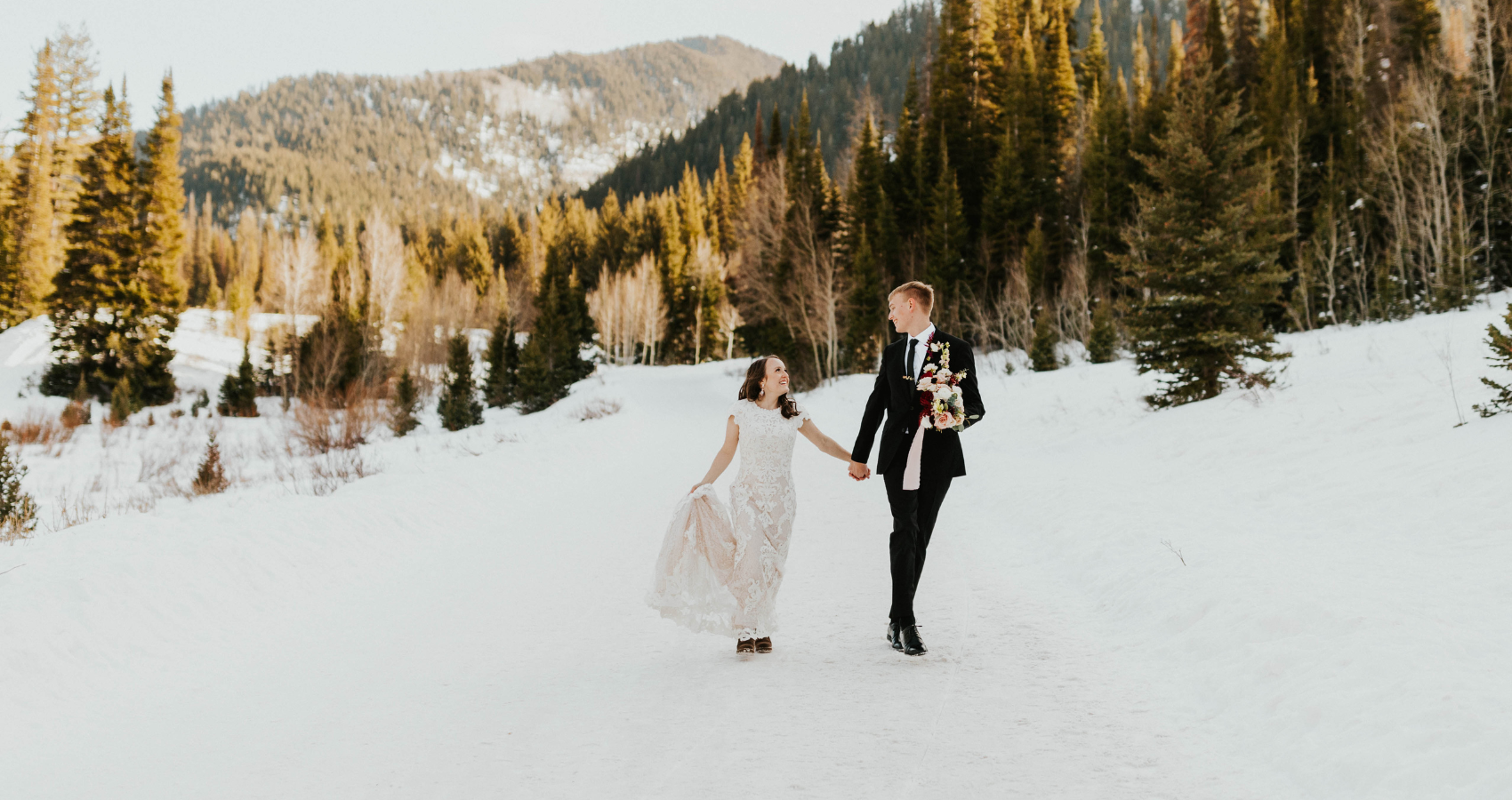 Planning a winter wedding for 2023? Time to book that rustic lodge reception and glacier photo package. Start pinning the twinkly guest favors. Write to Santa. (You get the gist.) To help narrow your chicest cool-season accoutrements, we've collected 10 winter wedding ideas, dresses, and details for a luxe and enchanting celebration. Keep scrolling and take our Style Quiz below for more inspo!
Winter Wedding Ideas for Decorations
PC: Vanessa Hicks Photography | PC: Sarah Aaron Photography
A statement Christmas tree: This cheery holiday focal point makes for a festive photo op. It's a sweet gathering spot for kids and families, not to mention the perfect place for guests to leave their gifts.
Gingerbread table settings: There's nothing like baking for the holidays! Treat your guests to a sweet and nostalgic table setting with mini gingerbread houses decked out in sprinkles and confection. To complete the festive spread, lay out holly and ivy runners, print some cute place cards, add candlesticks, and don't forget the stemware for bubbly.
Winter colors for your wedding dress.
A winter-themed wedding arch featuring snowy fronds, lights, pine needles, or ornaments.
Cozy candles to light up the banquet table.
Lots of twinkle lights — one of those winter wedding ideas that works year-round.
Winter color palettes in green, gold, silver, shimmer, crimson, and black.
Hanging snowflakes for your venue.
PC: Amy Louise Photography | PC: Jessa E Photography
Festive lighting, cozy wardrobe upgrades, a general uptick in excuses to bake — 'tis the season to go overboard on merrymaking! For more décor ideas, get inspired with DIY wedding projects and more winter wedding ideas to prep with your family over the holidays.
Winter Wedding Dresses
Ready to shop dresses for a winter-themed wedding? A seasonal bridal look is all about comfort, coverage, and elegant details. You definitely have options: lovely sleeved silhouettes, jackets, veils, lush layers, illusion details, and plenty of shimmer. We've narrowed down a few of our foolproof designs for inspiration.
PC: Sarah Aaron Photography
Meryl Lynette by Maggie Sottero is a little sweet, a little chic, and undeniably classic. It's "sugarplum fairy" in shimmer and illusion, but also a breath of spring air in florals and lace. It's sure to make the perfect statement for your winter wonderland wedding.
This silhouette is one of our most popular: It's soft, feminine, and so versatile for your season, body type, venue, and wedding vibe.
To personalize, consider these options:
Add the detachable beaded belt featuring Swarovski crystals, sold separately
Available with dotted tulle as Meryl
Add a bridal veil or jacket
If you're picturing Snow Princess vibes for your winter wedding, Zachary by Sottero and Midgley could be your dream-come-true. This regal ball gown features a classic portrait neck, a chic and shimmery bodice, and a voluminous skirt. To personalize, you can extend of shorten the train.
This regal silhouette is also one of our most timeless. You could easily picture Grace Kelly or Elizabeth Taylor donning a similar design for their red-carpet style.
Zachary also makes a stunning statement in accessories. Add a cozy wrap and statement jewelry to complete your look!
Planning a cozy bohemian vibe for your big day? This chic lace wedding gown features perfect details for a winter wedding:
Illusion lace sleeves for extra coverage
Delicate lace details along the neckline and back
A lushly layered skirt
Soft illusion in the bodice
It's chic, comfortable, and perfectly styled for a rustic celebration. It's also from our Rebecca Ingram line, romantic wedding dresses at budget-friendly prices — the perfect convergence of style and affordability.
A holiday celebration calls for the most delectable shade of red! This unique wedding gown will make the most captivating entrance for Christmas.
Scarlet by Maggie Sottero is all about the classic, ultra-feminine details, from the soft ruched bodice to the billowing skirt, and delicate straps to long, flowing train. To customize, you can extend the train or opt for the thigh-high slit in the skirt.
If this shade of red doesn't convince you, Scarlet would also make a dramatic statement in white or black. You can also complete the look with a bridal veil or jacket.
For the glamorous and couture bride, Viola by Sottero and Midgley is made for an entrance. We're smitten with all the chic and sexy details, from the off-the-shoulder sleeved bodice to the curve-hugging silhouette.
To personalize Viola, consider these options:
Change the sparkle tulle to plain tulle
Also available with off-the-shoulder cap-sleeves
Available with added beading to the front and back neckline
Detachable train with lace motifs accented with sequins over sparkle tulle sold separately
Detachable train with lace motifs accented with sequins over tulle sold separately
Extra lace motifs included for minor neckline alterations with your Authorized Retailer
Add softness and whimsy to your bridal look with Florie by Rebecca Ingram, a fairytale-inspired silhouette with unique shimmer and detail. This look is flattering, feminine, and perfect for a chic winter wedding.
Florie features several personalization options:
Opt to shorten the train
Add covered buttons down the back for a vintage vibe
Detachable off-the-shoulder puff glitter tulle armbands sold separately
Photographed with a detachable metal belt sold separately
Ruched tulle belt included
Winter Wedding Details
PC: AMW Studios | PC: Vanessa Hicks Photography
Once you've chosen a venue and the overall look and feel of your winter wedding, consider your details. These are a few gorgeous ideas we've gathered from our real brides and their elegant winter weddings!
Space heaters are great for heating up outdoor ceremonies and patios. Rent fire pits, stand-up heaters, and faux fireplaces to up the cozy in style.
Blankets make a thoughtful addition to winter weddings; you can provide them for guests to use for outdoor portions of the event or gift them as chic favors. Match to your wedding colors and get special monograms for the wedding party!
Christmas themed invitations help set the mood and anticipation. If your wedding date falls between November and February, your guests will expect nothing less than a fabulously festive invitation. (To avoid save-the-dates that look like a North Pole brochure, opt for rich hues and lustrous accents.)
Ornaments make sweet wedding favors your guests will likely treasure forever. Just avoid putting your face all over the personalized ornaments — an elegant message or holiday symbol will do just fine.
Winter-hued bridesmaid dresses are a must. Think sparkly, metallic, or jewel-toned.
If your sweetheart is wearing a suit, it's a stylish opportunity to play with color, texture, and accessories to match the mood.
Add thoughtful floral details, such as pinecones, pine needles, amaryllis, and ornaments in bouquet. It's a sweet and subtle way to incorporate the holiday season and all that nature has to offer, and they will stand out in all your snowy white photos.
A fur cover makes a glam and weather-appropriate statement for your wedding photos and outdoor ceremony.
Winter Wedding Ideas for Food
PC: Zoe | PC: Vanessa Hicks Photography | PC: Megan W Photography
Winter-themed wedding cocktails are a popular choice for a winter wedding. A Christmas punch or holiday bubbly really helps to set the mood!
A hot chocolate bar doubles as an activity and dessert. Your guests will love the option to personalize their concoctions with marshmallows, whipped cream, and (for the grownups) a boozy shot.
A Christmas wedding cake makes an irresistible centerpiece for your reception.
Winter Wedding Venues
PC Josua Veldstra | PC: Love Clic Photography | PC: Kathlyn Johnes Photography | PC: Nice Print Photography
The great outdoors! Just because you're getting married in the winter doesn't mean you have to skip the outdoors! A snowy mountain, forest, or rooftop cityscape makes the perfect backdrop for cold-season ceremonies.
A glacier elopement: For the adventurous couple, a National Park with glaciers may be the perfect ceremony destination.
A cute rustic church: Nothing says "classic winter wonderland wedding" like a storybook chapel. It's typically an affordable option as well: Most community churches can be rented for free, or significantly less than a typical venue.
A mansion rental: These venues are easy to source and give you great value for your budget. Think atmosphere, venue, wedding-party lodging, and dancefloor rolled into one. (And so luxe! You'll love the private, intimate vibe of having an elegant "home away from home" all to yourself — without being the one to host and clean up when the party's over.)
A cute rustic cabin: From a cozy, quaint hideaway to an epic mountain lodge, cabin venues are perfect for setting the "winter wedding" mood. These venues are a perfect choice for a destination elopement and weekend getaway.
Ready to shop wedding dresses and bring your winter wedding ideas to life? Find an Authorized Retailer near you to find your dream dress and do a good deed for the season of giving! If you purchase your gown before December 31st, a portion of sales will go toward Huntsman Cancer Institute. This is the perfect time to get involved.
The winter wonderland wedding ideas don't stop here! Get inspired with some other winter wedding themed blogs below, and watch our video on more winter wedding dress inspo!
More Blogs Like This:
7 Must Have Winter Photography Ideas For Your Wedding
15 Chic Long Sleeve Wedding Dresses For The Modern Bride
The Ultimate Guide to Planning a Micro Wedding for Your Intimate Celebration
Happy holidays from Maggie Sottero Designs! We know yours will become a celebration worthy of the most wonderful-est time of year. Best wishes!