Tips and Trends
Wedding Inspo
|
December 8, 2021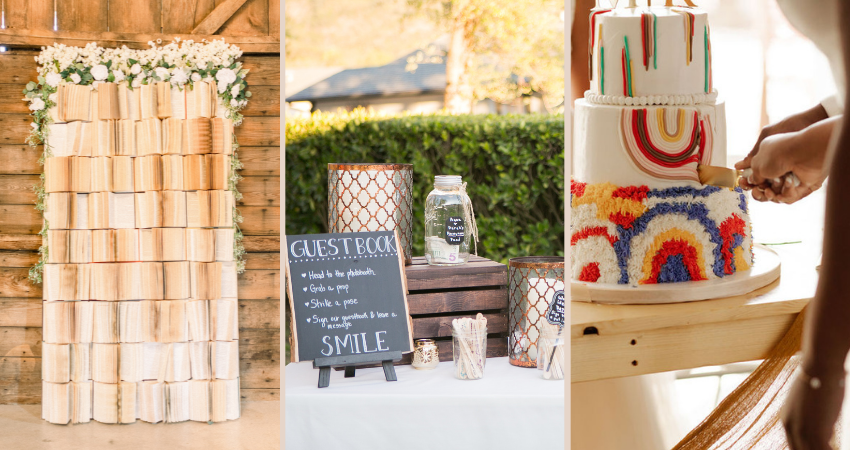 With the average cost of a wedding in the U.S. hovering between $22k-$28k, it's no wonder brides are turning to DIY wedding projects to ease up the budget. And with this surge of interest in unique and personalized accoutrements, the internet has become a goldmine for crafty, thrifty projects—from décor and ceremony flourishes to bouquets, invites, and refreshments. To help you get started, we've gathered our favorite crafty wedding ideas from our styled shoots and real brides!
These DIY wedding ideas were chosen specifically for brides looking to jumpstart their planning efforts for the holidays. They're affordable, easy to direct, and super fun, especially if your family has a creative streak or artistic instinct (or just loves to bond over a common goal). The upcoming season gives you the perfect opportunity to check off big-ticket items from your wedding-planning checklist. Browse our inspo below…
DIY Centerpieces
PC:  Ria Mishaal Photography | PC Hayley Moore Photography
Take it from the pros: the cost of reception centerpieces can add up really quick and there really isn't much "longevity" to their appeal. (Yes, their capricious lifespans make goldfish a bad idea.) To DIY this wedding detail, look to wholesale florals, mismatched thrift finds, and home décor that can be easily repurposed. White candles and tea lights are easily sourced from your local Goodwill; vases and fairy lights can be collected from friends and family; and classic florals (think baby's breath, roses, and eucalyptus) are easily styled by mom and grandma.
An easy DIY project for the holidays: Cut woodsy centerpieces and try your hand at painted signage, á la this woodsy vibe here. Mason jars and tea lights are also a go-to for thrifty brides.
DIY Arch
PC: Hayley Moore Photography
If someone in your family is good with lightweight construction projects, build a wedding arch. A quick scan of Pinterest gives you plenty of options for wood, PVC, metal, and floral structures, from gauzy canopies to blossoming balloons. (For the literary couple, try out a "book arch" or photo backdrop made with thrifted novels.) A wedding arch project can be prepped ahead of time, but takes a little more effort for setup on the big day. Make sure you plan ahead!
DIY Wedding Bouquets
PC: Hayley Moore Photography | PC: Wilmatowell Photography
You may not be a professional florist, but you can certainly fake it for a photo op. Budget-friendly floral options include roses (classic), loose greenery (sophisticated), and wildflowers (very chic). Embellishments like ribbons and pendants are also easy to source and effortless to style.
Get started on your simple DIY wedding bouquet by gathering Pinterest inspo and watching a few YouTube tutorials. Shop for seasonal blooms, make a plan for ordering and storing your flowers, and be sure to enlist an assistant. (It also helps to do test runs with blooms from your garden or grocery store.) This is a fun but delicate project to practice with your family this season.
DIY Decorations
PC: Christine Chang Photography
A venue is often the most expensive part of your wedding budget, and decking it out for honored guests can be a close second. Save money by simplifying your vision, enlisting help, and going DIY with your backdrops and flourishes. Décor may set the party mood, but you can certainly make it work for a budget.
Best wedding DIY décor advice for your venue:
Simplify florals and buy wholesale.
Make your own petal confetti.
Gather mismatched glassware and lanterns from friends and family.
Repurpose chalkboards, A-frames, and signage from your local church or school.
Go thrifting for lights, candles, bunting, wreaths, baskets, and tablecloths.
Choose a venue that needs little to no embellishments.
Opt for lighting effects as a simple, low-cost, and low-waste way to turn up the atmosphere.
Collect and print family photos to add personalized charm without killing your budget.
Use maps and signage for guestbooks and other interactive elements.
DIY Favors
PC: La Vie Photography | PC: Amanda Sutton Photography
If you're looking to cut costs, wedding favors can be one of the first items to go. (Trust us, you're always left with a surplus of monograms.) If you're totally stuck on the idea but want to save money, opt for DIY.
Some of our favorite ideas for DIY wedding favors:
Homemade jams, sauces, or salsas. (Easy to start over the holidays if they're non-perishable.)
Potted succulents or seed packets.
Candy jars, s'mores kits, and spice jars.
Wine or champagne with handprinted labels.
Hangover remedies or to-go cocktail kits.
This is an excellent project for the holidays, especially if you have access to mom's kitchen or an assembly line of cousins. Bring on the jelly jars!
DIY Backdrop for Weddings
PC: Kristina Wild Photography | PC: Hayley Moore Photography
There are tons of cute DIY wedding ideas for photo and ceremony backdrops. Head online to find tutorials for:
Oversized Polaroid frames with your wedding date.
Floral backdrops.
Ceremony backdrops made with wood stumps and natural textures.
Red-carpet and marquee designs.
Balloon arches.
Bunting collages.
Rustic wooden door frames.
Curtain walls.
Fringe and confetti confections.
Book backdrops.
Best Wedding DIY for Invites
PC: Bevan Eldridge Adrian Wayment Britt Warnick Designs Branson | PC: Hayley Moore Photography
Personalizing your wedding invites is actually very professional these days. There are tons of options for affordable, customizable, and creative wedding invitation suites to order online and have delivered right to your door. To save a bit on production, you can order envelopes separately and make your own flourishes (wax seals, etc.).
Holidays are a great time to outsource your save the dates and wedding invites. Friends and family can help you assemble the stationery and address envelopes. Create an assembly line, put on the festive tunes or your favorite holiday movie, and get stamping.
DIY Wedding Cake
PC: Genesis Photography
Yes, you or your aspiring pastry chef cousin can make a wedding cake. Unless you're envisioning a fondant masterpiece, it's not that tricky to make a sweet and delectable confection.
Simple wedding cakes include:
A simple cake with rustic white frosting and florals.
Alternative cakes made of donuts, cupcakes, cookies, cheese, or macarons.
Colorful cakes (they allow more "creative freedom" with the decorations).
A "naked" cake with berry and herb embellishments.
A small pink cake with Valentine-inspired frosting.
A retro design with kitschy toppers.
Confetti cake with bright sprinkles.
Use the holidays to practice baking and decorating. You can double up on making cakes for parties, dinners, and days with the kiddos. Needless to say, your family will be thrilled.
DIY Photo Booth
PC: Kristina Wild Photography | PC: Amanda Sutton Photography
If you have an Instax camera and some cute props, you can easily DIY a vintage photo booth. We love when couples include a guestbook for photos and well-wishes. You can also hire an amateur to be your photobooth photographer using a simple digital camera setup. It's a bit more expensive than DIY, but less expensive than a full photobooth setup.
Bring oversized props like glasses, hats, and signage. This is a fun thrifting and prep activity to enlist the fam for during this holiday season.
DIY Signs
PC: Kristina Wild Photography
A décor item to feature throughout your ceremony and reception is signage. For an easy wedding project with the family, head to your local craft, thrift, salvage, or home improvement store. You can often find secondhand wooden boards in great condition. These can be painted with chalk paint or rustic stains, then hand-painted with instructions, cute sayings, and simple illustrations. Professional calligraphers will charge a pretty penny for chic signage, so if you're willing to troubleshoot, you can save big with do-it-yourself.
A few tips for gorgeous signage:
Don't get hung up on exactness. You can make charming décor that reflects your personality without hiring a pro.
Emulate inspo from Pinterest and wedding blogs to keep your designs elegant, harmonious, and on theme. It truly helps to have a visual aid.
Download fonts and templates from the internet. Whoever has the best penmanship can try to replicate.
Test pens, chalk, and paint to make sure they'll stick to various surfaces.
For the holiday DIY project, ask friends and family to help you map out your chosen sayings and experiment with fonts and materials.
Whatever you're planning, remember that a wedding is all about heart and personality, not flashy accoutrements. You don't need to spend big to make your wedding feel stylish, intimate, and totally yours. Make a spreadsheet of your top-priority items to buy, source, or make yourself, send out a group chat or sign-up sheet for your family and wedding party, and dive in to the DIY magic.
Looking for more DIY wedding inspo? Head over to Brides.com for their chic gallery of projects. We've also linked to this intimate lakeside wedding with lovely décor and floral ideas you can create yourself, as well as these 20 romantic and stylish images from our Real Brides and their weddings. Happy crafting!