Dresses
Tips and Trends
|
November 12, 2021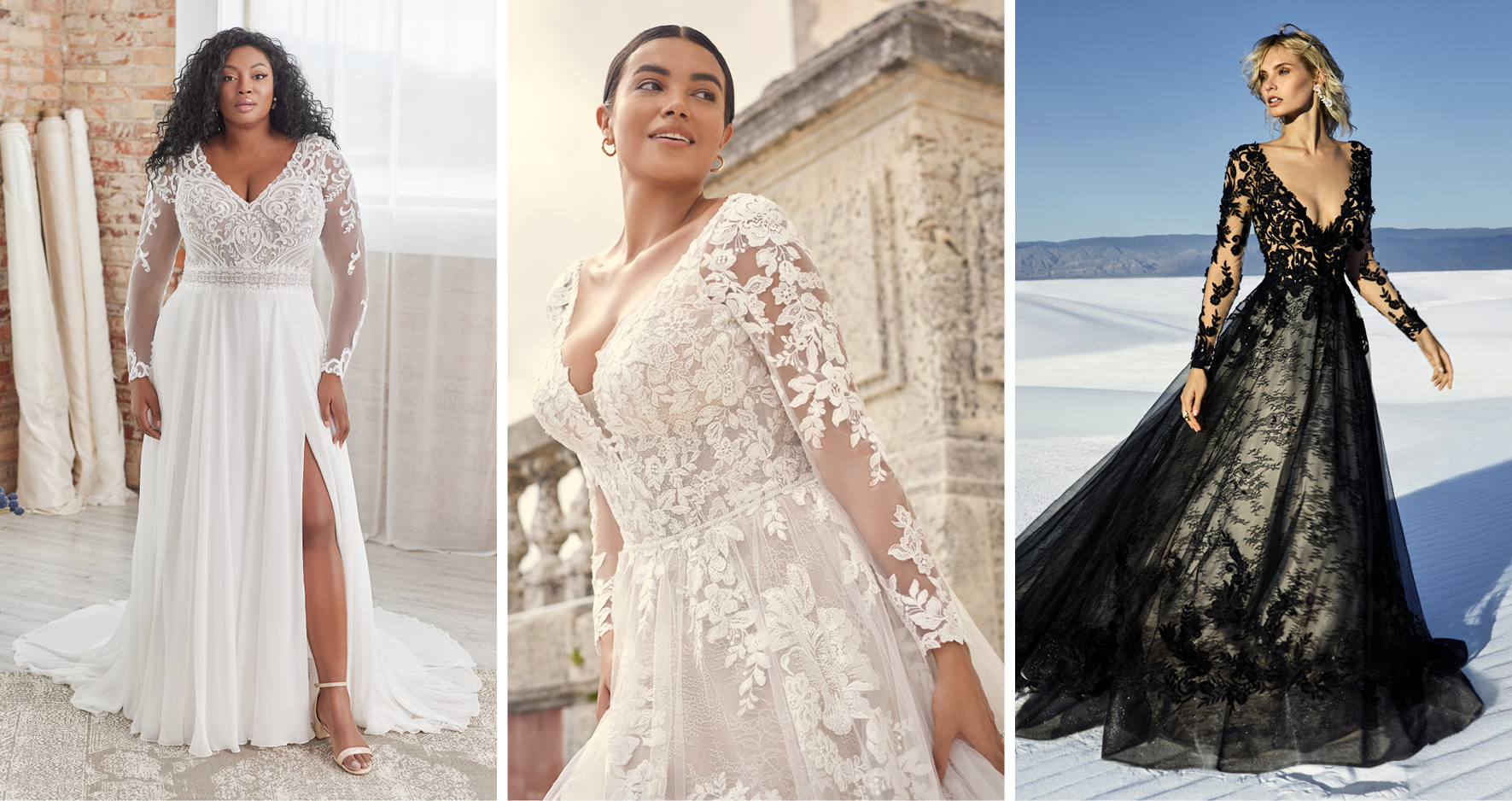 If you love the classic cut and flattering details of a V-neck wedding dress, you may be looking at your range of sleeve options. You've got a lot to choose from: simple straps, delicate cap sleeves, romantic flutter accents, and, of course, long sleeves in a range of fabrications and motifs. Keep scrolling for our top trends for choosing a V-neck wedding dress with sleeves…
What Sleeve Styles Work Best for V-Neckline Wedding Dresses?
V-necks are inherently classic, so it's hard to mess up the sleeve pairing. That being said, you'll find some combos are especially popular at your bridal boutique. For example, a modest V-neckline looks gorgeous with flutter or cap sleeves. A plunging V-neckline is stunning with sleeveless straps or cold shoulders. A subtle plunge makes a stunning highlight on a bell-sleeved boho style. And finally, long sleeves look divine on nearly any V-neckline style, from demure coverage to a statement plunge.
What Accessories Look Good with a V-Neck Wedding Dress with Sleeves?
This classic silhouette is easy to accessorize, from simple jewelry to luxe hairpieces and statement veils in tulle and embellishment. For subtle V-necklines, focus on a simple choker or drop necklace, then add complementary earrings or a chic hairpiece. For deeper plunges, focus on pieces to highlight your bust. A drop jewel necklace, for example, or statement earrings would look divine. As for bridal veils and capes, choose designs that don't cover up your neckline or statement back. Lace can be added as trim. Pearls and beading can be simple. And finally, a cape can be attached at the shoulders to complement your decolletage.
What Body Type Looks Best with a V-Neck Wedding Dress with Sleeves?
This bodice combo works well with a variety of body types and bridal aesthetics. A V-neck is easy to adapt to different bra sizes, from smaller chests to full busts. Take note: If you have a bigger bust but love a deeper plunge, you may need to invest in invisible undergarments and bust tape to keep everything in place.
Another option is an illusion design. The clear tulle and embellishments of illusion help to structure the bodice without losing the sexy look of your neckline. And finally, if you love a deep V-neckline but want to add a bit of demure coverage, talk to your retailer about the possibility of ordering extra motifs to personalize your design.
Now, let's take a look at some of our top picks of V-neck wedding dresses with sleeves.
PC: Christman Photography
Picture a classic V-neck ball gown wedding dress. Now picture all the ways you can make it bold, fanciful, and one-of-a-kind. Zander by Sottero and Midgley is what happens when you add one-of-a-kind flourishes to a chic and timeless silhouette.
Want to add some gothic romance with a black colorway? No problem. Fancy yourself in sexy illusion sleeves? We've got you covered. Have your heart set on an epic bodice treatment and statement back? This ball gown was made for it.
This couture wedding dress features a perfect sleeves treatment for your flattering V-neck bodice. Head to an Authorized Retailer near you to shop this style's stunning accoutrements today.
Princess wedding dresses are often prim and proper, but sometimes they're super soft and extra whimsical. This romantic ball gown style is the latter. Illusion cap sleeves (delicately beaded, inspired by an enchanted garden) and shimmery layers in the skirt (very dimensional) combine for a one-of-a-kind design.
Valona by Sottero and Midgley is an ideal choice for brides with a chic and romantic sensibility. It's a V-neck bodice with a voluminous skirt—fit and tailored for total comfort.
For a sweet and ultra-feminine statement, get inspired by Chantal Lynette by Maggie Sottero. This classic silhouette features a stunning lace and illusion bodice—a little sexy, a little regal, and undeniably romantic.
This V-neckline bodice is a perfect complement for long illusion sleeves, with delicate lace accenting the plunge, shoulders, and cuffs. Your bridal portraits will look stunning!
It's all about barely-there flourishes in Tessa by Rebecca Ingram. This gown is a sexy, chic, and exquisitely detailed choice for a V-neck style with sleeves. Fierce and undeniably feminine; a show-stopping choice for a nature-inspired celebration.
Looking for accessories? A vintage halo or delicate flower crown completes the sweet charm of this mermaid silhouette, while chic pearl or rose-gold jewelry adds a touch of regal romance. However you style it, you'll be the queen of your magical evening.
Tessa is another gorgeous style from our Rebecca Ingram line—stylish and romantic wedding gowns at perfect price points.
It's all about the glitz in Andrew by Sottero and Midgley, an over-the-top statement piece inspired by Roaring 20s glamour and red-carpet decadence. This luxe wedding gown features a unique fringe design for a dreamy Art Deco vibe, complemented perfectly with its geometric lace and illusion sleeves.
This is a stunning combo for sleeves and bodice. The V-neckline is flattering and sensual, and the shimmery sleeves add intrigue and sophistication. It's a veritable showstopper.
Eyelet motifs make a very cool statement in Benson by Sottero and Midgley—an exquisite lace wedding dress for a 60s-revival vibe. The V-neckline is soft and delicate. The lace-up back is super sexy. Add the detachable bell sleeves for vintage whimsy. Or keep it chic and sweet with sleeveless straps and a simple tulle bridal veil.
It's all about the lace and silhouette in Francesca by Maggie Sottero—a classic yet stunning design to complement your romantic wedding vision. This fit-and-flare is one of our most popular wedding dress picks for a regal and ultra-feminine aesthetic.
Francesca is all about a fresh update to a regal silhouette. It's a harmony of chic opposites: a soft fit-and-flare cut with lush cascades of lace. The V-neck bodice is tailored to cinch in your waistline, while the long sleeves make a fresh update to a demure design.
Style Tip: Francesca is virtually foolproof to accessorize. Think bridal tiara, chic drop earrings, or a fingertip or floor-length veil. This style is also versatile for any season—lightweight enough for summer but totally adaptable for a cozy winter setting.
Vintage lace and illusion details make for an ultra-romantic combo in Finley by Sottero and Midgley—a divine V-neckline wedding dress for your modern fairytale. We're smitten with the eyelet and florals in this bygone-era wedding style. The bell sleeves are the perfect complement to the soft yet sexy bodice.
Looking to style this covetable design? Add a fingertip-length veil in matching lace for a dreamy cottagecore vibe. Or keep it effortless with an easy updo and chandelier earrings. Perfection all around!
Fine-spun lace and dreamy chiffon take center stage in Lorraine Dawn by Rebecca Ingram, a V-neck wedding dress with sleeves for a soft and classic bridal aesthetic. The long illusion sleeves add a demure touch to this "nude-inspired" bodice. The cut and flourish look incredible in bridal portraits—especially with that statement lace back.
If you're after affordable new wedding dresses with major style, head to our latest Rebecca Ingram lineup of dreamy boho designs in lace, chiffon, and crepe.
PC: Lindley Battle
Feeling the classical persuasion for your bridal look? Looking to show off your impeccably timeless aesthetic? Get inspired with this Grecian wedding dress made with featherlight tulle, á la the dreamy Joanne by Rebecca Ingram. This dreamy bridal gown is impeccable from hollow to hem.
Bishop sleeves make a gorgeous highlight to this V-neck bodice. It's a nod to vintage romance without looking showy or costume-y. You'll feel soft, sexy, and divine.
Loving floral themes for your spring or summer celebration? Play up Joanne's nature-inspired charm with a cascading bouquet and dreamy reception décor. This soft yet sexy bridal gown is designed to complement all kinds of floral accents, whatever your season, venue, and vision. (We can't wait to see photos!)
Love these sleeve and neckline wedding dress trends? Keep browsing with these long sleeve crepe silhouettes and more V-neckline bodices in the links. Whatever V-neck wedding dress with sleeves is meant to be, happy shopping!
More wedding dress inspo:
Our Favorite Crepe Long Sleeve Wedding Dresses for a Sophisticated Celebration
Wedding Dresses with Sleeves for Your Elegant and Romantic Celebration
Our Top 10 Winter Wedding Dresses for an Elegant and Chic Celebration