Dresses
|
September 20, 2022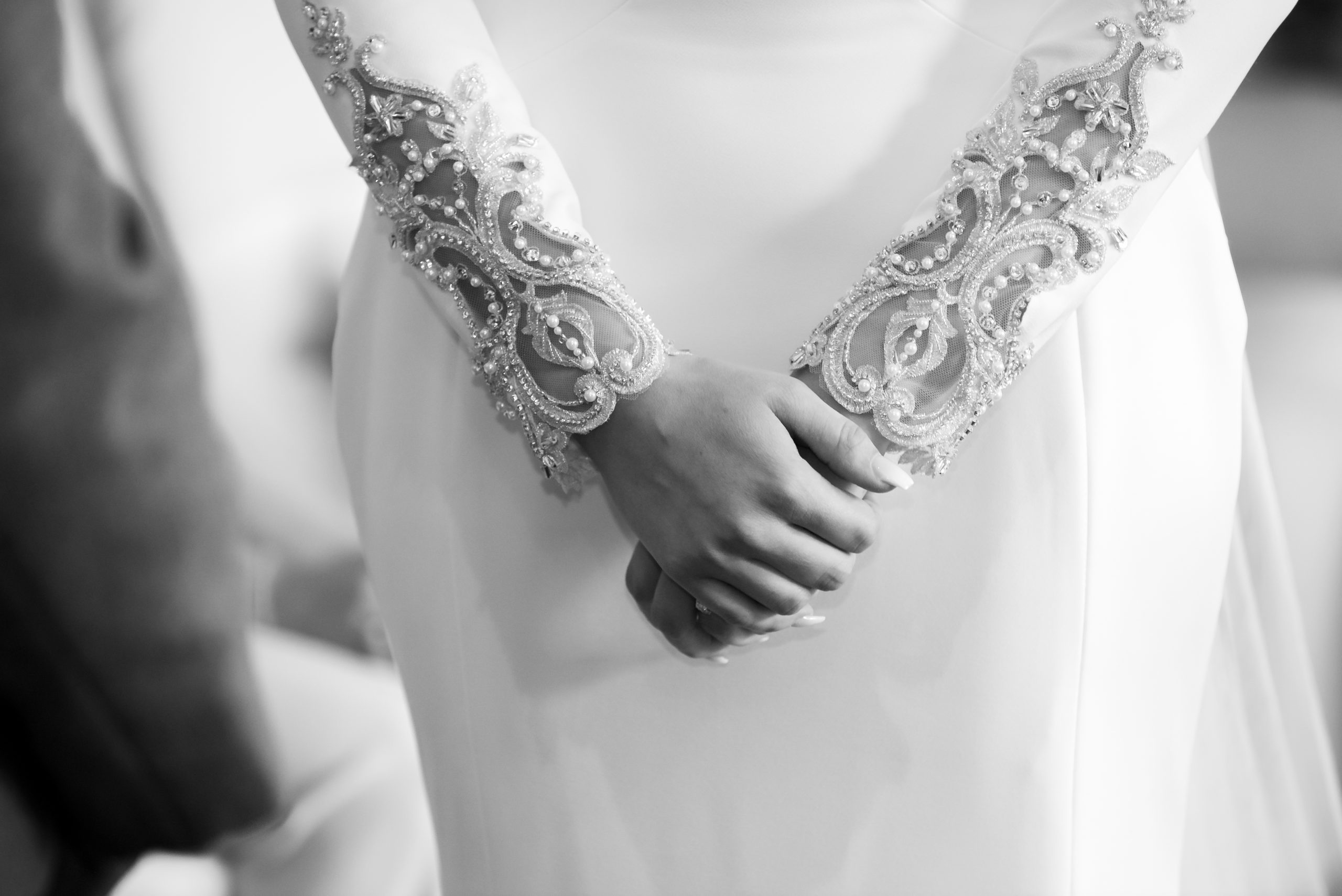 Have your eye on long sleeve wedding dresses for your big day? These gorgeous designs are timeless, romantic, and ultra-elegant — an effortlessly sophisticated choice to match your chic and sophisticated style. If you're looking for modest coverage, unique details, and over-the-top flourishes, this gallery is for you. Keep scrolling!
Have you taken our Style Quiz yet? If you've got your eye set on long sleeves but are still stuck on the aesthetic, neckline, and price point, make sure to get your exclusive wedding bridal look answers there!
What To Know About Long Sleeve Wedding Dresses
It's no question that long sleeve wedding dresses are a bridal mainstay. Season after season, these elegant designs prove "demure and romantic" will never go out of style. From soft bohemian to vintage chic to modern minimalism, sleeve trends are, in a word, irresistible.
Season-wise, long sleeve wedding dresses are also exceptionally versatile. Lightweight tulle silhouettes can be styled for a summer wedding; satin and lace are perfect for fall and winter weather; and soft crepe is a comfy and flattering choice for any season.
Looking for sleeve trends that break the mold? Personalization is the name of the game. We have dozens of silhouettes available with detachable sleeve options (sold separately) to make your wedding look feel completely yours. Add bell or bishop sleeves, illusion flourishes, off-the-shoulder details, and more. Most of these sleeve accessories can be added or removed between ceremony and reception for a classy "Second Look" vibe.
Get inspired with our latest designs!
Sexy Long Sleeve Bridal Dresses for Statement Brides
PC: Riany Haffey
For a sweet and ultra-feminine statement, get inspired by Tuscany Royale by Maggie Sottero. This classic silhouette features stunning lace and illusion layers—a little sexy, a little regal, and undeniably romantic.
The Tuscany sister styles feature several variations for silhouette, embellishments, and (of course) sleeve styles. The formfitting bodice is a perfect complement for the long illusion sleeves on Tuscany Royale. Your bridal portraits will look stunning!
PC: Jas Dodge Photography
It's all about barely-there flourishes in Cambridge Dawn by Sottero and Midgley. This gown is a sexy, chic, and exquisitely detailed take on the sleeved trend. It's fierce and undeniably feminine; a show-stopping choice for a nature-inspired celebration.
Looking for accessories? A vintage halo or delicate flower crown completes the sweet charm of this slinky silhouette, while chic pearl or rose-gold jewelry adds a touch of regal romance. However you style it, you'll be the queen of your magical evening.
PC: Kristina Wild Photography
It's all about the lace and silhouette in Dakota by Sottero and Midgley — a classic yet stunning design to complement your romantic wedding vision. This fit-and-flare is one of our most popular long sleeve bridal dresses for an elegant and ultra-feminine aesthetic.
Dakota is all about a fresh update to a regal silhouette. It's a harmony of chic opposites: a soft fit-and-flare cut with lush cascades of lace. The illusion bodice is tailored to cinch in your waistline, while the long sleeves make a fresh update to the demure design.
Style Tip: Dakota is virtually foolproof to accessorize. Think bridal tiara, chic drop earrings, or a fingertip or floor-length veil. This style is also versatile for any season — lightweight enough for summer but totally adaptable for a cozy winter setting.
Simple And Chic Long Sleeve Wedding Dresses
Fine-spun lace and dreamy chiffon take center stage in Hayes by Maggie Sottero, a simple wedding dress with sleeves for a soft yet stylish bridal aesthetic. The long illusion sleeves add a demure touch to this classic bodice. The cut and flourish look incredible in bridal portraits—especially with that statement lace back.
Looking to personalize? Hayes can be matched with a detachable embroidered train, sold separately. You can also choose beaded cap sleeves instead of long sleeves for a more lightweight option for coverage.
PC: Evoke Photography
It's all about the glitz in Aston by Sottero and Midgley, a statement wedding gown inspired by unique Old Hollywood glamour. This luxe design features a gorgeous cuff design for a luxe red-carpet vibe, the perfect counterpoint to chic and simple crepe.
Aston is the perfect combo of minimalism and shimmer. The high neckline is elegant and demure, and the bejeweled sleeves add intrigue and sophistication. It's a veritable showstopper.
PC: Amanda Steffke Photography
Looking for bridal dresses with sleeves that make you feel like magic? Get inspired with real bride Stephanie's review:
I felt beautiful. How cliché, right? I think it is normal to question your wedding dress choice once it is bought and you are waiting for it to come in. I did just that. Once it was wedding day and I put it on with my veil, I had no doubt in my mind that I made the right decision. I felt absolutely at peace and more than ready to walk down the aisle.
My favorite feature of the dress had to be the sleeves! I knew I wanted a sleeved dress for our October wedding, and once I saw the detail and puff sleeve, I knew this was the dress for me. Also, the overall fit was so flattering.
Abbott also has a sister style, Abbott Dawn — two options to personalize your wedding look!
Black Long Sleeve Wedding Dresses for Edgy Brides
PC: Katie Sikora Photography
Bridal dresses with sleeves can be prim and proper, but often they're super striking and extra whimsical. This romantic ball gown style is the latter. Long illusion sleeves and lush layers in the skirt (very dimensional) combine for a one-of-a-kind design.
Zander by Sottero and Midgley is an ideal choice for brides with a chic and romantic sensibility. It's a deep-V bodice with a voluminous skirt — fit and tailored for total comfort.
Love the black gown trend? Sister style Zander Lane by Sottero and Midgley is another of our gorgeous long sleeve wedding gowns in that daring shade of black. This distinction in this design is the silhouette — a slinky fit-and-flare to match your luxe and feminine aesthetic.
Both Zander and Zander Lane have customization options for fabric, train, buttons, and a matching veil. Speak with your Authorized Retailer for all your options for bridal dresses with sleeves!
If you love the drama and romance of regal long sleeve wedding gowns, we have a stunning princess style for your consideration. Norvinia Lynette is a gorgeous choice for an edgy aesthetic. It's feminine, universally flattering, and a lovely choice for demure coverage.
Looking for more shopping options? Personalize this look for your love story by adding a bridal veil or buttons down the back. This long sleeve wedding dress is also available as a strapless style, Norvinia by Sottero and Midgley.
Long Sleeve Bridal Dresses with Unique Sleeves
Loving these long sleeve wedding gowns? Another covetable statement is Norelle by Maggie Sottero, Flutter sleeves add gorgeous dimension to this sleeve wedding dress with a soft silhouette. This design is whimsical yet sultry — an ideal trend for boho brides.
Personalize this look for your love story by changing the tulle, extending the train, adding buttons, or personalizing the bodice. The bell sleeves are sold separately, and you have the option to add or remove them for different looks for photos, ceremony, and reception.
If you love florals and shimmer, look no further than Nerida by Maggie Sottero. This off-the-shoulder chiffon wedding dress is top-tier chic. It's undeniably couture. It's perfect for personalization and accessories. The color makes a perfect statement. It's true "wow" factor in an over-the-top silhouette you'll love for decades to come.
There's a lot of fabulousness going on in Jennings by Maggie Sottero. This soft chiffon A-line wedding dress is sweet and flattering, from the gorgeous bodice to the lush, layered skirt. The bodice features soft ruching — a classic statement for a Grecian goddess vibe.
Looking for unique accessories? These detachable long flutter sleeves make for an over-the-top fairytale statement. Stunning!
Sleeved Wedding Dresses for Brides Who Love Ballgowns
PC: Oh So Peach Photography
Shopping for something unique yet ultra-romantic? Mallory Dawn by Maggie Sottero features an elegant and feminine design with oodles of shimmer. On its own, this sleeved wedding dress is all about the lace bodice details: an effortless plunging sweetheart neckline with a gorgeous back. It's an effortless combination of tailoring, flourish, and volume.
Delicate sleeves combine with a simple silhouette for a perfect "ballerina" vibe in Tessa by Rebecca Ingram. This affordable wedding gown is equal parts chic, soft, and shimmery — and at the perfect price for your budget.
Seneca by Sottero and Midgley combines exquisite shimmer and a lush silhouette for a perfect "fairy princess" vibe. This sleeved bridal gown is a sight to behold, and even better to wear IRL. You'll feel nothing short of a million bucks.
Psst… Love a good giveaway? Make sure to follow our TikTok below so you can enter into our 25 Days of Giveaways starting on October 4th for some exclusive bridal must-have's!
We've also compiled stunning new designs in our latest blog posts:
Harry Potter Wedding Dresses Inspired by Your Hogwarts House
Disney Princess Wedding Dresses for a Fairytale Celebration
Wedding Dresses to Wear Based on Your Zodiac Sign
As always, we can't wait to see which gorgeous long sleeve wedding dresses catch your eye! Be sure to submit your wedding photos to our real bride gallery to celebrate your happily-ever-after. Cheers!