Dresses
Tips and Trends
|
October 24, 2023
Have your eye on long sleeve wedding dresses for your big day? These gorgeous designs are timeless, romantic, and ultra-elegant — an effortlessly sophisticated choice to match your chic and sophisticated style. If you're looking for modest coverage, unique details, and over-the-top flourishes, this gallery is for you. Keep scrolling!
Btw, have you taken our Style Quiz yet? If you've got your eye set on long sleeves but are still stuck on the aesthetic, neckline, and price point, make sure to get exclusive answers to your style and shopping questions there!
What To Know About Long-Sleeve Wedding Dresses
It's no question that long sleeve wedding dresses are a bridal mainstay. Season after season, these elegant designs prove "demure and romantic" will never go out of style. From soft bohemian to vintage chic to modern minimalism, sleeve trends are, in a word, irresistible.
Season-wise, long sleeve wedding dresses are also exceptionally versatile. Lightweight tulle silhouettes can be styled for a summer wedding; satin and lace are perfect for fall and winter weather; and soft crepe is a comfy and flattering choice for any season.
Looking for sleeve trends that break the mold? Personalization is the name of the game. We have dozens of silhouettes available with detachable sleeve options (sold separately) to make your wedding look feel completely yours. Add bell or bishop sleeves, illusion flourishes, off-the-shoulder details, and more. Most of these sleeve accessories can be added or removed between ceremony and reception for a classy "Second Look" vibe.
Keep reading for our latest designs!
Sexy Long Sleeve Bridal Dresses for Statement Brides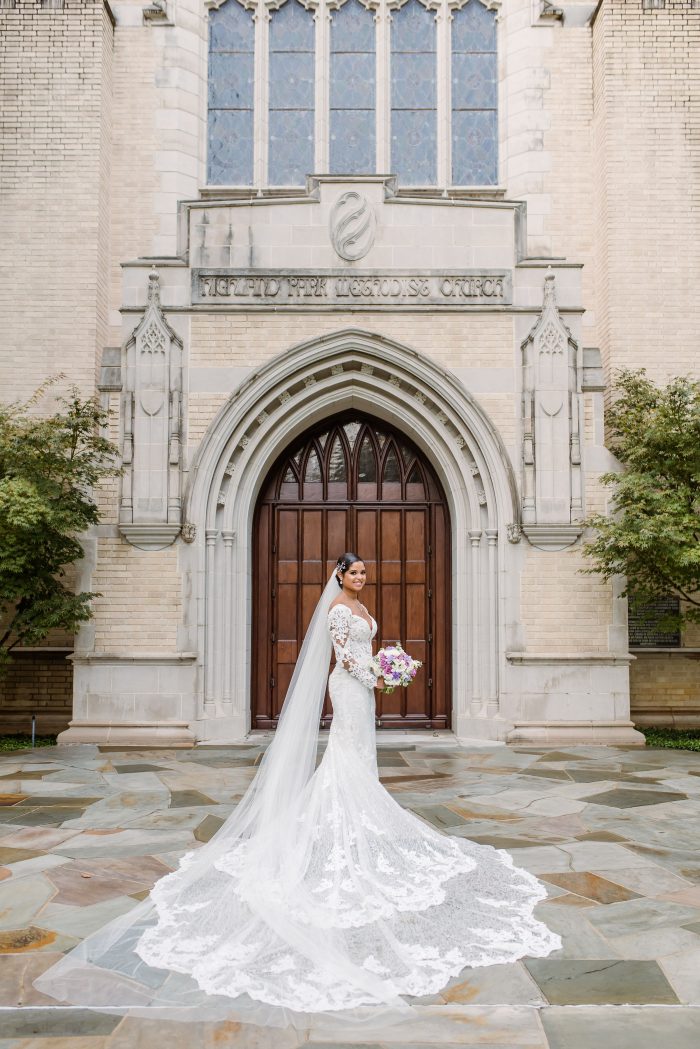 PC: Maggshots Photography
For a sweet and ultra-feminine statement, get inspired by Tuscany Royale by Maggie Sottero. This classic silhouette features stunning lace and illusion layers—a little sexy, a little regal, and undeniably romantic.
The Tuscany sister styles feature several variations for silhouette, embellishments, and (of course) sleeve styles. The form-fitting bodice is a perfect complement for the long illusion sleeves on the Tuscany Royale variation. Your bridal portraits will look stunning!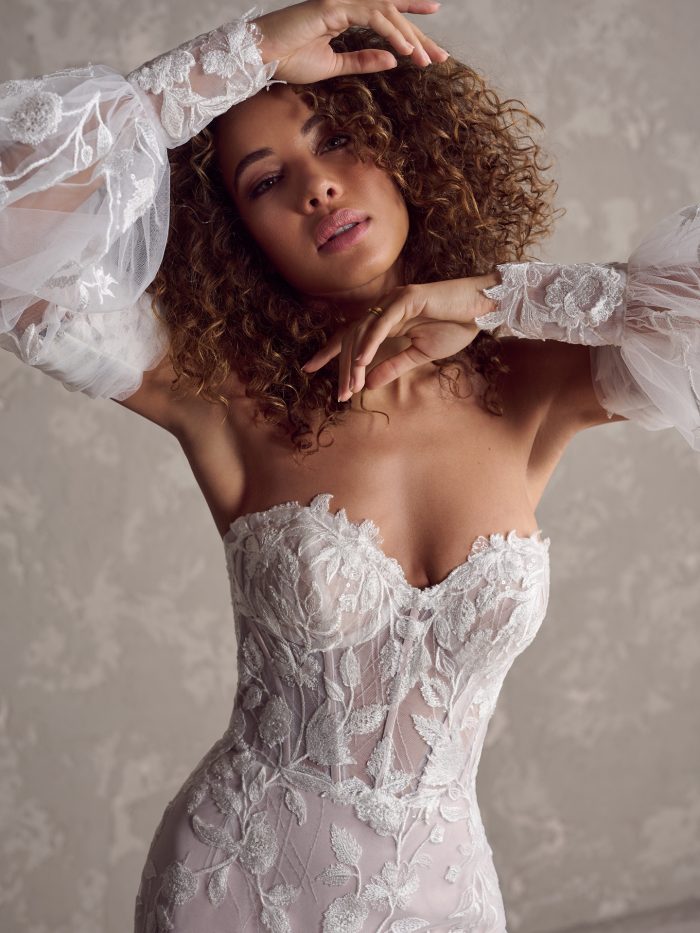 It's all about fit and form in Fairchild by Maggie Sottero. This gown is a sexy, chic, and exquisitely detailed take on the sleeved trend. The off-the-shoulder balloon sleeves are fierce and undeniably feminine — a show-stopping choice for a romantic and glamorous celebration.
Looking for more accessories? A vintage halo or delicate flower crown completes the sensual charm of this slinky silhouette, while chic pearl or rose-gold jewelry adds a touch of regal romance. However you style it, you'll be the queen of your magical evening.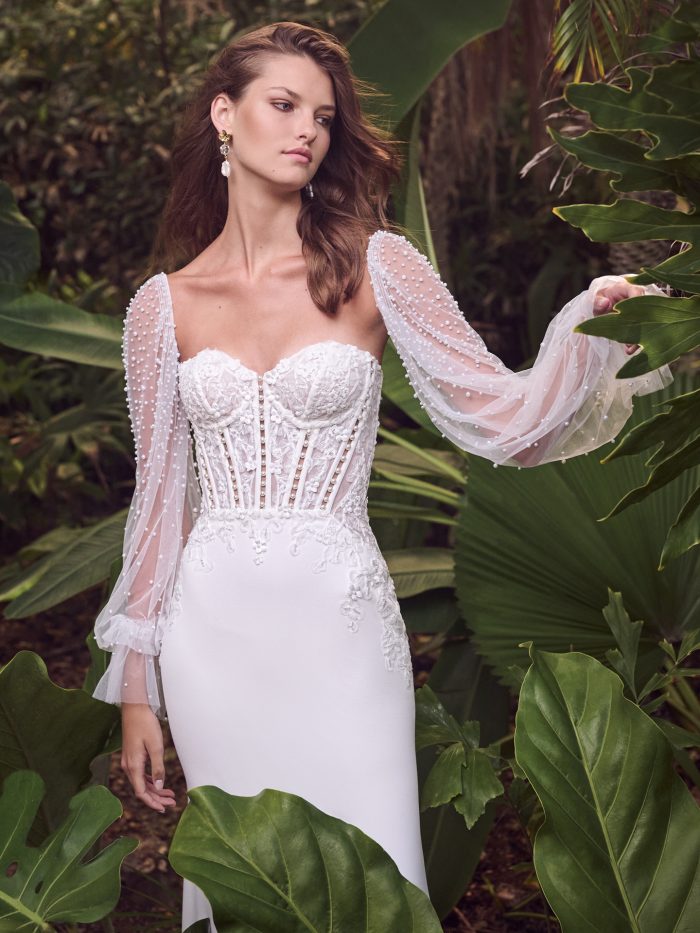 It's all about the drama and embellishment in Doritte by Maggie Sottero — a unique and stunning design to complement your ultra-romantic wedding vision. This boudoir-inspired style is one of our top-trending silhouettes from our latest collections.
Doritte is a unique fusion of relaxed and ultra-luxe wedding vibes: soft crepe paired with a tailored bodice, barely-there illusion paired with eye-catching pearls, and beautiful corsetry paired with voluminous sleeves. The accessory options are sold separately and are perfect for customizing your wedding look; talk to your Authorized Retailer for details!
Simple And Chic Long Sleeve Wedding Dresses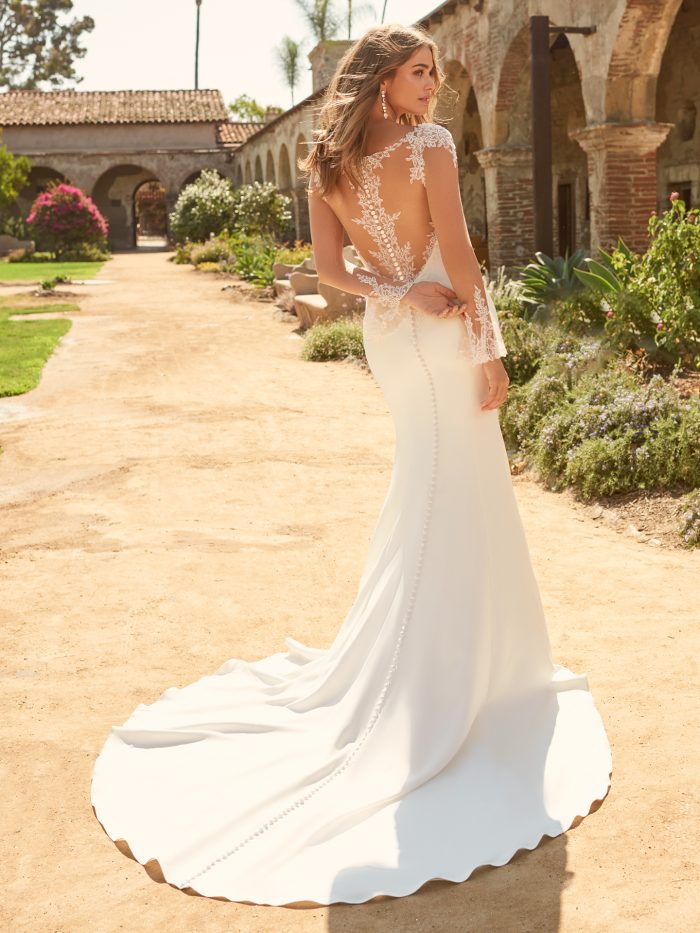 Fine-spun lace and dreamy chiffon take center stage in Hayes by Maggie Sottero, a simple wedding dress with sleeves for a soft yet stylish bridal aesthetic. The long illusion sleeves add a demure touch to this classic bodice. The cut and flourish look incredible in bridal portraits — especially with that statement lace back.
Looking to personalize? Hayes can be matched with a detachable embroidered train, sold separately. You can also choose beaded cap sleeves instead of long sleeves for a more lightweight option for coverage.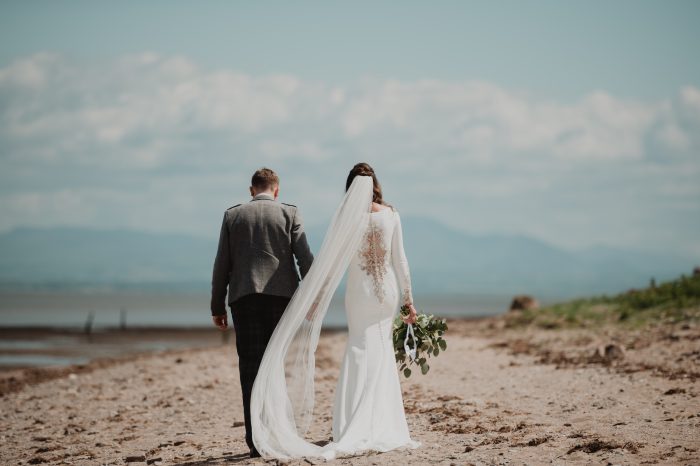 PC: David Yule
It's all about the glitz in Aston by Sottero and Midgley, a statement wedding gown inspired by unique Old Hollywood glamor. Luxe details include:
a gorgeous cuff design for a luxe red-carpet vibe
chic and simple crepe.
the perfect combo of minimalism and shimmer
an elegant and demure high neckline
a bejeweled back adds intrigue and sophistication
AKA, it's a TOTAL showstopper.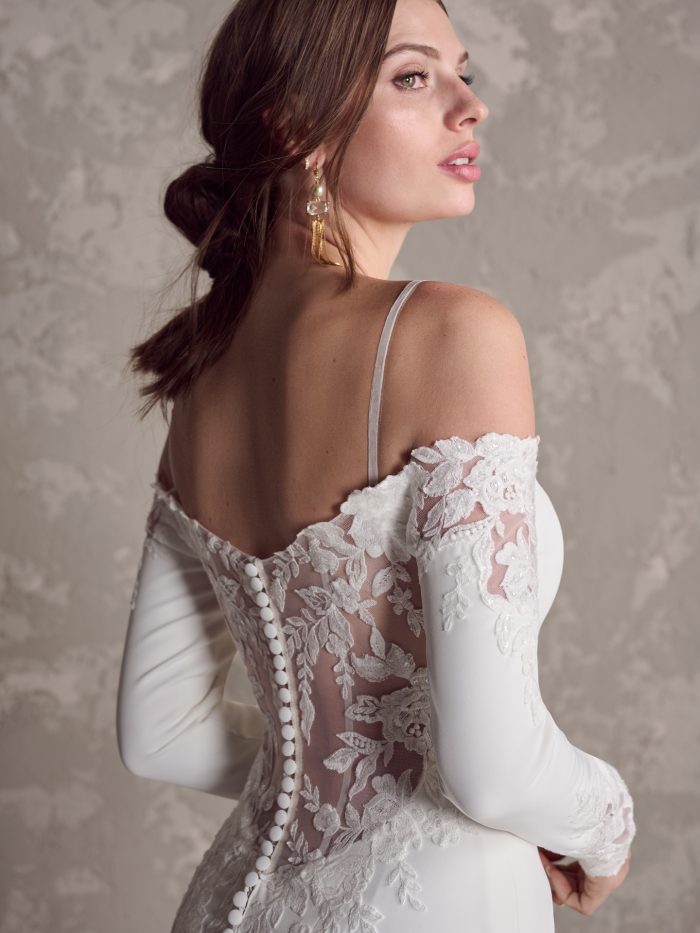 Shopping for something simple yet ultra-romantic? Tyra by Maggie Sottero is an elegant and feminine design with the perfect amount of lace flourish in the cuffs, back, and train. Personalize this minimalist sleeved wedding gown by:
extending the train for more drama
adding a long, simple bridal veil
adding covered buttons down the back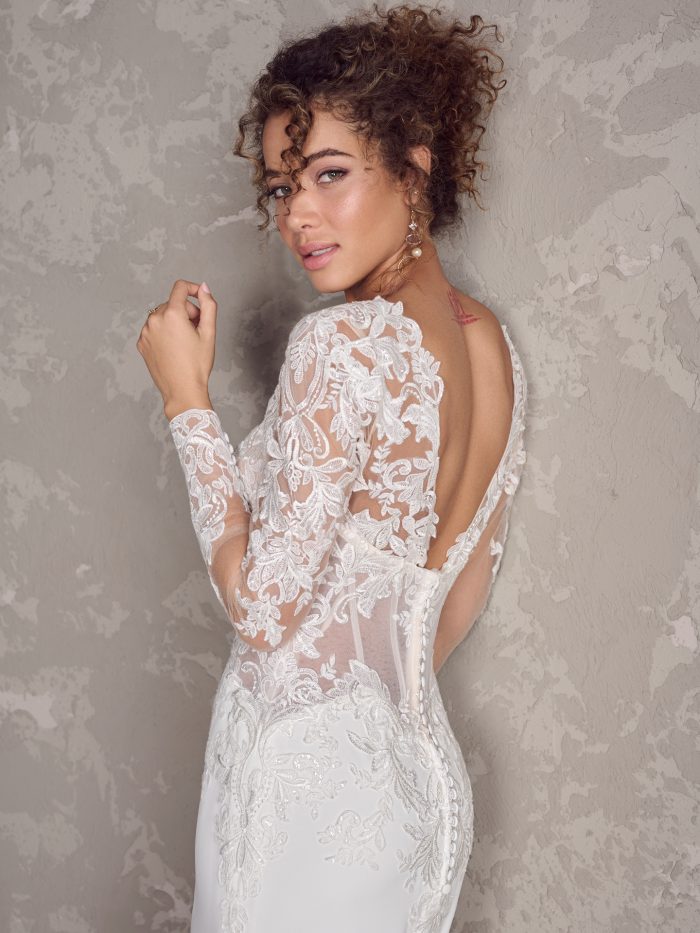 Sexy meets classic in Felecia by Rebecca Ingram, a deceptively simple lace gown with detachable sleeve options (sold separately) and a gorgeous bodice treatment. This silhouette is ideal for an array of venues, seasons, and bridal aesthetics.
Bridal Dresses with Unique Sleeves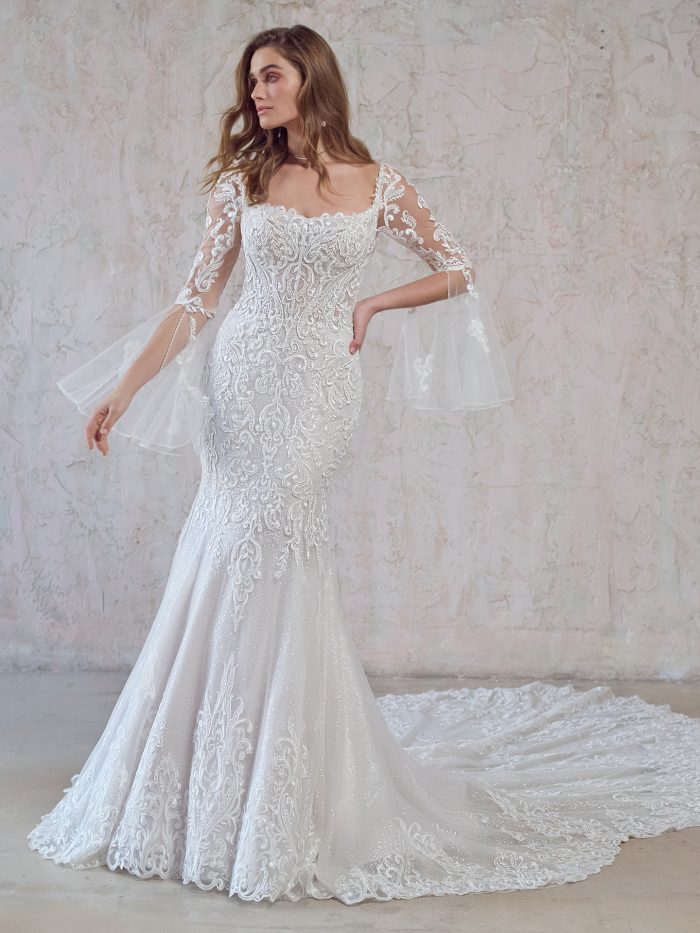 Loving these long sleeve wedding gowns? Another covetable statement is Norelle by Maggie Sottero. Flutter sleeves add gorgeous dimension to this soft silhouette… It's whimsical yet sultry and an ideal trend for boho brides.
Personalize this look for your love story by:
changing the tulle
extending the train
adding buttons
personalizing the bodice.
Sleeve-wise, these bell cuffs are sold separately, and you have the option to add or remove them for different looks for photos, ceremony, and reception!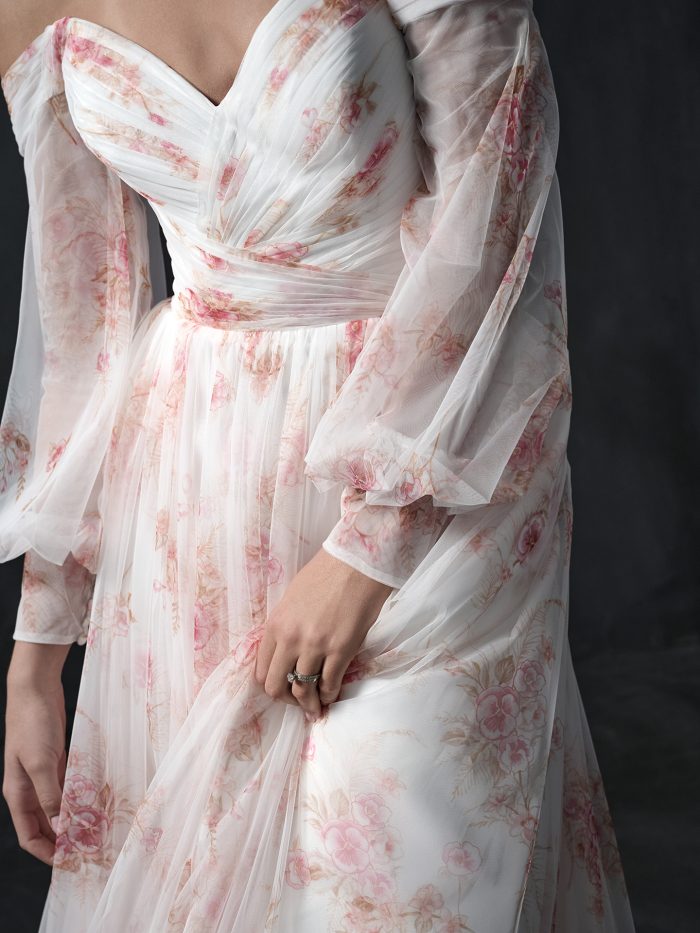 If you love florals and shimmer, look no further than Nerida by Maggie Sottero. This off-the-shoulder chiffon wedding dress is top-tier chic. It's undeniably couture. It's perfect for personalization and accessories. The color makes a perfect statement. It's true "wow" factor in an over-the-top silhouette you'll love for decades to come!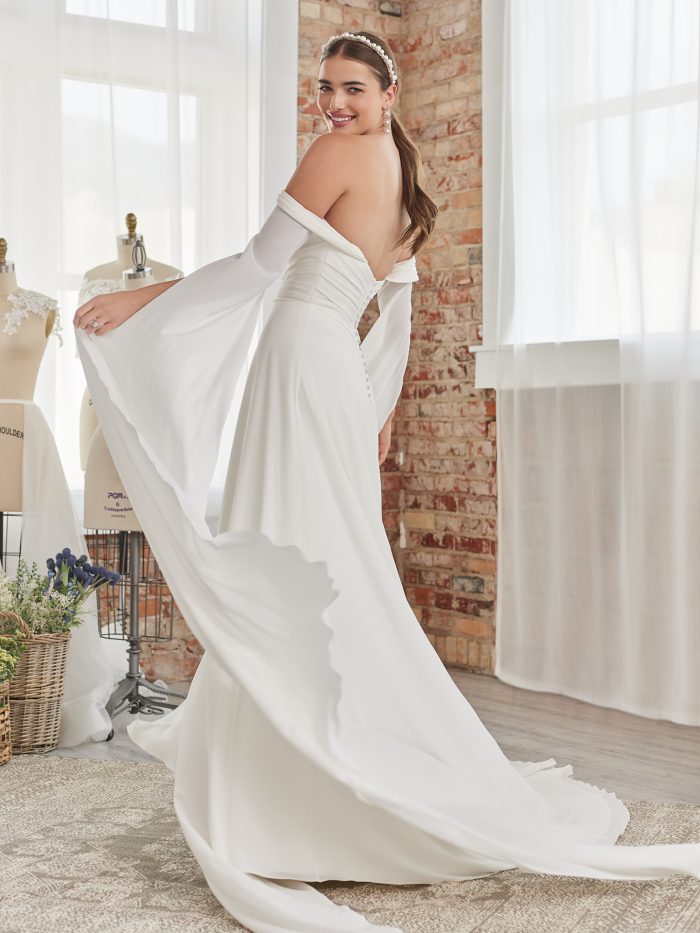 There's a lot of fabulousness going on in Jennings by Maggie Sottero. This soft chiffon A-line wedding dress is sweet and flattering, from the gorgeous bodice to the lush, layered skirt. The bodice features soft ruching — a classic statement for a Grecian goddess vibe.
Looking for unique accessories? These detachable long flutter sleeves make for an over-the-top fairytale statement. Stunning!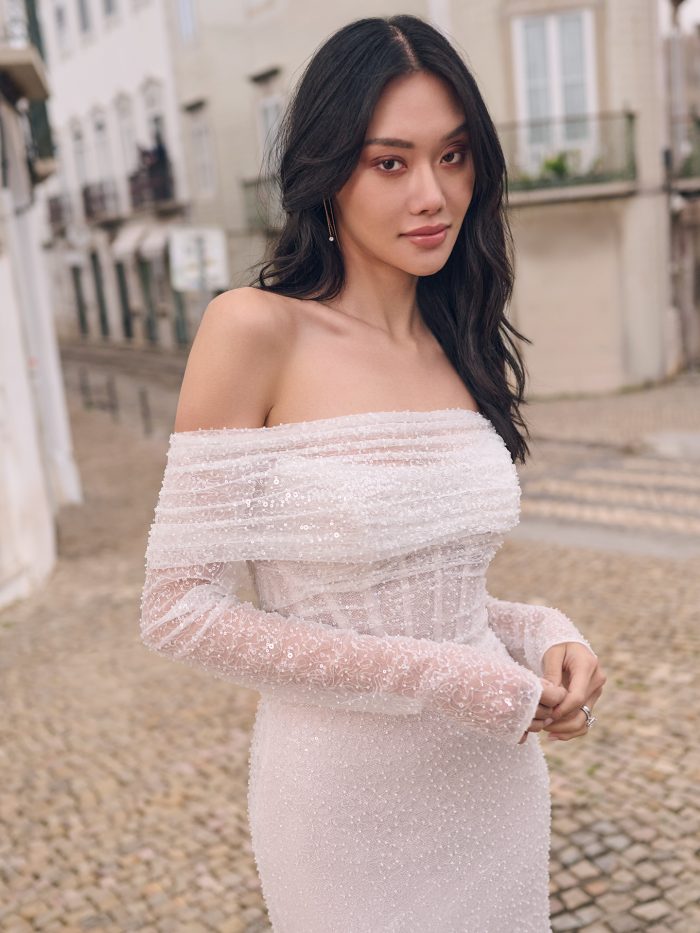 For a bold red-carpet vibe, get inspired with Drew by Maggie Sottero. This sexy sleeved gown features exposed boning, pearl embellishments, and a gorgeous off-the-shoulder wrap with long, lush sleeves (sold separately). We promise you'll feel like a million bucks in this chic and covetable design.
Boho Wedding Gowns with Sleeves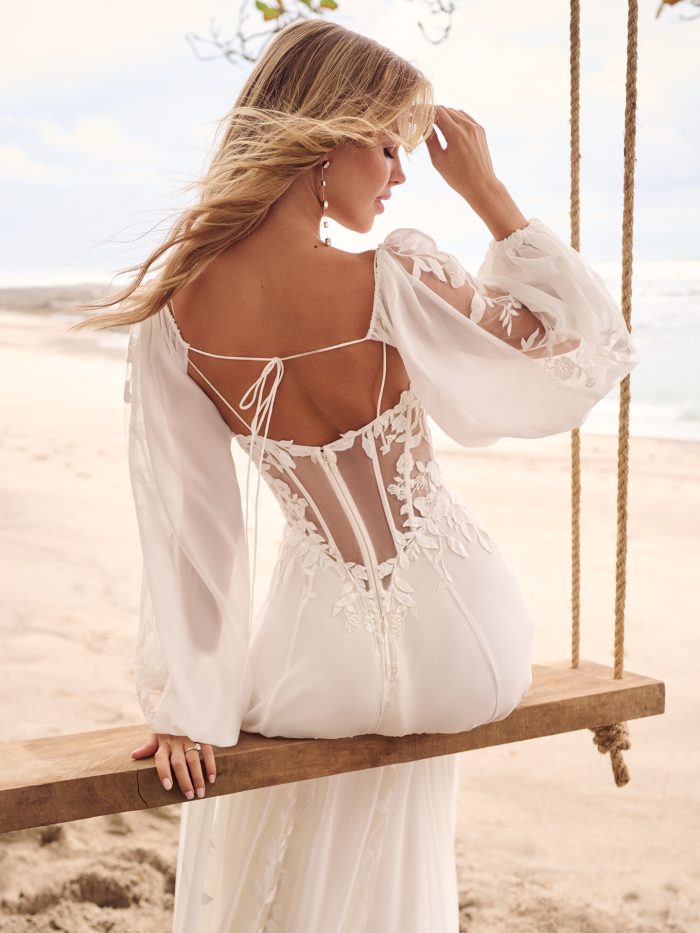 For an effortless and ultra-feminine vibe, look to sleeved wedding dresses with cottagecore details. We're smitten with these details on Sue by Rebecca Ingram:
a soft nude bodice with vintage-inspired lace
exposed boning and corsetry in the back
an ethereal chiffon skirt with illusion layering
a matching sleeve accessory (sold separately) for perfect customization
It's dreamy, sexy, and one-of-a-kind… What more could you love for a nature-inspired celebration?
Sleeved Wedding Dresses for Brides Who Love Ballgowns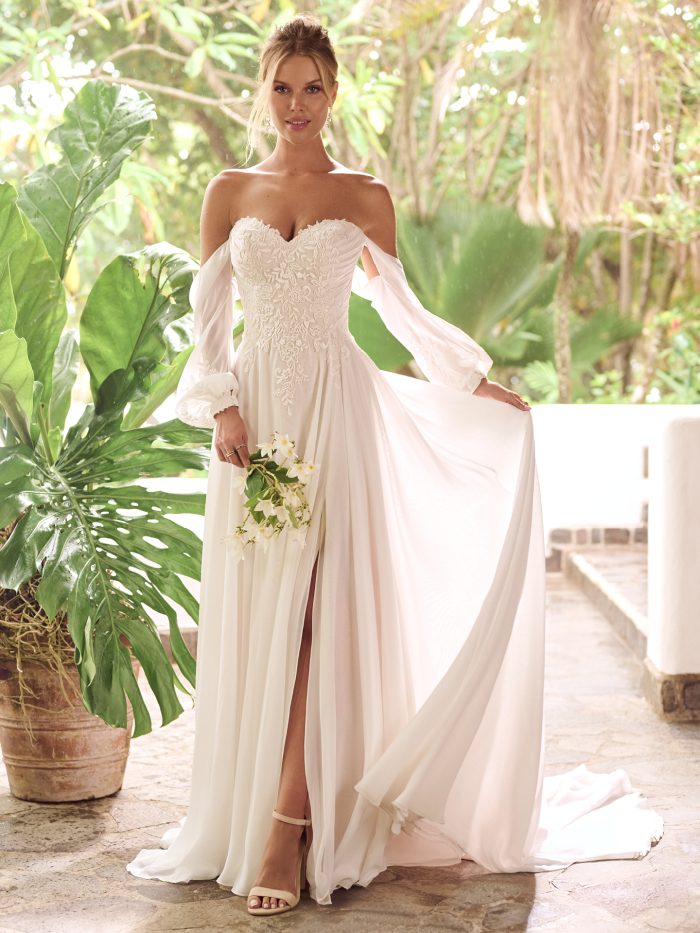 Another whimsical boho option is Dagney by Rebecca Ingram, a soft A-line with luxe layers and delicate lace details. We love the off-the-shoulder sleeves as a removable accessory… They add the perfect touch of regal romance to this timeless silhouette.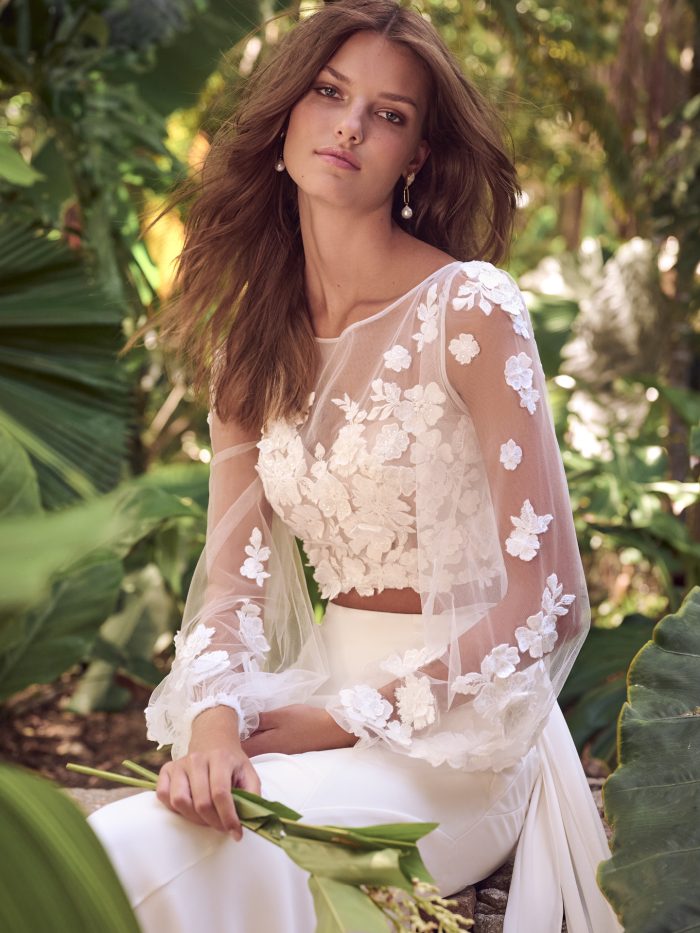 For a totally chic update to the sleeved wedding dress trend, go for a two-piece! Adriana by Maggie Sottero is the perfect fusion of "romantic" and "daring" sensibilities. It's sexy, feminine, and a little bold — a gorgeous choice for international elopements, minimonies, dance parties, and dreamy outdoor venues.
A few ways to personalize Ariana:
Opt to shorten the train or remove the train for a more casual look through special request
Add covered buttons down the back for a vintage vibe
Also available as a one-piece gown if you prefer a more traditional silhouette
Regal Sleeved Wedding Gowns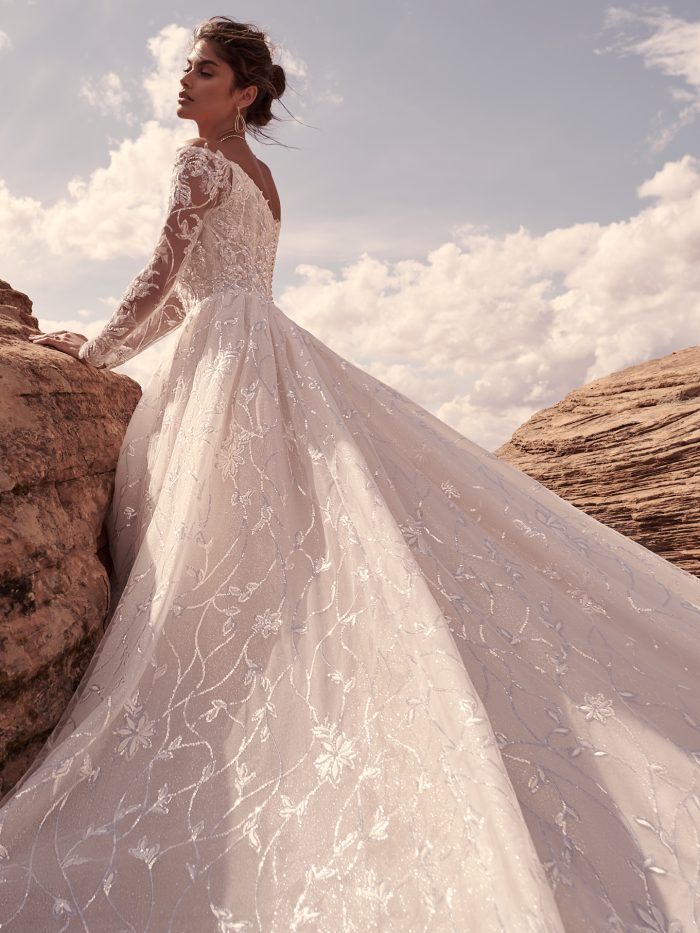 For a beautifully tailored, sophisticated, and glitzy take on sleeved wedding dresses, opt for a regal silhouette like Seneca by Sottero and Midgley. This gorgeous gown is all about the sequins and layers… a fairytale silhouette with shimmer to spare! 
How to make Seneca your own:
Change the second layer of classic tulle to glitter tulle
Remove the train through special request
Add crystal buttons down the back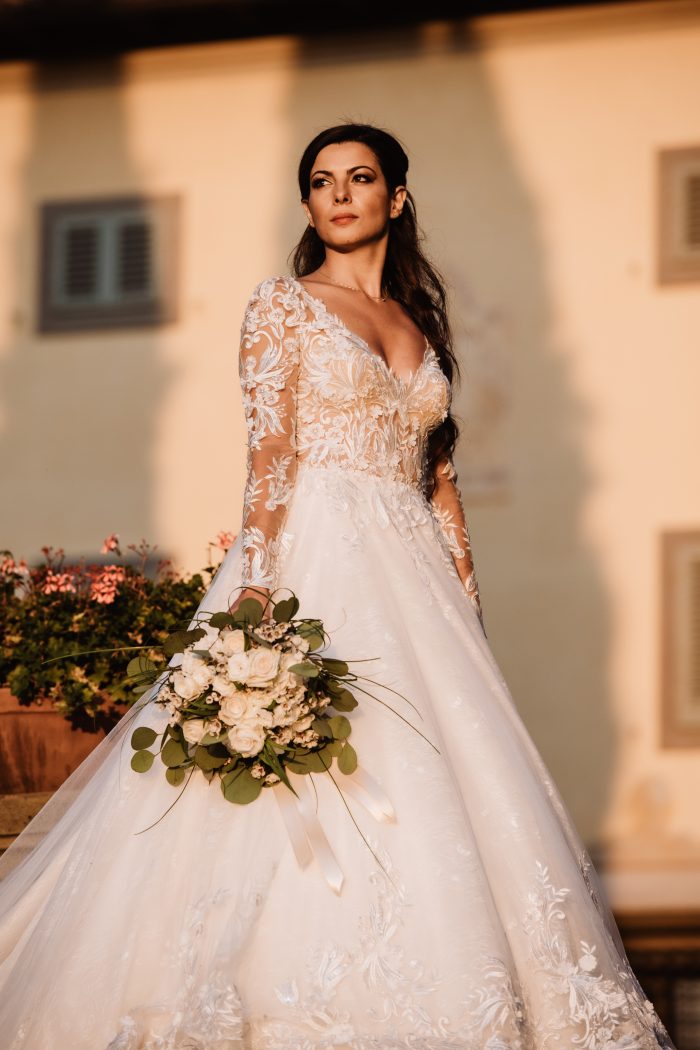 PC: Edoardo Agresti
Bridal dresses with sleeves can often be prim and proper, but sometimes they're super striking and extra whimsical! Sleeved wedding gowns Zander and Zander Lane are definitely part of the latter category. From the long illusion sleeves and lush layers in the skirt to the sexy neckline and nontraditional colorways, you have everything you need for a one-of-a-kind statement.
A few shopping options to make Zander unique to you:
Change the Chantilly lace to texture tulle
Add covered buttons down the back
Also available without sleeves, featuring illusion lace tank straps
Matching tulle veil with lace sold separately
Detachable long fitted lace sleeves sold separately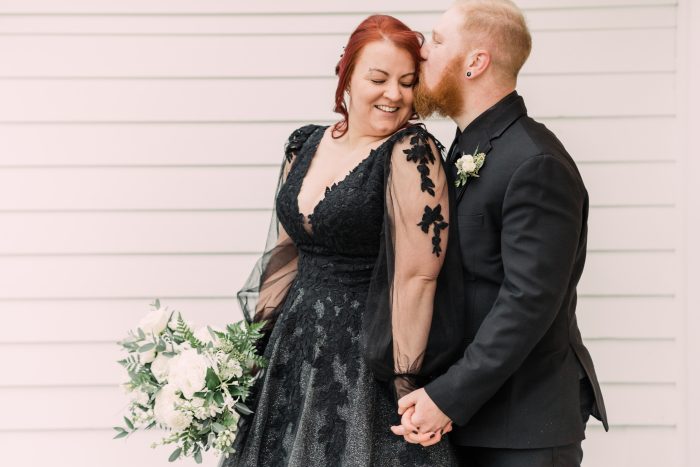 PC: Lola Grace Photo
Another regal choice for a fairytale wedding? The range of color and styling options in Alexandria by Rebecca Ingram! This sleeved wedding gown is a little Victorian, a little regal, and perfectly styled for a vintage wedding vibe. Choose white or off-white hues for a fresh and feminine vibe, or go bold and Gothic-chic with black. You'll feel irresistible in whatever you choose!
More blogs like this:
Trend Alert: Pearl Wedding Dress Styles & Accessories
10 Wedding Dress Trends to Watch For in Our New Collections
How to Pick the Perfect Bridal Veil for Your Wedding Dress
Happy shopping for dreamy-sleeved wedding dresses for your perfect day!