Tips and Trends
Wedding Inspo
|
December 28, 2021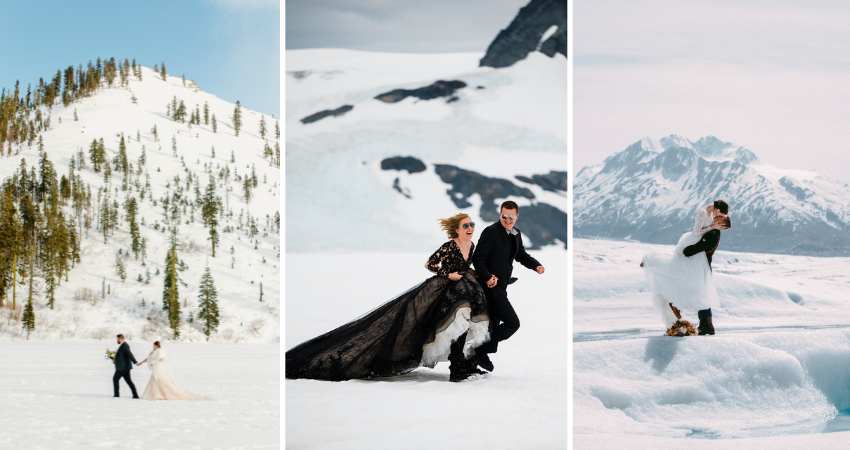 Hey you smart cookie. It seems you've followed our advice to save money with an off-season wedding and you're planning a chic and practical soiree for winter. June may get a lot of mushy romcom hullabaloo, but we're here to talk up every charm of a cozy, elegant, and joyful celebration in the snow, from holiday-themed décor to (you guessed it!) gorgeous winter photography poses against stunning panoramic backdrops.
A beautiful portrait gallery is one of the most important parts of a winter wedding plan. And contrary to assumption, photographers have a lot to work with in the winter season. As long as you have the right lighting conditions and special-effects equipment, any professional can make a rustic lodge, snowscape, or holiday city backdrop feel like magic.
To get you started on a perfect photo package, we've curated some of our go-to backdrop inspo and posing tips for winter weddings. Here's to creating something fun, unique, and completely personalized for you and your sweetheart. (In other words, be sure to bookmark this page.)
Winter Photo Ideas: Use Surroundings to Your Advantage
PC: Nor Cal Wedding Photographers
First up in winter photography ideas: seek out gorgeous vistas. Snowy mountains, blue glaciers, red rock canyonlands, and moody forests make for fairytale-worthy stills.
If you're still in the venue-search phase of planning your winter wedding, consider what works best for your season. For example:
National Parks with dramatic contrasts. Think Yosemite, Zion, and Yellowstone.
National Forests. Think Mount Rainier's surrounding forests in Washington, Bridger-Teton in Wyoming, White Mountain National Forest in Maine, and the areas around Banff in California.
Mountain towns like Telluride, CO; Park City, UT; Asheville, NC; and Coeur d'Alene, ID.
Private ranches, lodges, Christmas markets, winter festivals, and historical sites surrounded by stunning natural scenery.
If you don't have access to a destination-worthy backdrop, you can still evoke "wintery wonderland" with a row of trees or a snowy hill outside of your venue.
Best Dresses For Photos:
PC: Sam Starn Elopements | PC: Joshua Veldstra Photography
This bride is wearing lovely Alistaire by Maggie Sottero. We love this silhouette for its accessory potential.
Zander by Sottero and Midgley makes an unforgettable statement against snowy backdrops. This chic style also comes in ivory options.
Lace sleeves make Mallory Dawn by Maggie Sottero a perfect design for cooler temps.
Seasonal Winter Photography Tip: Time with Winter Golden Hour
PC: Vows And Peaks CO Photograph
One of the best things about winter is the unique lighting. Sunshine may be rare, but the effects are spectacular. These are our tips for working your golden hour:
Golden hour is actually much longer in winter. (You never have to worry about too much direct light washing out your photos.) You need to time your session earlier in the day, but you'll have more flexibility with the session.
Just like golden hour in summer, you can also time your photos for early in the morning rather than evening.
Utilize the dramatic contrasts between snow and light. Plants may be dormant, but they make beautiful texture and visual interest to photos.
Alternatively, use clean backdrops if you don't like dead stuff. All-white vistas look spectacular with golden sunlight.
Bring layers to put on between shots. Your photographer will be happy you aren't freezing your tushes off.
Best Dresses For Photos:
PC: Megan Simpson Photography
This bride is wearing boho-chic Bree by Maggie Sottero. This is another lovely option for illusion coverage and a regal silhouette.
Charlene by Maggie Sottero is a sweet, shimmery, and versatile silhouette for winter weddings.
Photo Inspo: Have Fun with Accessories
PC: Vows And Peaks CO Photograph
Another way to explore winter photography ideas is with accessories. Starting with your head-to-toe bridal ensemble, get inspired with:
Dramatic bridal veils
Statement capes and overskirts
Faux fur shrugs
Jackets in denim and leather
Vintage cardigans and pashminas
Snowy flower crowns
Sunglasses
Wide-brimmed hats
Crystalline hair accessories
Gloves and gauntlets
Plush boots
Beyond outfits, winter photography gives the opportunity to use chic and playful props, like:
Sleighs and sleds
Happy pets like pups, horses, and bunnies
Wildlife (tame, of course) like owls, reindeer, and llamas
Garlands and lights
Umbrellas and musical instruments
Hanging props like paper snowflakes
Architectural details like arches, mirrors, frames, and canopies
Holiday details like wreaths and ornaments
Best Dresses For Photos:
PC: Sam Starn Elopements | PC: Megan Simpson Photography
Charlene by Maggie Sottero's bodice is perfect for wraps, veils, capes, shawls, and pashminas.
We're crushing on this personalized jean jacket for Bree by Maggie Sottero. This makes for great Instagram photo ops and playful portraits.
Zander by Sottero and Midgley looks spectacular with a leather jacket. This is also a great accessory for bridesmaids.
Winter Photography Poses: Cuddle Up with Your Partner
PC: Jessa E Photography
Colder temps offer the perfect excuse to snuggle up for photos. Some of our favorite couples poses include:
One partner behind the other in embrace
Face to face with foreheads touching, eyes closed
The lift or dip-kiss
The forehead or top-of-head kiss
The face cradle: one partner holds the other's chin in their hands
Leading one another through snow
Holding hands looking at a vista
Head on a shoulder
Look to your photographer for guidance and support during the poses. Depending on your personality, the session may feel natural or awkward. Your pro can help capture your authentic style and demeanor while elevating the look and feel of your portraits.
Best Dresses For Photos:
PC: Joshua Veldstra Photography
Tuscany Leigh by Maggie Sottero is a soft and demure lace wedding gown that looks gorgeous in the snow. We love the warmth and affection brought out in this winter photography portrait.
This bride looks divine in Mallory Dawn by Maggie Sottero.
Photographer Tip: Ask to Edit Photos in Black and White
PC: Nor Cal Wedding Photographers
Whatever your backdrops, poses, formalwear, and venue details, look to post-production to amp up the mood and aesthetic of your wedding portraits. One of our favorite tips for winter photography shots is to double up with black and white. You'll love these shots for picture frames, albums, gifts, and holiday cards.
Best Dresses For Photos:
This is another shot of Alistaire by Maggie Sottero. The lace looks chic and romantic in black and white photography.
Zander by Sottero and Midgley is obviously foolproof in black and white. The image contrast is impeccable.
Lace and illusion add dimension to Mallory Dawn by Maggie Sottero. This portrait looks regal, sophisticated, and ultra-romantic.
Winter Photography: Show Off Your Wedding Dress in the Snow
PC: Joshua Veldstra Photography
It goes without saying you should use snowy conditions to show off your wedding gown. The surroundings add all kinds of dramatic effects: shimmery light, depth and dimension, visual storytelling, and of course, contrast. A white or ivory wedding gown looks divine with an all-white backdrop. A shimmery or lace wedding dress adds dimension and texture. A black wedding gown takes center stage with its statement hue.
Best Dresses For Photos:
PC: Nor Cal Wedding Photographers | PC: Sam Starn Elopements
Zander by Sottero and Midgley is chic and irresistible in the snow. You'll love showing off the bodice and train.
Alistaire by Maggie Sottero looks like it was designed specifically for walking in the snow.
Mallory Dawn by Maggie Sottero offers chic coverage for your photography session.
Winter Photography: Weather Photo Tips – Add Visual Interest with Falling Snow
If snow is falling softly outside your ceremony or reception, head outside to get some one-of-a-kind portraits. The resulting images are delightfully cozy.
Weather not cooperating? Ask for soft snowflakes post-production. A falling snow filter looks elegant and natural in most landscape and snowy portraits.
Best Dresses For Photos:
PC: Forrester Photography
This bride is wearing Dakota by Sottero and Midgley. The long illusion sleeves are a sophisticated choice for winter weddings.
Off-the-shoulder Kennedy by Sottero and Midgley is another irresistible choice for winter weddings. This look is classic, sexy, and ultra-feminine.
Ready to plan out your photo session? If you're also looking at décor and party details, head to our post on chic winter wedding ideas. (It's a gallery of party favors, palettes, florals, and venues to match the holiday charm of your occasion.) You can also find inspo in this rustic winter lodge wedding from one of our real brides. (This is also great for COVID wedding inspo; the ceremony was intimate and effortless!)
And finally, get inspired with our gallery of wedding dresses to fall in love with for winter. From sleeves and fabrics to veils and embellishments, these are our latest picks for a cozy, stylish celebration.
Happy planning for your best day ever! We're huge fans of soft and romantic winter photography ideas, so please send us your most gorgeous shots for the chance to be featured on our blog and social media. Summer parties are bold and colorful, but cooler temps bring a special delight to your celebration. There's nothing quite like the backdrops, weather, light, and details to make your gallery feel one-of-a-kind. Happy holidays!