Dresses
Tips and Trends
|
April 25, 2023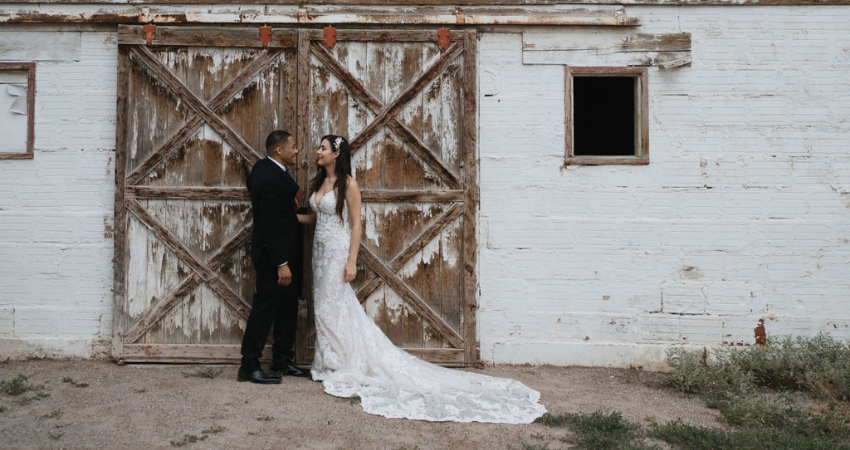 Ready to add the perfect flourish to your classic, romantic, or over-the-top wedding look? Look no further than the detachable bridal dress train — an effortless way to indulge in a stunning accessory for your "totally you" bridal look. To celebrate the wedding season to come, we've curated our latest offerings for overskirts, train extensions, and shopping options. Keep scrolling for all the magic and make sure to take our Wedding Dress Quiz below to find your dream gown to match with your detachable train!
What is a detachable wedding dress train?
A detachable wedding dress train is a type of layered bridal accessory, similar to an "overskirt" or long, romantic cape to extend the length of your gown's skirt. It's also a convenient and elegant way to personalize the look and feel of your wedding look.
Detachable dress trains can be made in a variety of fabrics to mix and match with your wedding gown. Some detachable trains add volume and dimension to a structured wedding dress. (Think satin or Mikado.) Others are made with lightweight, ethereal fabrics and soft shimmer, designed to create a floaty, effervescent effect. (Think lace, crepe, and tulle.)
If your wedding dress doesn't have a long train, or you want to add even more drama to your princess gown, a detachable dress train is the perfect accessory. Adding this lush layer creates a uniquely regal silhouette, creates visual interest for photos, and gives you that perfect "reveal" for a ceremony or reception change-up.
A wedding train comes in a variety of lengths — from something that simply sweeps the floor, or a variation that glides out several feet behind you.
And here's the best part about a detachable accessory: long trains that are attached to your gown can add a lot of weight and be difficult to bustle — so something detachable gives you the option of taking it off later! You get the drama and flourish for your ceremony without the difficulty of holding it up during your reception. It's the best of all things bridal.
We've curated some of our favorite ideas for detachable train wedding dress looks below!
Detachable Dress Trains & Skirts
Tuscany Royale by Maggie Sottero Detachable Lace Trains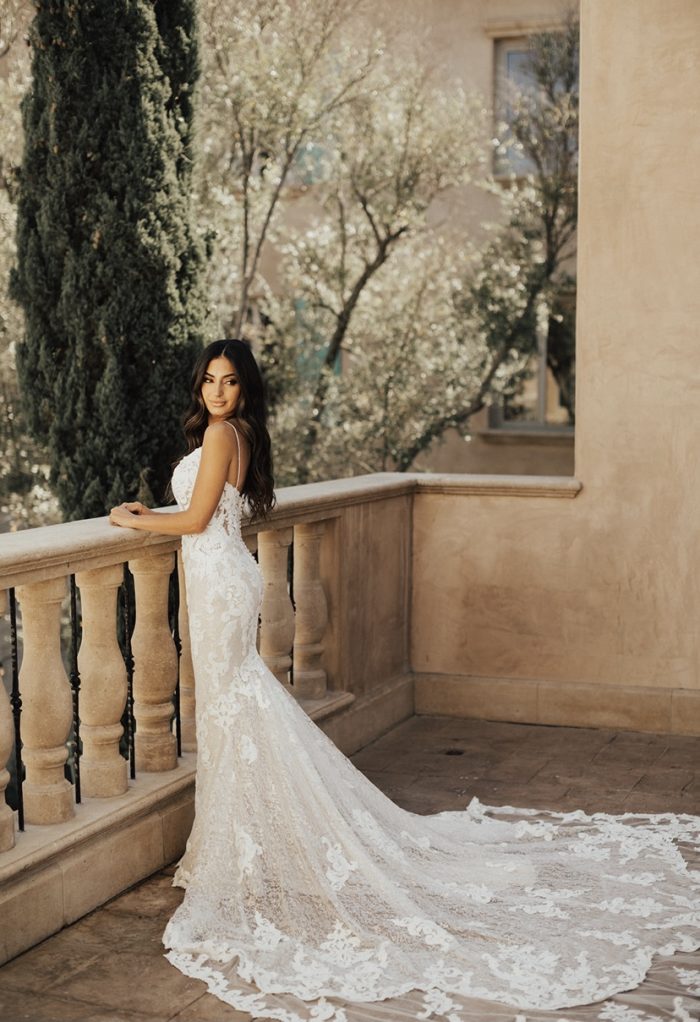 PC: Heirlume Photography
One of our most popular and top-reviewed dresses is Tuscany Royale, a sexy lace fit-and-flare with a range of sister styles and accessories. With these options and personalizations, you can curate a bridal look that's 100% true to your style.
This lush and romantic style is perfect for a variety of wedding aesthetics. Tuscany Royale features four matching train options:
This beautiful gown is part of the Tuscany bridal collection. Learn more about these Sister Styles and accessories in our gallery.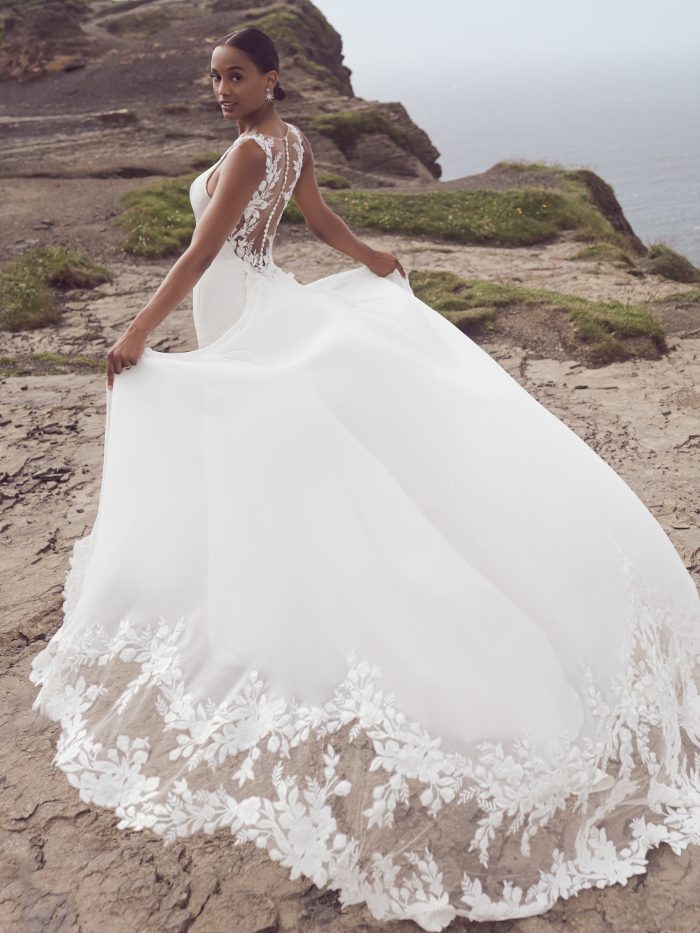 Designed for the simple Frida wedding dress, this chiffon train is all about the lace and illusion details. Add this accessory to create a breezy, summery, and ultra-chic bridal vibe. 
Frida is a lovely gown choice — a gorgeous minimalist silhouette with soft lace flourishes at the neckline and a captivating illusion back.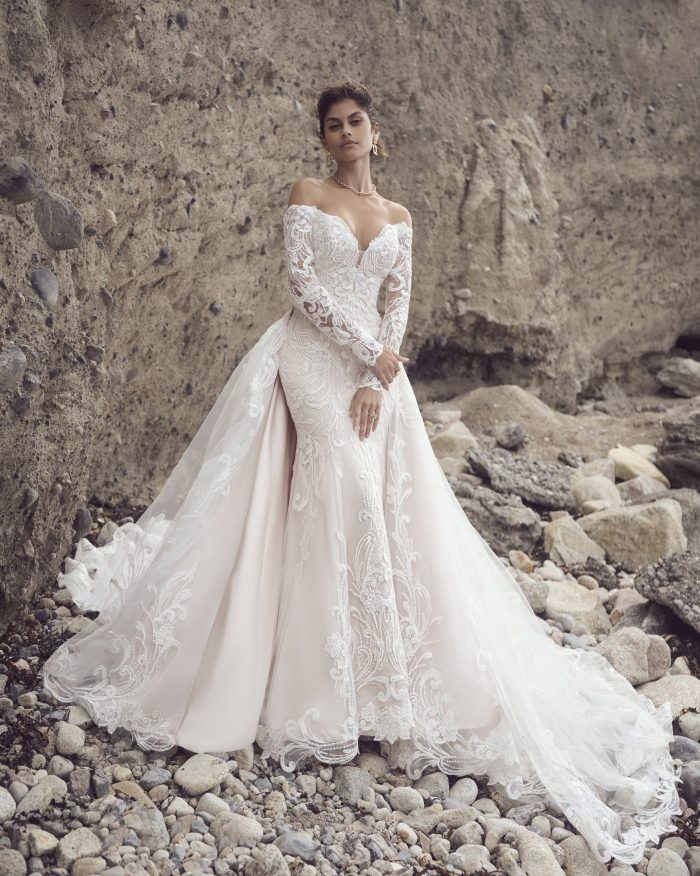 Viola by Sottero and Midgley is a stunning ball gown style dress with intricate details. The silhouette features a fitted bodice adorned with beautiful beading and delicate lace motifs, while the lush skirt gives way to a long, dramatic train.
To add to the lush ball gown effect, Viola features a detachable wedding train made with matching lace and layered illusion. This accessory is a gorgeous choice for photo ops and ceremony change-ups.
Other personalization options include:
Option to change the sparkle tulle to plain tulle
Available with long sleeves or cap-sleeves
Available with added beading to the front and back neckline
Extra lace motifs included for minor neckline alterations
This sexy off-the-shoulder neckline glides into long illusion sleeves for a regal and sophisticated vibe. You can also order with delicate off-the-shoulder cap-sleeves for a soft and summery feel.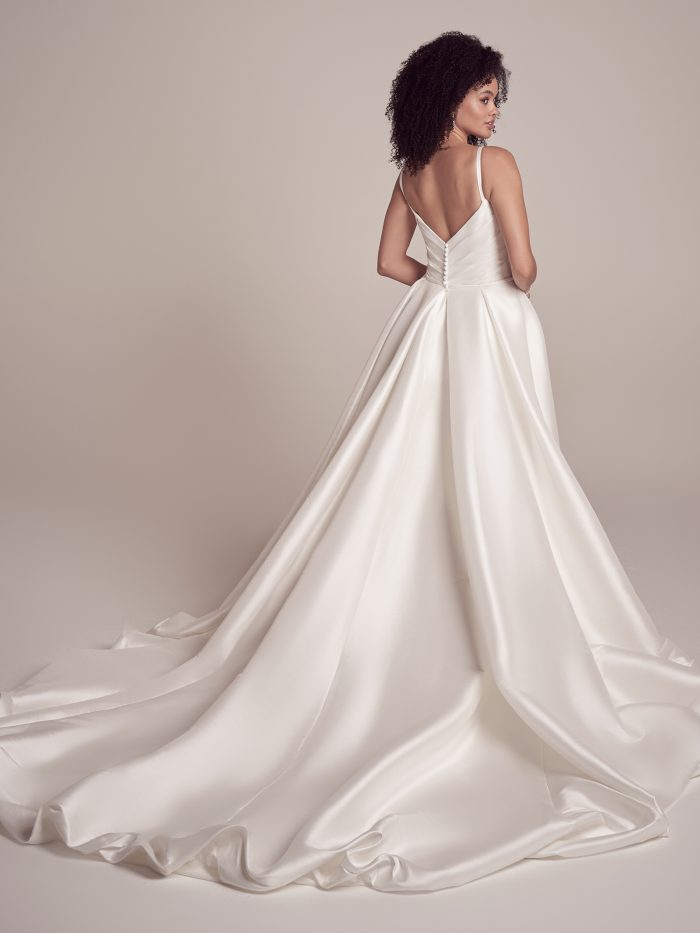 Satin is a stunning choice for a detachable dress train. The structure and draping create a lush shape and elegant sense of motion. We love the balance of minimalism and luxury in this timeless bridal accessory.
Foster is also a beautiful gown on its own… The simple fit-and-flare silhouette is designed to show off your curves and complement your elegant wedding vision.
Foster features a second unique dress train accessory: an oversized bow for a chic vintage flair. Choose this flourish for a sweet and playful twist on a classic silhouette.
Dive into more simple satin wedding dresses in our gallery of inspiration from our real brides.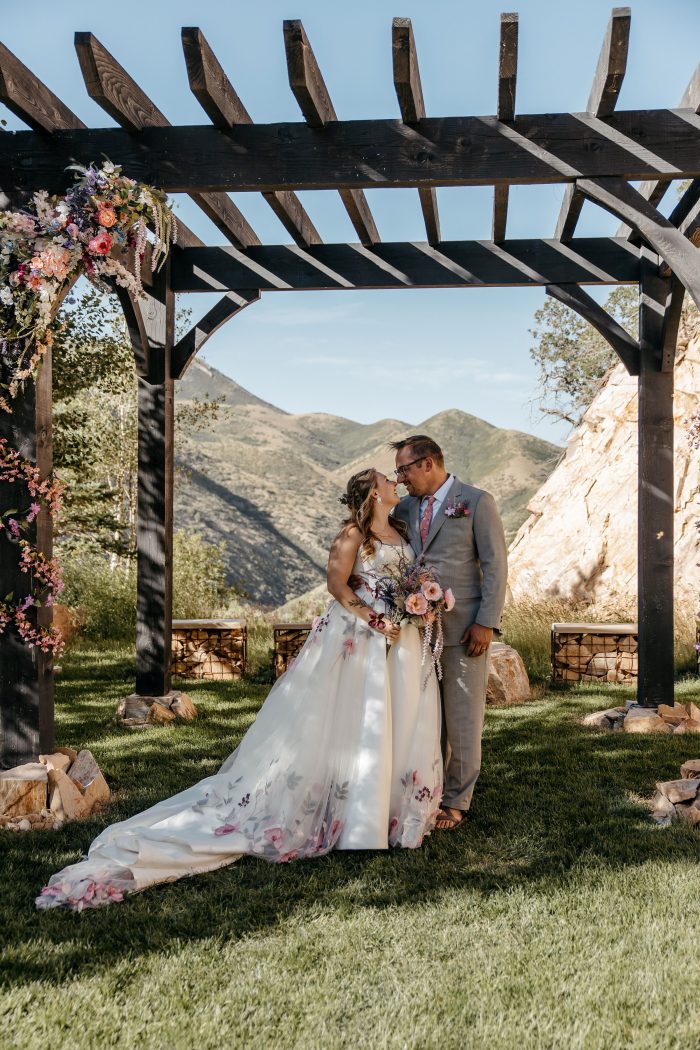 Love a pop of color? Make the perfect statement with this colorful 3-D flower bridal train. (But of course, if you're a forever traditionalist, it also comes in white.) This lovely bridal train can be attached to virtually any of our wedding gowns — just check with your Authorized Retailer for details.
These photos show Lavinia matched with our gown Selena by Maggie Sottero. This is a stunning minimalist wedding gown with a lush skirt and fitted bodice. (Elegant! Gorgeous! Truly timeless!) Other matching accessories include:
Love this inspiration? Dive into how real bride Amy matched her personal style to her wedding train and overall aesthetic, featuring lovely details from her woodland fall wedding.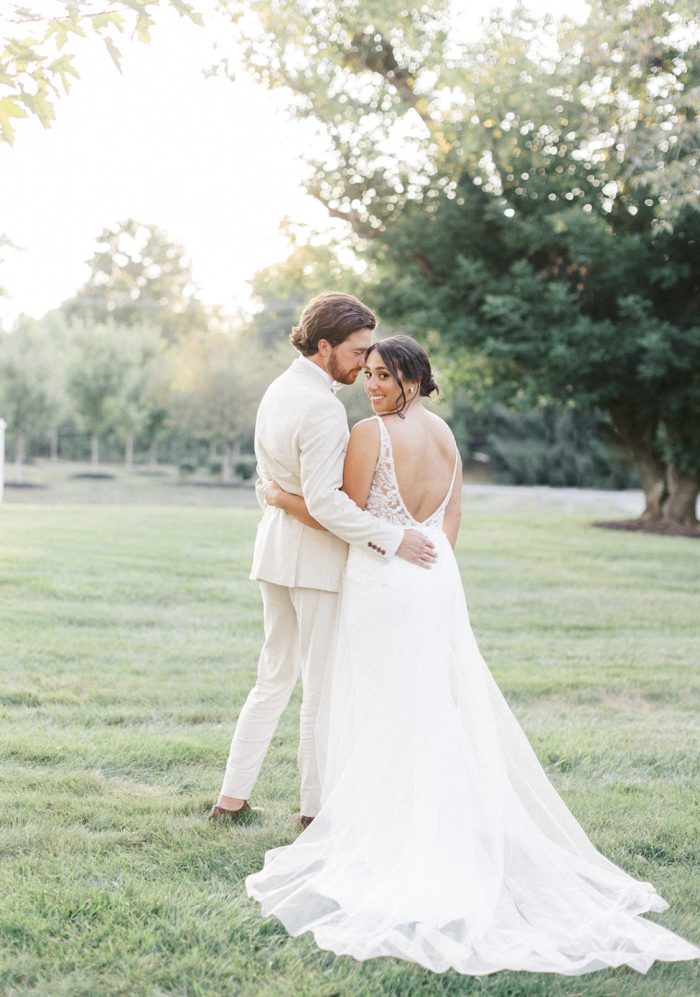 PC: Jill Sahner Photography
Shopping for something soft, simple, and ethereal? Add beachy-inspired Carmen to any wedding gown for that extra layer of light and motion. We've designed it for our sweet and simple Carmen wedding gown — a chic and affordable favorite from our Rebecca Ingram collection.
Carmen features other personalizations as well. You can add illusion long sleeves (also detachable), or order as Carmen Lynette, a sister style made with crepe instead of tulle. Both styles can be accessorized with the detachable overskirt, a chic veil, and the detachable sleeves.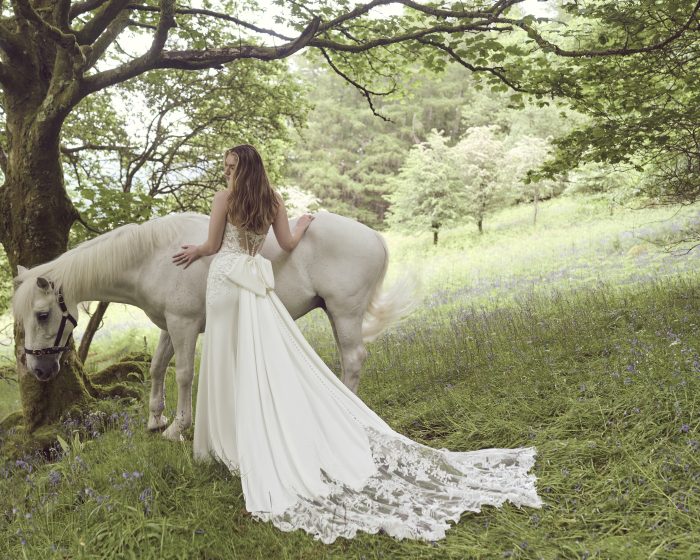 For a gorgeous dose of whimsy, look to oversized statements like this Oksana bridal train. We love the chic bow detail combined with the illusion lace train — it's a lush and feminine way to play up your romantic wedding dress.
This train is designed to complement the Oksana bridal dress, a sleek, curve-hugging fit-and-flare made with a luxe and summery satin. The bow adds the perfect accent to the gown's illusion corset back. 
Oksana's other personalization options include:
Detachable off-the-shoulder beaded lace cap-sleeves sold separately.
Extra lace motif included for minor neckline alterations.
You can also add a bridal veil from any of our latest collections. Gorgeous!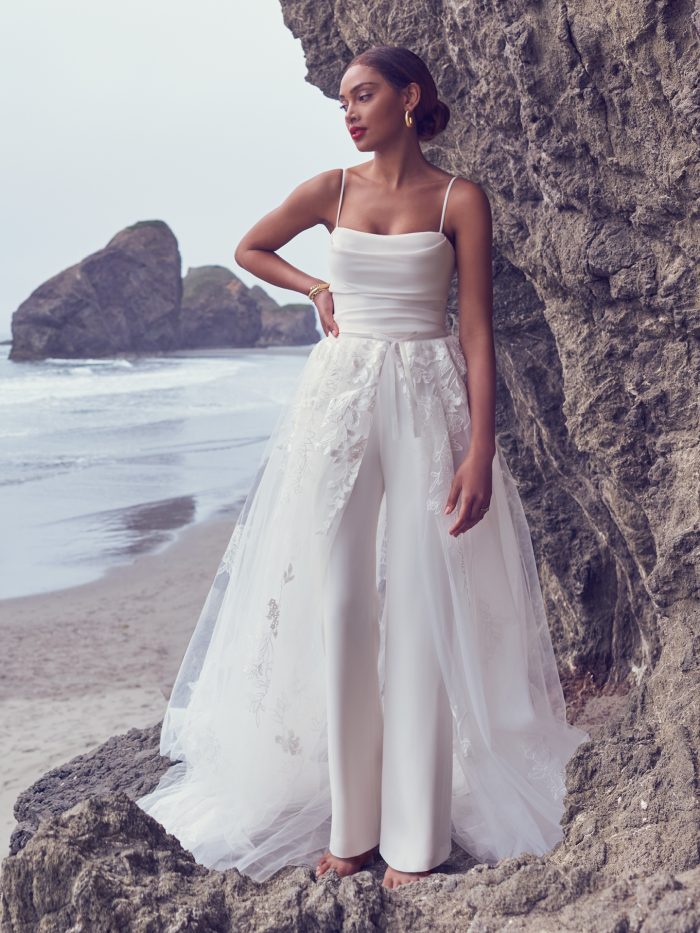 Dare to go nontraditional for your big day? Do you have a chic aesthetic and playful personality? Consider adding a lace detachable train to a crisp white jumpsuit. Featuring the Stacey overskirt and Gibson jumpsuit, this look is smart, stylish, and anything but ordinary. 
Stacey can also be paired with a variety of wedding dresses — if you're feeling more traditional.
Gibson would also look beautiful with a fingertip veil, cape, or jacket. Whatever you choose, your look will be totally one-of-a-kind.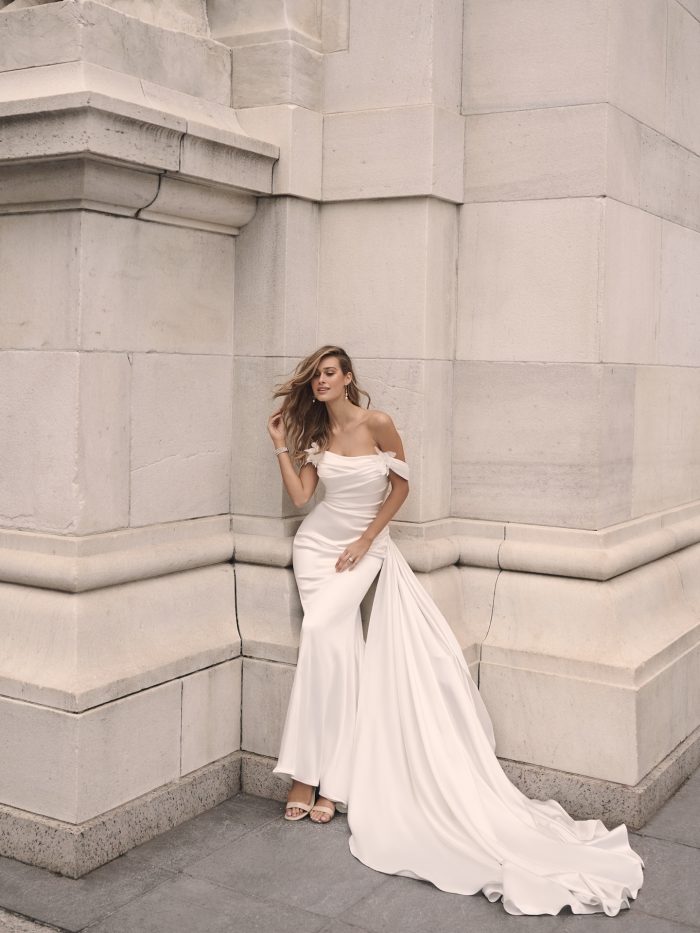 Simple, elegant, and ultra-feminine, this detachable train wedding dress look is all about the vintage glamor. Cameron by Maggie Sottero is a Grecian-inspired silhouette with gorgeous draping and luxe lining. Add the matching train for that extra dose of fabulous.
Other ways to personalize Cameron:
This gown also features a gorgeous matching veil with oversized lace flourishes. 
It also goes with a variety of our other trains, capes, and veils.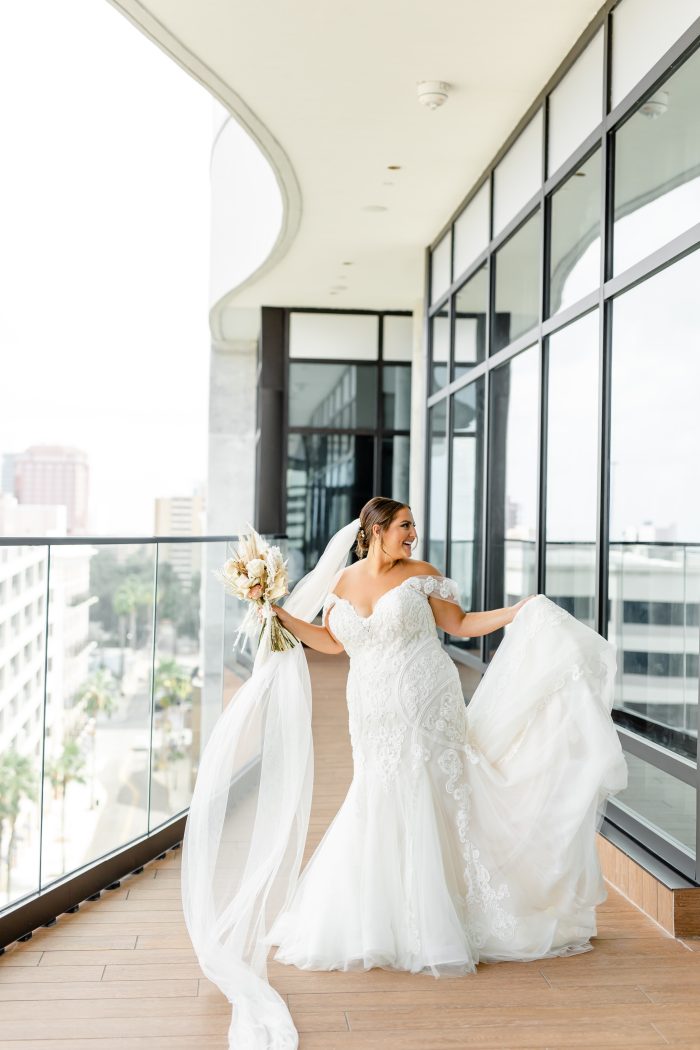 PC: Blink and CompanyPhoto
If you've booked a romantic wedding venue with a dramatic backdrop for your ceremony walk, we recommend choosing an over-the-top train treatment to match the setting. Frederique by Maggie Sottero is stunning on its own — and even more extraordinary with the long lace dress train extension.
This glamorous train goes with these two Sister Styles:
Both of these Sister Styles feature various ways to personalize, including:
Sleeve options
Train extension
Options for mixing and matching the tulle, lace, and glitter layers
Love these detachable train wedding dress picks and accessory inspo? Head to an Authorized Retailer near you to shop and personalize:
More Blogs Like This:
Add Gloves and Detachable Bridal Sleeves to Complete Your Bridal Look On Your Big Day
Different Types of Necklines for Your Wedding Gown
How to Pick the Perfect Bridal Veil for Your Big Day
Happy shopping and best wishes!