Real Weddings
Wedding Inspo
|
October 10, 2022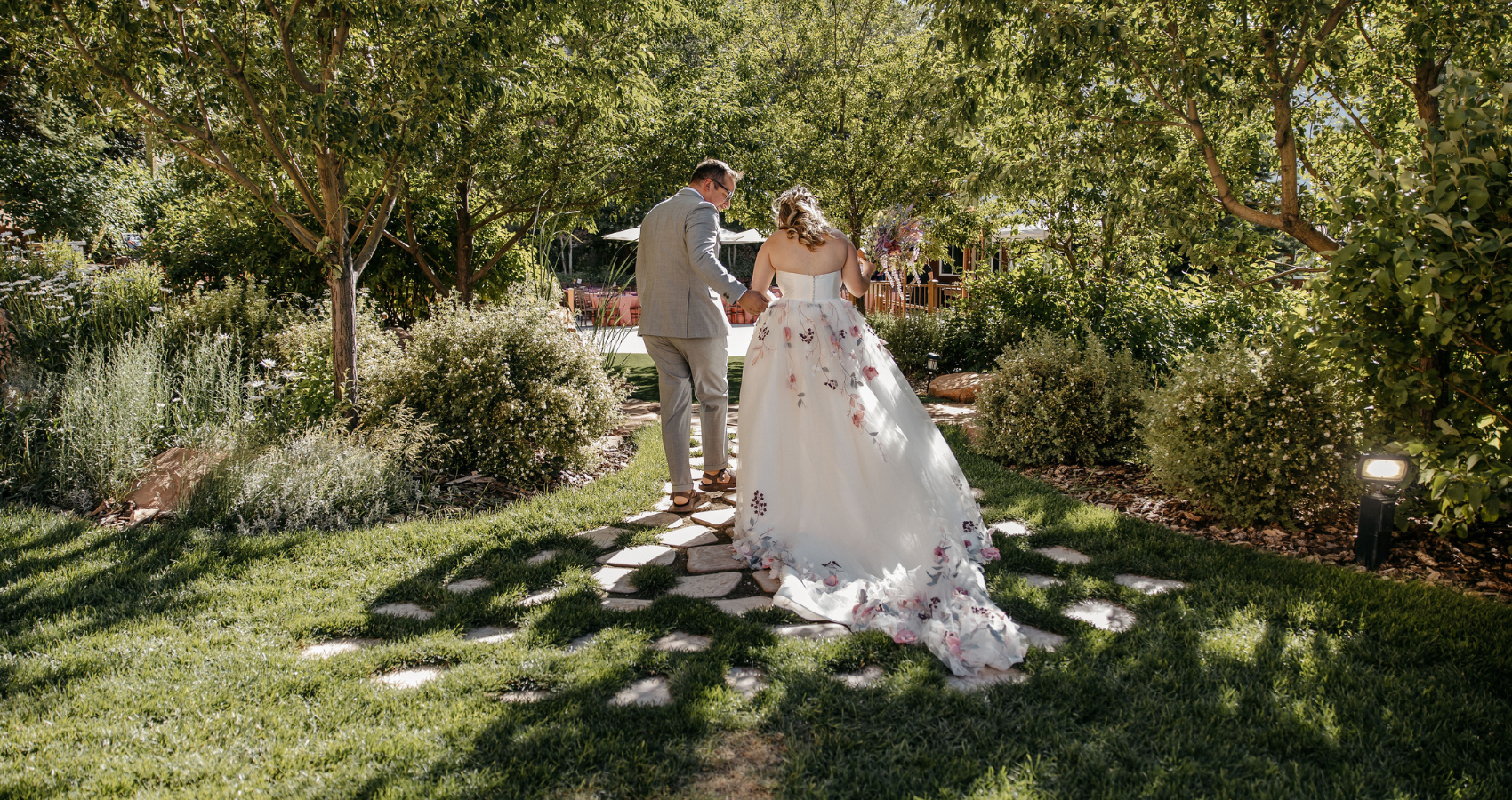 In our opinion, finding your wedding aesthetic is essential to the planning process and overall wedding day! Whether you find inspiration from your flowers, color palette, love story, or wedding dress, the sky is the limit when it comes to matching your aesthetic with your wedding vision! Just take it from our Real Bride, Amy, who gave us some serious "mountain fairy romance" when she planned her wedding around her gorgeous wedding look. Keep scrolling to get some wedding aesthetic inspiration, and take our Style Quiz below to find yours!
What is a Wedding Aesthetic?
Before we dive into our real bride's inspo, what is a wedding aesthetic?
To put it simply, your wedding aesthetic is your wedding style! It's the overall feel that you want in your wedding, and it extends to every aspect of your big day. From the color palette to the venue, from florals to your wedding dress! Anything you set your mind to can be your wedding style. Maybe you're a classic bride who gravitates towards a glamorous, boho, rustic, or beach aesthetic. Maybe you're more on the eclectic side and you want a 70's disco-themed wedding or gothic celebration! No matter what your idea is, there is an aesthetic out there for you.
Bringing your wedding aesthetic to life, however, is easier said than done. You will want to make sure that everything is cohesive and planned out. To keep everything together and in theme, we suggest starting a Pinterest board or hiring a wedding planner. If you're more of a hands-on bride, you can even go old-school and make a mood board with all your wedding inspo.
Keep scrolling to read our exclusive interview with our Real Bride, Amy, to learn more about her wedding planning process.
What Maggie wedding dress and accessory did you choose and what made you choose them?
I purchased the Selena by Maggie Sottero strapless dress and the Lavinia by Maggie Sottero detachable train! I actually purchased that dress hoping it would complement Lavinia, which it did perfectly.
I saw the overskirt first and fell in love. I wanted a simple dress that wouldn't distract from the 3D flowers, and I thought the ball gown silhouette of Selena would be a pretty shape for the detachable train to drape on. I was right and it was a huge hit on my wedding day. My husband was so surprised when he saw my choice!
What was your favorite aspect of your wedding day look?
So many things to pick from! I would say Lavinia has to be the top choice because it was a showstopper. I can't tell you how awesome the reaction was from my husband and my wedding guests! No one had ever seen anything like it and the pop of color just fit my personality so well.
A close second would be the necklaces I chose. I wanted to have simple jewelry because I didn't want to be TOO extra and take away the attention from my dress. I wore two short, silver necklaces. One had the initial G on it for my Grandma Gigi. The other necklace had a small turquoise gemstone that was my Grandma G's favorite color and worked perfectly as my "Something Blue." They were the perfect details to help create my overall wedding aesthetic!
How would you describe your wedding aesthetic?
I was going for a Woodland princess and mountain theme! All whimsy and organic details. We got married in the mountains which was the perfect venue to go with my wedding aesthetic! As far as my makeup, hair, and accessories, I had lavender in my hair that tied into the rest of the floral accessories I had like my wedding dress and earrings.
I decided to keep my makeup and hair more on the natural side as well to tie into my wedding style! Just a little bit of smokey eye and soft curls in my half-up half-down hairdo.  
Natural with a little bit of whimsy really tied into my aesthetic for the wedding day! My colors were different shades of purple, my flowers were wildflower inspired, and we incorporated as much of the natural setting details into the wedding day as we could. We also wanted to be married outside, so getting married in the summer was the obvious choice for good weather.
Did your bridal look inspire your overall wedding aesthetic at all, and if so, how?
Yes. I know this sounds crazy, but I am honestly telling you, when I saw Lavinia, that was it. It was like the… "this is my dress" moment. I had originally planned my wedding colors to be more fall-inspired. Burnt orange and some greenish blues… and then I texted my bridesmaids and fiancé and told them it was all changing to pink and purple! My husband wore a pink tie. My bridesmaids alternated between pink and purple dresses, and I was able to match my flower bouquet really well to the flowers on the overskirt!
It even went as far as some of the random details of my day as well! My husband and I knew we wanted to do a shot before we said our wedding vows (we wrote our own) and I wanted to tie my dad into the ceremony as well as he passed a few years ago. I found one of his old water skis that happened to be purple and we made a shot ski out of it!
How did you plan your wedding aesthetic?
I had a Pinterest board to help me plan. Mainly for decoration inspiration like creative seating chart ideas, centerpieces, hair style.. etc. I ended up going with fairly simple decor. Still really pretty but I didn't go crazy with the DIY's. At the beginning of the engagement I was all about making stuff myself.. and then it caused me too much stress so I simplified things.
What was your favorite part of your wedding day?
This is another hard one. So many cool moments.
My husband and I really prioritized dancing and wanted our wedding to be a big party. When I say we didn't leave the dance floor… I mean it. We danced all night. And there was this one song closer to the end of the night that we both love and got super into it! There were plenty of people on the dance floor with us originally, but Joey and I got so into the song that it wasn't by the end that we noticed everyone had walked off to give us our space and we were dancing alone. It really just felt like one of those movie moments where everyone disappears and all you see is your partner. Ugh, gives me chills!! The song was "Everything We Need by A Day to Remember"… In case you were wondering.
Our wonderful DJ (Cris from Behrens Entertainment) made the moment extra special because he walked around and recorded our family leaving messages for us and he played them over the sneaker. It made everyone cry!
What is some advice you would give to brides-to-be planning their bridal look and wedding day?
Your guests don't care about the little stuff as much as you think they will. We didn't do guest favors; I think that is what the open bar is for! We didn't do real flowers and we didn't do any expensive fancy cake. We got two huge undecorated cakes that were significantly less money, and everyone was happy!
As far as your wedding day look goes, pick something that feels like you're wearing your heart on the outside for a day. Pick a dress that feels like you! Not what your mom, your sisters, or your mother-in-law might want more. It has to be you! Between my colorful dress, jewelry, and shoes, I felt like my soul was shining through me all day.
Also, shoes… bring a change of shoes! You can take photos in those fancy pumps you love but you won't want them on all night! I literally wore my Teva sandals for the whole day and my husband wore his Chaco's (house divided). Best decision ever. I was so comfortable all day and my dress was long enough that no one ever even saw them.
Psst… Need some more wedding planning advice? Make sure to read our blog!
Vendors that Amy Used:
Venue: Louland Falls
Photo/Video: Tolman Media
Hair: @hairbynatalee
We think Amy said it best: The best wedding aesthetic for your wedding day is you! Whatever your wedding aesthetic is, as long as you are ultimately shining through, it will be the perfect day for you!
Start your inspo-planning journey below by reading some of our exclusive blogs, and don't forget to follow our TikTok to win some incredible wedding-themed prizes in our 25 Days of Giveaway to celebrate our 25th Anniversary! It's not too late to win some goodies!
More Blogs to Inspire:
10 Wedding Dress Trends In Maggie Sottero's Spring 23 Collection
Customized Wedding Dresses & Personalizations With Maggie Sottero