Dresses
|
September 1, 2022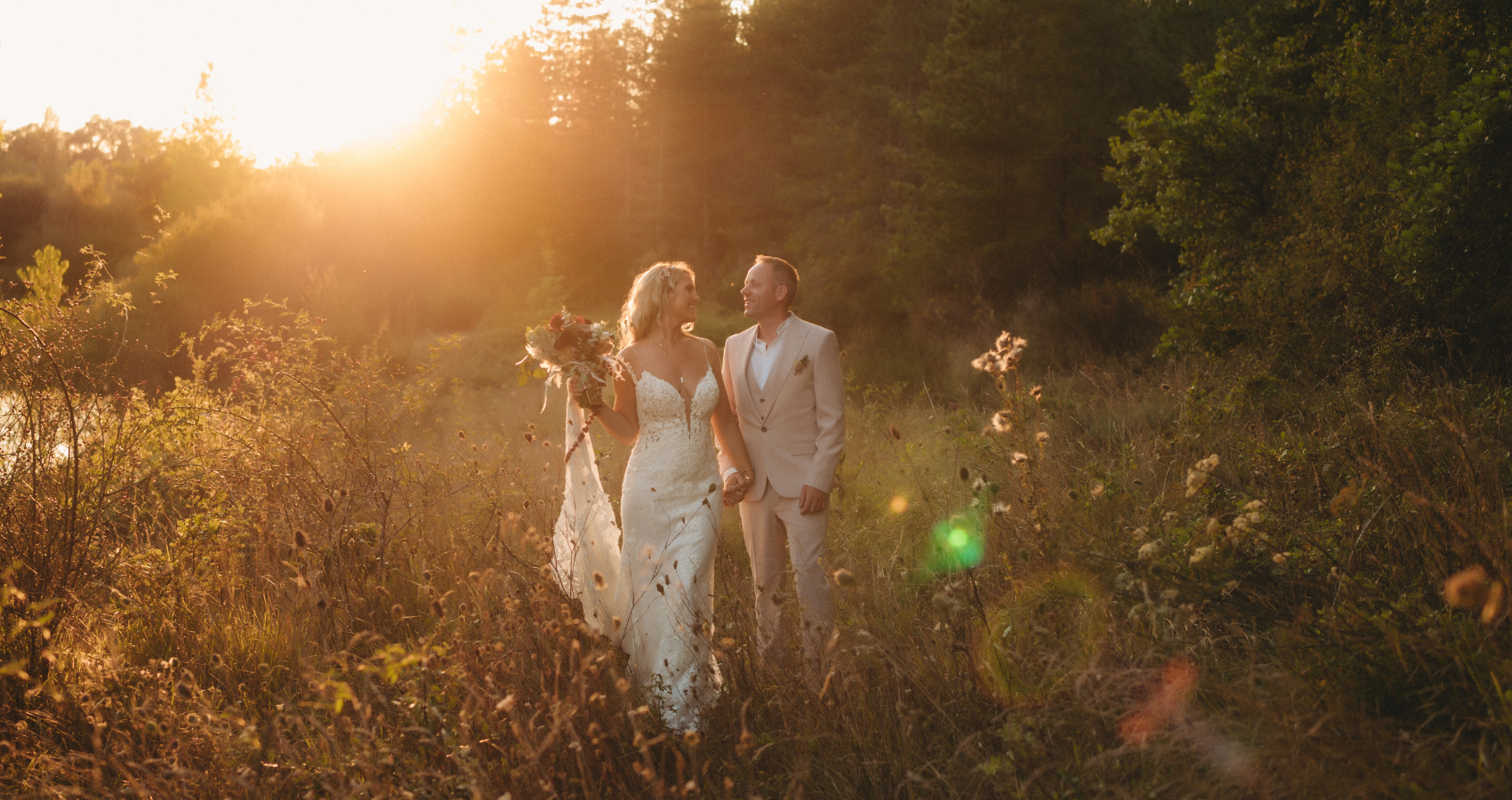 Do you daydream of lacy romance for your wedding dress? V-neck sexiness? Fitted classiness? Then one of the gorgeous gowns from the Tuscany by Maggie Sottero bridal collection is for you! With a gown for every type of bride, there's a reason why our Tuscany gowns are top sellers in our Maggie Family.
Keep reading to learn more about the difference between these unique Sister Styles, and make sure to take our Style Quiz to find the gown for you based on aesthetic, price, and style!
It all started with the gorgeous Tuscany by Maggie Sottero gown. With a unique bohemian guipure lace, perfectly fitted bodice, and scalloped hem, this wedding dress jumpstarted the Tuscany bridal collection for a reason.
With style for days, this pioneering bridal dress has inspired five other sister styles that are representative of the gorgeous brides who love Maggie. Keep reading to find the gown for you!
Gowns From The Tuscany Bridal Collection:
PC: Brittany Bishop Photography
First up in the Tuscany bridal collection is the wedding dress that started it all: Tuscany by Maggie Sottero.
This beautiful gown is distinct with its mermaid silhouette, lined bodice, and plunging neckline. It's giving romance and sexiness. It's giving classic but casual. It's giving any kind of bridal vision you might have for your wedding day in one beautiful and unique bridal dress.
With lace for days and a sultry shimmer, you'll feel like a dream come true on your wedding day.
PC: Ally Haley Photography
Beauty is in the details, and the same is true for the Tuscany Marie by Maggie Sottero wedding dress. This beauty was made for our plus-size brides.
With its subtle plunging sweetheart neckline, lined bodice, and beautiful fit, this wedding dress shows off your curves while also supporting you throughout the wedding day.
If you're a bride who wants a little bit more sparkle rather than sequin, this is the bridal dress for you! With our personalization program, brides are able to change the Chantilly lace with sequins to sparkle tulle.
PC: Kyrsten Le Photo
Calling all our A-line loving brides! If you're a fan of a more flowy silhouette compared to a fitted look, the Tuscany Lane by Maggie Sottero dress in the bridal collection is the choice for you.
This stunning dress was made for the royal in all of us with its daring plunging V-neckline, regal-inspired lace, and lightweight A-line skirt. With a sheer beaded lace bodice, illusion back, and Chantilly lace personalization— sequin or sparkle— you're sure to feel like a modern-day princess!
Looking to feel more like a princess on your wedding day? Read our blog to find the Disney princess wedding dress for you!
PC: Jessa E Photo
If you're a bride who leans more towards the modest look, we've got you! Tuscany Leigh by Maggie Sottero is the modest style in this lacy bridal collection.
With a gorgeous high neck, cap sleeves, jewel neckline, and fit-and-flare silhouette, this gown is the perfect combination of sexy, sweet, romantic, and sultry.
We imagine famous brides like Jackie O. and Audrey Hepburn in this classic style.
Psst… If you're a bride inspired by the stars, make sure to read our blogs all about celebrity-inspired wedding dresses.
PC: Alexis Kline Photography
Fun fact: Tuscany Royale by Maggie Sottero is one of our most popular wedding dresses at Maggie and you can see why!
Not only is this wedding dress full of personalizations, but by itself, this sheath wedding dress is a beautiful look. Featuring a plunging illusion V-neckline, illusion scoop back, beaded spaghetti straps, and a scalloped hem, it's the perfect choice for brides looking to add a bit of drama to their big day.
If you want to personalize your wedding dress for your love story, here are some options:
Add a detachable scalloped tulle train for additional drama.
Change the Chantilly lace to one with more sparkle.
Add buttons down the back for more of a vintage-vibe
Add attached illusion lace long sleeves.
Have a plunging illusion lace back.
PC: Julie Schandolph Photography
Last— but certainly not least— in the Tuscany bridal collection is the Tuscany Lynette by Maggie Sottero bridal dress!
We imagine this sheath gown being worn in a barn wedding with candlelight all around, rustic-inspired colors, and a gorgeous ring on your finger!
With a sheer bodice, illusion plunging sweetheart neckline, and lace illusion back, it's a clear showstopper for your big day!
You can change the Chantilly lace to the a sequin or sparkle Chantilly lace if you want a bit more glam for your wedding day look!
If you're looking for something a little more to pair with your Tuscany bridal collection gown, take a look at our list of Tuscany accessories below!
Tuscany Bridal Collection Accessories
There you have it, bride! Your go-to guide for everything about the Tuscany wedding dress collection by Maggie Sottero!
Have you been inspired by these gorgeous brides and their bridal looks? Make sure to follow our socials below and read our other blogs for more inspiration!
The Official Hattie Wedding Dress Collection For The Rebecca Ingram Brides
15 Quick Delivery Wedding Dresses For The Soon-To-Be Bride
15 Trendy Wedding Dresses From Maggie Sottero's Fall 2022 Collection