Tips and Trends
|
November 20, 2022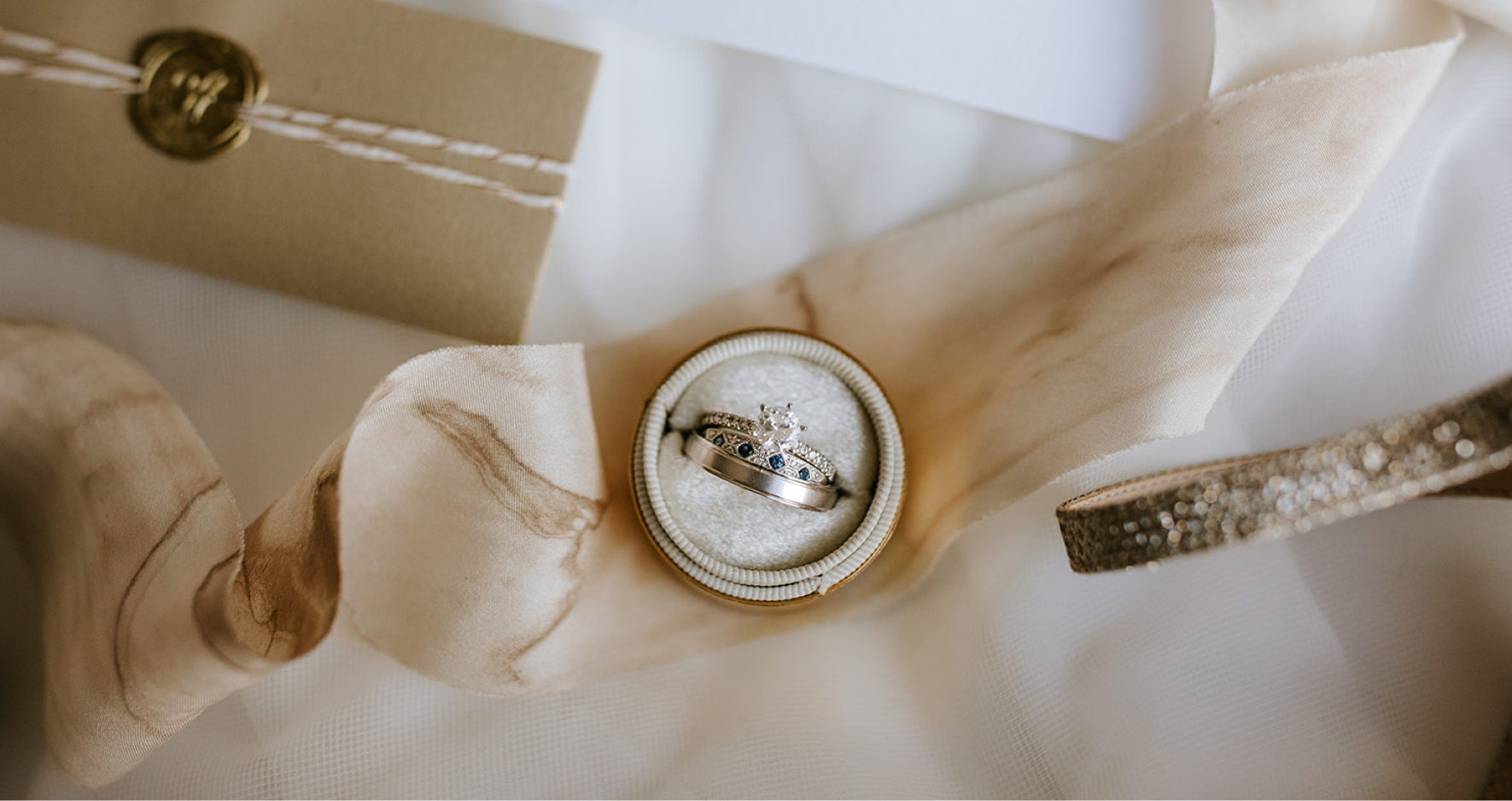 Calling all brides-to-be! Engagement season is upon us, and we are SO excited to meet all of you brides who will be wearing a ring and planning a wedding very soon! We know this monumental moment in your life is a HUGE deal, so we want you to be as prepared as possible heading into wedding planning. Even if you're not sure when you'll be getting engaged, it still doesn't hurt to be ready for the big moment!
Whether you've been ring-shopping, making plans with your sweetheart, or just good old-fashioned sleuthing, you've got a big date coming up, so we've put together a general idea of how to prepare for engagement season. Before we get started, make sure you're signed up for our newsletter, where we'll share our best tips and tricks with you as you prepare for engagement and beyond!
When is Engagement Season?
Like Spring, Summer, Winter, and Fall, engagement season is an important one to recognize! The term "engagement season" refers to the window of time between Thanksgiving and Valentine's Day – the most popular time of year for proposals!
How to Prepare for Engagement
PC: Kyla Jeanette Photography
Don't be afraid to communicate! It's important to help your partner to understand your expectations for getting engaged, including your timeline, preferred wedding engagement ring style, and what you need to feel comfortable with this big life change. Talk about what you BOTH want in an engagement? Is it a grand affair that involves the entire family, or do you prefer a lowkey, intimate engagement between just the two of you? Do you think a photographer is a MUST?
Use social media to your advantage! Help your partner understand your expectations through visuals by saving pins of your wedding engagement ring inspo on Pinterest. Maybe even consider sharing your fave wedding engagement ring with your family and/or closest friends in case your partner asks them for help when choosing your jewelry! If you're in LOVE with the swoon worthy vintage aesthetic, read our blog post for some vintage wedding ring inspo!
Get a manicure! You're definitely going to want to show off that gorgeous rock, so be prepared for your partner to pop the question by making sure your nails are looking beautiful. For some nail inspo, check out our blog post!
What to Do After the Engagement
PC: Hayley Moore Photography
So… you've said yes! Now what? Well, there are several things to get started on in the aftermath of your engagement, but first, breathe and simply enjoy the moment. You and your partner are committed to a lifelong journey in love, and this is just the beginning! This moment deserves some celebration, but when you're ready, here are a few first steps to take.
Announce the News
Before you get engaged, make sure you and your partner are on the same page about sharing the big news with friends, family, and online. Talk about ways to announce the news publicly: maybe a social post, an engagement party, or a photoshoot? Are there people you want to tell privately before you let the world in on your excitement? Make sure you and your partner both understand each other's expectations before and after you get engaged.
Set your Budget and Start Saving
Finances are a HUGE part of planning a wedding, so if you and your partner can start wedding planning with a set budget in mind, you'll have a better understanding of what you can expect to spend on important wedding details like the venue, florals, photography, and your wedding dress—we've got a fabulous list of affordable wedding gowns here! Want some budget tips for your wedding? Read our blog post!
Create your Wedding Pinterest Board
It's a common phenomenon for brides-to-be to start planning their wedding long before they've even met their partner. However, if you're not the kind of bride who's been planning their wedding since childhood, there's no better time to start creating your wedding vision than after your engagement! If you need some inspo to get you started, take a look at our Pinterest!
Talk about Wedding Dates
PC: Daniel Sierralta
The FIRST question people will ask once you announce your engagement is, "So… have you set a date?" or "When's the wedding?" It's best to be prepared to answer this question, whether you know for sure when your special day will be or if you just have a general idea, like your preferred month or season. Here's a general timeline to help get you started:
If you envision a spring or summer wedding, pencil in a winter engagement. It's the latest you can get away with planning the basics.
The average engagement length is longer than a season—more like a year to 18 months. Tips on how to prepare for engagement festivities comes down to how quickly you can get planning, make reservations, and check off your to-do list.
Reserve popular wedding venues about 8-12 months before your special day. Peak months like June and September are especially competitive. If you've got your eye on these dates, it's best to reserve early.
Special order wedding dresses typically take 6 to 9 months to be delivered, so plan accordingly. Look to a boutique's selection of priority and in-stock styles if you get engaged and need your dress sooner than later.
Build your Wedding Website
This can be a super fun first step to take after you get engaged! Choose a website like Zola, The Knot, or With Joy to design your perfect website based on your wedding vision. You can customize fonts, colors, and use photos from your relationship to make it special. Explore each website's offerings and decide which one works best for you!
Start Looking at Wedding Dresses
We may be biased, but wedding dress shopping is the most exciting part of planning a wedding! First, take our Style Quiz to discover exactly what aesthetic fits your dream wedding day and see some gorgeous dresses to consider. You can also read some other blog posts for inspo! To prep for your wedding dress shopping experience, be sure to figure out your wedding dress budget so you know exactly what price point to strive for when you enter the boutique!
Get Your Ring Sized and Buy Ring Insurance
PC: Tara Whited Photography
Once you're engaged, you'll likely need to make sure the ring is the proper size, so you don't have to worry about loss or damage. This is also a great time to get your ring insured! It can be a costly item, and if you do lose or damage the ring somehow, ring insurance will come in handy.
Plan an Engagement Party
This is another super fun part of engagement! This is the fun part! To kick of your pre-wedding festivities, gather all of your close friends and family to celebrate your engagement. You can even invite your prospective maid of honor and/or bridal party into the engagement party planning as great practice for your bachelorette party! Make sure to savor every moment – even long engagements fly by! It'll be your wedding day before you know it, and an engagement party is the perfect way to share your excitement before diving into wedding planning.
Spend Time with Your Sweetheart and Loved Ones
Lastly, make sure to connect with your partner in the aftermath of your engagement! The excitement doesn't end when they pop the question; it's only just begun. Don't let the craziness of planning a wedding get in the way of your love connection. A great way to stay connected throughout the process is to try pre-marital counseling. Spend time with your family and friends during this period of bliss as well! This is an exciting time to share the love and excitement, so make sure to connect with all who love you.
Whether you know you're getting engaged soon or you're just hopeful to say YES soon, we're SO excited for you to start your beautiful, unique wedding journey. Be sure to follow our socials for all of your wedding inspo, tips, and tricks!
More Blogs Like This:
How to Stay Stress Free While Wedding Planning
10 Wedding Dress Shopping Tips To Consider To Find Your Perfect Gown
7 Creative Engagement Party Ideas For The Fun and Fabulous Couple