Tips and Trends
Wedding Inspo
|
October 26, 2021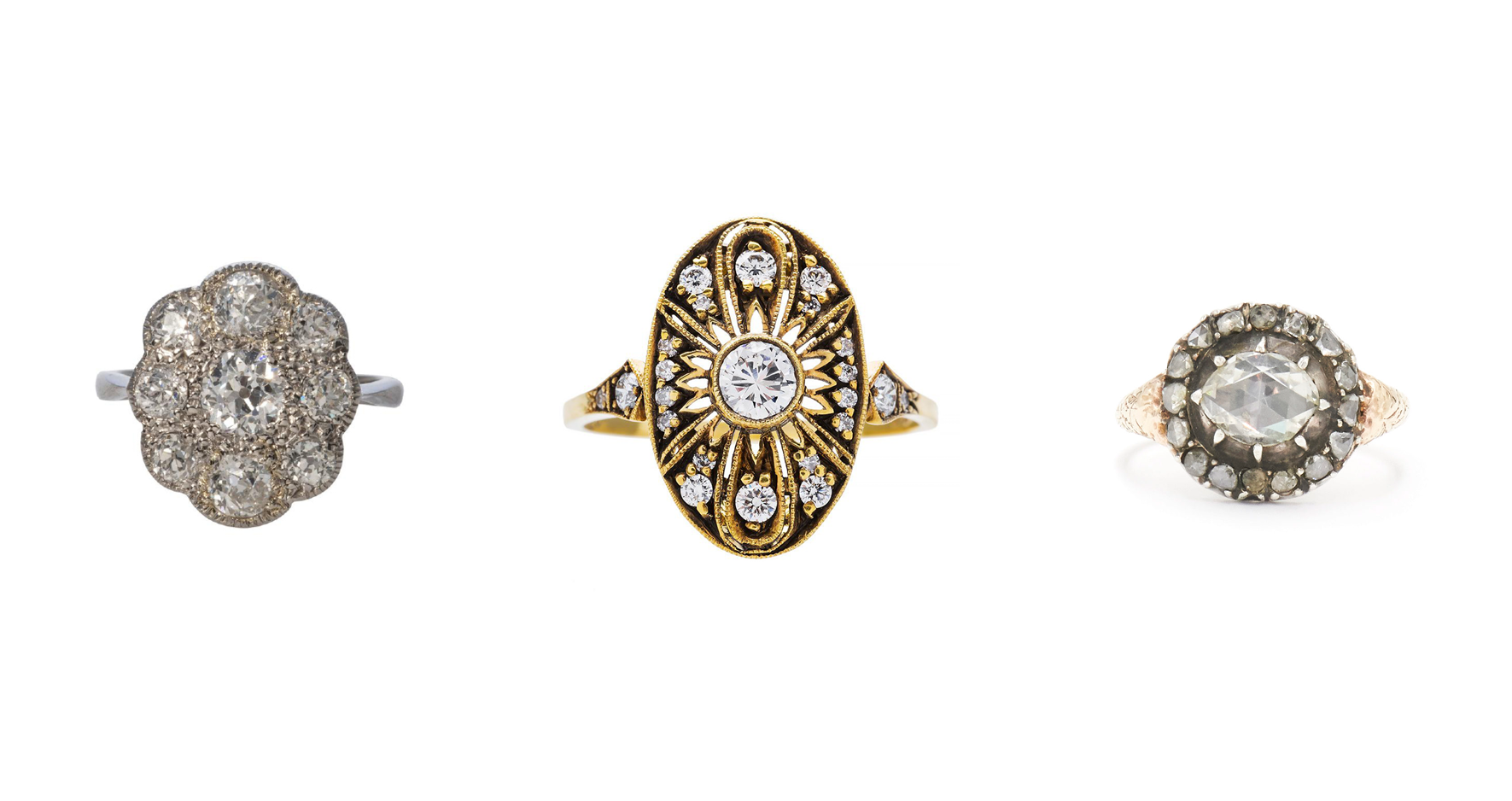 With engagement season just around the corner, we've got sparklers on the mind! Do you love the unique and covetable aesthetic of vintage wedding rings? Keep scrolling to be inspired with our gallery of bold, beautiful, and one-of-a-kind designs below.
How Do You Define a Vintage Wedding Ring?
The term "vintage engagement ring" can refer to old or new jewelry, depending on the context. Vintage rings are considered antique if they were made in the 1980s or earlier. jewelry that has been collected or passed down from earlier generations (and likely treasured once before). Modern vintage wedding rings, in contrast, are made from new materials but inspired by antique aesthetics.
Interested in authentically old-school pieces? Explore different eras from which these rings have come from. Vintage wedding rings are typically 30 or more years old (e.g., made in the 1970s and 1980s), while antique wedding rings are 50 years old or more (with some sellers placing at 100).
What Makes Vintage Wedding Rings Unique?
Brides favor vintage wedding rings for their backstories. Authentic pieces are typically heirlooms or unique treasures—one-of-a-kind designs you can't find anywhere else. Vintage wedding rings are distinguished for their intricacy. Antique gems, historical materials, and artistic flourishes are difficult to imitate through modern mass production.
What Are New Styles of Vintage Wedding Bands?
Many modern wedding rings are inspired by vintage aesthetics. Popular replicas that emulate designs and materials can range from the 1980s, 60s, 20s, and beyond. A quick search for "vintage-inspired wedding rings" result in a diverse and covetable range of unique gems, exquisite details, and luxurious settings—all made new but influenced by earlier designs. 
Popular vintage features on modern wedding rings include:
Geometric settings inspired by Art Deco and Art Nouveau eras
Delicate bands featuring large gems
Scroll flourishes and sunburst patterns
Pendant or cameo-like gems with symmetrical surrounds
Graceful, arabesque accents
Rich gold hues and antique silver patinas
Deep gem tones like emerald, ruby, and sapphire
How Can You Tell if a Ring is Vintage?
Authentic antique and vintage wedding ring styles vary by era, so it's important to look for verifying features in each. Do your research for the time period you're interested in. There are often distinctive clues to help you confirm their origin and authenticity with an expert.
Features that may authenticate a vintage wedding ring include:
Stamps and maker's marks
Availability of specific metals or gems during specific time periods
Signs of wear and tear, including whether or not gems have been replaced
Marks of handcrafted vs. machine production
An authenticated report or historical record from the seller
Above all, genuine antique rings are rare and expensive, so beware of claims or prices that seem too good to be true—especially online.
Are Vintage Rings More Expensive?
It depends. A vintage wedding band is sometimes not expensive at all, since it was given to you by a family member as an heirloom. Online or at jewelers, however, you might notice older styles are a tad pricier than new designs. A high-quality, beautifully designed vintage gem is a one-off piece, so sellers know its value. That being said, you might also notice that newer diamonds have steep price tags. This is due to the markup economy of "virgin" gemstones.
Different valuations apply to different contexts. An authentic vintage wedding ring with historical or cultural significance will likely be expensive, but a standard previously owned ring sold at a pawn or antique shop will probably be a bit cheaper than a brand-new style. Again, it all depends.
As you set your budget and start to shop for vintage wedding rings, keep in mind you will have plenty of options to match your vision. With a little luck and patience, you'll find a new or authenticated piece that you truly love.
Different Eras and Styles of Wedding Rings
To help you identify settings, gems, accents, and styles from different eras, we've curated a timeline of vintage wedding rings from the last three centuries—Georgian to Art Nouveau to Retro. Keep scrolling to find your perfect fit.
Georgian Era Vintage Rings
PC: Fred Leighton
Organic patterns and floral accents are specific attributes for a Georgian wedding band. Another characteristic is they date from early 1700s and 1800s. These intricate treasures reflect the Romantic era's fascination with "the sublime"—a state of deep connection with the drama and intense beauty of nature.
Common features of Georgian wedding bands include:
Imaginative settings
Unique gem cuts
Innovative bands and accents
Exaggerated shapes
Mixed metals and gems
Natural elements such as pearls, glass, and turquoise
Non-symmetrical settings
Gothic flourishes like skulls, snakes, hearts, bows, and roses
These vintage rings are a stunning choice for the dramatic bride-to-be. The one we've been eyeing? This Georgian Rose Diamond Cluster in stunning shades of diamond, black silver, and yellow gold. It's daring, intriguing, and undeniably sensuous.
Victorian Antique Weddings Rings
Victorian wedding rings stand out for their symmetrical designs and intricate details; an icon of the mid 19th century's formal and elaborate aesthetics. The reign of Queen Victoria had a major impact on this era's European designs.
Bright colors, Celtic flourishes, inlaid images, and whimsical motifs like butterflies and doves are aesthetics defining Victorian wedding rings. Snake designs remained popular from the Georgian period. Victoria's own engagement ring was a serpentine emerald that became an icon of the era.
Shopping for stunning Victorian style wedding rings? One of our favorite finds is this 1.51ct diamond cluster wedding ring: classic, bold, and undeniably glamorous.
Edwardian Antique Rings
PC: Trumpet and Horn
Dramatic center cuts, colorful accents, and symmetrical sounds are distinguishable assets for Edwardian wedding bands; formal yet lushly designed. Other popular features include filigrees, cushion cuts, and marquise diamonds. This era precedes the familiar "Gatsby" aesthetics of Art Nouveau and Art Deco, yet beckons toward their symmetry, refinement, and luxury.
A new-style Edwardian wedding ring we love is this Yellow Gold Peachtree. It's intriguing and timeless—an heirloom you'll love forever.
Art Nouveau Wedding Bands
PC: Camelia Arts
"Art Nouveau" is a creative and romantic aesthetic from the Victorian and Edwardian eras, typically dating from the turn of the 19th century. Scholars define this period as a backlash to the intense formality of the mainstream. The most iconic pieces are experimental, distinctive, and decadent—a return to handcrafted artistry and revivalist techniques.
Common features of an Art Nouveau wedding band include:
Stained glass motifs
Handcrafted metals and settings
Bright gems
The use of pearls, moonstones, and lapis
Flower and sunburst designs
A new style that we found and love is this emerald white gold band. It's a stunning choice for that "something old" meets "something new."
Art Deco Antique Wedding Rings
PC: 1st Dibs Jewelry
Iconic features of Art Deco wedding bands and jewelry include:
Geometric lines and symmetrical shapes
Bright jewels like sapphires, rubies, and emeralds
Light materials like white gold, silver, and platinum
Bold enamel settings
Motifs inspired by the individuality and advancement of the time
Clean, stamp-like settings and architectural framing
If you've been shopping around for wedding bands, you've probably noticed the 1920s aesthetic is still incredibly popular. Art Deco continues to make a luxe and striking statement, á la this marquise diamond sapphire halo featuring the era's iconic geometric motifs.
Retro Era Antique Vintage Wedding Rings
Finally, the term "retro" refers to a broad category of unique wedding rings identified in some way as nostalgic, whimsical, or vintage. It can also refer to wedding bands that are not quite old enough to be vintage or antique, but not necessarily brand-new either. A unique design from the 1970s is considered "retro," but a contemporary style that's consciously designed to look Victorian or Art Nouveau. Retro isn't a fixed term, but it's certainly a starting point for brides looking to shop for something one-of-a-kind.
Unique features you might find in retro wedding rings include:
Bold, statement bands or settings
Experimental craftsmanship
Handmade flourishes and artistic imperfections
Nostalgic or ironic motifs
Color and shimmer
Scarcity or popularity of gems and materials from certain eras
Charms and baubles
If you love the retro aesthetic, it's likely you already have a fabulous collection of jewelry from thrift stores, antique shops, and local jewelers. You might love this gold filigree diamond ring to add to your collection.
We hope you've found some new favorites in your search for vintage wedding jewelry! Here's a handy rundown of best places to shop for vintage wedding rings, including tips to get started online or in-shop. Of course, if you're matching your bridal look to your antique diamond, check out our gallery of vintage wedding dresses inspired by regal, Victorian, Art Deco, and groovy midcentury aesthetics. And finally, browse our classic and romantic bridal veils for a truly timeless statement. Happy treasure hunting!