Tips and Trends
Wedding Inspo
|
January 8, 2023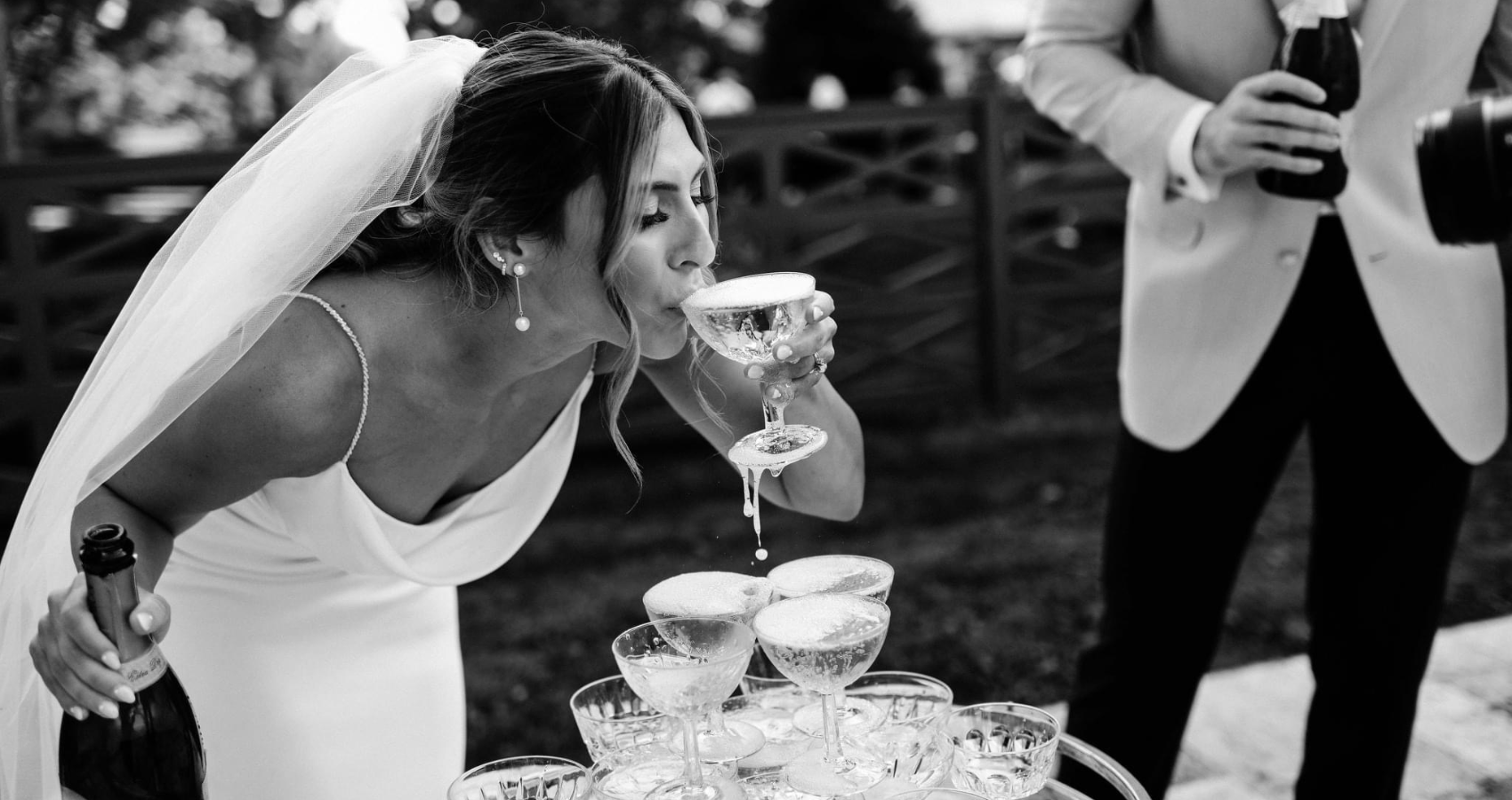 Yay! You said yes! Congrats on your engagement! Now begins a series of chic and fabulous parties to celebrate your love and personality as a couple. If you've made your announcement and set a tentative wedding date, you're probably looking to plan an engagement celebration next. To get you started with style, here are our top engagement party ideas for themes, details, and activities.
Want a head-start on your engagement season? Make sure to sign up for our exclusive Maggie text messages below for all the must-know information for your future wedding!
What is an engagement party?
First of all, what is an engagement party? To put it simply, it's the chance to celebrate you and your partner's new chapter!
Engagement parties usually involve your friends and family and happen a few weeks to months after your proposal – the perfect time to introduce those who haven't had the opportunity to meet yet! While in the past, the bride's family or maid of honor has thrown the engagement party, those rules have become less rigid over the years! Nowadays, it can be a joint family effort, or the couple themselves can even throw the party.
Expert tip: Make sure to thoughtfully plan where and when this engagement party will take place, as your family and friends will be planning a lot over the next few months for your various wedding celebrations.
Sending Out Invitations
PC: Peterson Design and Photography
First up on your checklist: Choose a date for your engagement party and assemble the invites. This is something your friends and family can help with (especially your MOH). You can go snail mail or digital; you've got plenty of options for web platforms and tracking.
Here's a quick checklist for you as you plan your invitations:
Set a date, time, dress code, etc.
Put together a guest list: engagement parties are more intimate, so think 10-75 people, all of whom would also be invited to the wedding.
Collect physical addresses or emails from guests. This takes some effort – be sure to enlist the wedding party!
Purchase stationery or a digital template. Typically, an engagement party invite is just a card, maybe an RSVP insert or website link, and an envelope.
Purchase stamps for snail mail and set a date for friends and family to help you assemble the invites!
For digital templates, use mailing software or the company's native platform to input email addresses.
Assemble and address the invites. Make it a party by bringing snacks and making a toast!
Press send or put everything in the mailbox.
Track RSVPs to collect a final guest count.
If you feel like getting a head start on checking out wedding photographers, consider hiring a professional photographer for these photos and include them in your invitations. You can use this as a trial run for your wedding!
Engagement Party Venues
PC: A Muse Photography | PC: Jose Alvarado | PC: Haley Moore
Next up is picking out your engagement party location. You can hold your gathering anywhere, but when choosing your location, you will want to keep cost and travel ability in mind. At the end of the day, having the wedding of your dreams is your main goal, so make sure not to max out your budget on the party. Additionally, if you have a lot of guests traveling for your wedding, consider hosting your engagement party somewhere more local.
Take a look at these venue ideas for more inspo:
Your home – just make sure you have the space!
A favorite restaurant.
Your local country club – catering will most likely be included!
You or your partner's hometown. Depending on where the majority of your guests live, this could be a great way to make travel easy!
A romantic garden.
Your local park.
A winery or brewery.
Make it a whole trip and activity! Consider having a smaller party and going to Las Vegas, a sporting event, a cruise, a movie party, etc.
Is this section inspiring you to think about your wedding venue? Read our blog for more inspo.
Engagement Party Dresses
Your engagement party is the perfect time to debut your fashionista side, and lucky for you, we have some beautiful dresses to choose from for your pre-wedding party look! Consider choosing a gown that's a little bit sexy, a little bit casual, and a little bit glam. While anything you choose to wear will be stunning, we have a few suggestions.
Love the idea of wearing multiple gowns on your special day? Read Maggie Sottero's blog for some reception gown looks!
Activities For You and Your Guests
If you've got a guest list of social and ambitious friends and family, plan something active! Whether you're staying home or going abroad, these engagement party ideas for games are sure to be a hit:
Organize a sports event. This is ideal for getting everyone on their feet—no awkward conversations or boring luncheon in sight!
Set up lawn or night games. Think capture the flag or croquet. This is a great way to mix up the crowd, especially between families.
Host a movie party. This is fun for groups that fan over cult classics or iconic franchises. It also works well with themed party aesthetics.
Pool day!
Make sure to look at The Knot for even more engagement party games for you and your loved ones! This is also a great way to determine your engagement party theme!
What to Serve Your Guests
PC: Jose Alvarado | PC: Rachel Laxton Photography
When it comes to engagement party ideas, figuring out what to serve your guests might be one of THE most important tasks! Whatever the scope and budget of your party, food, and drink are usually the main attraction. Here are some ideas to get you started:
Cake! If your budget is tight, a simple homemade confection will do just fine.
A brunch spread. This is easy to potluck among friends and family. Plus, mimosas!
Charcuterie boards make for simple and visually appealing displays.
Italian food is a crowd-pleaser and catering favorite.
Tex Mex or Mexican fare is a great option for feeding a crowd. Guests can assemble their own tacos, nachos, or salads at the buffet table.
The bar! Whether you're going mocktail or cocktail, fizzy drinks and chic garnishes are sure to make a classy celebration. Speaking of…
Themed cocktails inspired by your love story. Was your first date at the local gardens? Concoct a drink with rose or lavender syrup to tie in those beautiful floral elements of your relationship memories!
What are your next steps?
PC: Aia Photo & Video
Now that you've read all of our engagement party ideas, the real work begins! Next on your list of things to do is start your wedding planning process. Here are some things to keep in mind:
Once you're about 9-12 months away from your wedding, you will want to start wedding dress shopping! Take our Style Quiz to narrow down your style based on budget, aesthetic, and must-haves, and then book an appointment with one of our Authorized Retailers. If you're on a tighter deadline, don't worry! Take a look at our Quick Ship gowns! Make sure to allocate enough time for your fittings and alterations!
Determine your wedding budget.
Start looking at Pinterest to get some wedding inspiration! This is the best way to get inspired ideas for your wedding on color schemes, photography styles, bridesmaids' dresses, centerpieces, etc.
Read Maggie Sottero's blogs for more wedding tips and trends!
Ready to plan your engagement party? Make sure to follow our social below and read more blogs like this!
More Blogs Like This:
15 Quick Delivery Wedding Dresses For The Soon-To-Be Bride
10 Affordable Wedding Gowns for Stylish Brides on a Budget