Tips and Trends
Wedding Inspo
|
January 11, 2022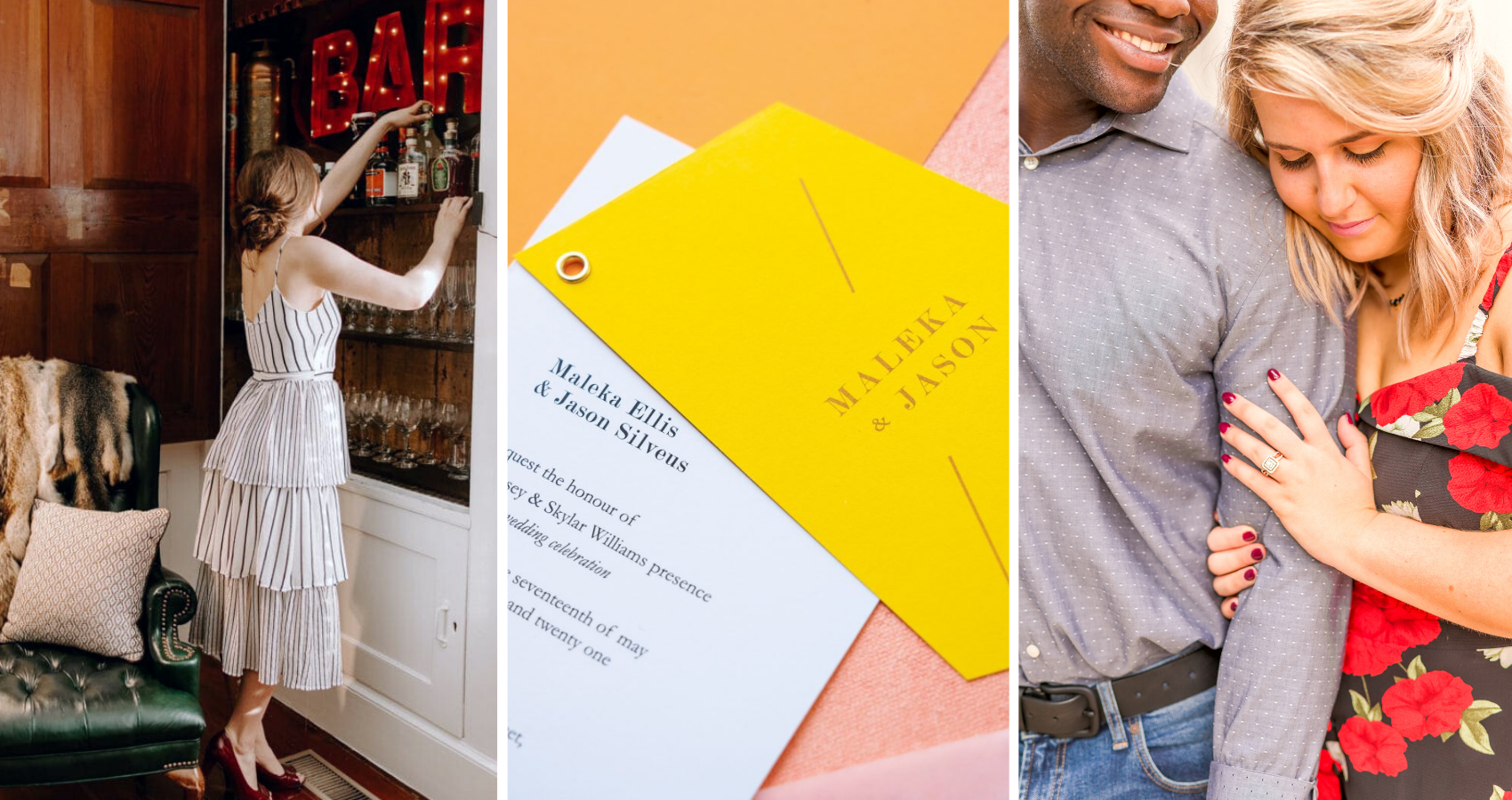 Hey, you said yes! Congrats on your engagement! Now begins a series of chic and fabulous parties to celebrate your love and personality as a couple. If you've made your announcement and set a tentative wedding date, you're probably looking at an engagement celebration next. To get you started with style, here are our top creative engagement party ideas for themes, details, and activities. Keep scrolling!
Not officially engaged yet? If you're preparing for your sweetheart to pop the question, get started with our rundown of expectations, ring shopping, money-saving, and communication for getting engaged in the link.
Creative Engagement Party Ideas: Invitations
PC: Peterson Design and Photography
First up on your checklist: Choose a date for your engagement party and assemble the invites. This is something your friends and family can help with (especially your MOH). You can go snail mail or digital; you've got plenty of options for web platforms and tracking.
Here's what to do for physical or digital invitations:
Set a date.
Put together a guest list. (Engagement parties are more intimate. Think 10-75 people, all of which would also be invited to the wedding.)
Collect physical addresses or emails from guests. (This takes some effort; be sure to enlist the wedding party.)
Purchase stationery or a digital template. Typically, an engagement invite is just a card, maybe an RSVP insert or website link, and an envelope.
Purchase stamps for snail mail and set a date for friends and family to help you assemble the invites!
For digital templates, use a mailing software or the company's native platform to input email addresses.
Assemble and address the invites. (Make it a party by bringing snacks and making a toast!)
Press send or put everything in the mailbox.
Track RSVPs to collect a final guest count.
Creative Engagement Party Ideas: Involve Friends and Family
One of the most enjoyable parts of getting engaged is the opportunity it gives you to connect with loved ones. Cue the engagement party: a chance to relax and celebrate with a more intimate circle of friends and family before the wedding.
Typically, it's the Maid of Honor's duty to oversee the engagement party and invite your most important people. If you're going traditional, leave it to her to create a guest list and track responses. If you're more modern and collaborative, enlist the help of the Best Man, the wedding party, and your most responsible family members. A group effort can make all the difference!
Something else to consider when inviting friends and family is etiquette. Traditionally the bride's family hosts, but it's not required. As for the formalities, think about what you want to include: toasts, gifts, fancy cocktail attire—all that jazz. A traditional celebration may be a casual cocktail party in your parents' backyard, but for the creative and ambitious couple, the sky's the limit.
Creative Engagement Party Ideas for Decorations
PC: Angie Capri Photography
Whether you opt for simple or deluxe, decorations can be a lovely addition to your engagement party. To start, consider your budget: Is it feasible to spend a hundred or so on lights, florals, and simple flourishes? Can you use secondhand or make it DIY? Are you renting an official venue, or can you borrow a friend's backyard? With a little inspo and ingenuity, décor can be a cinch.
Some of our favorite places to start:
Go DIY. An engagement party can look chic and simple with homemade signage and simple embellishments. You can also gather your own balloons, bunting, vases, and picture frames—little assembly required.
Flowers, arches, and centerpieces are engagement party basics. You can buy simple florals wholesale from your local grocer for cheap, hire a party planner to create centerpieces, and outsource specialty items like balloon arches, marquee letters, and photo backdrops.
Make a party theme. For example, a vintage vibe is easy to create with sparkly tablecloths and thrifted décor. Or get inspired by favorite movies, travel destinations, and hobbies unique to you as a couple. A pool party is also a fab choice for warmer seasons!
Plan for your season. Summer celebrations give you options for outdoor venues and pool parties, while winter weddings mean cozy gatherings and snowy recreation. Décor can be super low-key if you plan your season accordingly.
PC: Unknown | PC: La Vie Photography
Fun Engagement Party Ideas Involving Games
PC: Toa Heftiba from Unsplash
It's no surprise games are a popular party focus. They're fun. They can be made as easy or complex as you like. They're great photo ops. And best of all, they help break the ice for friends and family who don't know each other that well. Check out our picks:
Start browsing with this list of fun engagement party games from TheKnot.com.
Arrange a lounge area around a firepit and play campfire games. (Don't forget the hot toddies and s'mores.) This also works for a beach locale. Your guests can swim during the day and get cozy for the evening.
Do something easy and creative by creating custom coloring pages for the kiddos at the party (and the adults!). Not only will this be engaging and unique, but they will make for great mementos!
Host a themed photoshoot. A professional photographer is surprisingly affordable by pooling funds for an hour session. It's also fun to set up a DIY set with your own props and backdrops.
PC: Rachel Laxton Photography
Creative Engagement Party Ideas: Food and Catering
PC: Rachel Laxton Photography
Whatever the scope and budget of your party, food and drink are usually the main attraction. Here are some ideas to get you started:
Cake! If your budget is tight, a simple homemade confection will do just fine.
A brunch spread. This is easy to potluck among friends and family. Plus, mimosas!
Charcuterie boards make for simple and visually-appealing displays.
Italian food is a crowd-pleaser and catering favorite.
Tex Mex or Mexican fare is a great option for feeding a crowd. Guests can assemble their own tacos, nachos, or salads at the buffet table.
The bar! Whether you're going mocktail or cocktail, fizzy drinks and chic garnishes are sure to make a classy celebration. Speaking of…
Themed cocktails inspired by your love story. Was your first date at the local gardens? Concoct a drink with rose or lavender syrup.
PC: Brittany Martorella Photography
Creative Engagement Party Ideas: Make It an Activity
PC: Omar Eagle Clarke from Unsplash | PC: Ameer Basheer from Unsplash
If you've got a guest list of social and ambitious friends and family, plan something active! Whether you're staying home or going abroad, these are sure to be a hit:
Organize a sports event. This is ideal for getting everyone on their feet—no awkward conversations or boring luncheons insight.
Set up lawn or night games. Think capture the flag or croquet. (This is a great way to mix up the crowd, especially between families.)
Host a movie party. This is fun for groups that fan over cult classics or iconic franchises. It also works really well with themed party aesthetics.
For higher budgets and ambitious planning, get on the water! Think river cruise, yacht party, canoe rentals, or local booze cruises.
Head to Vegas! This classic bachelor/bachelorette destination is also great for coed events and mini-vacations.
End the Night by Shopping for Your Dream Wedding Dress with Your Friends and Family
If you're planning your engagement party near home or at a unique shopping destination, round out your celebration with a trip to the bridal boutique. This is a fun way to check off a big part of your to-do list with friends and family. Some of our favorite new wedding dresses include:
Ready to plan your engagement party? If so, be sure to book your appointment with your Authorized Retailer if you're looking to shop for bridal gowns during the celebrations.
Lastly, it's never too early to start planning for your big day, so whether it's a quick engagement or long-haul to-do, your wedding checklist awaits! One of our top places to get started is our Find Your Style quiz. This helps you narrow your aesthetics, browse inspo from real brides, select your favorite styles, and start shopping for wedding dresses. As always, happy shopping and have the best engagement party ever!