Tips and Trends
|
August 22, 2023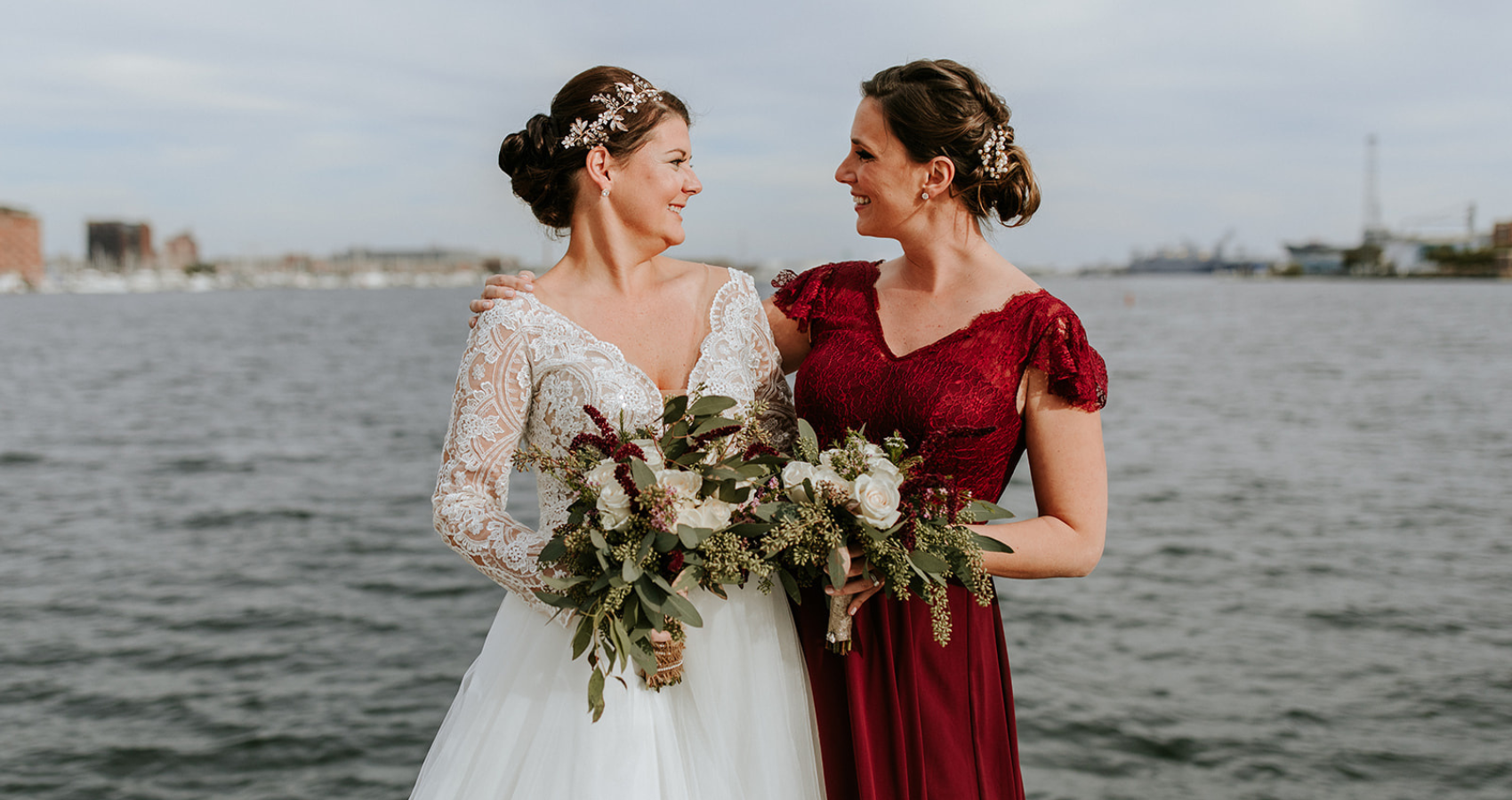 Okay, so you've just been assigned the Maid of Honor role by a special bride in your life, and as excited as you are, you're starting to freak out a little. Don't worry! We get it. At Maggie, we know exactly how stressful – and fun! – planning a wedding is, and there's no one as vital as the Maid of Honor! You're the righthand person, confidant, and fearless leader of the bridal party.
You're the hostess with the mostest and the honorary dancefloor hype man! And with a slew of shopping, bridal shower, bachelorette party, and reception responsibilities coming at you full speed, we're here to help.
To become the ultimate Maid of Honor for your bestie's wedding day, keep scrolling for our exclusive Maid of Honor guide, and follow our socials so you can be up to date on all things bridal for your bestie!
What is a Maid of Honor?
A Maid of Honor is a lot of things! A bride's best friend, shoulder to lean on, designated hand holder, and everything in between!
The Maid of Honor could be any important person in a bride's life: A sister, cousin, childhood best friend, sibling-in-law, male best friend, or anyone that is ready to take on the important responsibilities of being a bride's partner in crime on their wedding day.
There are also a ton Maid of Honor responsibilities before and on the wedding day! Keep reading to learn more.
Maid of Honor Duties Before the Wedding Day
Wedding Dress Shopping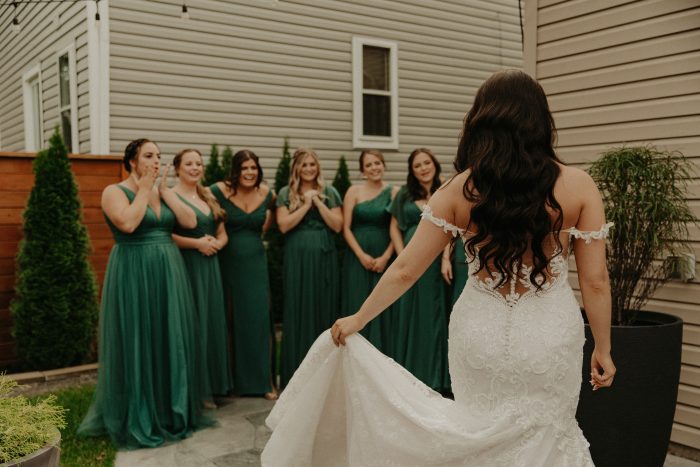 PC: Annie Ryan
One of the most delightful parts about being a Maid of Honor is helping the bride choose their wedding dress. This is a point in the wedding-planning process where the bride is really counting on you. They may have the venue booked and palettes pinned, but they're looking to their nearest and dearest for a second opinion on their perfect wedding gown!
When booking or helping to book a bridal appointment, keep the following tips in mind to make the process feel easy and productive:
Help the bride keep their boutique guestlist minimal, i.e., they don't need to invite every aunt, cousin, and friend-of-a-friend.
Help the bride prep for their appointment by gathering inspiration and researching their chosen boutique's wedding dress selection. Curate some of their favorites from Pinterest as a reference and do what you can to help them find specific wedding dresses in the area.
Prepare for multiple boutique trips if necessary.
Bring your phone or a camera to take dress-shopping photos.
Give honest but productive feedback as the bride tries on each wedding gown.
For more exclusive bridal appointment tips, make sure to read our Blogs below and forward it to your bride to have the most successful wedding dress shopping appointment!
10 Wedding Dress Shopping Tips to Consider to Find Your Perfect Gown
Staying Body Positive While Shopping for Your Wedding Dress
To be over-the-top in your maid of honor duties, do a little bit of research on the hottest bridal trends for your bride bestie. Boho details, unique colors, airy fabrics, and corset bodices are all the rage right now and we have just the gowns for you to recommend:
Wedding Planning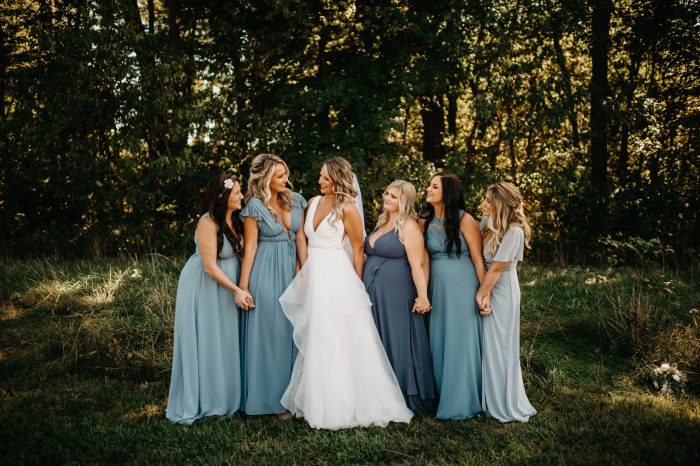 PC: Hey Sisters! Photography
It goes without saying that brides have all kinds of personalities and management styles. Some relish the help and support of friends and family, while others are more inclined to plan their wedding solo.
As the Maid of Honor, you're the one who knows your friendship dynamic best. Does the bride need a little nudging and motivation? Do you need to back off a little and let them do their thing? Do you both work best with calendars and brainstorm sessions, or does the planning happen organically as you spend regular time together?
If the plan of approach is unclear, don't be afraid to reach out and set a date to talk shop. Whatever their personality or expectations, the bride will be relieved to know you want to plan, coordinate, and respond to their needs as best you can.
Other responsibilities in helping your BFF out:
Help search for vendors.
Address the invitations.
Provide feedback on decisions.
Pick out colors, florals, and food.
Plan the getting ready process for the bride and bridesmaids.
Coordinate Bridesmaids' Dresses and Accessories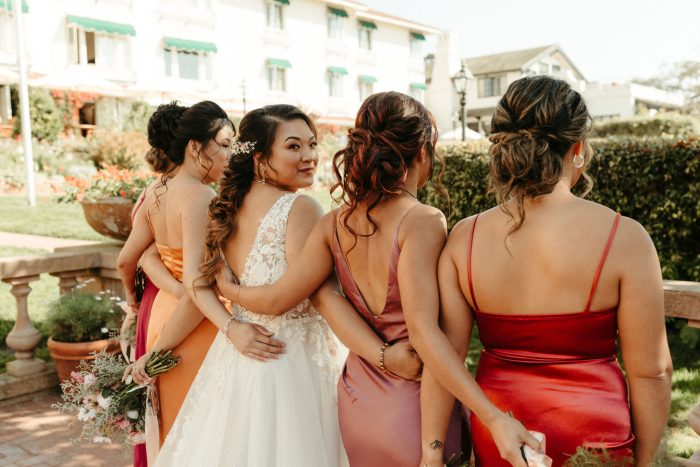 PC: Autumn Agrella
As the Maid of Honor typically takes charge of bridesmaid duties, it's your responsibility to coordinate their gown, accessory, and styling purchases. The bride may ask for your help choosing gorgeous bridesmaid dresses, which gives you a perfect chance to advise on budget, silhouette, and palette options! Once the bride has browsed options and made their selection, it's your job to ensure each member of the bridal party knows where, when, and how to get their gowns in hand.
If bridesmaid gowns are being ordered through your bridal boutique, the bride will most likely be able to forward you the information given by their stylist. This may include an online link for each maid to choose their size and place an order or a way for the bridesmaid to pick up from a batch order in-store. Remind the bridal party of any alteration costs– many boutiques and specialty bridal shops also offer these services for bridesmaids' gowns and groomsmen suits!
Whether the bride is shopping in-store or online, paying for gowns themself or allotting to bridesmaids, purchasing in one delivery package, or delegating to individuals—perhaps the most important coordination effort you can help with is to sync up purchase and delivery in a short and manageable time frame. The last thing the bride needs is a procrastinating bridesmaid or returns mishap the month before the wedding!
Make sure to send your bride some bridesmaid dress inspo from our blog!
Give Support to the Bride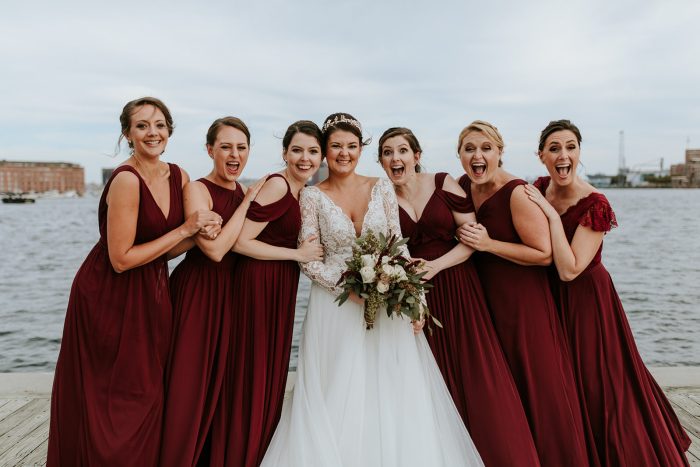 PC: Love to the Core Photography
As the Maid of Honor, you've got a big job of checking in with the bride to make their engagement as smooth, enjoyable, and manageable as can be! By no means are you expected to disrupt your life for theirs, but it's a true gesture of your friendship to give them as much support as you can during this busy and stress-prone time
Maid of Honor Party Planning Duties
Bridal Shower
This is another fun part of your Maid of Honor checklist! During all the shopping and pinning, you get to help the bride plan a chic, unique, and meaningful bridal shower. Here are a few pointers to get you started:
Depending on the wedding timeline, you may host the bridal shower anywhere from 2-6 months before the big day.
Your bride may need help with choosing and sending out their bridal shower invites.
Plan to invite the bridal party and other close friends and family.
Work with the bride to decide who hosts the actual celebration. It may be held at a close relative's home, a restaurant, a park, or a unique venue.
If décor is your responsibility, ask the bride for some mood boards and inspiration. Shop items that fit their taste and budget.
Research games and activities that fit your bride's personality and complement the vibe of their crowd. A guest group that already has a good bond may prefer something more organic and laidback, whereas a group that doesn't know each other as well may benefit from structured games and icebreaker-style activities.
Read our blog for some fun and unique bridal shower ideas!
Bachelorette Party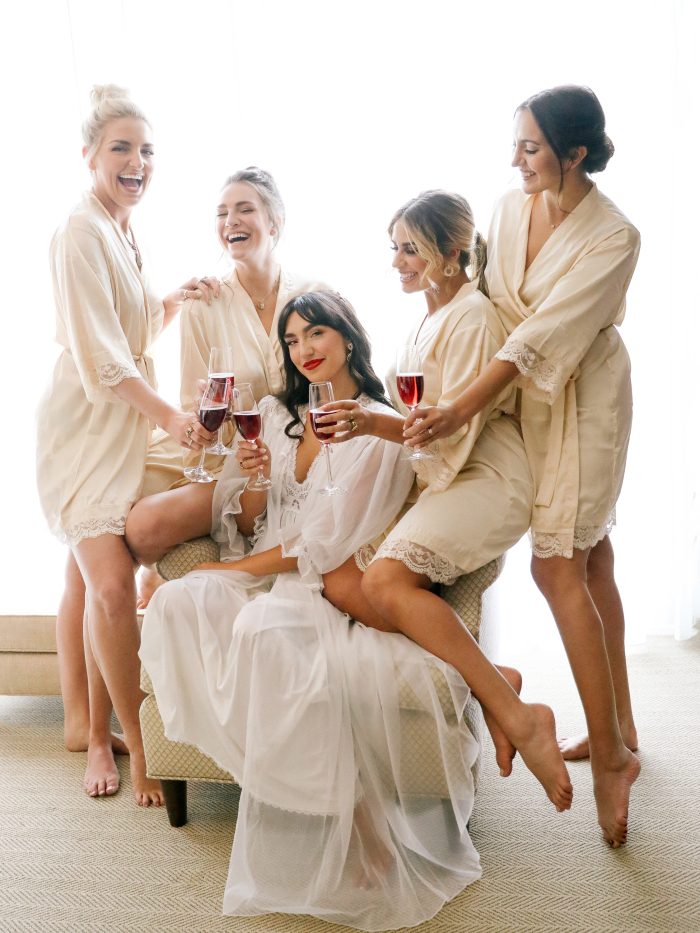 PC: Lucy Cuneo
Next up on your Maid of Honor Duties checklist: the bachelorette bash! Here are a few ways to make the experience memorable, manageable, and as drama-free as possible:
Help manage the bride's anxiety and expectations. Media and movies have given us unrealistic ideas of bachelorette parties; it's important to optimize everyone's excitement without letting it tip over to anxiety and frustration.
Work with a realistic budget and be respectful to everyone who contributes money or resources. For example, if a bridesmaid offers their family cabin as a location, make sure everyone in the group knows the rules and expectations for use. If you're crowdsourcing for food and alcohol, set a detailed plan ahead of time in a group itinerary email.
Avoid overscheduling the day or weekend. Most often the bridal party is there to relax and enjoy each other's company– all the bells-and-whistles "traditions" are really just good for photo ops.
Set a clear plan for transportation so there's zero risk of anyone driving under the influence.
Have fun with the location and look to the bride's interests to personalize the experience. If the Vegas cliché isn't their thing, choose a unique destination like a local vineyard, a glamping spot, or a spa retreat.
Look to your group to coordinate a surprise activity or experience for the bride at some point in the bachelorette festivities. It's also a great idea to present a personalized gift!
Find some fun and unique bachelorette party ideas from our exclusive blog!
Maid of Honor Duties on the Wedding Day
If Needed, Help Set Up the Venue
DIY weddings are all the rage right now, and if your bride has decided to take this route then get ready to lend a helpful hand! From setting up table settings to artfully making the floral arrangements, there's no one better to help than you!
Coordinate Bridesmaids' Duties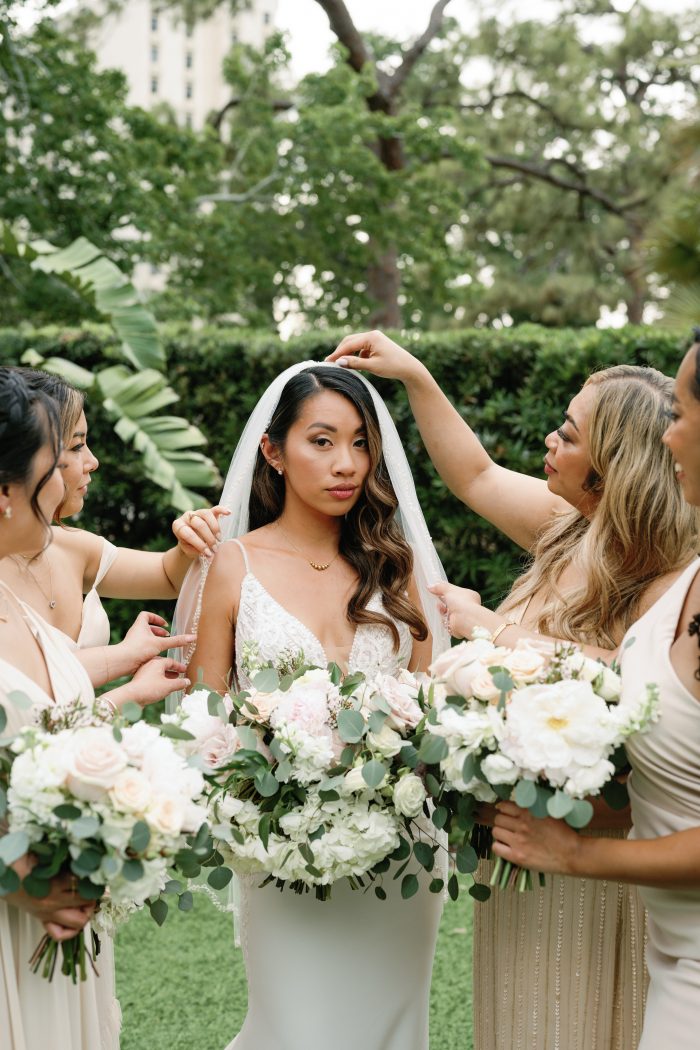 PC: Dewitt For Love
Bridesmaids' duties vary depending on the size and scale of the wedding, but the most common breakdown includes:
Paying for their attire and accessories.
Contributing to the bridal shower and bachelorette party.
Attending any pre-wedding events, including the rehearsal and rehearsal dinner.
Buying a wedding present.
Assisting the MOH before, during, and after the wedding.
Participating in the wedding ceremony.
Being in bridal party photos.
Being a fun and helpful guest at the reception.
Making sure the bride eats and stays hydrated on the wedding day.
Staying positive, energetic, and supportive to make the whole process as stress-free as possible.
Since you are second-in-command of the bridal party, much of this management and coordination is put on you. You've got this!
Help Bride with Wedding Dress, Bustle, and Veil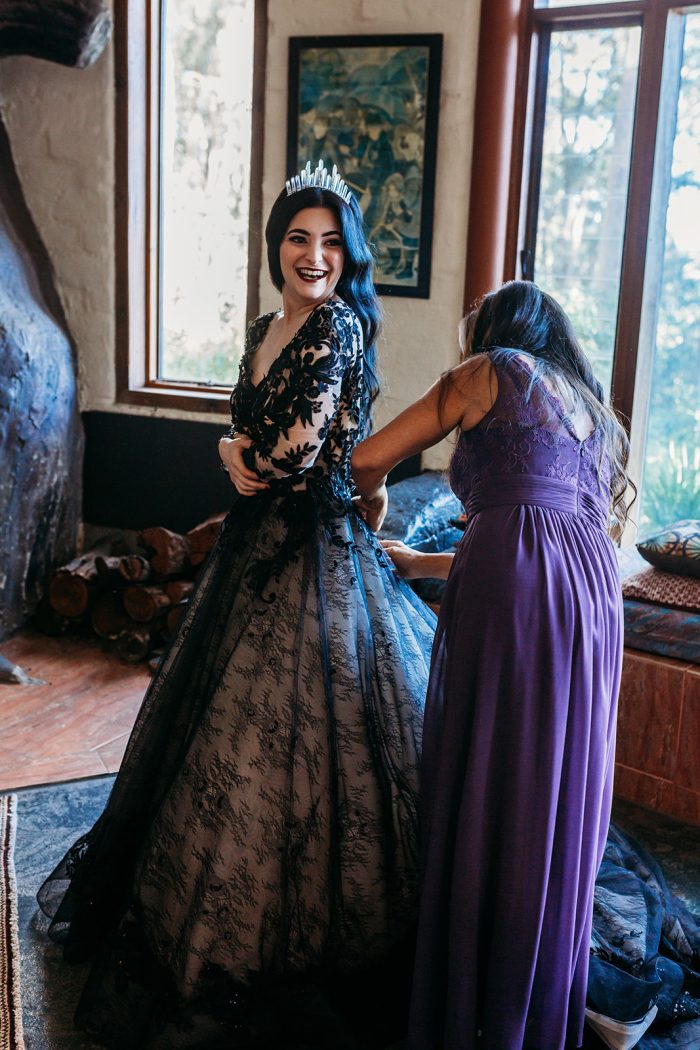 PC: Margan Photography
As the actual wedding day approaches, sync up with the bride to plan your nitty-gritty agenda for getting dressed, getting hair and makeup done, and adding any finishing touches. This Maid of Honor getting-ready checklist may include:
Arrive at the venue to get ready at a set time.
Coordinate the rest of the bridal party's arrivals.
Manage bridesmaids' dress and hair and makeup appointments.
Communicate with the bride about their on-site beauty items.
Help the bride get into their wedding dress.
Add accessories like jewelry, veil, and shoes.
Pose for the bride's getting-dressed photos.
Assist with corsages, bouquets, crowns, and other floral accessories.
Bring an emergency kit or run to the store for last-minute supplies.
Help with the bride's bustle for the reception.
Keep the bride's veil safe and help with the bouquet.
Make sure to watch our bustle video below so that you're fully prepared on the wedding day!
Keep Bridesmaids on Schedule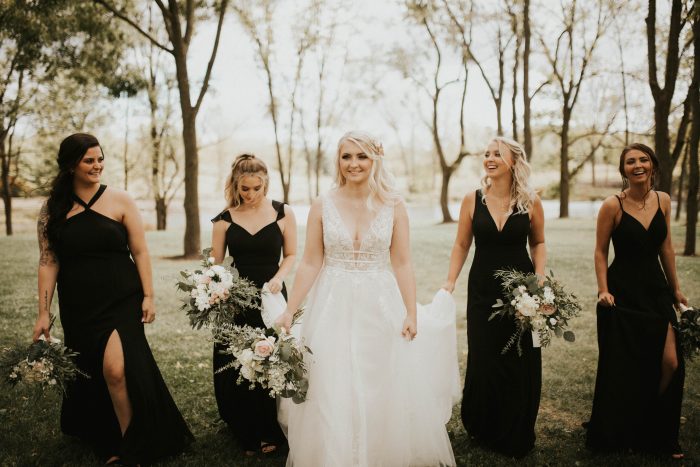 PC: Kelsie P Photography
One of the best ways you can help the bride on their wedding day is to take charge of the bridal party's schedule! Like your getting-ready agenda above, this responsibility includes:
Ensure each member of the bridal party arrives on time with their clothing, makeup, accessories, and any other add-ons in tow.
Keep everyone fed, hydrated, and energized.
Pour celebratory bubbly and make a pre-ceremony toast.
Manage hair and makeup appointments and vendor timelines.
Help the bridal party navigate the venue and note where everything is.
Answer any phone calls, texts, and logistical questions for the bride.
Make sure the bridal party understands their lineup and ceremony roles.
And of course, the pre-wedding timeline is just as important as the actual wedding-day agenda. Part of your Maid of Honor duties during the engagement window is to check in regularly with bridesmaids about their gowns, travel schedules, gift and/or registry questions, planning responsibilities, and budgeting.
Handle Bouquet, Ring, and Marriage License
This might seem like common knowledge, but it's also a Maid of Honor's job to carry the bouquet and ring during the ceremony! During the ceremony while the vows are being exchanged, the Maid of Honor is responsible for holding the bride's bouquet and groom's ring until it's time to exchange them.
Pro tip: to make sure you don't drop the ring, hold it on your thumb during the ceremony!
Lastly, the Maid of Honor and Best Man should also be witness to the signing of the marriage license!
Give a Toast at the Reception
This may be an exciting or dread-inducing part of your Maid of Honor duties checklist: making a unique, meaningful, and effective toast at the wedding reception! Whether you're a seasoned public speaker or reserved introvert, here are a few time-honored things to include, as well as a few things to avoid:
Follow a tried-and-true formula but add appropriate flair.
Practice a few times before the wedding day.
Give some sweet advice from your own wedding day, if applicable.
Lean on a quote if you need to.
Keep the speech short and sweet.
Avoid awkward humor, cheap shots, and clichés (e.g., crude jokes, money references, obscure inside jokes, criticism of either partner, oversharing, unnecessary personal baggage, etc.)
If you like giving a speech and fancy yourself a pro, don't make it about yourself. Keep it focused on the couple and the guest experience.
Wedding toasts often go one of two ways: they either become a meaningful and affirmative part of the ceremony, or they descend into an awkward free-for-all featuring a dicey microphone and drunk wedding party. As the Maid of Honor, it's one of your responsibilities to manage this high-stakes portion of the evening—set your own fun, fabulous, and thoughtful praise to the newlyweds as a precedent!
Get the Party Started!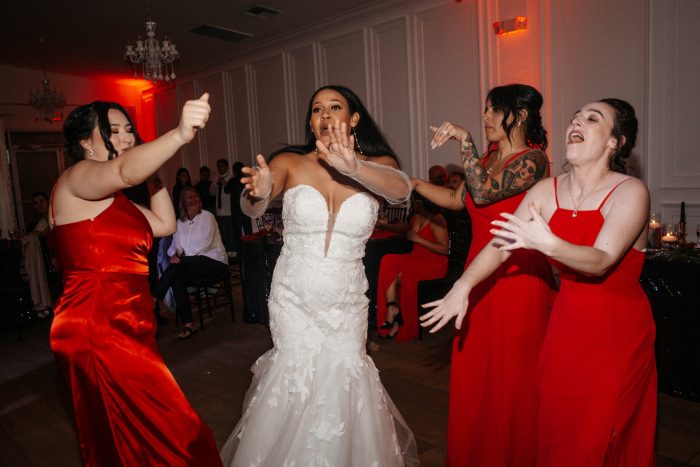 PC: Andi Marie
This might seem like an easy task, but it's harder than you might think! If the party is coming to a lull or the DJ isn't getting people on the dance floor fast enough it's up to you and the Best Man to get the party started!
Collect and Organize Gifts
Presents are always fun, but the last thing the bride and groom want to do after a day of getting married is deal with all the presents from their guests. As a final responsibility, organize a group of people to load up all the presents in a car and make sure they get to their next location safely!
Remember, you've got this. At the end of the day, the most important part of being chosen as the Maid of Honor is to be the best support to the bride you can be. You've already built a beautiful trust and friendship. Now, use that to help plan an unforgettable occasion for one of your favorite people!
Looking for more inspo beyond Maid of Honor duties? Head to a few of our other planning blogs!
More Blogs Like This:
The Ultimate Guide to Setting Your Wedding Budget
The Must-Have Last Minute Wedding Checklist for the Soon to Be Bride
Grooms Wedding Attire Tips & The Wedding Dresses to Match
Happy planning! Send our love to the soon-to-be newlyweds!