Tips and Trends
|
May 30, 2023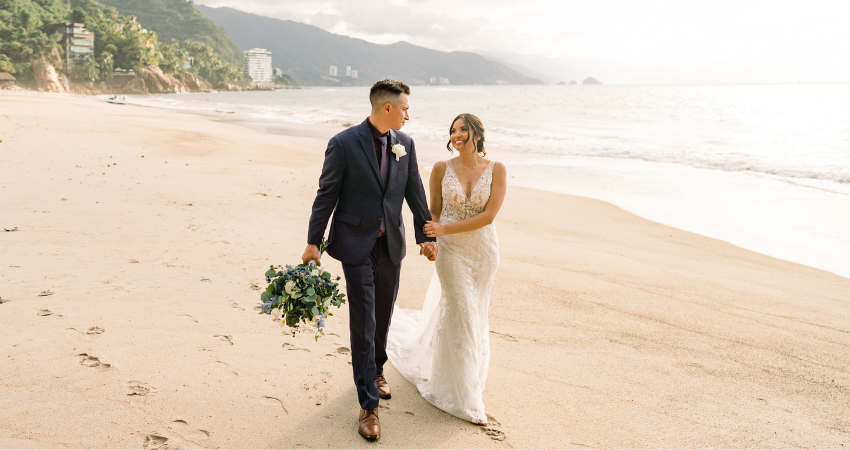 There's plenty to stress about as you work on finalizing all the details of your wedding — after all, there's really no such thing as saving time when it comes to this process! To help ease some of that stress, here's a list of must-have wedding checklist items you'll want to remember to do before the big day, along with some easy-to-forget things that can really make a difference.
Step one? Make sure to sign up for our exclusive Maggie Sottero text messages below to be in the know about all things bridal to gear up for your big day!
Wedding Checklist Item 1: Get Your Marriage License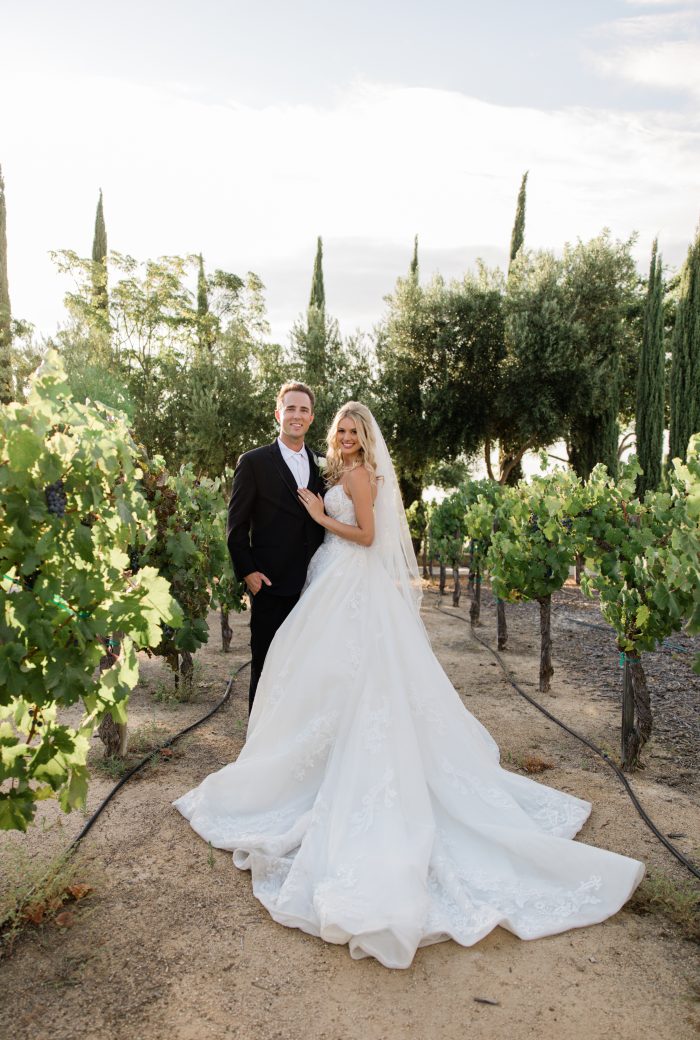 PC: Hopeboat Photography
This might seem obvious, but you'd be surprised how many couples forget to get their marriage license before the wedding. Believe it or not, this is probably the most important thing we'll mention in this wedding checklist because the window is so small!
Based on where you live, you'll have to register for this license, and won't be able to have a marriage ceremony until 24 hours have passed. In some cases, the license is good for up to 60 days, but may only be one day based on county and state. For some, there's a waiting period after applying, and again after approval. Read up on this material to make sure your wedding day runs smoothly.
Checklist Item 2: Get All Your Accessories Together
At this point, you should have your dream dress, but do you have your dream bridal accessories? If you haven't ticked this off your wedding checklist yet, we have a few accessories for you to choose from!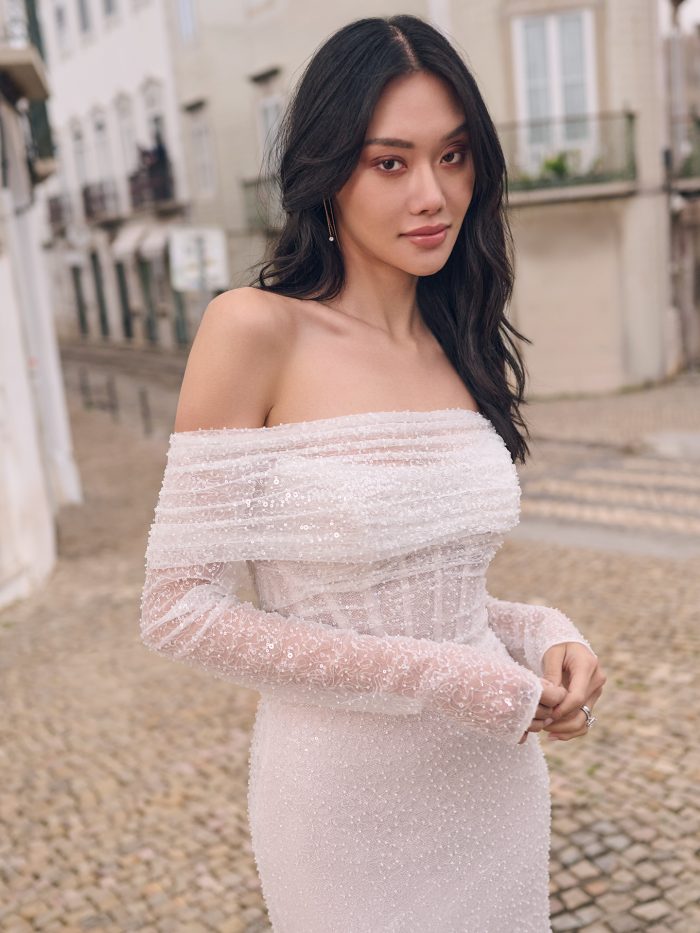 First up is our celestial-inspired Drew jacket! While this jacket was made to be paired with our gorgeous fit-and-flare Drew by Maggie Sottero gown, this lovely accessory is the perfect choice for any strapless bridal look! If you're wanting to sport a little bit more glam as you walk down the aisle, then this off-the-shoulder fitted-sleeve jacket is for you.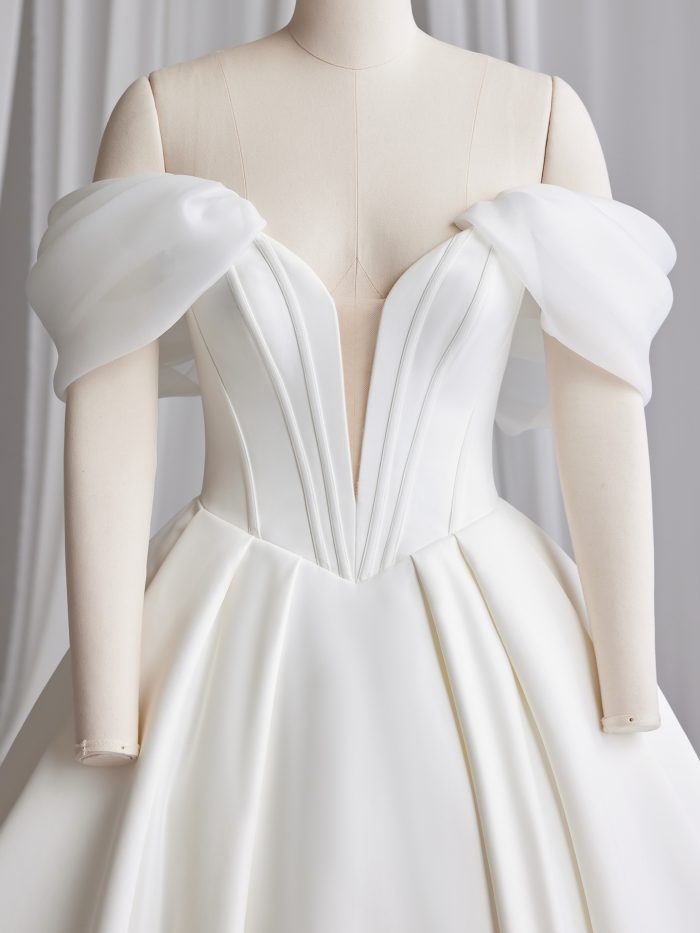 Our voluminous off-the-shoulder Derrick cap-sleeves are another lovely addition to your dream bridal gown. Coming in an elegant ivory organza, these cap-sleeves will not only showcase your impeccable taste but will be a lovely vintage-inspired accessory for your chic bridal look.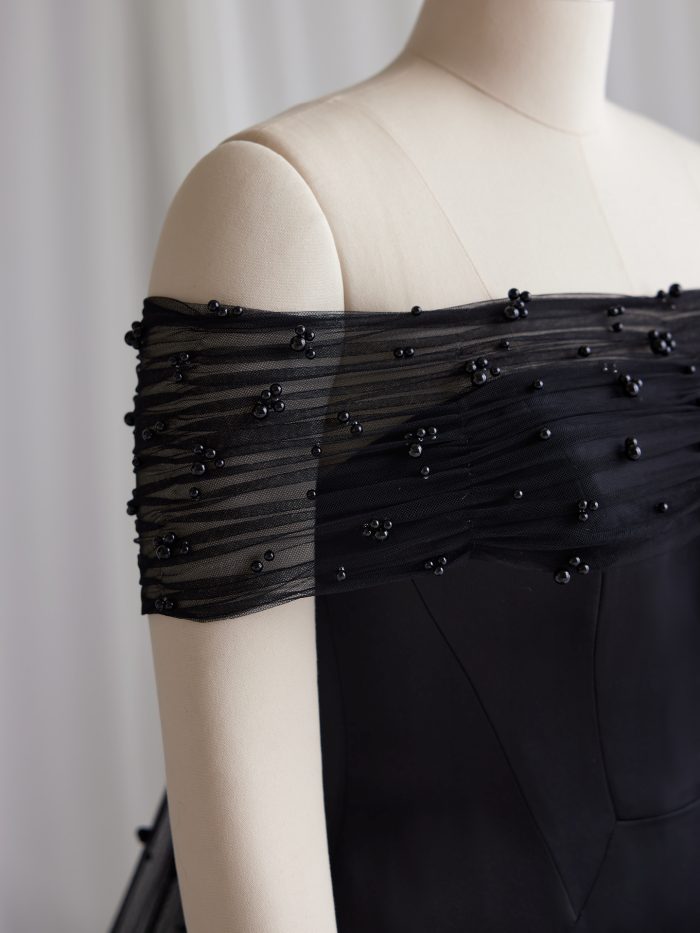 If you're looking for a unique alternative to a wedding veil, consider our Taryn wrap! Coming in an all-black colorway with delicate pearl details, this is a gorgeous and different choice for our unique brides who crave a unique look as they glide down the aisle.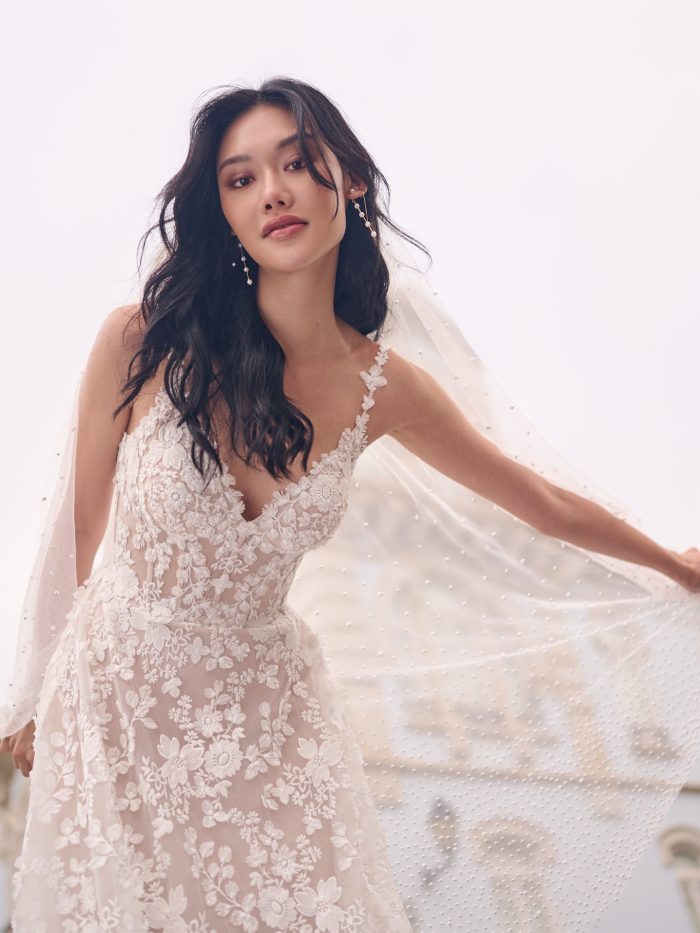 If a traditional veil is more your style, then you'll love our Ladonna pearl veil! This fingertip-length wedding veil is the perfect veil to match any style of gown you might have. With delicate pearls sewn throughout the veil, you'll be living your best #pearlcore dreams on your wedding day in this chic accessory!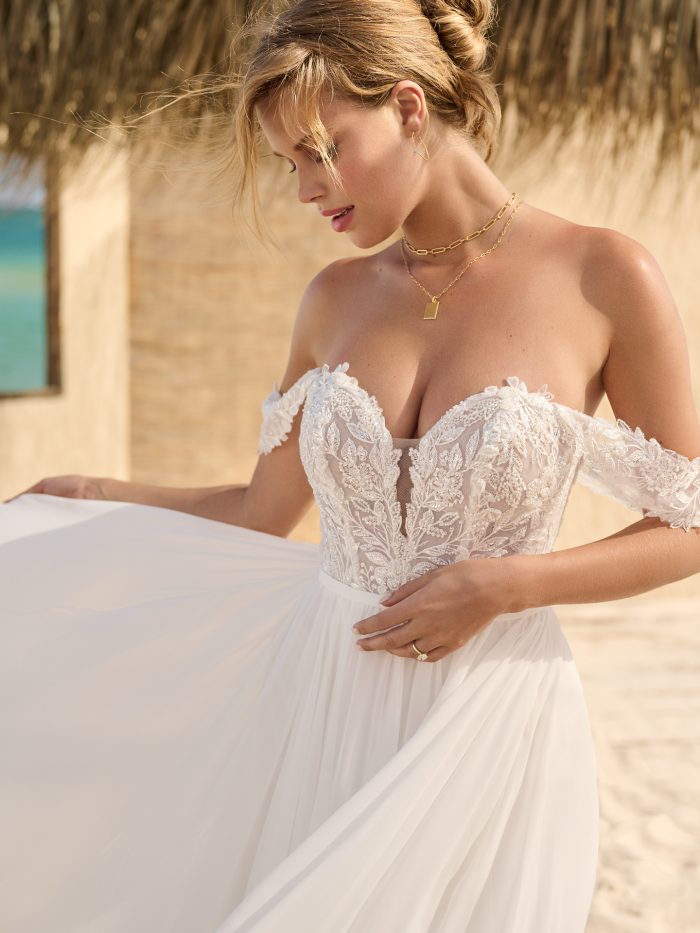 Another accessory potential to add to your wedding checklist are the beaded detachable Vaughn cap-sleeves. With delicate and dreamy floral lace and illusion tulle, this is a great addition for brides who want a more romantic look as they walk down the aisle!
Checklist Item 3: Finalize Your Living Situation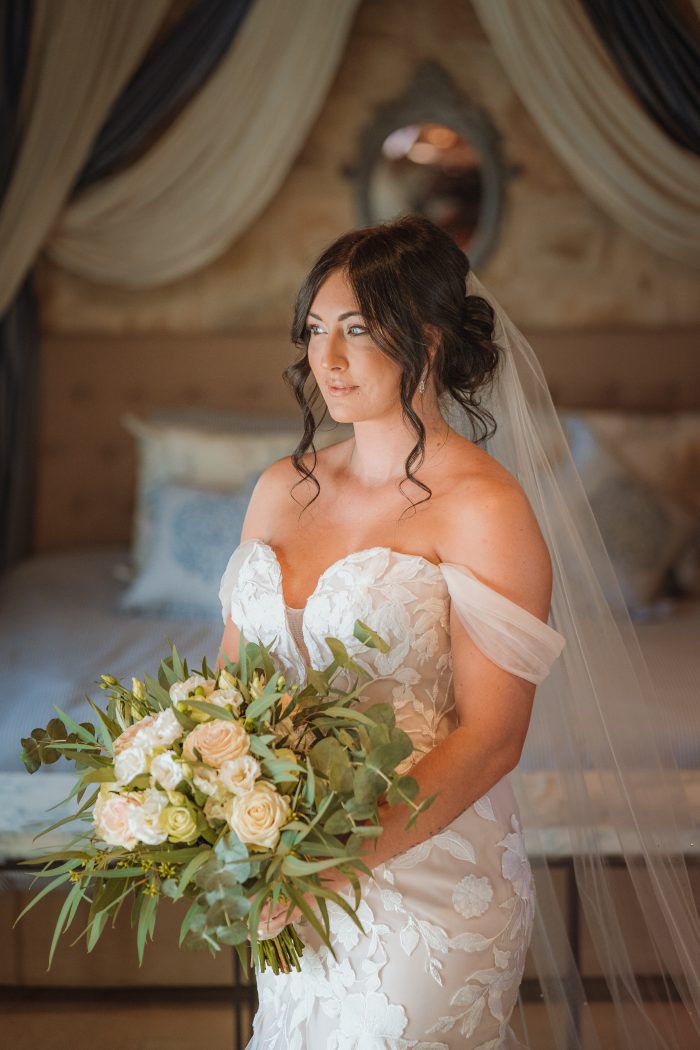 PC: Nick Wild Photography
Moving in together is an important step you've either already taken, or are planning on doing once you're married and with all the chaos of wedding planning, make sure this is checked off your list before you and your partner tie the knot!
If you haven't made that step yet, make sure to have your living situation mapped out for after your wedding day! Will you be finding a new place together? Are you planning on buying a house after you're married? Are you making a big move to a new state? These are all important questions to have answered before your big day so you aren't concentrating on that as you exchange vows.
Along with finalizing WHERE you'll live before your wedding, you'll want to finalize HOW you'll be living. If you've had some renovation ideas in mind, try to get them done before your wedding day so you can spend your first couple days as a married couple in bliss (not in DIY mode).
Replacing items like the master bathroom vanity in order to make the space feel fit for newlyweds and feel more home-y is key. If your wedding registry contains home goods, make sure these renovations are complete so you can actually use what you've been gifted. It's a great way to make sure that those accent towel holders and themed light fixtures can actually be used as opposed to collecting dust after the wedding.
And, if you aren't able to complete this list in time, make sure you have a space for registry gifts that you can keep in plain sight. This will remind you daily to get these done! You'll want these spaces to be personalized as you finally get settled back into your home; after all, no one wants to think about a home update after a honeymoon (thank goodness for this wedding checklist!).
Wedding Checklist Item 4: Create Your Must-Have Photos List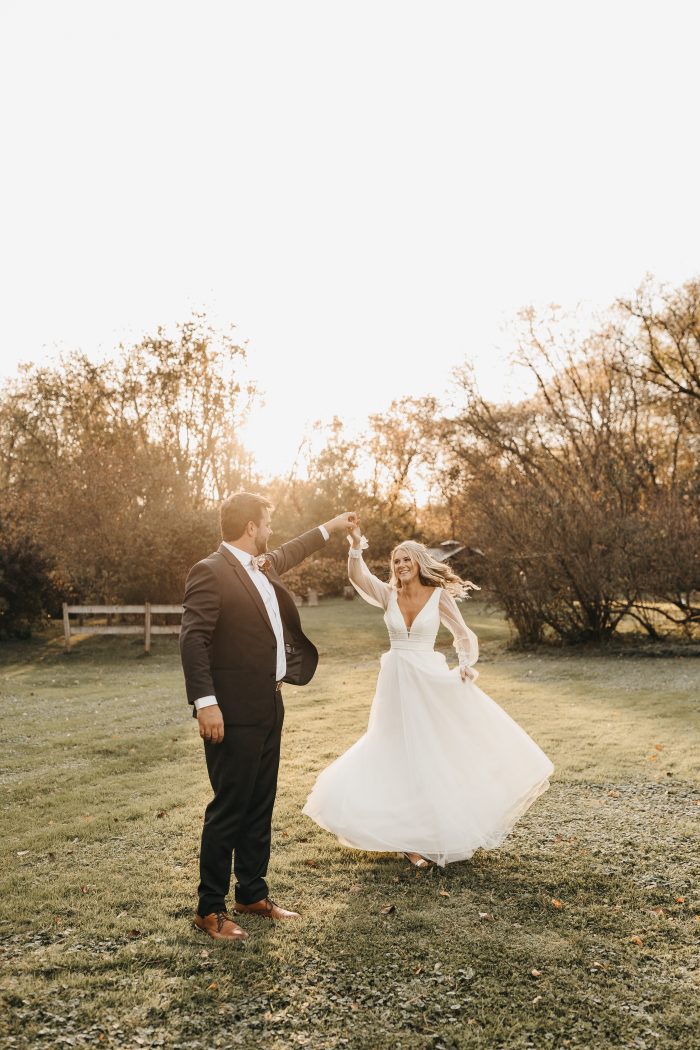 PC: Morgan Manney Photography
It seems like such a small thing on this wedding checklist, but if you have a larger wedding party or guest list, this is necessary. It will give your photographer(s) a basic guideline to follow while going through the big day!
Prep photos are a must, so if your photographer has a partner, make sure they separate for this part of the day! Pre-wedding photos are some of the best and are done well when candid. Make sure to have a combination of posed and natural, as this will help create photos that feel more realistic post-wedding.
Consider adding in some challenges for the photographer and yourself too! The Table Dash is a game set for you and your partner, and your photographer. Taking a photo with every guest at your reception before the first song of the night is through is not only a great memory (the first one you'll truly have married) but will create candid photos to make sure everyone gets photographed at least once.
Pro Tip: Make sure that your family and friends include you in their photo sharing! Then you'll have all those candid photos at your fingertips rather than opening your phone to a million messages from families of you and your new spouse the night before.
Checklist Item 5: Pack the Essentials Beforehand
Take it from us, it's always better to be overprepared than underprepared! As you prep for your big day, make sure to add a packing checklist to your wedding checklist! Here are a few essentials that are important to bring for your day:
Bandages (you'll need them after wearing heels all night!).
Bobby pins and hair ties.
Extra makeup (especially mascara for after you tear up going down the aisle!).
Your emotional-support water bottle.
Fashion tape.
A protein bar.
Deodorant.
Anti-chafing products.
Stain-remover pens.
Over-the-counter pain meds and/or allergy medication! Especially if you're having an outdoor wedding.
With these handy-dandy items your day will go off without a hitch. Keep reading for more tips!
Checklist Item 6: Break in Your Wedding Heels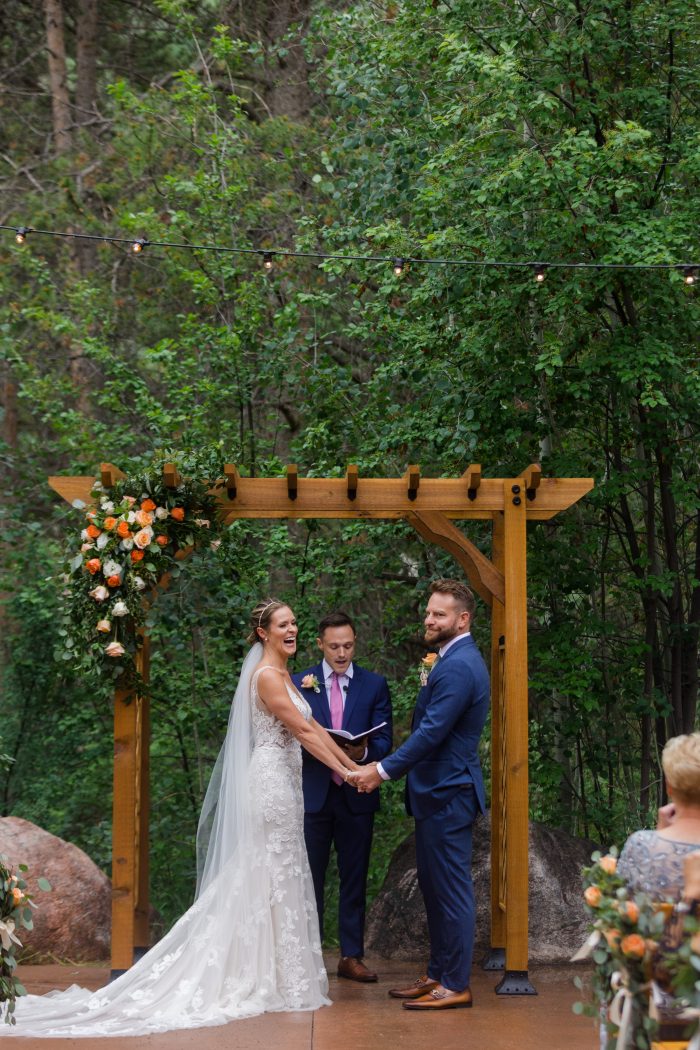 PC: Sarah Roshan Photography
A small wedding checklist item, but a big pain if not done. Wear your wedding shoes at least a few weeks beforehand, and again about a week before. These will help get rid of those new shoe blisters that are so common.
Plus, it'll keep the heels nice and comfortable come wedding day. It'll also make it easier to take running wedding photos, to dance during the reception and other activities that you'd be begging for flip-flops for. It's that, or find a pair to wear that does provide comfort throughout the day. Finding a pair of comfortable wedding shoes seems like it doesn't matter as much, but your feet will thank you the day after. Who knows, you might even be able to reuse these in your daily life for other events!
Checklist Item 7: Double-Check Your Gown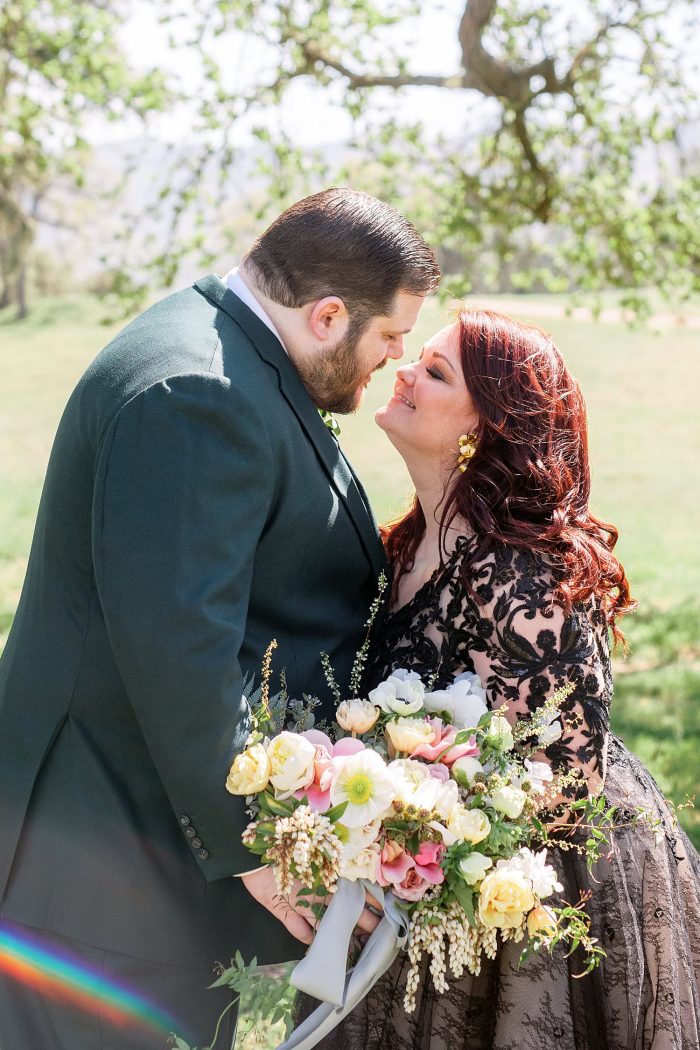 PC: Anna Delores Photography
While this doesn't seem like a wedding checklist necessity, doing this a week or less before the wedding is crucial. Consider doing another fitting about five days before the wedding, as there will be some adjustments to make.
This doesn't just go for the dress – try on the shoes, undergarments, veil, etc. You want to make sure these items truly work altogether. If something doesn't fit quite right, this still gives you enough time to take items to the tailor. Say you realize something doesn't work – a tailor usually takes less than a week to make those adjustments and you will be fitted then and there before and after the adjustments. This will keep the items as close to your sizing as possible, while still maintaining a budget.
Wedding Checklist Item 8: Review Printed Materials
The last thing you want is programs and plaques having the wrong names on them, or even worse, misspelled names! This goes for table cards, menus, programs, and anything that you have that is printed.
This doesn't just go for your name and your significant other. Menu items and guest names are just as important. Do this about a week before the wedding so you have time to rush order items if you need to. There are plenty of rush stationary services that replicate and produce items in time for your big day if needed. It may not be what you envisioned, but better to have the pieces, than nothing at all.
Checklist Item 9: Arrange Reception Transportation if Needed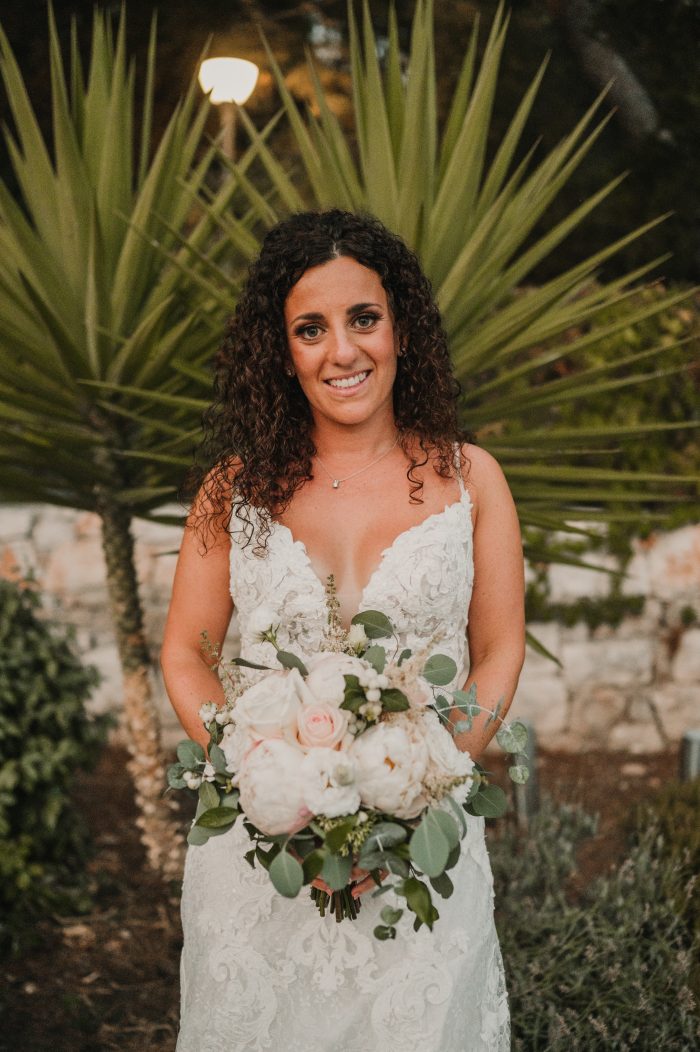 PC: Ive and Vedran Weddings
If your wedding is taking place at a location that is separate from where guests are residing, it's important to set up some form of transportation for your guests. Your guests will want to enjoy themselves, so making sure there's a safe way to get home is key.
If you have out-of-town guests, consider transportation from hotels to the wedding or reception venue. This avoids any sort of delay in the big day and allows your guests to mingle together.
Feel free to set up a few trips to and from the venue to the hotel(s) as well! This provides a few chances for guests to leave. This gives a proposed end time for older guests who may want to leave early and a "last call" for guests who plan on staying up later to find their own way home. Plus, it lowers the chance of your guests being your responsibility at the end of the night.
You may not want to worry about this at all, though. Consider having a "last call" on your program so that your guests know when to go home right away. This also helps lower any looming potential responsibility at the end of the night, so you can focus on yourself and your partner.
Checklist Item 10: Assemble Your Wedding Party Gifts
While it's your special day, don't forget to show some of the special people you made this day possible some love as well! Small tokens will remind them of how much you care and will be a special keepsake for them to remind them of you after the wedding day.
To get started, read our blog on unique bridesmaids gifts!
Psst… The more personal the better! Don't be afraid to dive in deep for these gifts!
Checklist Item 11: Finalize Your Beauty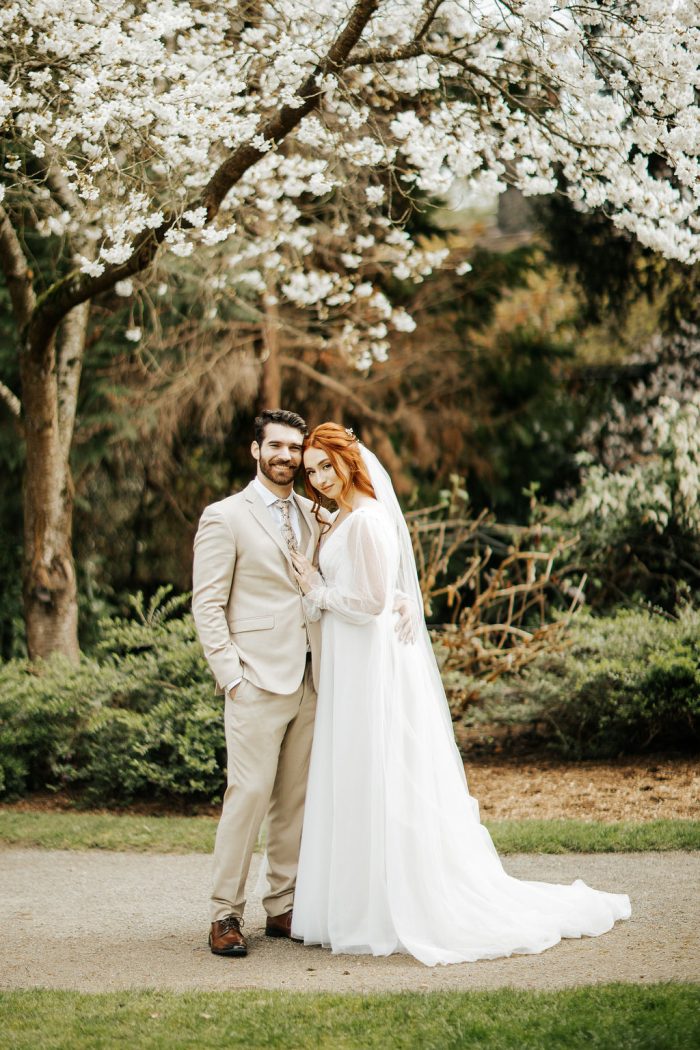 TPC: Tessa Viamonte Photography
Make sure that all your pre-wedding checklist items are ticked off when it comes to your bridal beauty. As you get closer to your wedding you should have your bridal hair and makeup inspo chosen, but what about the other aspects of your wedding look?
Make sure you have your preferred products chosen and let your makeup artist know about any allergies or sensitivities you may have. Make sure to have also gotten any last minute hair touch ups done like a quick trim and any coloring that you choose to have.
Finding your nail inspo is also an important step! A couple days before hand, make sure to grab your maid of honor and any other friends and family that you would like and get your bridal manicure and pedicure done!
If you're stuck on what you'd like to have done for your wedding day, make sure to read the following blogs for all the inspo:
6 Types Of Wedding Nails For The Classic, Edgy, And Girly Brides
Types of Wedding Hairstyles To Match Your Dream Wedding Look
5 Types Of Wedding Makeup To Inspire You For Your Wedding Day
Checklist Item 12: Make Time for Pampering
Getting all your beauty looks together shouldn't be the only "you" time you check off your wedding checklist leading up to your big day! Wedding planning is stressful, so make sure to fit some pampering into your wedding day-lead up as well. Whether it's just you or you and your partner, there's a lot of time for you two to recharge and relax before you dive into the hecticness of your wedding day. Consider choosing from the following options:
Get a couples massage for you and your partner.
Book a morning-of-wedding sunrise yoga class.
Have a spa day with your besties.
Get back in nature by planning a hike.
Checklist Item 13: Pack Your Honeymoon Bag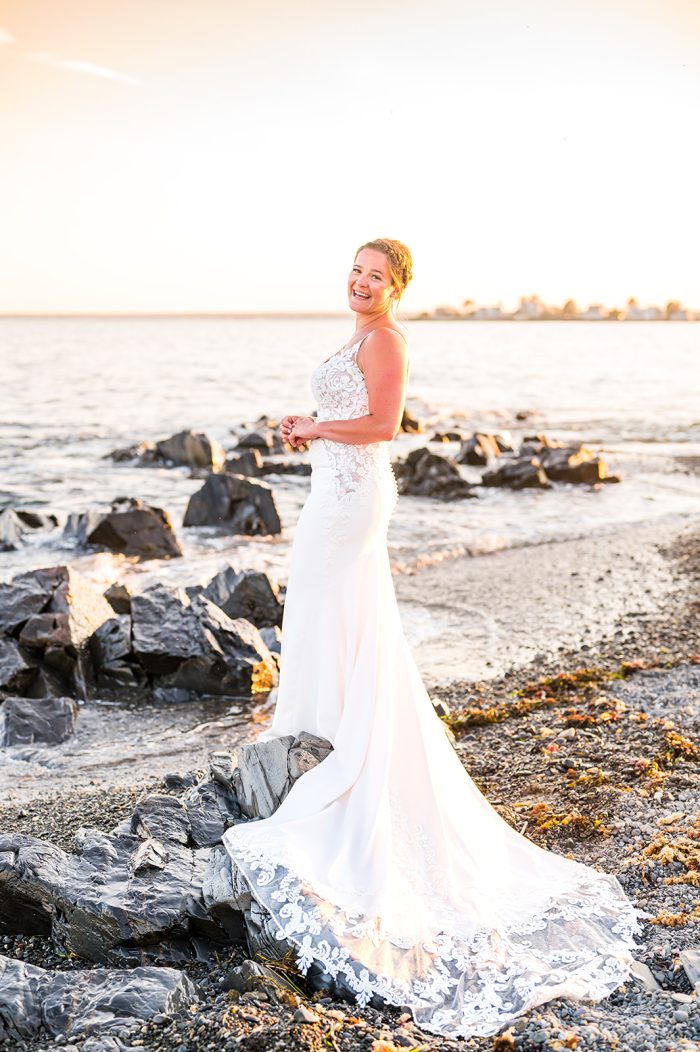 If you're planning a honeymoon for right after your wedding, it's important to get everything sorted before the big day! When it becomes time to finally head off on your honeymoon, packing is the last thing you'll want to worry about. Yes, this last-minute wedding checklist has last-minute honeymoon packing checklists too!
If you plan on going somewhere out of the country, make sure to check that you won't need a visa. Start this process early to avoid any complications if you plan on being there a while. Every country is different, and some may not require one for up to 90 days, but others are a little more strict. Check this ahead of time. Make sure you also have your passport and that it's up-to-date, along with all the necessary documentation to suit the requirements of whatever country you're traveling to.
Checklist Item 14: Do a Final Walk Through & Organize Payments
Once you get to this last step in your wedding checklist your wedding is just around the corner! This walk through is the last time you'll see your venue before the big day and it is a good time to iron out any last minute details or ask any last questions you have.
This walk through should include you and your fiancé, your wedding planner if you have one, the venue coordinator, and your contact for catering. During this time, you'll want to finalize the floor plan, wedding day timeline, set-up list, and review all your vendor contracts and to make sure everyone is on the same page.
Though this might seem like a tedious step, it's an important one to having a successful wedding day! As is organizing your vendor payments.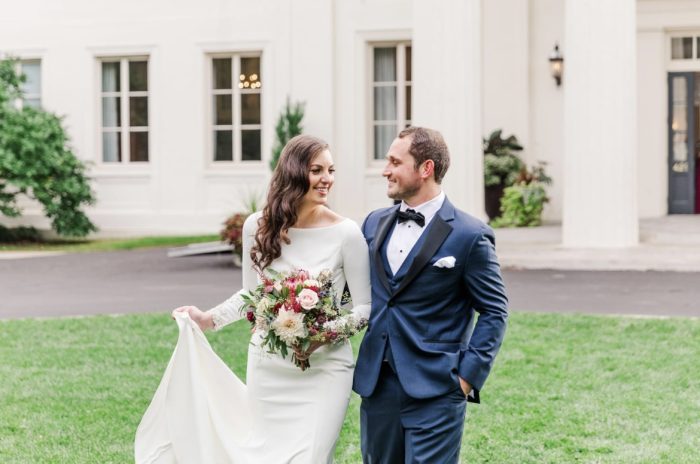 While you'll have already put down your deposits, payments for everything else will come shortly after the wedding. Make sure you have your vendor payments organized for afterward to keep everything in order. This can be done with payment trackers, or your normal calendar if that's easiest for you.
One thing to remember to do with these payments is to create some sort of note your vendors can sign saying they received payment. Consider this an "insurance policy." It might seem like a wedding checklist item you can keep off the list, but you'd be surprised how many vendors may misplace payment! Plus, this will allow you to keep track of who you've paid thus far.
If it's easiest, a good way to do this is with an envelope system. You can organize payment plans this way and label each envelope for the vendors with dates of payment too. This is a great method to carry forward as well. For house, car, and other combined finances you and your partner will have now that you're married.
Checklist Item 15: Make Sure to Have the Rings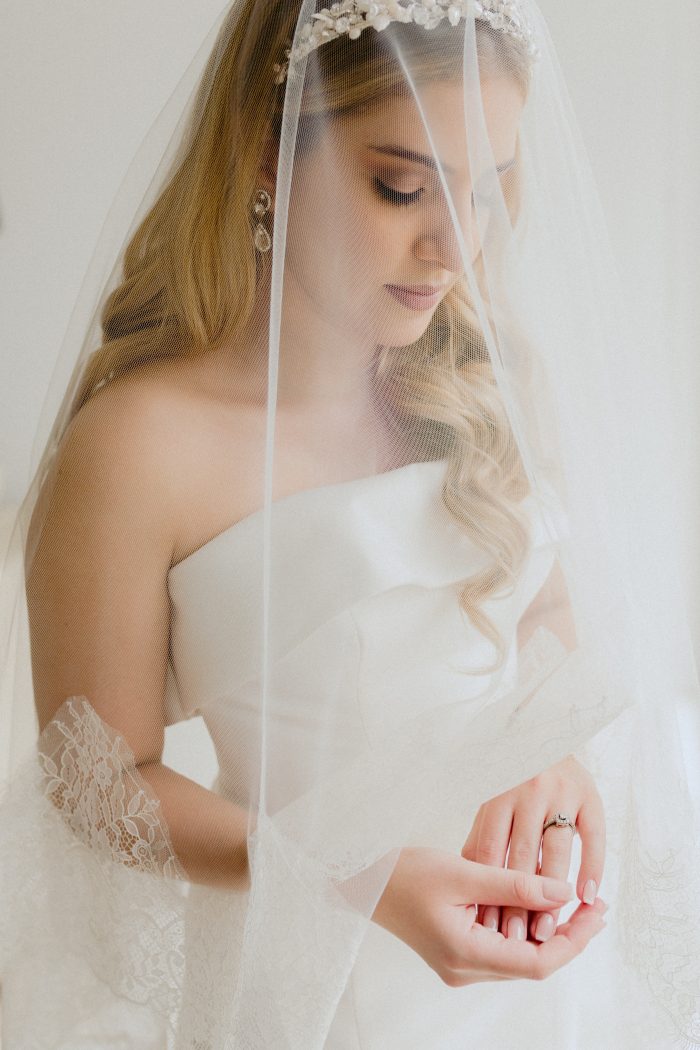 PC: Daniel Sierralta
Our final step in this pro wedding checklist (other than saying "I do?")? Having the rings of course!
Exchanging your wedding rings is an important and traditional step for any marriage and so make sure they are shined, sized right, and kept in a safe location leading up to the day!
Pro Tip: If plan on having a kid or furbaby act as your ringbearer, don't give the actual ring! Have the Best Man and/or Maid of Honor keep the rings safe and give your ringbearer an empty box. Not only will this keep your jewels safe, but you'll still get the picture you want!
And there you have it, brides! The last thing to check off your wedding checklist is having your happily ever after! Congratulations on your upcoming wedding, and make sure to follow our Socials below for all the wedding inspo, and take a look at our other blogs for some more expert info.
More Blogs Like This:
How to Choose the Right Wedding Undergarments for Your Wedding Dress
The Ultimate Guide to Setting Your Wedding Budget
10 Wedding Dress Trends in Maggie Sottero's Fall 2023 Collection