Tips and Trends
|
May 10, 2022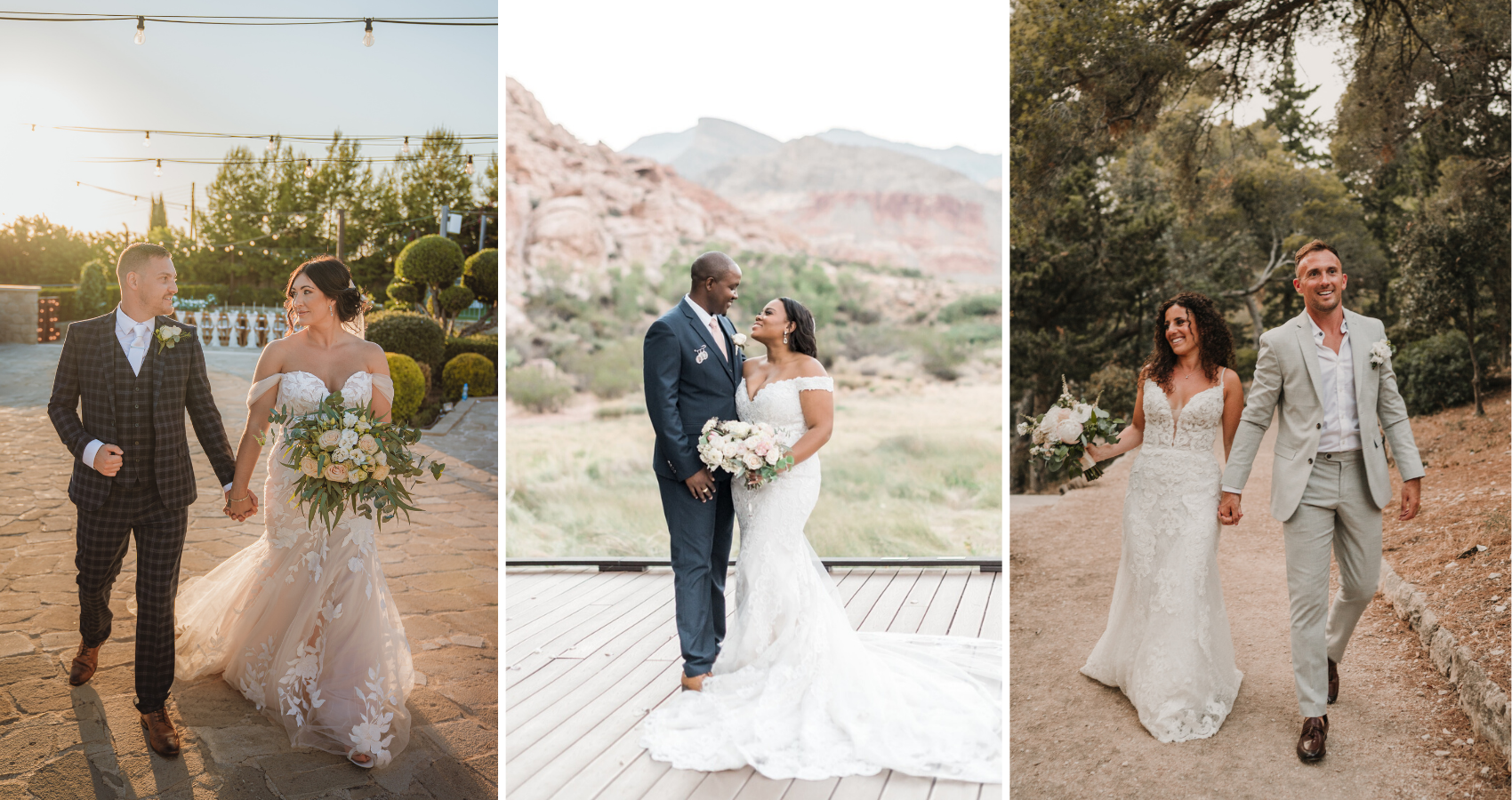 There's plenty to stress about as you work on finalizing all the details of your wedding — after all, there's really no such thing as saving time when it comes to this process! To help ease some of that stress, here's a list of bigger wedding checklist items you'll want to remember to do before the big day, along with some easy-to-forget things that can really make a difference.
Tips one, two, and three before you start reading: Take our Style Quiz and head to an Authorized Retailer near to find your dream dress! Then, sign up for our exclusive text messages below for some wedding planning tips and tricks and #MaggieInspiration!
Wedding Checklist Item 1: Get Your Marriage License
PC: Elizabeth Le
This might seem obvious, but you'd be surprised how many couples forget to get their marriage license before the wedding. Believe it or not, this is probably the most important thing we'll mention in this wedding checklist because the window is so small!
Based on where you live, you'll have to register for this license, and won't be able to have a marriage ceremony until 24 hours have passed. In some cases, the license is good for up to 60 days, but may only be one day based on county and state. For some, there's a waiting period after applying, and again after approval. Read up on this material to make sure your wedding day runs smoothly.
Finish Last Minute Renovations on Your Together Home
PC: Nick Wild Photography
Moving in together is the first step a lot of couples take before getting married. But, as weddings go, affordability is key in the next few years as you start to make bigger moves in your relationship.
While this may not seem like a conventional wedding planning checklist item, it is something you're going to want to complete ahead of your wedding. You'll want to make sure those last-minute renovations in your current home are complete before your wedding. This will allow you and your partner to create a home you both love (and a place to store all those amazing gifts!).
Replacing items like the master bathroom vanity in order to make the space feel fit for newlyweds and feel more home-y is key. If your wedding registry contains home goods, make sure these renovations are complete so you can actually use what you've been gifted. It's a great way to make sure that those accent towel holders and themed light fixtures can actually be used as opposed to collecting dust after the wedding.
And, if you aren't able to complete this list in time, make sure you have a space for registry gifts that you can keep in plain sight. This will remind you daily to get these done! You'll want these spaces to be personalized as you finally get settled back into your home; after all, no one wants to think about a home update after a honeymoon (thank goodness for this wedding checklist!).
Create Your Must-Have Photos List
PC: Morgan Manney Photography
It seems like such a small thing on this wedding checklist, but if you have a larger wedding party or guest list, this is necessary. It will give your photographer(s) a basic guideline to follow while going through the big day!
Prep photos are a must, so if your photographer has a partner, make sure they separate for this part of the day! Pre-wedding photos are some of the best and are done well when candid. Make sure to have a combination of posed and natural, as this will help create photos that feel more realistic post-wedding.
Consider adding in some challenges for the photographer and yourself too! The Table Dash is a game set for you and your partner, and your photographer. Taking a photo with every guest at your reception before the first song of the night is through is not only a great memory (the first one you'll truly have married) but will create candid photos to make sure everyone gets photographed at least once.
Organize Your Vendor Payments
While you'll have already put down your deposits, payments for everything else will come shortly after the wedding. Make sure you have your vendor payments organized for afterward to keep everything in order. This can be done with payment trackers, or your normal calendar if that's easiest for you.
One thing to remember to do with these payments is to create some sort of note your vendors can sign saying they received payment. Consider this an "insurance policy." It might seem like a wedding checklist item you can keep off the list, but you'd be surprised how many vendors may misplace payment! Plus, this will allow you to keep track of who you've paid thus far.
If it's easiest, a good way to do this is with an envelope system. You can organize payment plans this way and label each envelope for the vendors with dates of payment too. This is a great method to carry forward as well. For house, car, and other combined finances you and your partner will have now that you're married.
Wedding Checklist: Pack the Essentials Beforehand
When it becomes time to finally head off on your honeymoon, packing is the last thing you'll want to worry about. Yes, this last-minute wedding checklist has last-minute honeymoon packing checklists too!
If you plan on going somewhere out of the country, make sure to check that you won't need a visa. Start this process early to avoid any complications if you plan on being there a while. Every country is different, and some may not require one for up to 90 days, but others are a little more strict. Check this ahead of time. Make sure you also have your passport and that it's up-to-date, along with all the necessary documentation to suit the requirements of whatever country you're traveling to.
As for other necessities, don't assume you'll be able to pick everything up at the destination! Drugstore items such as extra deodorant and mascara aren't always available wherever you look, so take the time to pack these items, to save you stress after the wedding.
Break in Your Wedding Heels
PC: Sarah Roshan Photography
A small wedding checklist item, but a big pain if not done. Wear your wedding shoes at least a few weeks beforehand, and again about a week before. These will help get rid of those new shoe blisters that are so common.
Plus, it'll keep the heels nice and comfortable come wedding day. It'll also make it easier to take running wedding photos, to dance during the reception and other activities that you'd be begging for flip-flops for. It's that, or find a pair to wear that does provide comfort throughout the day. Finding a pair of comfortable wedding shoes seems like it doesn't matter as much, but your feet will thank you the day after. Who knows, you might even be able to reuse these in your daily life for other events!
After your Last Fitting, Do Another
PC: Anna Delores Photography
While this doesn't seem like a wedding checklist necessity, doing this a week or less before the wedding is crucial. Consider doing another fitting about five days before the wedding, as there will be some adjustments to make.
This doesn't just go for the dress – try on the shoes, undergarments, veil, etc. You want to make sure these items truly work altogether. If something doesn't fit quite right, this still gives you enough time to take items to the tailor. Say you realize something doesn't work – a tailor usually takes less than a week to make those adjustments and you will be fitted then and there before and after the adjustments. This will keep the items as close to your sizing as possible, while still maintaining a budget.
Make sure that all your pre-wedding checklist items are ticked off when it comes to beauty. Narrow down those accessories (we suggest pearls), make sure your nails are fresh, and figure out your wedding day makeup!
Review Printed Materials
The last thing you want is programs and plaques having the wrong names on them, or even worse, misspelled names! This goes for table cards, menus, programs, and anything that you have that is printed.
This doesn't just go for your name and your significant other. Menu items and guest names are just as important. Do this about a week before the wedding so you have time to rush order items if you need to. There are plenty of rush stationary services that replicate and produce items in time for your big day if needed. It may not be what you envisioned, but better to have the pieces, than nothing at all.
Arrange Reception Transportation if Needed
PC: Ive and Vedran Weddings
If your wedding is taking place at a location that is separate from where guests are residing, it's important to set up some form of transportation for your guests. Your guests will want to enjoy themselves, so making sure there's a safe way to get home is key.
If you have out-of-town guests, consider transportation from hotels to the wedding or reception venue. This avoids any sort of delay in the big day and allows your guests to mingle together.
Feel free to set up a few trips to and from the venue to the hotel(s) as well! This provides a few chances for guests to leave. This gives a proposed end time for older guests who may want to leave early and a "last call" for guests who plan on staying up later to find their own way home. Plus, it lowers the chance of your guests being your responsibility at the end of the night.
You may not want to worry about this at all, though. Consider having a "last call" on your program so that your guests know when to go home right away. This also helps lower any looming potential responsibility at the end of the night, so you can focus on yourself and your partner.
Your big day is just around the corner and while it can be stressful, it doesn't have to be. Make sure to create your last-minute checklist for the wedding to make sure you can be hands-free the day of. As always, good luck bride, and don't forget to Share Your Wedding with us after the big day and sign up for our Newsletter for some last-minute tips and inspo!
For more #MaggieInspiration for your big day, read the blogs below!
Customized Wedding Dresses & Personalizations With Maggie Sottero
How to Plan an Outdoor Wedding: Everything You Need to Know
Top Tips to Help You Stay Stress-Free While Wedding Planning