Tips and Trends
Wedding Inspo
|
January 21, 2021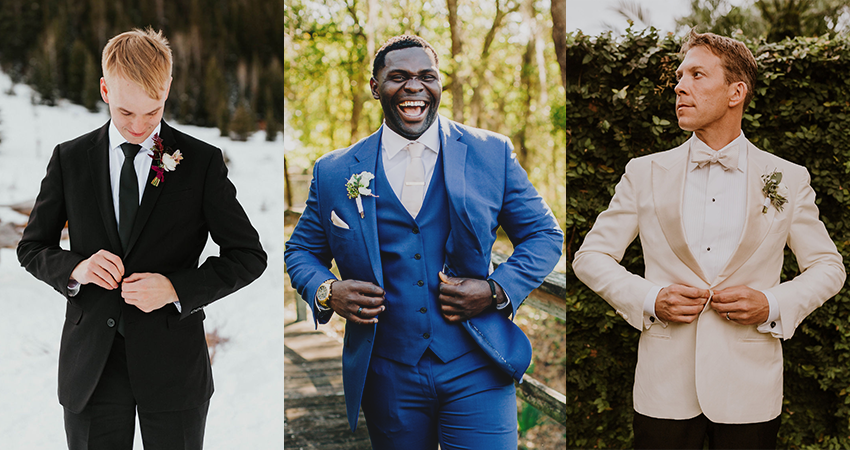 At Maggie Sottero Designs we obviously love brides, and we obviously love wedding dresses. But every so often we get really, really excited about new stuff for grooms. So this post is one for the boys, featuring stylish suits, boutonniere pairings, tie colors, and other sharp stuff for their best day ever. Scroll on to see our 2020 trends for grooms wedding attire!
Rustic Groom Attire: Blue Suit with Colorful Tie and Wildflower Boutonniere
PC: Chantel Marie Photography
If the bride has chosen a chic lace wedding dress (á la sleeved style Deirdre by Maggie Sottero, featuring soft Chantilly lace and illusion details), consider an equally breezy vibe for the groom.
A woven suit in dark blue is more laid-back and playful than a black-tie ensemble. And it goes well with a delicate and nature-inspired aesthetic. Add a wildflower-patterned tie and a twine-wrapped pin, and you two will be ready to ride into the sunset with zero drama!
Unique Attire for a Citrus Wedding: Light Maroon Suit with Yellow Boutonniere
PC: Peterson Design and Photography
Groom attire typically leans toward the blue and black spectrums for their classic versatility, but that doesn't mean you should treat them as your only option!
This inspirational color block wedding features a light maroon suit alongside its bright palettes. It's a stylish complement to the bride's striking minimalist wedding dress, Alice by Rebecca Ingram.
Classic Groom Attire for a Winter Wedding: Black Suit and Tie
PC: Jessa E. Photography
A black suit and tie combo is a classic and timeless choice for groom wedding attire. We dig this groom's chic look, complete with a boutonniere featuring blush blooms and burgundy accents.
The groom's wintery yet versatile look goes perfectly with our bride's lace cap-sleeve wedding gown, Tuscany Leigh by Maggie Sottero, and is perfect for a variety of locales. For more classy and modern winter wedspo, check out this couple's rustic-chic wedding.
Attire for Country Club Wedding: White Tuxedo Coat with Black Pants
PC: Erika Diaz Photography
For a ritzy and formal vibe, consider an all-white tuxedo coat paired with black pants. This ensemble is one part James-Bond-inspired and one part Humphrey-Boghart-classic, and looks very cool for a country club venue, garden soiree, or manor celebration.
Just be sure to match the white or off-white exactly to the bride's wedding dress color. (This particular bride is wearing Antonia by Maggie Sottero, which complements the warm ivory tone in the groom's vest and jacket.)
Spring Wedding Attire: Blue Suit with Green and Lavender Accents
PC: Rachel Laxton Photography
Blue suits come in a wide variety of blue colorways. So why go with a dull or toned down hue? For this whimsical spring wedding, our groom strayed from traditional navy and sported a bright blue suit. It accented his bride's lace wedding dress, Mallory Dawn by Maggie Sottero, perfectly!
We especially love how this groom's blue suit contrasts his groomsmen's grey suits. And their green and lavender boutonnieres totally their look together!
Casual Look for Intimate Elopement: White Dress Shirt with Black Jeans
PC: Jana and Simon Photography
If you're dreaming of a destination elopement or simply an intimate elopement with close friends, opt for a casual tone in your groom's wedding attire. Ditch the suit jacket, and instead try a clean white dress shirt with rolled up sleeves for a casual flair. And don't forget the black jeans!
To tie this semi-formal look together, your groom can wear a statement belt. And our boho lace wedding dress, Deirdre by Maggie Sottoro, is sure to be a great complement to your groom's dashing look!
Groom Attire for Romantic Wedding: Black Suit with Blush Tie
PC: Alex Lasota Photography
This advice applies to brides and grooms equally—when in doubt, go for pink! This wedding-ready color is an ultra-stylish choice for groom and groomsmen accessories, from ties and boutonnieres to socks and cuff links.
Get inspired with this groom's classic yet captivating black and white ensemble with pink tie, paired oh-so-perfectly with his bride's couture Celeste wedding dress by Maggie Sottero. The look is timeless yet charming, and works with virtually any venue and season.
Laid-back Wedding Attire: Blue Suit with Blush Tie
PC: Nicole Aston Photography
Another classic take on the pink-inspired spectrum is a blue suit with a light blush tie. Try this smart combo for laid-back and on-trend weddings. These elegant colors look great against natural backdrops and garden locales, as well as adapt easily to classic indoor venues or city celebrations.
Check out this dreamy Moab desert wedding shoot for groom wedding attire inspo (paired with our boho-chic Narissa wedding dress from Sottero and Midgley). This groom's attire is a fresh and light choice for summer. And his suit would also look dapper in tan, grey, or pale blue!
Holiday Wedding Attire for Grooms: Maroon Suit with Black Bow Tie
PC: Vanessa Hicks Photography
For a bold and dashing look, consider a velvet tux in a ruby colorway with a white shirt and bow tie. We're getting major holiday vibes from this groom's ensemble, a snazzy complement to his bride's Armante wedding dress from our Sottero and Midgley line.
This tux's versatile colorway would also look fantastic for simply a New Years or winter celebration. And it would also pair fantastically with a vintage-inspired soiree or a ballroom dance party!
Groom Attire for Multicultural Wedding: Change-Up Between Black Suit and Traditional Sherwani
PC: Julie Wilhite Photography
If you and your sweetheart are planning to incorporate some measure of Indian customs into your wedding, you may be looking at one or more outfit changes over the course of the day. (And hey, what's wrong with that?) This groom opted for two wedding looks. These included a black-tie suit for the Western-inspired civil ceremony and traditional Sherwani for the main event.
We're swooning over this gorgeous bi-cultural celebration! (And in case you're wondering, the bride's white wedding dress is Tuscany Lynette by Maggie Sottero. It's is a captivating complement to her traditional Indian gown in light gold and blue.)
Formal Wedding Attire: Dark Blue Suit with White Vest
PC: Arielle Peters Photography
For a formal ensemble that's not quite black tie, consider a dark blue, perfectly tailored suit with a white shirt and vest. This crisp and high-contrast combo looks fantastic for a traditional church ceremony, manor venue party, or country club celebration decked out in classic florals and elegant décor.
Your groomsmen will also love this style in pink—it's versatile, flattering, and super suave. And for an equally timeless aesthetic for the bride, consider our lace ball gown wedding dress Allison, affordably priced from our Rebecca Ingram line.
There you have it—our favorite 2020 trends for grooms wedding attire! Before you go, remember a few rules for finding the perfect suit. Dress for the occasion's season and formality, coordinate with your partner's attire, personalize with accessories, and above all, get yourself a tailor!
When it comes to formal wear, there are few things more disappointing than an ill-fitting suit piece, be it an over-sized jacket, baggy pants, or overly restrictive hemming. Get inspired with more perfectly tailored groom and groomsmen attire on our Pinterest page!
And finally, to our happy couples who have already tied the knot, be sure to submit your gorgeous gown and suit inspiration to our Real Weddings page for the chance to be featured on our website, social media, and blog. We're loving your personalized wedding-day looks!
Related Blogs Posts:
The 15 Best Personalized Wedding Gift Ideas for Your Groom
Stylish and Unique Bridesmaid Dress Ideas Inspired by Real Weddings
Mother of the Bride Outfits Inspired by Our Real Brides' Wedding Themes