Dresses
Tips and Trends
|
June 3, 2021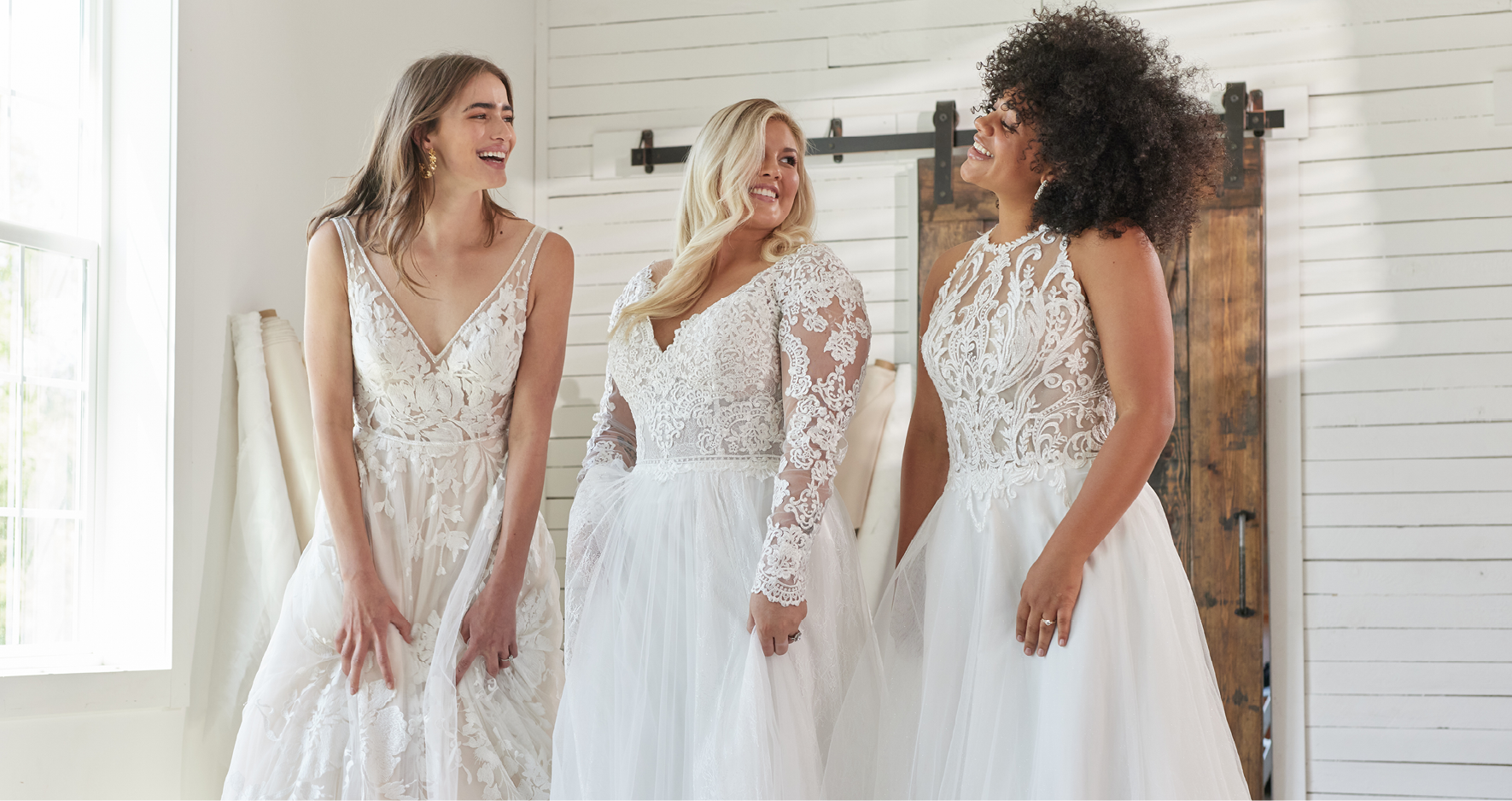 Anxious about getting all dressed up and feeling fabulous on your big day? We really don't blame you. There's plenty of pressure to look absolutely flawless for your wedding, but not a lot of social support and attainable shopping options out there to back it up. We at Maggie Sottero are 100% committed to flipping that script on wedding dress body positivity. And we have the perfect roadmap to get you started. Bottom line: don't let anyone affect your health, confidence, and self-esteem on your best day ever. This is your time to shine, whatever your age, size, personal style, or budget!
Tip #1. Research Wedding Dress Silhouettes that Look Great on Your Body Type.
When it comes to staying body positive while shopping for your wedding dress, it helps to start somewhere specific and well-established by experts (and therefore a little more under your control). Choosing a flattering bridal gown silhouette is one of the easiest ways to bypass your body insecurities, work with your gorgeous figure, and complement your personal style. Here are a few pointers to start your search:
There's no "one size fits all" approach to body types. However, it doesn't hurt to research general categories, such as hourglass, small-chested, petite, pear-shaped, tall, athletic, and apple-shaped.
As a general rule, curvy or hourglass silhouettes look best with sexy mermaid silhouettes and waist-cinching ball gowns wedding dresses.
Looking to enhance a small bustline? Try adding visual interest with ruching, wrapping, and embellishment; or simply work with your natural features and rock a plunging neckline and low back.
Both petite and tall brides look gorgeous in monochromatic fabrics and simple embellishments. These help to naturalize your height (or lack thereof) and create a graceful silhouette.
For brides with fuller hips wanting a more balanced look, A-line wedding gowns help balance out the lower body with the upper body. However, if you want to embrace the shape of your natural figure, choose a flattering fit-and-flare or mermaid silhouette to show off your hips, thighs, and booty!
Check out more tips for finding the perfect wedding dress for your body type in the link!
Tip #2. Research Silhouettes You Love—But Also, Trust Your Stylist.
You can research your heart out on styling hacks and flattering wedding dresses. But don't let that close you off to the serendipity of a bridal appointment. After all, your dream wedding dress style might just be a magical surprise!
As you book your bridal appointment, it's important to trust that your team of bridal stylists will help you find something beautiful and exceptional. They may introduce you to wedding gowns outside your comfort zone; this is the perfect opportunity to browse, experiment, and (maybe!) find something you didn't expect to love.
Tip #3. If You Choose to Diet and Exercise, Focus on Sustainability and Overall Wellness.
To all those "Bridal Crash Diets" and "30-Day Wedding Cleanses" floating around on social media: We're breaking up with you forever. You're too temporary, too stressful, and way too taxing on our mental health, especially en route to our best day ever. You're out!
One of the biggest factors in achieving wedding dress body positivity is to let go of the "quick fix" mentality. Put another way, you've got all the power in the world to make big changes for your big day. Just don't let those "numbers" detract from your overall wellness and enjoyment.
Dropping a dress size or losing X number of pounds is only one aspect of the body positivity package. It's much more important (and effective!) to take care of your body, ease into new diet and exercise regimens, and focus on sustainable lifestyle changes to reach your goals.
Tip #4. Staying Body Positive While Shopping for Your Wedding Dress is All About Encouragement and Affirmation.
Question: Why are we so bad at receiving compliments, even on our very own wedding days? It seems no matter how much we invest in beauty, clothes, and accessories, we can't stop the self-deprecating language about our bodies. If phrases like "There's no way I'll get fit enough for the wedding," or "I hate how I look in photos" sound all too familiar, it may be time to reassess the way you speak about your progress and self-image.
Here are some "body positivity" affirmations to help you feel healthy, purge negative emotions, and get what you want out of your health goals.
"My body deserves to be taken care of. I feed my body with nourishing food and give it exercise to feel strong, active, and energized."
"My brain, heart, and personality are the best parts of me."
"Seeking body positivity is a meaningful and valuable endeavor. I deserve to find things that create happy and healthy dialogue about my skin, shape, and natural features."
"I look exactly the way I'm supposed to. If the way I look changes in the coming months, I will continue to trust its wisdom, beauty, and integrity."
"My body can do incredible things."
"Life is too short and my wedding will go by too fast for me to waste time obsessing about my body. I am going to take care of it and pamper it before the big day. But my main priorities are to feel happy, loved, and open to possibility."
Maggie Sottero's Commitment to Body Positivity, Inclusivity, and Representation
Wondering why we're talking so much about wedding dress body positivity and self-affirmations? At Maggie Sottero, there's nothing more important to us than having you feel like the best version of yourself—whatever your size, body type, age, budget, and personal style.
We're 100% committed to helping you create an unforgettable celebration, from the moment you start your wedding planning online to your first steps down the aisle, to those weeks following your wedding when you get to relax, celebrate, and reminisce over your gorgeous bridal portraits.
A few ways Maggie Sottero is committed to creating a space for body positivity and inclusivity in the bridalsphere include:
We are proud to hire diverse models for every photoshoot, from our in-house styled shoots to seasonal campaigns.
We are honored to highlight models in sizes 12 and 18 in all our campaign photoshoots.
Most of our wedding gowns are available in sizes 0-28, designed for real women and their diversity of shapes, figures, and styles.
We offer wedding gowns across an array of price points. We believe there's absolutely no reason for a bride to sacrifice romance or quality (and not to mention an ultra-flattering silhouette) for her budget.
And we're committed to creating so much more space for body positivity as we move forward! We have lots of work to do to make every bride feel like a goddess on her big day. And we can't wait to celebrate all the chic, stylish, and joyful moments to come.
Maggie Sottero Wedding Dresses that Flatter a Wide Range of Body Types
Though every single one of our wedding dresses is designed to flatter and enhance, some are specially made to achieve a timeless and ultra-versatile statement. We've curated a gallery of our exceptionally flattering bridal gowns for all shapes and sizes below!
If you're looking for an effortlessly glam wedding gown, consider Adrianna by Maggie Sottero—a soft crepe fit-and-flare designed to flatter virtually any height, figure, and bridal aesthetic.
Check out the beaded lace motifs along the bodice and hemline. They add a hint of glitz and glamour without overwhelming your gorgeous silhouette. This combo makes a stunning effect that will look chic and timeless for decades to come.
A shimmery ball gown wedding dress is a gorgeous choice for almost any body type, be it petite, slender, curvy, apple-shaped, or athletic. The voluminous silhouette is designed to flatter your shoulders and décolletage, cinch in your bodice, and give space for your bottom, hips, and legs under decadent layers of tulle.
One of our current ball gown favorites is Zartasha by Maggie Sottero. It's feminine and whimsical, uniquely flattering, and classically tailored to work with your natural curves (or place curves where you want them).
(Note that one body type that might not work with this ball gown silhouette is busty or full-chested. If you have a lot up top, you might need a bit more support than this strapless neckline. If this is you, consider adding the detachable sleeves or matching lace bridal jacket for a bit more support and coverage.) 
The ultimate in "wedding dress body positivity" is a soft A-line wedding dress, perfectly tailored and embellished yet effortless to behold. This bridal silhouette is especially gorgeous for plus-size brides. It is designed to show off a bust and waistline while offering soft movement in the skirt.
If you love this kind of ultra-flattering silhouette, consider Katiya by Rebecca Ingram. This lightweight boho A-line bridal gown is so chic and wearable, you'll feel like you're dancing on a cloud. 
We present another perfect design for curvy brides, Ohara by Maggie Sottero. This bridal dress features an effortless A-line silhouette, a flattering illusion bodice and waistline, and chic lace embellishments.
We picture this wedding dress in a gorgeous garden ceremony in springtime or a lush forest venue in summer!
One foolproof trick for choosing a flattering wedding dress? Look to the angles! Long, graceful lines in lace and beading help to smooth your silhouettes while enhancing your sexiest curves. It's especially effective when the motifs are placed to cinch and widen at strategic points of your body.
For example, a sweetheart neckline enhances your bustline, a belt or motif cinches in the waistline, long cascades of lace add the illusion of height, and linear motifs help to play up your naturally feminine figure.
One of our best showcases of long, graceful, and ultra-flattering lace motifs is Cambrie by Sottero and Midgley. This stunning beaded sheath wedding dress will enhance your figure and add the illusion of height. We promise you'll feel like red-carpet royalty in this impeccably tailored wedding dress!
We present our final wedding gowns, Forrest and Forrest Lynette by Rebecca Ingram, two dreamy fit-and-flares with ultra-romantic lace patterns. These two bridal gowns are all about the illusion, nude, and layering effects—from the delicately trimmed neckline to the statement back and shimmery floral motifs. Wear either design to step out feeling sexy and confident, yet perfectly timeless.
Both of these wedding dresses feature a feminine silhouette and eye-catching lace patterns, with a few small differences in the back and neckline. Opt for Forest Lynette if you're looking for a tad more coverage and support; it's precisely tailored to complement a fuller bust, booty, and waistline. 
There you have it. We hope you've enjoyed these tips for staying body positive while shopping for your wedding dress. To read more about wedding dress body positivity for plus-size brides, check out 15 more flattering bridal gown styles for curvy figures in the link. We can't wait to see your impeccable bridal portraits from your best day ever. Cheers!