Tips and Trends
|
November 18, 2020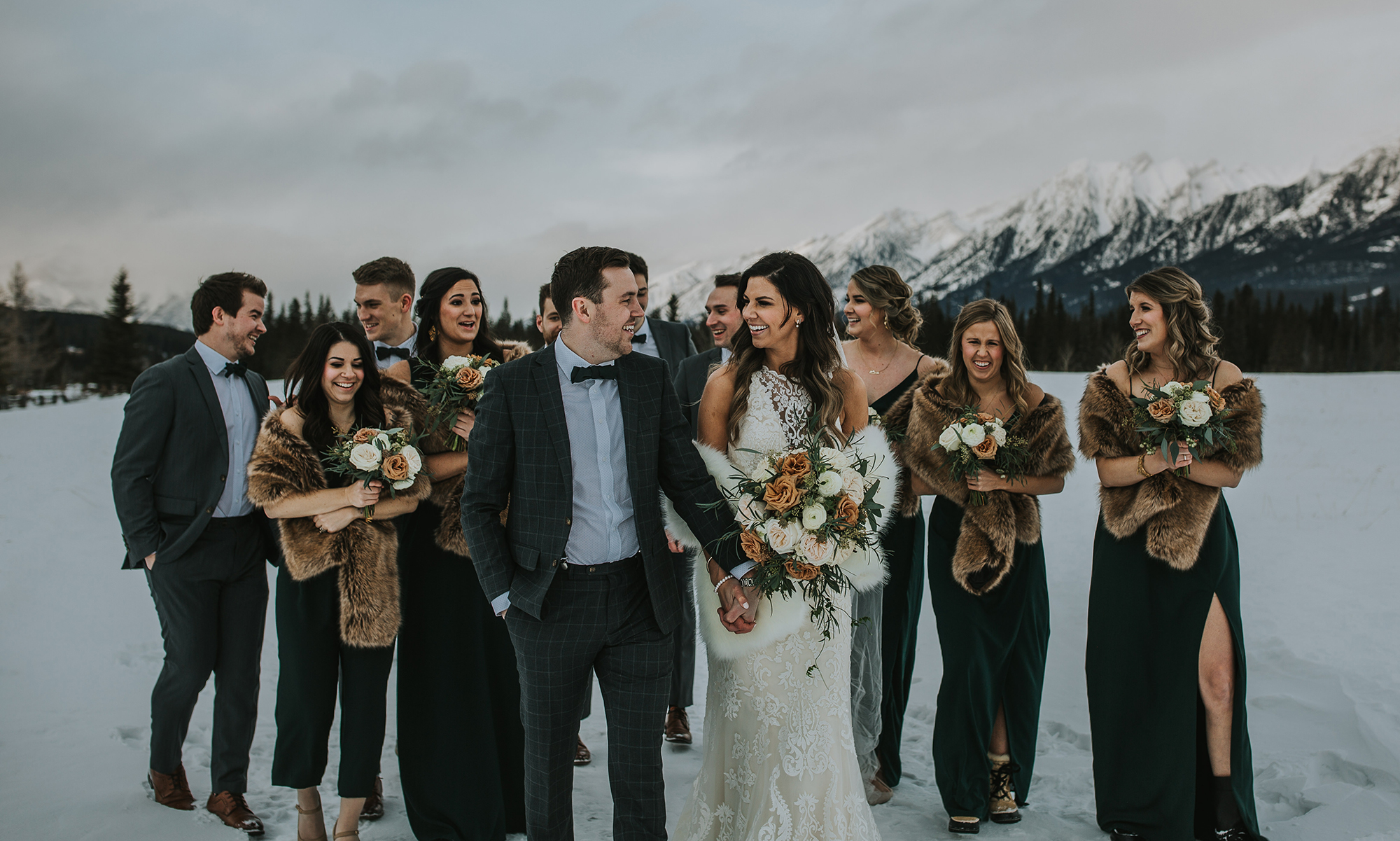 It's no secret that 21st century weddings can get absurdly pricey, really quick. One way to cut costs from the get-go? Save money with an off-season wedding! Be it a late fall harvest party, wintery wonderland cozy-fest, or an international elopement during slow travel season, this might just be your way to stretch your wedding dollars!
If you and your S.O. aren't totally "married" to a peak-season June celebration, there are tons of perks to choosing a less popular wedding month. You can negotiate venue and vendor prices and help guests save money on travel. Plus, you're all but guaranteed to have more flexibility with bookings to creating an exclusive and intimate atmosphere for your nearest and dearest. Interested in your options? Keep scrolling for advice and insights on planning an off-season wedding with tip-top accommodations!
First Things First, When Are Off-Season Wedding Months?
In the U.S., off-season wedding months can vary by region, but usually they are January, February, July, and November. These are usually also the cheapest months to get married in. To optimize your budget, consider what role you'd like your geography to play in curating your wedding aesthetic. Are you celebrating in your southwest hometown desert? Are you longing for rugged mountain vistas? Is a beachy vacation your dream celebration? Whatever your real or ideal location, you can look to less "desirable" wedding dates to reap the benefits of off-season prices and availability.
PC: Innocent Thunder Photography; Dress: Hope by Rebecca Ingram
For U.S. areas with year-round weather appeal such as California, Hawaii, and the East Coast, peak wedding season usually includes the months of May through October, with June and September as the busiest. In certain areas with extra hot summers, July and August are considered "off season" and are potentially more affordable. Winter months such as January and February are also usually more affordable. However, one winter month you might want to avoid is December, as this tends to be a busy month for holiday-themed weddings.
Do you love the idea of a high-altitude area for your off-season wedding? Ranges like the Cascades, Rocky Mountains, Sierra Nevadas, and Blue Ridge Mountains offer stunning backdrops, fab adventures for your guests, and moody venue potential for off-season weddings. Book spring or fall dates for magical mountain vibes at affordable prices, and book winter months for snowy vistas. Just keep in mind that travel to some mountain locations during the winter time can be expensive due to ski season.
Brides in the Northeast and East Coast will score with indoor venue prices during hot summer or chilly winter months. And you might be pleasantly surprised at your wintery wonderland theme potential.
Lastly, in other parts of the world, your off-season wedding could be in the hottest summer months. In this case, you'd want to book a comfortable indoor venue. Late winter weddings or early spring weddings are also great options for a desert locale, as sunny days and mild weather offer fabulous photo ops and flexible indoor-outdoor options.
How to Get Venue Discounts for an Off-Season Wedding
If you choose to get married during your wedding location's off-season, you're bound to save on one of your biggest ticket items: your venue! This includes restaurants, reception halls, lodges, music venues, botanical gardens, manors. Most of these designated event centers tend to be more willing to cut a deal when business is already slow.
PC: Seedling Photography; Dress: Evangelina by Maggie Sottero
The same goes for florists, DJs, and anyone who relies on peak-and-valley traffic over their business year. When demand is slow, prices tend to be negotiable. And another added bonus for you? The less there is on a vendor's calendar, the more time and attention they can give to your wedding vision. Wins all around!
Stumped on how to negotiate with a wedding vendor's pricing? If you start with choosing an off-season wedding date, you're in a much stronger position already. And regardless of your wedding date, a venue booker likely expects you to negotiate. So, don't be afraid to ask for what you need.
Also keep in mind that venue bookers are more willing to let go of small fees (cake-cutting, for example) in order to save a booking. Make sure to look at what's included and how you can save money in the details. (Looking for more wedding budget tips? Here are 10 ways to set and stick to your bottom line.)
Guests Can Also Save Money with an Off-Season Wedding
PC: Mint Photography; Dress: Winifred by Sottero and Midgley
Guest-wise, there are two reasons off-season weddings help with travel and logistics. First, friends and family are less likely to be booked for other weddings during less popular months. And second, those traveling from out of town will enjoy lower rates on plane tickets, hotels, and leisurely activities.
And if everyone is traveling to your destination wedding, you might be able to bundle deals for airfare, lodging, and rentals. (Just avoid major holidays and major events in the area, as those tend to spike pricing.) Think of this as extra love for those you love!
Tie the Knot During Unpopular Travel Months for Lowered Honeymoon Rates
PC: Ben Gumeringer Photography; Dress: Allen by Sottero and Midgley
Budgeting for a fabulous honeymoon? Choose an off-season wedding date to save big! Popular May and June wedding dates tend to coincide with a spike in international travel rates and traffic. This is especially true in Northern Hemisphere destinations like Europe, Canada, Central America, and the United States.
To bundle all kinds of savings, choose an off-season wedding date that lets you avoid high prices and swaths of tourists. Take some time to research your slow-season wedding date in conjunction with your dream honeymoon destination. You may be pleasantly surprised with your options!
Is Everything Cheaper for an Off-Season Wedding?
Though many wedding vendors rely on peak-season traffic for a chunk of yearly income, not everyone is open to price negotiation. Food vendors, for example, tend to keep catering prices consistent, regardless of wedding traffic.
PC: Brittany Martorella Photography; Dress: Deirdre by Maggie Sottero
Likewise, popular and/or fine art photographers are usually in demand year-round (especially those who travel to different parts of the globe). Because of this, asking for an off-season discount may not be the best way to secure their services.
In these situations, you might be able to save money by offering to pay up front, by asking to exclude certain add-ons (a photo album, for example), or asking the vendor to waive a fee or two. If you're upfront and kind with your negotiating, you might find some wiggle room!
Last Things to Consider When Planning an Off-Season Wedding
Unpredictable weather conditions might put a damper on your off-season wedding. Be sure to book an indoor venue or backup tent in case of rain or snow.
You favorite blooms may be out of season for your winter wedding, so speak with your florist about availability and possible substitutions.
Though colder months tends to be slower, some guests will find it inconvenient to travel during winter, so plan accordingly!
Even if you're having an off-season wedding, reserve your officiant early, or you'll have slim pickings the month before.
Ready to save some cash with a fabulous off-season wedding? Keep the budget inspo rolling with our big-picture guide to wedding spending, as well as this gorgeous selection of affordable wedding dresses by Rebecca Ingram. You'll be thrilled with how manageable it can be to save on big-ticket items without sacrificing the style and elegance of your best day ever. Happy planning!
One more perk to having a wedding during the off season is the opportunity to have a holiday or Christmas wedding! For more holiday wedding inspo, check out our blog here!
Feeling inspired? Check out this related content:
Seven Palettes for a Chic Winter Wedding
Intimate Winter Wedding at a Hygge-Chic Venue
Nine Palettes for a Fall Wedding